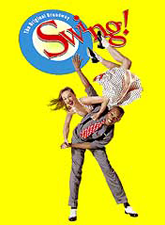 Swing!
Original Concept by Paul Kelly | Original Direction and Choreography by Lynn Taylor-Corbett
'Two thirds rhythm and one third soul.' That's how Fats Waller defined the uniquely American form of popular music and dance known as 'swing.' Requiring only joyful enthusiasm and a ready partner, swing exploded out of pre-war Harlem's hotbed of youth culture and swept the world. It shattered ethnic and cultural barriers, generating specialty styles such as Jive, Swing, Lindy Hop, West Coast Swing, and Hip-Hop Swing. SWING! celebrates this remarkable diversity to the beat of the most exhilarating songs of the period. But as this enthralling song-and-dance show makes abundantly clear, swing was never a time or place -- it has always been a state of mind!
Participate in the R&H Online Community.
Leave comments or talk with other fans in the forum!

To request the rights to make merchandise for this show email [email protected].
Fan Info:

In 2001, the dance musical SWING! closed after a Broadway run of 461 shows and five Tony Awards, including Best Musical in 2000.

In 1999, the dance musical SWING! premiered on Broadway at the St. James Theatre where it ran for 461 performances, winning 2000 Tony Awards for Best Musical, Choreography, Orchestrations, and Direction of a Musical, among others.



Song #
Song Name
Character Name
Play
Other Versions


Vocal Range of Characters:

// Photos

---
---
---
---
---
---
---

A FEW PRACTICAL NOTES

CASTING: Some wise and humble theatre director once said, "Casting is 90% of the job." They were right, and in the case of SWING!, it might be 98%. The other 98% is tailoring the material around that cast. I know that's 196% and the arithmetic doesn't work, but thrust me, the formula does.
Swing itself is an idiosyncratic art form and many of its best artists became stars not just by being skilled, but by being themselves. Unique expression is at the heart of swing and it should be at the heart of SWING! as well. Artists like Cab Calloway, Frank Sinatra, Louis Armstrong and many others were not just great musicians; they were great personalities. They became stars by letting those personalities come though their material. While each of them certainly had specialty material of heir own, they were also able to take just about any piece of material and put their own stamp on it. That is the quality you want to look for when casting SWING!. Once you've found those personalities, let them bring their own unique gifts and talents to the creative process.
For example, Everett Bradley's character in the show grew directly out of Everett's personality in life. Everett is a very hip, downtown, East Village guy with a very contemporary style. After his first audition, we knew he was tremendously talented. We also knew he was not at all what most people would think of when they thought of "swing". Still, something told us we should see him again. We asked him back but this time requested that he wear something "a little less funky." When he returned for his callback he was wearing a suit, obviously just purchased for the occasion, and he clearly hated wearing it. He couldn't have looked more uncomfortable – nor more adorable. He gave a spectacular audition and got the job. What's more, he also gave us his character. He was the indomitable free spirit, trying to live by everyone else's rules, on somebody else's schedule. This was not only a wonderful basis for a character, one based on Everett himself, but it was also a perfect metaphor for swing, which is a constant balancing act between strict structure and rhythmic freedom.
The point is, musically and artistically, Everett was the best choice for the show, so we cast him. We then let his character emerge organically from him. The same can be said for virtually everyone in the original production, and this concept continued with subsequent companies as well. This approach is important when casting the musicians as well. The band is on stage for the entire evening, as an integral part of the show, both musically and visually. Therefore, care should be taken to consider not only a player's musicianship, but also their stage presence, especially since the majority of them are actually worked into the staging of various numbers.
DESIGN ELEMENTS: This is one show where the "KISS" approach to design may be best (Keep It Simple, Swingers). Keep the focus on the performers. Let the set and other design elements be at their service. In the original production, Thomas Lynch's wonderfully vibrant set was primarily made up of legs and boarders and a sharp looking bandstand set upstage against a colorful back wall. This provided plenty of room to showcase the dancers and allowed a great deal of flexibility. Once we added the magnificent skills of lighting designer, Kenneth Posner, we were able to move seamlessly from contemporary club to USO or country picnic to moonlit park without missing a beat. With just a lighting change and the addition of a sign flown in here or a table slid on there, we moved from scene to scene with very few blackouts. This was particularly helpful in maintaining the show's rhythm, brightness and forward motion. Tom did save one, slightly more elaborate, trick for the end of the show, when he transformed the set into the Savoy Ballroom, but even this he kept simple and never encroached on the dancers' stage-space. The bandstand was moveable, allowing us to bring it down stage, at times, to feature the band more prominently. While this was a nice effect, it is not essential. What is essential, however, is that the bandstand be attractive and that the band be as prominently featured, in general, as the singers and dancers. They must also be able to step on and off the bandstand quickly and easily to access the stage.
When considering the costume design, we had two initial instincts that served us well. First, we knew we didn't want the costumes (or the show) to be too "1940's." So, we decided to keep the "WWII GI" look contained within the USO section. Second, we also wanted to be very judicious in our use of Zoot Suits. So, again, we chose very specific moments to use them. Both these decisions were born out of our commitment to making SWING! a celebration of the entire history of swing (nearly 100 years) rather than a "period" piece. William Ivey Long's wonderful costumes evoked everything from the aforementioned WWII GI's and their gals to trendy twenty-somethings swinging the night away in a downtown club, circa 1999. While his costumes captured all the charm, sexiness and athleticism inherent in the various styles of swing dance, what William was most often heard saying was, "It's all about the shoes!!!!" What he meant brings us to another, exceedingly important, aspect of this show…
SAFETY: SWING! can be a very physical show and, of course, swing dance can be very physically demanding, especially if you choose to include a lot of air-steps, and aerial tricks. This means the dancers must be sure-footed, and those feet must be protected. Good, strong, well-fitting shoes (or sneakers) are a must. Care should also be taken when considering other parts of the performers' costumes as well. Consideration should be given to the texture of fabrics and the use (or non-use) of buttons, bows and appliqués, etc., and how they will effect the ability of dancers to throw, catch, lift or spin their partners. Form must not interfere with function and never impede safely. Safety must also be of utmost importance to the choreographer. While there will be times, no doubt, when spectacular tricks and breathtaking moves will be tempting, be sure to use discretion. The theatricality and entertainment value of choreography can come as much from cleverness as from catapulting dancers high in the air. Swing is a dance that has endured, primarily, because of its charm, and the fact that it can be danced by people of almost any age and any level of sophistication. Its basics are easy but its permutations are endless.
Now, of course, a few feats of acrobatic daring are always exciting and indeed will be appropriate at times, but it is imperative that safety come first (both in rehearsal and in performance). A move that can be executed perfectly in rehearsal must also be able to be repeated, without risk of injury, eight times a week (or whatever your schedule requires). Remember, even the flashiest trick will look less than impressive if it leaves a dancer laying flat on the floor. (Or as we used to say in rehearsal: "Don't do that thing if you'll land in a sling!") Remember, swing dancing is appealing, both to do and to watch, partly because it is a genuine interaction between two people. In order to lead and follow correctly, the two partners must really communicate with each other. There is always a connection, an intimate exchange between the two people. They are speaking, and listening, to each other with their whole bodies. (Exactly what happens in good acting, as well.) So, it's not surprising that it's so engaging to watch.
So, don't underestimate the power of charm. A couple slow dancing with grace and a touch of fun can be just as riveting as a couple whizzing through the air in an explosion of acrobatic pyrotechnics. SWING! has plenty of room for both, and if you have the fireworks, by all means, use them, but let them be the punctuation marks, not the whole sentence. Trust the charm and you won't go wrong. Above all, have fun and keep it swinging!
---
MUSICAL REFERENCES & SPECIAL NOTES
ACT I
SWING IT, BROTHER, SWING: by Walter Bishop, Lewis Raymond and Clarence Williams
In the original Broadway production, this was pre-recorded but it need not be.
IT DON'T MEAN A THING (IF IT AIN'T GOT THAT SWING)by Duke Ellington and Irving Mills
This is an opportunity to set up J.C. as our "Tour Guide" into the world of SWING!
Good musical and stylistic inspirations would be Cab Calloway, Nat "King" Cole, Frank Sinatra, Louis Armstrong, Louis Prima and Harry Connick, Jr. among others.
AIRMAIL SPECIAL / JERSEY BOUNCE / OPUS 1AIR MAIL SPECIAL by Benny Goodman, James R. Mundy and Charles Christian / JERSEY BOUNCE by B. Plater, T. Bradshaw, E. Johnson, B. Feyhe and Duke Ellington / OPUS ONE by Sy Oliver
These three classics come from the Glenn Miller/Benny Goodman side of the swing tradition and are familiar, comfortable and fun. They are intended to set at easy any "purists" or audience members who were actually around during the "Original Swing Era." We performed them very traditionally and thus, in a way, earned the confidence and trust of the audience, which allowed us to take a few liberties later.
This is an important concept in jazz. If the audience knows you can play it straight they trust you more when you want to begin playing with the form a bit. They also are able to appreciate the variations more if they are familiar with the original elements. Most of the dance that was done to the Miller/Goodman repertoire had not taken on much of the "Harlem/Savoy Style." While still energetic, fun and very exciting (especially for its day) it remained a bit more upright in posture and not quite as loose-limbed as the dance would eventually become.
For the sake of space on the original cast album, these first three songs of the medley were omitted and only Jumpin' at the Woodside was recorded.
JUMPIN' AT THE WOODSIDE: by William "Count" Basie
This is from the Count Basie side of the tradition and has a slightly different energy and musical feel: faster, hotter, a little more raw. It is perfectly precise in its execution yet freer in its expression. The dance should express this as well. This is when we first see the Harlem/Savoy Style – fast, loose-limbed and low to the ground.
BOUNCE ME BROTHER (WITH A SOLID FOUR): by Don Raye and Hughie Prince
Musically, this number has roots in the Andrews Sisters tradition, even though it is sung by a single performer rather than a trio. It provides the opportunity to establish Ann as a central figure in the evening and it is important to make the number as strong as possible. Though Ann should certainly move during this number, it is wise to consider how much, and how well, since this becomes a key element in her story line later on in the show. If you choose to have her dance extensively in this number, you will need to take special care later to establish, clearly, why she can't, or won't, dance with Everett later in the show.
TWO AND FOUR: by Ann Hampton Callaway
This number was written specifically for Laura Benanti by the wonderful Ann Hampton Callaway. It provided us three important opportunities. 1) It allowed us to showcase Laura's legit/operatic soprano (even if we did poke fun at it a bit); 2) It established a "starting place" for Laura's character; and 3) It allowed us to educate the audience as we "educated" Laura.
Incidentally, this concept of emphasizing the second and forth beats in the music, rather than the first and third, seems to be second nature to some people and completely foreign to others. This was even true of our original cast. We found it very helpful for our musical director, Jon Smith, to spend some time early in rehearsals teaching this key jazz concept.
HIT ME WITH A HOT NOTE AND WATCH ME BOUNCE: by Duke Ellington and Don George
This great Duke Ellington tune shows both the sophistication and sturdiness of Ellington's work. Our slightly provocative interpretation gave it a more contemporary feel and revealed the underlying heat Ellington had written into the material from the beginning.
This number marks the beginning of the relationship between Laura and the Trombone Player. In the original Broadway production, the transition from "fizzle" to "sizzle" was greatly assisted by the wizardry of costume designer, William Ivey Long. He devised a dress that went from a simple-but-dowdy frock into a satiny, full-length gown in a split second. While a trick like this is always helpful (and fun) it is the actress's ability to make that transformation within herself that really makes the number work.
RHYTHM CROSSOVERS: by Casey MacGill
The "Rhythm Crossovers" were a device we used to great effect in the original Broadway production. The idea was to use the dancers as a "human curtain" or "cinematic wipe" to clear us from one scene and bring us to another. These "Crossovers" offered great opportunities for creativity and fun, and helped advance the threads of story line associated with various characters. They also reduced our need to use blackouts during transitions. This was essential in maintaining rhythm and momentum of the show. Lyric Note: "Elgin movement, right on time" is a reference to Elgin watches, which were some of the finest timepieces ever made.

THROW THAT GIRL AROUND: by Everett Bradley, Ilene Reid and Michael Heitzman
This number should capture all of the energy and contemporary feel of the "Retro-Swing Era." In the mid-1980's and continuing through the 1990's bands such as Big Bad, Voodoo Daddy and The Squirrel Nut Zippers gave a whole new generation the opportunity to experience the joy of swing dancing. They also gave them the opportunity to release their stress and anxiety the old fashioned way, by throwing a girl rather than throwing a punch or by throwing up your hands rather than throwing back a handful of pills. (It seems the Lindy could be as good as Librium for lifting your spirits or shakin' the blues away.)
SHOW ME WHAT YOU'VE GOT: by Everett Bradley and Jonathan Smith
Dance-floor "competitions," "challenges" and "jams" go all the way back to the beginning of social dance. They've played an important parts in the discovery and development of many dance styles. It is important to remember, however, that these competitions, while fierce, are almost always friendly. Care should be taken in this number to ensure that the competition between the Latin Couple and the West Coast Couple doesn't become too adversarial. Care should also be taken to ensure that it doesn't look too much like "The Dance at the Gym" from WEST SIDE STORY.
Musically the song is primarily an instrumental with, what should seem like, improvisational vocals tossed in. Those vocals, however, are actually carefully placed in the score and should be treated as such. In the original Broadway production, we had the luxury of Everett Bradley's extraordinary rhythm skills, so we also had him play percussion throughout the song. Though this is not imperative, I point it out because it is an example of a basic tenet that guided our creative process during the development of SWING! "Explore the special and unique talents of your performers and then utilize them whenever possible."
BLI-BLIP: by Duke Ellington and Sid Kuller; Additional Lyrics by Ann Hampton Callaway
Musically, this number has its roots in some of the terrific duets of Louis Armstrong and Ella Fitzgerald. It was developed very carefully during rehearsals, shaping the music to the story and the story to the music, in much the same way a pantomime would be constructed. Although any number of stories could be presented through this song, it should be noted that the orchestration and arrangements have been written specifically to tell the particular story outlined in the script.
The "Wedding March bit" referred to in the script was actually discovered during the run of the show, so, unfortunately, it was not captured on the CD of the original Broadway production. It was terrifically funny and added to the texture of the relationship between Ann and Everett. It also served as an excellent cue to end the "improvised" scat section and allowed the singers and band to get back together for the finish of the song.
It should also be noted that on the CD of the original Broadway production Laura is given a line when she enters to take the drink order. On stage, this line was not necessary and was never used in performance.
SKYLARK: by Hoagy Charmichael and Johnny Mercer
This is another song not on the CD of the original Broadway production. It was added to the show during the run. Stylistic we presented it in a very straightforward manner, emphasizing both the simple beauty of this wonderful Hoagy Carmichael song and the innocence of Laura's character.
HARLEM NOCTURNE: by Earl H. Hagen
Stylistically, it's pure 1940's, film noir. Artistically, it's the relationship between musician and muse, part love affair, part wrestling match all seduction.
KITCHEN MECHANICS' NIGHT OUTby Casey MacGill, Jonathan Smith, Lynne Taylor-Corbett and Paul Kelly
Written specifically for the show, committee fashion by Casey MacGill, Jon Smith, Lynne Taylor-Corbett and Paul Kelly, this song is reminiscent of playful swing tunes like "Undecided" or "Elmer's Tune." It's meant to be a charmer.
Incidentally, Thursday nights really were "Kitchen Mechanics' Night" at the Savoy. Women who worked as domestics or housekeepers were admitted free of charge.
SHOUT AND FEEL IT: by William "Count" Basie
This is a classic Count Basie tune and the title says it all: energetic, driving and fun.
BOOGIE WOOGIE BUGLE BOYby Don Raye and Hughie Prince
A Boogie Woogie song with a Hip-Hop style. Makes sense, right? Take the classic and the contemporary, put them in a blender and go. It's actually more in keeping with the swing tradition than you might think. It was very common for swing bands to take well known songs and recast them stylistically, whether it was "The Song of the Volga Boatmen," a piece of well known opera or a tune from Broadway, swing bands often mixed music from one genre with stylizations from others.
On the Cast Recording you will hear Edgar and Keith respond to Everett's commands with "Sir!" and "Yes, Sir!" This was only done for the recording and was never necessary in performance.
GI JIVE: by Johnny Mercer
Think vintage Andrews Sisters, with just a touch of Broadway chorine.

I GOT A GAL IN KALAMAZOO: by Mack Gordon and Harry Warren
The USO section was one of the few places we allowed ourselves a touch of outright nostalgia. Musically, this Glenn Miller classic was kept close to its roots. This was also a nice opportunity to advance some "story line threads," particularly the setting up of Robert's clumsiness and his interest in Laureen.

I'M GONNA LOVE YOU TONIGHT: by Casey MacGill and Jack Murphy; Additional Lyrics by Lynne Taylor-Corbett
This charmer echoes some of the coy Boy/Girl duets of the '30's and '40's and has its roots in performances by artists like Doris Day, the young Judy Garland, Alice Faye, young Frank Sinatra, Van Johnson and even some contemporary singers like Harry Connick, Jr.
I'LL BE SEEING YOU: by Sammy Fain and Irving Kahal
This classic of the era, and its beautiful, straightforward presentation, evokes images of many of the great female band singers like Helen Forrest, Helen Morgan, Rosemary Clooney and Anita O'Day. In the original production, the dance that accompanied it was a dream ballet. It was an homage to our parents and grandparents of that generation, imagined as we would like to believe they were – our fathers strong and able, our mothers beautiful and innocent. Young and in love, they were faithful and true. They were the American dream.
IN THE MOOD / DON'T SIT UNDER THE APPLE TREEIN THE MOOD: by Joe Garland / DON'T SIT UNDER THE APPLE TREE by Lew Brown, Sam H. Stept and Charlie Tobias
Probably the most well-known and best loved song of the Swing Era, this Glenn Miller classic has gotten more people dancing than any other song imaginable. We presented it straightforwardly, but intercut it with a version of "Don't Sit Under the Apple Tree" with swing harmonics inspired by vintage groups like the Modernaires and contemporary groups like Manhattan Transfer.

ACT II
SWING IT, BROTHER, SWING: This number really gets the second act off to a great start, reminding the audience of all the players and juicing up the energy. In the original production, we even goosed the costumes a bit, making them brighter in color and more exaggerated in line and style.
Musically, it's is an opportunity to show the human voice as a musical instrument. The singers are integrated into the band, primarily to sing only syncopated sounds and scat riffs.
CARAVAN: by Duke Ellington and Juan Tizol
The importance of the musicians to this show cannot be overstated. They are the heart and soul of the show and are the engine that keeps it moving. Great care should be taken in "casting" of the band. This number was consistently one of the real highlights of the show. We had the luxury of a bandstand able to move down stage. While this was a nice effect, it certainly isn't obligatory. What is obligatory, however, is that the number gives each musician an opportunity to shine.
DANCERS IN LOVE: by Duke Ellington
This is a charming piece of music from a little-known Duke Ellington composition called "The Perfume Suite." Ellington intended it to be a reflection on "adolescent infatuation." We had a slightly different idea (actually several) but it eventually became about a very playful young girl and a very tired old man. The number actually took a lot of time evolving, both during rehearsals and during performance. It eventually became one of the most endearing numbers in the show, garnering many laughs. The key to the laughs came when Keith, as the Old Man, began adding just the tiniest little sounds and phrases into the scene. They mainly consisted of things like "Oh, no!" and "Wait a minute" and lots of grunts and groans whenever Geralyn, as the Young Girl, jumped into his arms or landed on his back, etc. Unfortunately, these were added to the performance after the cast recording was made so they cannot be heard on the CD, but if you allow them to grow naturally out of the choreography they should fall right in place.
It should be noted that the scene needs to remain very innocent in its feel, lest the Old Man look inappropriate with the Young Girl. The scene was occasionally played by the understudy who, while doing all the same choreography, played the man as a nerdy, milquetoast type, rather than an old man. This also worked, but again, needed the "sound effects" to be completely satisfying.
CRY ME A RIVER: by Arthur Hamilton
One of the strongest comic turns in the show, this number relies heavily on two things. The trombone player must really make his "words" understandable and Laura must be able to be angry with him without losing the audience's sympathy. When the balance is right, the payoff is terrific.
RHYTHM CROSSOVER ("Caitlin's Dilemma"): This transition can be an example of poetry in motion. Just as a poet removes all extraneous words to make each remaining word more significant, Lynne Taylor-Corbett kept movements and gestures to a minimum in this vignette. By doing this she was able to convey the characters and their situation very clearly and also provided a momentary contrast to the more frenetic movements utilize in other parts of the show. Creating various moments like this was vital in shaping the pace and rhythm of the show.
BLUES IN THE NIGHT: by Harold Arlen and Johnny Mercer
In the original Broadway production, we were blessed with the extraordinary talents of Ann Hampton Callaway, which included her superb piano playing abilities. So, we had her accompany herself for this number. Though this was a wonderful touch, it is not a necessity. Ann's understudies did not play the piano. They simply sang while the pianist accompanied them and the number was still very effective.
Musically, Ann brought all of the fire and passion of the great female blues singers to this Harold Arlen classic. From Bessie Smith to Aretha Franklin, female blues singers have shown us that swing and jazz can have incredible depth and soul.
COUNTRY CROSSOVER/ TAKE ME BACK TO TULSA / STAY A LITTLE LONGER / BOOGIE WOOGIE COUNTRYTAKE ME BACK TO TULSA/STAY A LITTLE LONGER by Bob Willis and Tommy DuncanBOOGIE WOOGIE COUNTRY by Jack Murphy and Jonathan Smith
In this section, from the "Country Crossover," through "Boogie Woogie Country," we get a taste of swing as it is played in parts of the country other than the big cities. Early artists, like Bob Wills and His Texas Playboys, and contemporary groups, like Asleep At The Wheel, have been playing swing with a "down home feel" and "country twang" since as early as the 1920's and as late as today. Throughout the South and Midwest states, there has always been an audience for this uniquely country approach to swing music.
A little story about casting: In the original production, we cast an extraordinary county swing dancer named Robert Royston in the role of "the awkward fellow who has to learn how to dance in order to win the girl." (In reality, we created that role specifically for Robert because of his physique. When we cast him, Robert was an adorable, rather rotund, Lou Costello type, which made his awkwardness believable and his transition into a great dancer all the more spectacular.) When he heard he was being cast, he quickly promised to go on a diet, work out every day and lose weight. We, just as quickly, told him he'd better not! We then explained our vision of the character to him (and even went as far as to put a clause in his contract saying he had to stay above a certain weight!) Our instincts were right. Audiences were amazed at the (eventual) agility of this guy who was "sort of built like them" and Robert became an instant favorite with the audience. The fact is, Robert became so popular, that during the run of the show, he met a nice girl, became engaged and eventually asked her to marry him (Proposing to her on the stage of the St. James Theatre no less!) When she said yes, he quickly came to us and asked if he could at least lose some weight before his wedding – he wanted to look his best for his wedding photos. Even we couldn't fault him for that, so we relented on the weight clause. He immediately started dieting, working out and losing weight. In fact, by the time he returned form his honeymoon, he was a very svelte fella. Guess what. His character still worked just fine. The audience still loved him. There may have been a few advantages when he was a bit bigger but ultimately he still grabbed the audience's heart and still brought the house down each night. (And so did the dancer who played his role in the First National Company and subsequent tour – and for that production, we had cast a very thin dancer!) The point is, this is a show where you should definitely cast for talent over type every time.
ALL OF ME / I WON'T DANCEALL OF ME: by Seymour Simons and Gerald Marks/I WON'T DANCE by Jerome Kern, Oscar Hammerstein II, Dorothy Fields, Otto A. Harbach and Jimmy McHugh; Additional Lyrics by Ann Hampton Callaway
Here is where Ann and Everett's story line needs to payoff. When they finally kiss (about three quarters of the way through the song) Everett's delight should be echoed by the audience. She's finally relaxed, he's finally gotten the girl, and we knew it had to happen all along! The playfulness of the staging and the style of the orchestration are both drawn from the Louis Prima/Keely Smith tradition, which lends itself perfectly to expressing both the frustration and the fun of romantic relationships.
RHYTHM CROSSOVER ("BILL'S BOUNCE"): Here is where we bring all the threads of story line together for the last time and tie them up in some nice bows. Although there will still be two more numbers before the Finale, by concluding the small stories here, the over all show can begin gathering its steam, to move from here to the bows, uninterrupted.
BILL'S BOUNCE: by Bill Elliott
This is another number not recorded on the Cast Album, which is unfortunate because it was a resounding hit on stage (or more accurately, a resounding bounce off stage and high into the rafters). Our intention was to express swing's inherent sense of freedom and flight in the most overt and exaggerated way we could imagine. What we imagined was bungee cords – and it was great fun. Of course, not every production will be able to execute a number utilizing bungee cords, but that doesn't mean, by any means, that this number should be cut. The intention of this number is to be a real crowd-pleaser and to express the concept of "swing" in some very innovative way that we haven't seen (or even thought of) in the show yet. There are countless ways to do that, limited only by the bounds of your imagination and the particulars of your circumstances. My one suggestion here: Don't hold back! The choice of "Bill's Bounce" as a music selection should provide any director/choreographer with plenty of musical inspiration. (I'd suggest listening to the original, recorded on the Bill Elliot CD, "Strutting With Kate.") Have fun with this.
It is also worth treating this number as the beginning of the "home stretch" as the show begins to build to its finale.
STOMPIN' AT THE SAVOY: by Benny Goodman, Edgar M. Sampson, Chick Webb and Andy Razaf; Additional Lyrics by Ann Hampton Callaway
This is Ann's "finale moment." Although she will, of course, participate in the show's finale with the rest of the company, this is her time to really shine on her own as a singer. Musically, the inspiration is pure Ella with the Chick Webb Orchestra. Emotionally, it's a tribute and homage to a time and place that gave birth to a joyful music and carefree dance that has set hearts and feet tapping around the world.
FINALE ("Swing It, Brother, Swing" / "Sing, Sing, Sing" / "It Don't Mean A Thing")SING, SING, SING: by Louis Prima, Andy Razaf and L. Berry
The Finale encapsulates everything we have seen, heard, felt and experiences in the last hour and a half. Its build and drive are its keys to success. By highlighting each couple in the "jam" section, a very effective, high-speed "review of the revue" can be created.
BOWS ("Woodchopper's Ball")WOODCHOPPER'S BALL by Woody Herman and Walter Bishop
The curtain call worked best when it followed almost immediately after the final "Swing!" in the Finale. Because of the thrust of the music and the energy built up during the Finale, once the lights come up to full, the audience wants to react immediately. They also want to give their strongest acknowledgment to the company as a whole. Therefore, strong consideration should be given to starting with one Company Bow and then moving into individual bows, rather than the other way around. This way the audience has the opportunity to respond most appreciatively (by standing) right from the beginning of the curtain call.
EXIT MUSIC ("Shiny Stockings"): On Broadway, each night after the curtain call, the band played "Shiny Stockings" until the entire audience had left. We chose "Shiny Stockings" for the playoff because it is the favorite tune of Frankie Manning, the legendary dancer who, in fact, made the Lindy Hop the dance we know today. Frankie gave it its form, he invented the first "air steps" and aerial tricks, and was the first to actually "choreograph" a Lindy Hop number for performance. Frankie was in his mid-eighties when we began working on SWING! and he was always a gracious sources of support, encouragement, inspiration and knowledge. He also provided us with a simple phrase that became a touchstone for us during the creation of SWING! I hope it will be an inspiration for all future production as well. When asked why he loved swing so much, he simply replied, "Because I've never seen anybody dancing swing who wasn't smiling!"
---
PAUL KELLY ON SWING
Written By: Paul Kelly

Ask fifty swing fans, "Why do you like swing?" and you\'re apt to get twenty-five who\'ll say, "I love the music" and twenty-five who\'ll say, "I love the dance!" Ask that same group to define what swing
is
and you\'re likely to get fifty different answers. From the musical to the mathematical, from the esthetic to the existential, swing seems to have many definitions… and none at all.
The same could be said of the show SWING! Some love the dance, some the music, but everyone seems to have their own reasons why. From the nostalgic to the retro, from the sentimental to the instrumental, old-timers and newcomers alike all seem to find something they connect with in its unabashed, upbeat fun. For some, it's the timeless tunes by Glenn Miller and Count Basie. For others, it's the contemporary twists we put on old classics, like our Hip-Hop version of Boogie Woogie Bugle Boy or our "lover's spat" version of Cry Me A River – complete with a talking trombone. (The song's composer, Arthur Hamilton, called it one of his favorite versions ever performed.) Others are drawn to Harold Wheeler's Tony-nominated orchestrations, which make eight musicians sound like eighteen, and make newly minted songs sound like classics and classics sound newly minted. Then, of course, there's the terrific dancing, the incredible vocal arrangements, and the clever vignettes. Whatever the reason, everyone agrees, SWING! swings!
The show is often called a "feel-good-musical," which seems appropriate since it is, after all, a celebration of America's most enduring "feel-good" music and dance. Swing got us out of the Depression and brought us through the War. It's an art form whose primary purpose has always been to uplift and enliven, to capture feelings of joy, exuberance and fun, but over the years, it has also given expression to feelings of romance, yearning and desire. That's quite a legacy. From the beginning, we knew we wanted SWING! to be both an homage to, and a celebration of, that art and those feelings. The question was, "How do we do it?"
Well, the first thing we did was to steep ourselves in the real thing. We spent countless hours in clubs, bars and dance-halls. We went to competitions and dance events around the country. We spoke with dancers and musicians who had built their lives and careers around swing, and we sought out men and women for whom swing was the soundtrack underscoring the happiest days of their lives. Perhaps most importantly of all, we listened to that soundtrack. We listened to the bandleaders – Goodman, Miller, Harry James, Lionel Hampton, singers like Sinatra and Fitzgerald, Billie Holiday and Billy Eckstine. We listened to the two Dorsey's (Tommy and Jimmy) and the three Louis's (Prima, Armstrong and Jordan). And, of course, we listened to the royalty (The Count, The Duke and The King – Basie, Ellington and Nat Cole). We listened to them all, from the '20s through the '90s, from the Andrews Sisters to the Mills Brothers and from The Cherry Poppin' Daddies to The Squirrel Nut Zippers. We listened to everything we could get our hands (and ears) on, and like most everyone else who'd listened to swing over the last 80 years, we loved it. More importantly, we surrounded ourselves with other people who loved it too.
We sought out singers, dancers, musicians and historians whose hearts had been smitten by the swinging rhythms of the two and four. We brought them together with a team of first-rate Broadway talents, and then gently massaged the whole group until they spoke a common language, understood each other's techniques, and could work together toward a single goal with a common vision. It was a choice full of challenges but one that paid off in the end. These swing artists brought with them both a depth of knowledge and a commitment to authenticity that proved invaluable.
Anytime something is brought to the stage, even inherently theatrical events, certain liberties must be taken and the material must be carefully edited and shaped to maximize its theatrical impact. Swing dance is no exception. By working so closely with genuine swing artists, we were able to keep our roots planted deeply in the soil of authenticity. This allowed us to pull, push, and stretch the art form as much as needed for theatrical effect, without uprooting it from its origins. This was particularly helpful when it came to the choreography, since there are at least twenty-five different styles of swing dance performed in various parts of the country.
On Broadway, of course, we had the luxury of gathering some of the finest talents in the world to assist us in the task. World-class competitive dancers, first-rate swing musicians, extraordinary jazz vocalists, eminent dance historians, and accomplished Broadway veterans all came together to form a coalition of talent and know-how that, together, created this celebration of American music and dance. While not every producer will have the benefit of working directly with such artists, each does have the benefit of we learned from them and have incorporated here. What's more, there are countless other resources available to producers, directors and choreographers, all around the county. Go to clubs. Check out dance events. See if there are competitions (or competitors) in, or around, your area. Seek out jazz musicians, young and old, and the vocalists who sing with them. These are all tremendous resources and we tapped into them often when putting together the original production. Local jazz ensembles and dance societies are also great resources and can be found all across the country. At the very least go to the music store! Spend time listening to the "greats." See why some have said, "There are only two kinds of music: the stuff that swings and the stuff that don't." Trust me, it'll be the most enjoyable "research" and "dramaturgy" you'll ever do. (As a starting point, I've included a section called "Musical References & Special Notes" that discusses where some of our inspirations came from.)
Some have asked, "Can you do SWING! without world-class competitive dancers?" Good question, but let me pose another. Can you do Hello, Dolly! without Carol Channing? Can you do My Fair Lady without Rex Harrison and Julie Andrews or A Chorus Line without Donna McKechnie and Priscilla Lopez? The answer, of course, is "Yes!" SWING! is as much about a feeling and an energy as it is about dance steps or vocal arrangements. It is about capturing and expressing joy. If you can do that, you're more than halfway home. If you can't, all the musical and choreographic expertise in the world won't make a difference. Fortunately, SWING!, has a built-in advantage – this music and dance has been tried and true for nearly a hundred years. Whether as the original Lindy Hop or the later Jitterbug or the current Retro-Swing, this dance, and the music that gets it moving, has found its way into the hearts (and feet) of three generations. It's inherently joyful material.
While it's easy to think of the original Broadway production of SWING! as a show where specialty artists performed only what they excelled at, i.e. swing champions danced swing, jazz vocalist sang great standards, etc., the truth is that is only partly accurate. The reality (and the real secret) behind the development of SWING! was the fact that all of the performers were called on to go further than they had ever gone before. Each and every performer was called upon to do something they had never done before. Swing couples learned to dance like Broadway hoofers. Broadway chorus dancers learned the art of partner dancing (almost never done on Broadway). Jazz singers acted. Swing musicians danced. Everyone stepped out of their "comfort-zone" and learned to trust their partners and the cohesion of the ensemble – a terrific recipe for creative collaboration and what's more, a perfect analogy for swing itself.
In authentic jazz music and dance, artists find the balance between performing what they have rehearsed to perfection and what they have never performed before. It is the balance between the perfectly structured and the completely spontaneous. One is the solid floor, the other, the air into which they fly. The irony, of course, is that you can't have one without the other. They are able to reach the heights because they have the floor to jump up from. This willingness to live between the known and the unknown, the well perfected and the newly tried, is what has kept swing dance and swing music always moving forward, ever changing, always growing and continually developing throughout its history.
Trust that metaphor. Keep going back to it. If you ever find yourself stuck for a creative idea, go back to the source material for your inspiration. Find an analogy. Explore swing's use of rhythm, its ability to incorporate new styles, its perfect balance between group conformity and individual expression. Above all, remember its spirit. Remember its fun. These are what you want to capture and express.
So, do you have to have the World Swing Dance Champions of 2005 in your production? Sure, if you can get them, go ahead! They'll add lots of fun and flash. But if you can't get them, that's okay too! Think back to the last time you heard In The Mood played by a live band. I'll bet you a five spot it wasn't exactly the Glenn Miller Orchestra playing it, but I'll bet you another five spot that everybody in the room still got up and danced. And I'll bet you another saw-buck that if there was even one couple out there who knew even the basics of swing dancing, they were pretty charming to watch.
Remember, this is a show intended as a celebration. Keep that in mind and SWING! will swing! I hope you'll have as much fun with your production as we did with ours. If you do, you can be sure that your audiences will as well.
---

Playbill VIP
: 
MAKE YOUR OWN PLAYBILL! Playbill VIP allows you to create your very own Playbill Program. We have provided Playbill with all of the credits, song listings, musical numbers and more so that most of the work is already done for you. Just add your productions details, photos of the cast and share it with all of your friends. Learn more: www.playbillvip.com
---

STANDARD
SWING! - Orchestra Package (8 Books/8 Players)

1 – PIANO CONDUCTOR SCORE

1 – REED I (Flute, Soprano Sax, Alto Sax, Baritone Sax)

1 – REED II (Flute, Clarinet, Tenor Sax)

1 – TRUMPET (Doubles Clave and Flugelhorn)

1 – TROMBONE

1 – GUITAR (Acoustic , Electric doubling Ukulele)

1 – DRUMS (Traps, Toms, Cowbell, Timbales, Bells, Wind Chimes, Triangle)

1 – BASS (Acoustic with Electric Amp)

Rehearsal Set (12 Books)

10 – Libretto-Vocal Books

1 – Logo CD

2 – PIANO CONDUCTOR SCORE

Digital Logo
ADDITIONAL
Libretto/Vocal Books 10 pack

10 – Libretto-Vocal Books

SWING! - PRE-PRODUCTION PACKAGE

1 – PIANO CONDUCTOR SCORE

1 – Libretto-Vocal Books

PRINCIPALS
2 Women
3 Men
FEATURED
Singing-dancing ensemble as desired (14 in the original Broadway production)
COMMENTS
4 lead singers (2 women and 2 men)
CHARACTERS
The Singers (4)
Lindy Hop Couple (2)
Latin Couple (2)
Comic Couple (2)
West Coast Swing Couple (2)
All American Couple (2)
Sexy Couple (2)
Western Swing Couple (2)

SWING! requires a unit set with plenty of space to dance.
Materials Notes
Media Rights
Promotional
1. The Promotional Video shall be recorded and shown for the sole purposes of advertising your licensed production of the Play. For such a video, R&H allows theatres to film up to 10 minutes of total footage taken at either a performance or rehearsal (i.e.: 10 minutes of scripted moments.)
2. The Promotional Video may not include more than (i) 1 minute from any song or (ii) 3 minutes, in the aggregate, of footage of copyrighted material from the Play.
3. The Promotional Video may not include any sponsorship or underwriting without the prior consent of all R&H.
4. The Promotional Video must be submitted to R&H by sending the source video and video link to [email protected]
5. The Promotional Video must include the following: "Rights courtesy of Rodgers & Hammerstein, www.rnh.com"
6. Upon approval by R&H of the Promotional Video, you agree not to make any alterations in the approved copyrighted material used therein and you agree to obtain the prior written approval of R&H for any other use of the Promotional Video not specifically granted herein.
7. Upon termination of the Term, you shall cease to have any rights to use the Promotional Video including, without limitation, in connection with a future production of the Play, and shall immediately remove its content from any and all websites on the Internet.
8. You may not use a commercially available recording.
9. Any additional promotional rights must be approved by R&H by contacting[email protected].
*
Promotional video rights can only be granted once a performance license for Swing! has been secured. Please contact customer service if you have any questions. If you have not yet applied for Swing!, you can do so here. LOG IN to learn more.
---
Archival
1. Subject to the information provided in Licensee's application and payment of the fee as set forth in Paragraph 3 herein, Licensee shall have the right to create a single copy of the Video for internal archival, private viewing purposes at Licensee's address only and shall not be re-copied, distributed or otherwise exploited, in whole or in part, in any media now known or hereafter developed without the prior written approval of R&H. Without limiting the generality of the foregoing, the Video shall not be (i) sold to anyone (ii) telecast by any television station or network, including, without limitation, any local cable station or (iii) distributed, exhibited or otherwise exploited over the Internet or as part of any online auction.
2. Licensee agrees to include the following language at the beginning of the Video:
©Year By R&H Theatricals. This production was videotaped by special arrangement with R&H Theatricals for archival purposes only. All Rights Reserved.
WARNING: Federal law provides severe civil and criminal penalties for the unauthorized reproduction, distribution or exhibition of copyrighted motion pictures, videotapes or videodiscs. Criminal copyright infringement is investigated by the FBI and may constitute a felony with a maximum penalty of up to five years in prison and/or a $250,000.00 fine.
This Video is provided to you for private, organizational and home viewing purposes only. By accepting the Video, you agree not to authorize or permit the Video to be copied, distributed, broadcast, telecast or otherwise exploited, in whole or in part, in any media now known or hereafter developed.
*

You must be logged in and licensed to present Swing! in order to license Archival rights. Please contact customer service with any questions.
---