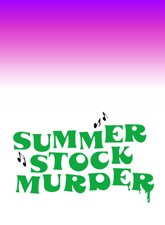 Summer Stock Murder
This riotous musical mystery's three acts span three weeks at the Sagautasac Playhouse, a typical summer stock theatre. The company rehearses and presents a new musical in each act-a Friml-esque operetta, a Cole Porter-ish potpourri and a musical drama a la Sondheim. With the pressure on and temperaments soaring, a string of bizarre murders begins taking place. Accompanying this high drama of the hilarious sort is the low comedy of visiting stars and sex-crazed apprentices as crisis after crisis threatens each curtain. In a stroke of comic inspiration, one woman plays each of the visiting guest stars who arrive in each act-an ex-diva cum game show panelist, a B-movie sexpot, and a boozing broad from Broadway- making it a tour de force for a lucky singing actress. If the time has come to give your audience one they haven't seen, this is it!
Participate in the R&H Online Community.
Leave comments or talk with other fans in the forum!

To request the rights to make merchandise for this show email [email protected].
Fan Info:



Song #
Song Name
Character Name
Play
Other Versions


Joseph Jefferson Awards (Chicago)
— 8 Citations including Best New Work

Vocal Range of Characters:


// Photos

---
---
---
---


Written By: Philip LaZebnik and Kingsley Day

Our friend Paul Hough returned from a season of summer stock in the Midwest with horror stories. Everybody had hated the director and wanted to murder him. 'Why don't you guys write a murder mystery set in a summer stock theatre?' he asked us. 'It would make a great musical.'
It was such a brilliant simple idea we wondered why nobody had thought of it before. While we had other commitments and couldn't start writing it until the winter, possibilities began coming to us right away.
The show we ended up with takes place over a three week period at the archetypal summer stock theatre. The company is rehearsing a different show in each act (the previous week it was THE MIKADO), and in this pressure-cooker atmosphere people start getting killed. Within the play the shows are rehearsed and presented -- the ultimate summer stock versions of a Frimlesque operetta, a Cole Porter type potpourri and a musical drama a la Sondheim. The visiting 'stars' are crazed and eccentric; crisis upon crisis threatens each curtain; tempers flare; sex rears its ugly head; actors drop like flies. In short, anyone in the theatre will recognize some of his or her own experiences in stock.
The mystery going on 'off stage' is played straight, and when the opening night audience in Chicago feverishly debated the identity of the killer during intermission, we knew we had succeeded. Apparently the critics thought so, too. SUMMER STOCK MURDER went on to a record-breaking run, and won eight Joseph Jefferson Citations. Paul Hough, whose idea it had been in the first place, directed and, happily, survived the run.
---

Playbill VIP
: 
MAKE YOUR OWN PLAYBILL! Playbill VIP allows you to create your very own Playbill Program. We have provided Playbill with all of the credits, song listings, musical numbers and more so that most of the work is already done for you. Just add your productions details, photos of the cast and share it with all of your friends. Learn more: www.playbillvip.com
---

STANDARD
SUMMER STOCK MURDER - Orchestra Package (9 Books/9 Players)

1 – KEYBOARD (Piano Vocal Score - Piano, Fender Rhodes)

1 – REED I (Flute, Alto Sax)

1 – REED II (Oboe, Clarinet, Tenor Sax)

1 – REED III (Clarinet, Bass Clarinet, Baritone Sax)

1 – TRUMPET

1 – FRENCH HORN

1 – TROMBONE

1 – PERCUSSION (Traps, Vibraphone)

1 – BASS ( Electric, Acoustic)

Rehearsal Set (22 Books)

20 – Libretto-Vocal Books

1 – Logo CD

2 – PIANO VOCAL SCORE

Digital Logo
ADDITIONAL
Libretto/Vocal Books 10 pack

10 – Libretto-Vocal Books

SUMMER STOCK MURDER - PRE-PRODUCTION PACKAGE

1 – Libretto-Vocal Books

1 – PIANO VOCAL SCORE

PRINCIPALS
5 Women (1 Woman plays 3 Roles)
6 Men
CHARACTERS
TOBY PATTERSON, veteran Sagautasac Playhouse actor-singer, aging leading man
JULIEANN BARRINGTON, veteran ingénue; secretly married to Toby
OTTO FRENCH, longtime artistic director of Sagautasac Playhouse
MAGGIE BURKE, college student intern
CONSTANCE D'ARCHET, veteran Sagautasac Playhouse character actress-singer
MASON HAMLIN, Sagautasac Playhouse musical director
MICHAEL HACHMEISTER, actor-singer-dancer, recent MFA theater graduate
CHRISTOPHER VLASKY, actor-singer-dancer, male ingénue
DALTON BROOKS, character actor-singer
VILMA FRENCH, Sagautasac Playhouse costumer; wife of Otto
DORIS DELANEY,* once a star operatic soprano, now best known as a TV game show contestant
CINDI SUMMERS,* former screen sexpot, star of forgettable B films; sister of Doris
MARA MOOREHEAD,* former Broadway star with a drinking problem
*played by the same actress

SUMMER STOCK MURDER takes place at the Sagautasac Playhouse over a three-week period during its summer season.
Materials Notes
Media Rights
*

Currently media rights for Summer Stock Murder are not available. Please contact customer service with any questions.