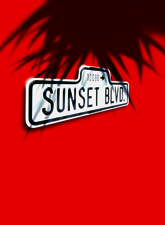 Sunset Boulevard
SUNSET BOULEVARD is no longer available to license through R&H Theatricals. Please visit www.themusicalcompany.com to license all Andrew Lloyd Webber shows.
Participate in the R&H Online Community.
Leave comments or talk with other fans in the forum!

To request the rights to make merchandise for this show email brian.sherman@rnh.com.
Fan Info:



Song #
Song Name
Character Name
Play
Other Versions


Vocal Range of Characters:


// Photos



STANDARD
1 – Full Score (Act II)

1 – Full Score, Act I, Book 2

1 –
ADDITIONAL
Sunset Boulevard - Pre Production Pack (3 Books)

1 – Libretto

1 – Vocal Book

1 – Piano Conductor Score
ARTWORK
Sunset Boulevard Flat Bundle

1 – Flat Banners

1 – Flat Facebook Tabs

1 – Flat Poster

1 – Flat Print

Sunset Boulevard Layered Bundle

1 – Layered Banners

1 – Layered Facebook Tabs

1 – Layered Posters

1 – Layered Print

PRINCIPALS
2 Women
2 Men
FEATURED
4 Men
CHARACTERS
PRINCIPAL AND
FEATURED
Norma Desmond
Joe Gillis
Max Von Mayerling
Betty Schaefer
Cecil B. DeMille
Artie Green
Sheldrake
Manfred
ENSEMBLE
CHARACTERS
(in order of appearance)
Myron
Mary
Joanna
First And Second Finance Men
Sammy
Morino
Wunderkind
Myron
Secretary
Cliff
Katherine
Lisa
John
Anita
Adam
Waitress
Actor
Sandy
Larissa
Jane
Glenn
Danielle
Dawn
Barman
First through Seventh Salesmen
Richard
Jean
Actor #4
Guard
Jones
Heather
Hog-Eye
Victor Mature Stand-In (Non-Speaking)
Hedy Lamarr Stand-In (Non-Speaking)
Victor Mature (Non-Speaking)
Hedy Lamarr (Non-Speaking)
Astrologer
Masseuse #1 And #2
Beautician #1, #2, #3
Analyst
Doctor
Journalist
Policeman (Non-Speaking)

SUNSET BOULEVARD takes place in Hollywood between 1949 and 1950.
SPECIFIC LOCATIONS
The House On Sunset
Paramount Studios
On The Road
Garage On Sunset
Norma's Guest house
Schwab's Drugstore
The Terrace On Sunset
Artie Green's Apartment
Norma's Swimming Pool
Betty's Office at Paramount
Paramount Backlot
Materials Notes
Featured Videos
Media Rights
Promotional Video Right
1. The Promotional Video shall be recorded and shown for the sole purposes of advertising your licensed production of the Play.
2. The Promotional Video may not include more than (i) 1 minute from any song or (ii) 3 minutes, in the aggregate, of footage of copyrighted material from the Play.
3. With respect to advertising on YouTube, you may only produce one (1) Promotional Video.
4. The Promotional Video may not include any sponsorship or underwriting without the prior consent of all R&H.
5. The Promotional Video must be submitted to R&H by sending the source video and video link to editor@rnh.com.
6. The Promotional Video must include the following: "Rights courtesy of Rodgers & Hammerstein, www.rnh.com"
7. Upon approval by R&H of the Promotional Video, you agree not to make any alterations in the approved copyrighted material used therein and you agree to obtain the prior written approval of R&H for any other use of the Promotional Video not specifically granted herein.
8. In the event you shall breach any of the provisions set forth herein, the rights herein granted to you shall automatically terminate, without prejudice to our right to recover damages and obtain such other relief as we may be entitled to including, without limitation, a penalty of not less than $600.00 for each such occurrence.
9. Upon termination of the Term, you shall cease to have any rights to use the Promotional Video including, without limitation, in connection with a future production of the Play, and shall immediately remove its content from any and all websites on the Internet.
10. You may not use a commercially available recording.
11. Any additional promotional rights must be approved by R&H by contacting Theatre@rnh.com.
*
Promotional Video Right video rights can only be granted once a performance license for Sunset Boulevard has been secured. Please contact customer service if you have any questions. If you have not yet applied for Sunset Boulevard, you can do so here. LOG IN to learn more.
---
Layered Graphics Package
Format: .PSD *Photoshop required
Price: $395.00
This package includes:
Poster (14x22")
Banner ads (4 sizes:160x600, 300x250, 468x60, 728x90 )
Facebook Tabs (3 tabs with Fangate, includes free download for Facebook fans)
Print Ads (Color and Black & White, 2 sizes: 2x10-5" and 10-5x10")
Headers (3 kinds: Facebook Cover Photo and Profile Picture, Twitter Header and Profile Picture, and Website Header)
Please see each item for full descriptions.
All files are layered Photoshop files, fully customizable with guiding notes.
Photoshop is required for editing.