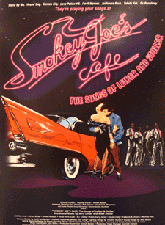 Smokey Joe's Cafe - The Songs of Leiber and Stoller
Leiber and Stoller, as much as anyone, virtually invented rock 'n' roll, and now their songs provide the basis for an electrifying entertainment that illuminates a golden age of American culture. In an idealized '50's setting, the classic themes of love won, lost and imagined blend with hilarious set-pieces and slice-of-life emotions. Featuring nearly 40 of the greatest songs ever recorded, SMOKEY JOE'S CAFE isn't just great pop music - it's compelling musical theatre.
Participate in the R&H Online Community.
Leave comments or talk with other fans in the forum!

To request the rights to make merchandise for this show email larisa.borshman@rnh.com.
Fan Info:

Mike Stoller (half of the world famous song writing team of Leiber and Stoller) took a cruise of the Mediterranean where he was a special guest on Norwegian Cruise Lines Norwegian Jade. He and his wife saw the shipboard performance of SMOKEY JOE'S CAFÉ and reported back... read more

In 2000, after five years and 2,036 performances, the Broadway run of SMOKEY JOE'S CAF… closed.

In 1995, SMOKEY JOE'S CAF… opened on Broadway at the Virginia Theatre and ran for 2,036 performances.

The birthday of Mike Stoller, half of the partnership Leiber & Stoller. Composer Stoller is responsible for some of America's most quintessential rock songs, from "Hound Dog"" and ""Jailhouse Rock"" to ""On Broadway"" and ""Stand By Me."" Leiber & Stoller's songs are showcased in the musical SMOKEY JOE'S CAFE."

In 1933 Jerry Leiber was born. Half of the partnership of Leiber & Stoller, lyricist Leiber was responsible for some of America's most quintessential rock songs, from "Hound Dog"" and ""Jailhouse Rock"" to ""On Broadway"" and ""Stand By Me."" Leiber & Stoller's songs are showcased in the musical SMOKEY JOE'S CAFE."



Song #
Song Name
Character Name
Play
Other Versions

SMOKEY JOE'S CAFÉ History
If SMOKEY JOE'S CAFÉ was a newly-written musical it would be hailed as one of the greatest pieces of songwriting ever done for the Broadway stage. The fact that the show is a collection of pop songs written by Jerry Leiber and Mike Stoller in the 1950s and '60s is no less remarkable. This material, without the aid of a book stringing dramatic action together and without ever being intended to exist as a coherent body of work on its own, provides the basis of an electrifying performance that recapitulates a golden age of American culture.
The 38 songs performed by the musical's cast of nine performers include a series of hits forged in the memory of the era, including "Hound Dog,"On Broadway,"Charlie Brown,"Love Potion #9,"Jailhouse Rock,"There Goes My Baby,"Yakety Yak,"Kansas City,"Spanish Harlem,"Poison Ivy" and "Stand By Me." But the true genius of the Leiber/Stoller collaboration becomes evident as the lesser-known material takes its place proudly beside the hits and fills out the production with a series of musical surprises that keep the production speeding along.
The songs of Leiber and Stoller are perfect material for the stage. Each one is a self-contained storyline written around a sturdy, hummable melodic hook. The classic themes of love won, lost and imagined, dovetail with humorous set-pieces and slice-of-life cameos. Stories of wanderlust, aspiration and nostalgia are neatly capsulized without ever straying into bathos and cheap sentimentality. This combination of deeply-felt emotion, leavened by the light-hearted determination never to take anything too seriously, makes for great pop music as well as compelling musical theater.
Baltimore native Leiber and New Yorker Stoller's roots are in the pre-rock era sounds of rhythm & blues and gospel. In 1950 the two met in Los Angeles, where they began writing and producing material for blues artists like Jimmy Witherspoon and Little Esther. In 1951 the two scored their first R&B hit with Charles Brown's recording of "Hard Times."
Leiber and Stoller were still only 20 when their epochal "Hound Dog" became one of the hottest-selling songs of 1953 in a version by the blueswoman Willie Mae "Big Mama" Thornton backed by the Johnny Otis band. The song was so popular it spawned a number of pop and country cover versions, but when Elvis Presley covered it in 1956, "Hound Dog" become synonymous with the emergent style of rock 'n' roll. Elvis eventually recorded 20 Leiber and Stoller compositions including the title tracks for "Jailhouse Rocks,"Loving You" and "King Creole."
After writing "Smokey Joe's Cafe" and "Riot in Cell Block #9" for the Robins on their own Spark records, and scoring a hit in 1955 for The Cheers with "Black Denim Trousers and Motorcycle Boots," Leiber and Stoller made history by signing the first independent production deal, with Atlantic Records. The Robins were recast as The Coasters and went on to become one of the most popular groups of the late '50s based on catchy Leiber and Stoller sotry-songs like "Searchin',"Young Blood,"Yakety Yak,"Charlie Brown,"Along Came Jones,"Poison Ivy" and "Little Egypt."
In '59 the songwriting team had hits "Kansas City" for Wilbert Harrison and "Love Potion #9" by The Clovers. That same year Atlantic turned over The Drifters to its crack production team and Leiber/Stoller proceeded to lay the foundations for soul music as well as the Phil Spector sound. The latin rhythms and string section behind lead vocalist Ben E. King on "There Goes My Baby" would become a soul music staple. Spector, who co-authored "Spanish Harlem" with Leiber after King went solo, was a keen apprentice who used the eclectic productions values learned from the Leiber/Stoller sessions to fashion his own distinctive sound.
In 1964 Leiber and Stoller formed Red Bird records and supervised the production of memorable hits—"Chapel of Love,"People Say" and "Iko, Iko" for the Dixie Cups and "Remember (Walkin' in the Sand),"Leader of the Pack" and "Give Him a Great Big Kiss" by the Shangri-Las.
Leiber and Stoller combined on various projects during the late '60s but still found time to deliver hits to such varied sources as The Monkees ("D.W. Washburn") and Peggy Lee ("Is That All There Is?" and "I'm a Woman"). In the 1970s the team continued producing, overseeing the Stealer's Wheel hit "Stuck in the Middle With You."
The innate theatricality of the Leiber/Stoller canon made it only a matter of time before their material was adapted to the stage. In 1980, British director Ned Sherrin mounted a theatrical compendium of Leiber and Stoller songs entitled "Only in America" at the Roundhouse Theatre in London; in 1983 the English roots-rock band The Darts organized a London, "Yakety Yak," built around the Leiber/Stoller catalogue. Leiber calls that production "the Liverpool version."
Now, with "Smokey Joe's Cafe" we finally have the definitive adaptation the Leiber/Stoller material to the stage, directed by Jerry Zaks with the whole-hearted approval of the writers. Conceived by Jack Viertel and the Jujamcyn Theatres, the show presents fresh musical arrangements of Leiber and Stoller classics by Louis St. Louis.
---

Tony Awards
January 01, 1995 — 7 Nominations, including Best Musical

Vocal Range of Characters:


// Photos

---
---
---
---

PRODUCTION NOTE
Written By: Jack Viertel Co-Conceiver of Smokey Joe's Cafe

Since the actual text of SMOKEY JOE'S CAFE consists of nothing but song lyrics and stage directions, it might be helpful for any director and choreographer planning to mount a production to have some guidelines about the original intent of the evening, which evolved over several years and through an unimaginable amount of trial and error.  There is no conventional story or character development to guide you, so what makes the show work, and how can you best serve the spirit and style of these great Leiber and Stoller songs and the era they evoke?

The success of any production of the show will depend as much upon casting as on any other single element.  I don't mean simply the casting of the best possible people, but a fundamental understanding of who the people on stage represent and what they must deliver to the audience.  Jerry Leiber and Mike Stoller didn't invent rock and roll, but they did create some of the most powerful and recognizable early icons of the music, and the show must pay homage to them if it is to make any sense.  A trip to the record store is probably essential if you're not familiar with this era and its sounds.  Specifically, Leiber and Stoller wrote for two famous African-American quartets РThe Drifters and The Coasters.  The characters of Victor, Adrian, Ken and Fred should evoke the sound and style of those two quartets.  The Drifters, led by Ben E.  King, were smooth as silk, sexy and irresistible; the Coasters were promoted as "the clown princes of rock and roll" and delivered hectic mayhem onstage, almost an extension of vaudeville clowning, but entirely in song.  Most of the comedy rests with Victor, (the preening bad-boy) some with Adrian (the slow one).  Ken gets to be the smoothie, and Fred the implacable bass, who's seen it all and refuses to get upset about it.
Leiber and Stoller also wrote for two powerful figures of white rock and roll РDion (of Dion and the Belmonts) and, of course, Elvis Presley.  In the show the Elvis material has been distributed fairly evenhandedly to the various performers, but it is still essential that a white singer, Michael, be able to evoke a memory of Elvis (and Dion and Fabian and all those other duck-tailed teen idols) without doing an Elvis impression or camping his way through a GREASE-inspired parody.  Michael should be genuinely suave and impressive.  Sexy wouldn't hurt.   As far as the women are concerned,  B.J.'s character was inspired by the titanic rhythm and blues shouter Big Mama Thornton, who recorded the original version of "Hound Dog" back when Leiber and Stoller were so young that their mothers had to sign their publishing contract for the song.  Big Mama was a woman of size, arrogance and great good humor.  So is B.J. Crosby, who opened the show on Broadway.  If you're fortunate enough, as we were, to have a big B.J. and a little Victor, so much the better.  The combination works like a charm.
Delee should evoke both the innocence of the teenage girls who fell in love with Elvis and Dion and Fabian and Frankie Avalon on the Dick Clark Show, and the wild streak that all of us dreamed about such girls having.  She is Brenda Lee, but sometimes she wants to be Jayne Mansfield.  Pattie is the throaty voice of experience; a little older-but-wiser, she anchors the more serious moments, and may even seem to come from a slightly later period (Janis Joplin, Tracy Nelson, Bonnie Raitt) than the rest of the company.  And Brenda is a combination of savvy, wit, brains and beauty that is born of the line of stunning rock and roll divas which has included Ruth Brown, LaVern Baker, Tina Turner and Patti LaBelle.  She must have timing and sexuality to deliver her big moment, which is called "Don Juan".
In the original production, B.J. and Brenda were African-American, Pattie and Delee white.  There's no necessity of doing the show this way, but be careful; the more one evokes the actual memories (without slavish imitation) of those early rock and roll icons, the easier it is to bring an audience back to the neighborhood.  
In thinking about how the style of SMOKEY JOE'S CAFE progresses, both in terms of staging and design, it might be helpful to know that all of us who worked on the show had a clear sense of what the journey for the audience and the characters was supposed to be, even though the audience should never be consciously aware they are on a journey.  There are two parallel ways to think about this "sub-structure", as we called it.  First, the show begins when these characters are very young, teenagers blowing off steam after a day of high school, getting ready for the hop.  As it progresses, although the performers don't change age, we get a sense that they are moving through the stages of life.  They leave home on the B&O, they get in trouble with the law, or threaten to.  They have credit problems.  The innocence of "Fallin'" turns into the brazen (if still essentially harmless) sexiness of "Trouble" and "Teach Me How to Shimmy."  They get drunk, they get religion, they end up in the jailhouse, and then, finally, they look back on the neighborhood they left so long ago,  and even if their dreams are a bit tarnished, they seek a new kind of community in "Stand By Me."  Their journey, in other words, is very much the same as the audience that heard this music for the first time when they were in their teens.  
The show's parallel progression can be seen as one of a single night, beginning with the late afternoon, when the company is contemplating an evening of limitless potential, through what that evening actually brings Рromance, laughter, regret heartache and a certain contained recklessness.  If it's 4:30 in the afternoon when the quartet sings "Youngblood" to Brenda, it's 4:30 in the morning, after a long night at Smokey Joe's, when B.J. gets around to the reprise of "Fools Fall in Love."
Neither of these routes are literal, and neither can be slavishly adhered to, but the reprises of "Neighborhood" suggest them.  Questions like, "How old are they when they do 'Yakety Yak?'" or "What time is it when they sing 'Shoppin' for Clothes'" have no answers.  But if the evening is able to move in a general way from innocence to experience and from dusk to dawn, from naivete to wisdom, you'll find the audience is right there with you, even if they don't know why.
As far as design choices are concerned, simpler is better, and swift transitions are essential.  On Broadway we have a series of sliding panels that can hide performers and the occasional table or chair.  When the panels sweep across the stage they deliver the next group of singers to wherever they need to be.  Heidi Ettinger, the set designer, decorated the panels with a collage of iconography of the period Рrecord labels, old stills of the Coasters and Elvis and others Рand the whole created an evocative atmosphere without ever becoming a specific place.  But I've also seen the show performed perfectly well with performers simply emerging from the wings.  The panels were a neat device, not a necessity.  
Although the script refers to some locations, it would be a mistake to create any of them literally.  When the men sing "Dance With Me," we know they're at a prom or a hop.  If you actually bring on a set you'll have to get rid of it at the end of the number, which will let things grind to a halt, and you'll set up expectations that there will be more sets, and soon you'll need almost forty distinct designs.  The songs pretty much tell you where they are happening.  In some cases the stage directions help, but there's a lot of leeway to create dance, comedy, even a little drama between the characters if you use your imagination.  Suggest the changing world with light and costumes, and make an abstract neighborhood where all this can happen.  The material, when performed well, spreads a lot of joy.  Take some yourself while you're handing it out to the audience and you can't go wrong.
---

KeyboardEase
: 
This unique resource is designed specifically to meet the needs of productions that want convenient, cost-effective access to these hard to find keyboard sounds. We have carefully assembled all sounds required for a given show. Everything is laid out in correct sequential order, so you can easily progress through each song in each keyboard book with professional, authentic, show-specific sounds. All you have to do is connect any standard keyboard (or multiple keyboards) to your laptop and you'll be ready to perform. And we'll help you every step of the way.
Demo KeyboardEase for Mac or PC.

Contact Realtime Music Solutions for more information: www.keyboardease.com, via email:info@rms.biz, or via phone: 212-620-0774
---
Playbill VIP
: 
MAKE YOUR OWN PLAYBILL! Playbill VIP allows you to create your very own Playbill Program. We have provided Playbill with all of the credits, song listings, musical numbers and more so that most of the work is already done for you. Just add your productions details, photos of the cast and share it with all of your friends. Learn more: www.playbillvip.com
---

STANDARD
SMOKEY JOE'S CAF√Č - Orchestra Package (7 Books/7 Players)

1 – BASS

1 – PIANO CONDUCTOR SCORE (Keyboard I)

1 – PERCUSSION (see "Materials Notes", under "Production Information")

1 – SAXOPHONE (Tenor and Baritone)

1 – SYNTHESIZER (Keyboard II)

1 – DRUMS

1 – Guitar

Smokey Joe's Cafe-Pre-Production Pack-Professional

1 – Professional

1 – Professional

Rehearsal Set (12 Books)

10 – Libretto-Vocal Book

1 – Logo CD

2 – PIANO CONDUCTOR SCORE (Keyboard I)

Digital Logo
ADDITIONAL
Libretto-Vocal Book 10-Pack
SMOKEY JOE'S CAF… - PRE-PRODUCTION PACKAGE

1 – Libretto-Vocal Book

1 – PIANO CONDUCTOR SCORE (Keyboard I)

PRINCIPALS
4 Women
5 Men
COMMENTS
Can be easily expanded.
For the purposes of this script, the characters are identified by the names of the actors who created the roles in the original Broadway production. In subsequent productions they should be identified by the names of the actors playing the roles.
CHARACTERS
*
Ken - the smoothie who, along with Victor, Adrian, and Fred, makes up a quartet modeled on The Drifters
Adrian - the slow one of the quartet
Frederick - the implacable bass of the quartet
Victor - the preening bad-boy who gets most of the comedy
Michael - genuinely suave and impressive, evokes the memory of Elvis
Brenda - a combination of savvy, wit, brains and beauty
B.J. - inspired by the titanic rhythm and blues shouter Big Mama Thornton
Pattie - the throaty voice of experience
DeLee - suggests the innocence of teenage girls, but with a wild streak
*Casting Note: see Production Note by Jack Viertel on website or in the libretto for suggestions about appropriate casting.

SMOKEY JOE'S CAF√Č evokes particular locations, but a true set is not necessary. Instead, a stage decorated so as to be evocative of the era but open to the imagination is perfect, and changes of costume and lighting can do the rest.
Materials Notes
Suspended Cymbal, Bell Tree, Vibraslap, Slapstick, Tambourine, Cabasa, Mark Tree, Congas, Train Whistle, Wood Block, Ice Bell, Cowbell, Guiro, Bongos, Bells, Xylophone, Tam-Tam, Ratchet, Maracas(2), KAT with the following patches: (Timpani, Wall of Tambs, Hand Claps, Pogo Stick, Bass Drum, Castanets, Marimba, Woodblock Click)
---
Featured Videos
Featured News
SMOKEY JOE'S on the Seven Seas
Mike Stoller (half of the world famous song writing team of Leiber and Stoller) took a cruise of the Mediterranean where he was a special guest on Norwegian Cruise Lines Norwegian Jade. He and his wife saw the shipboard performance of SMOKEY JOE'S CAFÉ and reported back...
Read More
Smokey Joe's Is Smokin'
Connecticut audiences experienced the thrill of SMOKEY JOE'S CAFE at the SMOKEY JOE'S IS SMOKIN' Thomaston Opera House in March
Read More
Media Rights
Promotional
1. The Promotional Video shall be recorded and shown for the sole purposes of advertising your licensed production of the Play. For such a video, R&H allows theatres to film up to 10 minutes of total footage taken at either a performance or rehearsal (i.e.: 10 minutes of scripted moments.)
2. The Promotional Video may not include more than (i) 1 minute from any song or (ii) 3 minutes, in the aggregate, of footage of copyrighted material from the Play.
3. The Promotional Video may not include any sponsorship or underwriting without the prior consent of all R&H.
4. The Promotional Video must be submitted to R&H by sending the source video and video link to editor@rnh.com.
5. The Promotional Video must include the following: "Rights courtesy of Rodgers & Hammerstein, www.rnh.com"
6. Upon approval by R&H of the Promotional Video, you agree not to make any alterations in the approved copyrighted material used therein and you agree to obtain the prior written approval of R&H for any other use of the Promotional Video not specifically granted herein.
7. Upon termination of the Term, you shall cease to have any rights to use the Promotional Video including, without limitation, in connection with a future production of the Play, and shall immediately remove its content from any and all websites on the Internet.
8. You may not use a commercially available recording.
9. Any additional promotional rights must be approved by R&H by contactingTheatre@rnh.com.
*
Promotional video rights can only be granted once a performance license for Smokey Joe's Cafe - The Songs of Leiber and Stoller has been secured. Please contact customer service if you have any questions. If you have not yet applied for Smokey Joe's Cafe - The Songs of Leiber and Stoller, you can do so here. LOG IN to learn more.
---
Banner Ads - Flat Graphics
Format: .JPG
Price: $60.00
Display customized, eye-catching banner ads to promote your production.
Don't worry about reshaping banners to fit different websites: This package already includes 4 standard banner sizes - vertical, horizontal, and rectangular.
Don't worry about optimizing the color format, size and resolution. These files are already optimized for online viewing.
Don't worry about needing a designer to convert static banners into rotating, animated ads. We'Äôve taken care of this for you! Text and video instructions are provided to help you animate your ads with ease 'Äď using free programs and apps.
Don't worry about needing fancy design programs 'Äď these flat .JPG files are ready to use with any free paint or photo editing program. Demos show you how to customize graphics with your theater's text.
Included:
160x600 - Wide Skyscraper
300x250 - Medium Rectangle
468x60 - Full Banner
728x90 'Äď Leaderboard