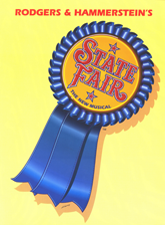 State Fair
Rodgers & Hammerstein's only musical written directly for the screen is now a stage musical that's had critics raving from coast to coast. Set against the colorful backdrop of an American heartland tradition, STATE FAIR travels with the Frake family as they leave behind the routine of the farm for three days of adventure at the annual Iowa State Fair. Mom and Pop have their hearts set on blue ribbons while their daughter and son find romance and heartbreak on the midway. Set to the magical strains of an Academy Award-winning score and augmented by other titles from the Rodgers and Hammerstein songbook, STATE FAIR is the kind of warm-hearted family entertainment only Rodgers & Hammerstein could deliver!
Participate in the R&H Online Community.
Leave comments or talk with other fans in the forum!

To request the rights to make merchandise for this show email [email protected].
Fan Info:

The birthday of the librettist Tom Briggs, whose work includes the stage adaptations of STATE FAIR and CINDERELLA, and the revue THE MELODY LINGERS ON.

In 1945, the world premiere of Rodgers & Hammerstein's movie musical STATE FAIR was presented at the Paramount Theatre, Des Moines, Iowa.

In 1945 at the 18th annual Academy Awards, "It Might As Well Be Spring"" from STATE FAIR received the Oscar for Song of the Year."

In 1962, Twentieth Century Fox released a remake of the movie STATE FAIR, directed by Jose Ferrer, and starring Pat Boone, Bobby Darin, and Ann-Margret. What is your favorite song in STATE FAIR?

In 1954 General Foods sponsored a tribute to Rodgers & Hammerstein broadcast on multiple networks. Hosted by Mary Martin and featuring segments from OKLAHOMA!, STATE FAIR, CAROUSEL, ALLEGRO, SOUTH PACIFIC, THE KING AND I and ME AND JULIET with many members of the original casts, it also included special appearances from Jack Benny, Groucho Marx, Edgar Bergen and Charlie McCarthy, Ed Sullivan, and Rodgers & Hammerstein.

In 1969, Ozzie and Harriet Nelson starred in the stage premiere of Rodgers & Hammerstein's movie musical STATE FAIR, at the St. Louis Municipal Opera.

Did you know? Hammerstein once gave an interview explaining how while working on lyrics for STATE FAIR, "I started to write a song about a girl having spring fever. And then, with a terrible shock, I realized no state fairs were held except in the autumn. Then I thought, well, maybe she just feels this way, although it is fall, and it gave me an even better theme: 'It Might As Well Be Spring'."""

Did you know? After Hammerstein passed away, Rodgers needed a new writing partner. For the first time in his career, he turned to himself for words. In 1962, Rodgers crafted new songs for the re-make of STATE FAIR and wrote both music and lyrics for the musical NO STRINGS. When the film version THE SOUND OF MUSIC needed new numbers, Rodgers wrote and composed the songs ?I Have Confidence? and ?Something Good.?


"The stage State Fair is a grand night for singing…funny, melodious, rousing entertainment!"
— David Finkle, The Huffington Post, January 01, 1998
"A sparklingly witty book and lush R&H songs - the crowd-pleasing charms of [STATE FAIR] are considerable and compelling."
— Variety
"A toe-tappable, knee-slappable package that carries a wealth of charm!"
— Hollywood Reporter
"Perfection...Just pin that blue ribbon on the theater marquee."
— Chicago Sun Times
"This may be what the golden age of Broadway was really about."
— USA Today
"A pure delight...Sweeter and more fun than cotton candy."
— Milwaukee Journal-Sentinel

Song #
Song Name
Character Name
Play
Other Versions

Fifty years after it was introduced, STATE FAIR, Rodgers & Hammerstein's only musical written for the screen, finally made it to the stage. The book for the stage version was written by Louis Mattioli and our own Tom Briggs, Director of the R&H Theatre Library, who also had the idea to adapt STATE FAIR to the stage in the first place. Here, Briggs explains how the newest Rodgers & Hammerstein musical came to be.
Phil Stong's novel State Fair was published in 1932 and a non-musical motion picture version was released the following year starring Will Rogers, Janet Gaynor and Lew Ayres. Twelve years later, fresh on the heels of their success with OKLAHOMA!, Rodgers and Hammerstein were persuaded by Hollywood mogul Darryl F. Zanuck, head of 20th Century Fox studios, to adapt STATE FAIR as a movie musical. Their version, released in August of 1945, starred Charles Winninger, Fay Bainter, Jeanne Crain, Dick Haymes, Dana Andrews and Vivian Blaine, winning R&H the Academy Award for their song, "It Might As Well Be Spring." A 1962 remake overseen by Rodgers (Hammerstein had died two years earlier) updated the story and transplanted it from its original Iowa setting to Texas; Rodgers augmented the score with several songs he wrote on his own. So it was with the combined resources of one novel and three film versions that my late collaborator, Louis Mattioli and I began our work in bringing STATE FAIR to the stage.

We were facing two major challenges, the first of which was the story. While the movies were a brief evocation of the fair itself, the story, characters and relationships would clearly require deeper exploration and development for the stage. The second challenge was the score. R&H had written only six songs for the original picture, so it was clear the theatrical score would need to include other songs. But where to find them?

Whatever songs we needed would have to blend stylistically with those from the movie, illuminate the various characters and situations and, above all (as R&H taught us), propel the story forward. They could also not be indelibly associated with other R&H musicals. (No "Climb Ev'ry Mountain" or "Some Enchanted Evening.")

Unlike many writers, R&H did not leave behind a plethora of undiscovered songs, or "trunk material." Seldom was a song replaced, and if so, it often found a home in a subsequent musical. (For instance, "Getting To Know You" from THE KING AND I began life as the melody of "Suddenly Lovely," written for SOUTH PACIFIC.) Also, R&H were theatre writers and rarely wrote outside the context of the musicals they created.

We began our musical search with the 1962 remake of STATE FAIR. There was a terrific comic number Rodgers wrote for it that seemed to fit perfectly, so "More Than Just A Friend" became the seventh song in the score. I was familiar with a lovely song that had been cut out-of-town from OKLAHOMA! when that show was still called AWAY WE GO! It was just right for the parents of our young protagonists and so "Boys And Girls Like You And Me" became the eighth song in our STATE FAIR. We also discovered one of the earliest song written for OKLAHOMA! which had never even made it into rehearsal—"When I Go Out Walking With My Baby."

Because we were setting the show in the postwar 40's, we wanted the score to reflect the Big Band flavor of that era. We also had in Emily, a band singer, a character who could afford to surprise us with some arrangements that would jump a bit. Swing music is not exactly what you think of when the names Rodgers and Hammerstein pop up, but we wanted to try. Two songs written for 1953's ME AND JULIET fit the bill—"You Never Had It So Good" (which had been cut prior to Broadway) and "That's The Way It Happens."

We rounded out the score with two songs from PIPE DREAM—"The Man I Used To Be" and "The Next Time It Happens"—and one from ALLEGRO—"So Far." 14 songs in all—now that's a theatrical score!

The story of the Frake Family of Iowa and their outing to the State Fair, Rodgers & Hammerstein's "newest" musical began its National Tour, naturally, in Des Moines during the opening of the '95 Iowa State Fair in August. The Theatre Guild, Rodgers & Hammerstein's first producers of OKLAHOMA!, carousel and ALLEGRO, revived that tradition as producers of this STATE FAIR, with Philip Langner and Robert Franz at the helm.
Governor Terry E. Branstad hosted the opening night performance in Des Moines, Iowa, where stars John Davidson, Kathryn Crosby, Andrea McArdle, Donna McKechnie, Scott Wise and Ben Wright were hailed as adopted hometown heroes and even made honorary Iowans. Also on hand were Rodgers & Hammerstein—Mary Rodgers and her family, and Hammerstein's son James, who not only carried the family name but also its theatrical pedigree—in this case, as co-director of STATE FAIR with Randy Skinner.
To the Des Moines crowd, every line in STATE FAIR that mentioned blue ribbon-winning hogs, tractor pulls, or corn dogs on the midway hit home with gusto. Songs like "It Might as Well Be Spring" and "It's a Grand Night for Singing" were greeted as good old-fashioned showstoppers, while lesser-known numbers like "So Far" and "The Man I Used to Be" were warmly welcomed. As for "All I Owe Ioway," it was received by the hometown crowd as nothing short of a standing-O, rip-roaring love-anthem to their Hawkeye State, earning STATE FAIR a front-page rave review in the Des Moines Register.
In the months and cities that followed, this STATE FAIR, to quote Hammerstein's opening lyric, proved to be "a great STATE FAIR" that triumphed far beyond local pride.
In Chicago, Sun-Times critic Hedy Weiss declared, "The show is perfection...Just pin that blue ribbon on the theater marquee," while her colleague Richard Christiansen of the Tribune wrote, "This is a smart, sharp and refreshing show, bursting with wonderful songs and beautiful voices, staged with savvy and snap, and performed with gusto, good humor and charm." Milwaukee Journal-Sentinel critic Damien Jacques called it "a pure delight... sweeter and more fun than cotton candy."
Typical of many reviewers, Pamela Sommers of the Washington Post felt that STATE FAIR is "corny and quaint, straight as an arrow and sentimental as all get out...But gosh darn it, [this] newly minted production...is surprisingly hard to resist." Philadelphia Inquirer critic Clifford Ridley, after telling his readers that he "fell for" STATE FAIR the first time he saw it on screen, confessed that, having now seen it on stage, "I tumbled for it all over again." Robert Hurwitt of the San Francisco Examiner saluted STATE FAIR for having "more glorious melodies than Broadway has seen in a very long time, [sung by] the kinds of gloriously bright voices...that remind you of Broadway's heyday." And in the trade paper Variety, Chris Jones decreed that "the crowd- pleasing charms of [this] 'new' musical are considerable and compelling—a witty book, lush R&H songs and a barrelful of strong performances are what provoked the lengthy and much-deserved standing ovation."
After an eight-month tour, STATE FAIR came to Broadway, where it racked up more than 100 performances. In early June, shortly before the show closed, DRG released the original Broadway cast album of STATE FAIR—billed as Rodgers & Hammerstein's first in 36 years. Produced for records by Hugh Fordin, it has proven to be a welcome souvenir for fans of the show, and a consolation prize for those who didn't catch its Broadway incarnation.
"The cast recording is a melodic delight," reported Show Music. "The cast sparkles [and] the chorus is exemplary, bringing even more zest to the proceedings via Kay Cameron's vocal arrangements. Bruce Pomahac's vivid orchestrations make Rodgers' melodies sound new, but stay true to their intent. It adds up to a STATE FAIR that makes return visits a joy." Billboard cheered, "This STATE FAIR is a great STATE FAIR...It all fits beautifully." In his original stage review, Ken Mandelbaum of TheatreWeek predicted that STATE FAIR "would make a delightful cast album," and in his follow-up review for the album, confirmed it: "STATE FAIR makes an expectedly smooth translation to disc...It makes for pleasant listening, and it's one that should stick around, as this stage version of State Fair...becomes, as it is bound to, a stock and community theater staple."
Indeed, STATE FAIR is a beloved show in the R&H catalogue and a popular choice in community theaters across the country. And thanks to the recent release of the film's 60th-anniversary double-disc DVD, an even wider fanbase is sure to emerge for this American treasure.
---

Vocal Range of Characters:

// Photos

AUTHOR'S NOTE
Written By: Tom Briggs

STATE FAIR is a story has that has been told for over sixty years. Phil Stong's novel was published in 1932 and its first motion picture version was released the following year. Rodgers and Hammerstein musicalized the story for the 1945 movie and an updated remake was released in 1962. So this stage version is the next incarnation of STATE FAIR and while modern tastes and mores have changed with the times, this story's appeal has never waned. I think that's because STATE FAIR is an honest story of an American heartland tradition, the essence of which has remained virtually unchanged during the past century. Some might consider aspects of this musical to be corny, but for a show set in Iowa, I take that as a compliment. Once, when Oscar Hammerstein II was accused of being corny, he freely admitted to it. "But isn't life sometimes corny?" he asked, and of course it is. What could be cornier than a tentative young couple in the moonlight sharing a first kiss? Or an animal so beloved he's like a member of the family? But such things do happen, they are real, and STATE FAIR must be played for real (especially when it gets a little corny). Only if the audience believes in the reality of each character's story will they jump aboard the emotional roller coaster the characters ride throughout the show and follow their stories with relish.
Abel and Melissa truly enjoy each other and have a playful, time-tested relationship. They are vital farm folk who are not reticent about being affectionate with each other. If Melissa is a bit of a worry-wart and tends to be a little high-strung, it's because she cares so much about her family's well-being. And although Abel may seem gruff and preoccupied at times, he's a big-hearted man who never fails to come through with the emotional support his wife and kids have come to rely upon.
Margy is discovering what she doesn't want and is on the verge of doing something about it. It's what she does want that confuses her. Typical of a Hammerstein heroine, she's strong and bright but not worldly, and she knows when the right guy has come along.
Pat is a newspaper man whose combat experience, both in WWII and with women, has made him a cynic. But like Margy, he is on the brink of change. When he first approaches Margy on the midway, he should suggest the danger inherent in a girl getting swept off her feet by a far more experienced man. He is hung up on past glories and disappointments while Margy is looking to the future. It's her fervent point of view that inspires in Pat the self-confidence and esteem he needs to start looking forward.
Harry's marriage proposal to Margy must be a viable possibility for her. Although Harry is clearly a comic character, it's important that the audience not experience him merely as a buffoon, and that they believe Margy might end up with him. He's earnest, enthusiastic, practical and utterly devoted to Margy – not bad qualities in a fella, or a husband.
Wayne is actually more naive than his younger sister. He's inexperienced and insecure although he thinks he has his life all figured out. When a sophisticated knock-out like Emily Arden appears out of nowhere and befriends him, his world is suddenly turned upside down. You shouldn't blame him if his emotions and his hormones run wild. But in his heart, he's still an innocent with a genuine quality that Emily recognizes and tries to protect. He really belongs back at home with his girlfriend Eleanor.
Emily is not a villain. In a story about a naive young man and the worldly woman who breaks his heart, it's easy to blame her for everything. So it's important that the audience focus on the moment in Act I, Scene 7 when Emily sets guidelines for Wayne concerning their relationship, and again when she reiterates them in Act I, Scene 10, when he pushes. Although there have probably been many Waynes in her life, she is no less hurt than Wayne when they eventually part. And do keep in mind that both she and Wayne are, after all, adults.
The ensemble is a big asset to any production and should be full of individual and distinct personalities. In fact, they are the fair, bringing great character background to the midway scenes even when they are not being featured. And there should be kids in the show – the more, the merrier. They bring lots of life to the stage and help reinforce the familial environment which is the heart of the play.
The $5 bet between Abel and Dave Miller, which book-ends the story, is important to the arc of the show. Miller's cynicism provides contrast to the sentimentality in the rest of the story. You can make sure the audience keeps that bet in mind by having Abel keep it mind. He mentions the bet in Act I, Scene 9, after Melissa wins her competition, and when he is disappointed by his hog, Blue Boy, at the top of Act II, he fears losing the bet as much as he fears his hog losing the competition. In Act II, Scene 5, Abel is on top of the world until the heartbroken Wayne stumbles on and, again, the bet looks to be in jeopardy. In the last scene, the bet ultimately hinges on Margy's answer to Miller as to whether or not she had a good time at the fair, and Abel's tension awaiting her answer should be palpable. These moments will really payoff when, at the final curtain, Abel puts out his hand to Miller for the $5 and the audience is as delighted by his triumph as Abel himself.
Now a word about the pig. It is inevitable that someone will come up with the notion of using a live hog. Don't. I have always believed that the audience does a much better job of conjuring up their own image of this magnificent beast than could ever be shown them. And more importantly, if Blue Boy is introduced as an onstage character, his story should be dramatized or the audience will feel cheated. But smart as they are, believe me, boars do not "perform" – they are uncontrollable onstage (in more ways than one). Blue Boy's impact on the story has only to do with his effect on Abel, from the bet with Miller through the pride of More Than Just A Friend, the rage and disappointment at the top of Act II, and the subsequent euphoria of victory. It's all about Abel, not the hog.
Although there are a large number of scenes, don't let that scare you. Each location can be perfectly suggested with just a piece or two of well-chosen scenery and props. What's most important is that the play move fluidly from one scene to another. No single piece of scenery is worth delaying the storytelling or slowing the pace. This is an easy story to follow so it has to keep moving or the audience will get ahead of it. It's probably a good idea to figure out the midway scenes first, as colorful and entertaining as possible, because you'll be spending a lot of time there.
And, hey – have a great time at the fair!
---

Written By: Richard Rodgers

It was inevitable that eventually we would receive an offer from a film studio. 20th Century Fox, which was planning a musical remake of its ten-year-old hit STATE FAIR, was interested in having Oscar and me write the score. We went to a special screening of the movie at the studio's 56th Street office, and were immediately won over. We made sure, though, that our contract included one provision. Because our multiple activities in New York, we had no intention of spending an extended length of time in Hollywood, and we insisted that we be allowed to write the songs in the East. Though they found the request a bit unusual, the studio people agreed; the story, which was set in Iowa, could be filmed in California, while the music and lyrics would be written in Fairfield, Connecticut and Doylestown, Pennsylvania.
"It Might as Well Be Spring" deserves some additional comment, both on its lyric and on its music. Initially, Oscar had planned to write about a girl with spring fever, but then he discovered that the state fairs are held only in the fall. This gave him a far more original idea: the self-portrait of a girl who shows all the symptoms of spring fever even though it isn't spring. As for the melody, it is a good example of the way a tune can amplify the meaning of its lyric. The first lines are "I'm as restless as a willow in a wind storm, I'm as jumpy as a puppet on a string." Taking its cue directly from these words, the music itself is appropriately restless and jumpy. Moreover, since the song is sung by a young girl who can't quite understand why she feels the way she does, I deliberately ended the phrase on the uncertain sound of F natural (on the word "string") rather than on the more positive F sharp.
---

Playbill VIP
: 
MAKE YOUR OWN PLAYBILL! Playbill VIP allows you to create your very own Playbill Program. We have provided Playbill with all of the credits, song listings, musical numbers and more so that most of the work is already done for you. Just add your productions details, photos of the cast and share it with all of your friends. Learn more: www.playbillvip.com
---

STANDARD
STATE FAIR - Orchestra Package (22 Books/21 Players)

1 – PIANO CONDUCTOR SCORE

1 – REED I (Flute, Piccolo, Alto Sax)

1 – REED II (Oboe, English Horn, Alto Sax)

1 – REED III (Clarinet, Tenor Sax)

1 – REED IV (Bassoon, Bass Clarinet, Tenor Sax)

1 – FRENCH HORN I

1 – FRENCH HORN II

1 – TRUMPET I

1 – TRUMPET II

1 – TRUMPET III

1 – TROMBONE I

1 – TROMBONE II

1 – TUBA

1 – DRUMS

1 – PERCUSSION

1 – HARP

1 – KEYBOARD

1 – VIIOLIN I

1 – VIOLIN II

1 – VIOLA

1 – CELLO

1 – BASS

Rehearsal Set(22 Books, 1 Blue Ribbon Logo)

20 – Libretto-Vocal Books

1 – logo CD

2 – PIANO CONDUCTOR SCORE

1 – Blue Ribbon Logo

Digital Logo
ADDITIONAL
Libretto/Vocal Books 10 pack

10 – Libretto-Vocal Books

STATE FAIR - PRE-PRODUCTION PACKAGE

1 – PIANO CONDUCTOR SCORE

1 – Libretto-Vocal Books
ARTWORK
State Fair Layered Bundle

1 – Layered Banners

1 – Layered Facebook Tabs

1 – Layered Poster

1 – Layered Print

State Fair Flat Bundle

PRINCIPALS
3 Women
3 Men
FEATURED
4 Women
1 Girl (age 11)
6 Men
ENSEMBLE
Singing-dancing ensemble consisting of Barkers, Vendors, Judges, and Fairgoers
CHARACTERS
Abel Frake - a farmer
Gus - the Frake's hired man
Margy Frake - the Frake's faughter
Melissa Frake - Abel's wife
Wayne Frake - the Frake's son
Dave Miller - the local storekeeper
Eleanor - Wayne's girlfriend
Harry - Margy's boyfriend
The Fair Announcer
The Hoop-La Barker
Emily Arden
The Astounding Stralenko
Vivian - a cooch dancer
Jeanne - a cooch dancer
Pat Gilbert - a newspaper reporter
Charlie - a newspaper photographer
Lem - a farmer
Clay - a farmer
Hank Munson - a farmer
The Chief of Police
Violet - his daughter
The Fairtones
Judge Heppenstahl
Mrs. Edwin Metcalf of Pottsville
2 Roustabouts
Barkers, Vendors, Judges and Fairgoers

STATE FAIR takes place over five days in late August of 1946 on the Frake farm in Brunswick, Iowa and at the Iowa State Fair in Des Moines.
SPECIFIC LOCATIONS
The Frake Farm
On the Road to Des Moines
The Midway at the Hoop-La Booth
The Midway at the Temple of Wonder
The Beer Tent
Outside the Dairy Pavilion
The Starlight Dance Meadow
Camper's Hill
Exhibition Hall
A Nearby Hillside
Outside the Livestock Pavilion
Materials Notes
REED II (Oboe and English Horn) is double lined for Clarinet
---
REED IV (Bassoon) is double lined for Bass Clarinet
---
2 Timpani, Orchestra Bells, Xylophone, Chinese Bell Tree (Sounding down), Wood Block, Mark Tree, Fight Bell, Vibes, Sandpaper Blocks, Temple Blocks (4 pitches), Cowbell, Gran Casa, Suspended Cymbal and Crash Cymbal
---
Media Rights
*

Currently media rights for State Fair are not available. Please contact customer service with any questions.
Banner Ads - Flat Graphics
Format: .JPG
Price: $60.00
Display customized, eye-catching banner ads to promote your production.
Don't worry about reshaping banners to fit different websites: This package already includes 4 standard banner sizes - vertical, horizontal, and rectangular.
Don't worry about optimizing the color format, size and resolution. These files are already optimized for online viewing.
Don't worry about needing a designer to convert static banners into rotating, animated ads. We've taken care of this for you! Text and video instructions are provided to help you animate your ads with ease – using free programs and apps.
Don't worry about needing fancy design programs – these flat .JPG files are ready to use with any free paint or photo editing program. Demos show you how to customize graphics with your theater's text.
Included:
160x600 - Wide Skyscraper
300x250 - Medium Rectangle
468x60 - Full Banner
728x90 – Leaderboard