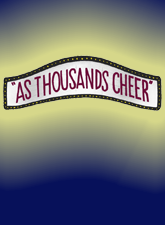 As Thousands Cheer
It was the Depression era version of SATURDAY NIGHT LIVE and THE DAILY SHOW. Moss Hart's sketches were sharp, witty and hilarious and Irving Berlin's songs ranged from wry to satiric to poignant. Their inspiration? The newspaper headlines of the day, from affairs to society photos and advice to the lovelorn; even comic strips and the weather report were fair game! A cast that included Clifton Webb, Ethel Waters and Marilyn Miller impersonated the likes of Joan Crawford, the Hoovers, John D. Rockefeller, Mahatma Gandhi and Josephine Baker for over 400 performances beginning in September of 1933. Considered a masterpiece of that specialized genre known as the topical revue, AS THOUSANDS CHEER inspired some of Harts best solo work as a comedy writer and afforded Berlin the opportunity to pen some of the greatest musical gems.
Participate in the R&H Online Community.
Leave comments or talk with other fans in the forum!

To request the rights to make merchandise for this show email larisa.borshman@rnh.com.
Fan Info:

In 1935, STOP PRESS, the British version of AS THOUSANDS CHEER, opened at the Adelphi Theatre in London.

In 1933, AS THOUSANDS CHEER opened at the Music Box Theatre, New York. The score included "Easter Parade,"" ""Heat Wave,"" and ""Suppertime."""

In 1904, Moss Hart was born; playwright, director, and producer. Hart collaborated with Irving Berlin on the shows FACE THE MUSIC and AS THOUSANDS CHEER, created LADY IN THE DARK with Ira Gershwin and Kurt Weill, and also worked with Lorenz Hart and Richard Rodgers on the musical satire I'D RATHER BE RIGHT.


"[Moss Hart's sketches are] so sharply barbed that [they] seem daring even now."
— Sun Sentinel, January 01, 1998
"[Moss Hart's sketches are] so sharply barbed that [they] seem daring even now."
— Sun Sentinel, January 01, 2001
"This charming, delightful, witty, trenchant satire on the press and society is as fresh and relevant today as it was in 1933."
— American Arts Today, January 01, 1998
"It deserves thousands of cheers!"
— Palm Beach Daily News, January 01, 2001

Song #
Song Name
Character Name
Play
Other Versions


Vocal Range of Characters:


// Photos

---
---
---
---
---
---
---
---
---


Playbill VIP
: 
MAKE YOUR OWN PLAYBILL! Playbill VIP allows you to create your very own Playbill Program. We have provided Playbill with all of the credits, song listings, musical numbers and more so that most of the work is already done for you. Just add your productions details, photos of the cast and share it with all of your friends. Learn more: www.playbillvip.com
---

STANDARD
AS THOUSANDS CHEER - Rehearsal Set - (23 Books/2 Players)

20 – Libretto-Vocal

1 – Logo CD

2 – Piano-Vocal

1 – Bass

Digital Logo
ADDITIONAL
AS THOUSANDS CHEER - Libretto-Vocal 10-Pack - (10 Books)
AS THOUSANDS CHEER - Pre-Production Pack - (2 Books)

1 – Libretto-Vocal

1 – Piano-Vocal

PRINCIPALS
3 Women
3 Men
ENSEMBLE
Singing-dancing chorus as large as desired featuring The Ladies and Gentlemen of the Chorus.
COMMENTS
The original 1933 production employed a cast that numbered nearly 50 while the 1998 revival used a cast of only 6. The rousing success of both productions indicates that this topical revue can be produced on as large or as intimate a scale as you wish. A minimum of 6 actors is needed.
CHARACTERS
Langley - a butler
Mr. Andrews
Mrs. Andrews
Gertrude - a Pomeranian
Mr. Hoover
Mrs. Hoover
Frank - a moving man
Barbara Hutton
2 Suitors
The Chauffeur
The Weathercaster
Joan Crawford
Douglas Fairbanks Jr.
Will Hays
Representative of England
Representative of Italy
Representative of Germany
Representative of France
The Statue of Liberty
John D. Rockefeller, Sr.
John D. Rockefeller, Jr.
Mrs. John D. Rockefeller, Jr.
John D. Rockefeller, Jr.'s Children
The Radio Announcer
Monsieur Peppiton - the famous chef
Mr. Williams
Mrs. Williams
Miss Williams - their daughter
Opera Singer
Mahatma Gandhi
Aimee Semple McPherson
The Director
The Camera Operator
A Native
Customers
A Bellboy
Mrs. Fisher - the housekeeper
Ella - a scrubwoman
Aggie - a chambermaid
Henry - a waiter
A Window Cleaner
Josephine Baker
Her Personal Secretary
The King
The Queen
The Prince of Wales
The Prime Minister
The Gossip Columnist
The Ladies and Gentlemen of the Chorus

AS THOUSANDS CHEER is a musical revue, and although it suggests various locales, it does not take place in a specific location.
Materials Notes
Media Rights
Promotional
1. The Promotional Video shall be recorded and shown for the sole purposes of advertising your licensed production of the Play. For such a video, R&H allows theatres to film up to 10 minutes of total footage taken at either a performance or rehearsal (i.e.: 10 minutes of scripted moments.)
2. The Promotional Video may not include more than (i) 1 minute from any song or (ii) 3 minutes, in the aggregate, of footage of copyrighted material from the Play.
3. The Promotional Video may not include any sponsorship or underwriting without the prior consent of all R&H.
4. The Promotional Video must be submitted to R&H by sending the source video and video link to editor@rnh.com.
5. The Promotional Video must include the following: "Rights courtesy of Rodgers & Hammerstein, www.rnh.com"
6. Upon approval by R&H of the Promotional Video, you agree not to make any alterations in the approved copyrighted material used therein and you agree to obtain the prior written approval of R&H for any other use of the Promotional Video not specifically granted herein.
7. Upon termination of the Term, you shall cease to have any rights to use the Promotional Video including, without limitation, in connection with a future production of the Play, and shall immediately remove its content from any and all websites on the Internet.
8. You may not use a commercially available recording.
9. Any additional promotional rights must be approved by R&H by contactingTheatre@rnh.com.
*
Promotional video rights can only be granted once a performance license for As Thousands Cheer has been secured. Please contact customer service if you have any questions. If you have not yet applied for As Thousands Cheer, you can do so here. LOG IN to learn more.
---