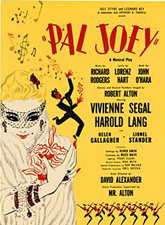 Pal Joey
The penultimate Rodgers & Hart collaboration introduced the first anti-hero to propel a musical. Joey is an opportunistic cad, but he always seems to land on his feet. He elbows his way into a job at a seedy Chicago nightclub and is soon juggling the affections of a naive chorus girl and a wealthy society dame who just happens to be married. Once Joey has charmed the socialite into setting him up in his own joint, he ditches the chorine and is riding high, playing the big-time operator. When a punk threatens to spill the whole business to the socialite's husband, she decides that she's bored with Joey anyway, dumping him and the club. Having had a taste of his own medicine, you'd think Joey would head back to the sweet kid who really loves him. Wrong. Some things never change, but you know what? He's still on his feet.
Participate in the R&H Online Community.
Leave comments or talk with other fans in the forum!

To request the rights to make merchandise for this show email [email protected].
Fan Info:

In 1905 novelist John O'Hara was born, book writer for the musical PAL JOEY.

The birthday of Lonny Price, book writer and director of the musical A CLASS ACT. Price has also directed stage concerts of PAL JOEY for Encores, ANNIE GET YOUR GUN at Lincoln Center Theatre, and SWEENEY TODD starring George Hearn and Patti LuPone with the New York Philharmonic.

In 1895 Lorenz Milton Hart was born in New York City. In 1918 he was introduced to Richard Rodgers, and they collaborate on twenty six Broadway musicals over the next two decades, including A CONNECTICUT YANKEE (1927), BABES IN ARMS (1937), I MARRIED AN ANGEL (1938), THE BOYS FROM SYRACUSE (1938), PAL JOEY (1940), and BY JUPITER (1942).

In 1940, Rodgers & Hart's musical PAL JOEY had its New York premiere on Christmas at the Ethel Barrymore Theatre, before moving to the Shubert Theatre and finally to the St. James. The show ran for 374 performances.

In 1887 George Abbott was born, Broadway actor, writer, and producer. His musical collaborations included ON YOUR TOES, THE BOYS FROM SYRACUSE, ON THE TOWN, PAL JOEY, DAMN YANKEES, and FIORELLO!, for which he won the Pulitzer Prize in 1959.


"PAL JOEY still bewitches after all these years"
— Hollywood Reporter, January 01, 1995
"PAL JOEY must be everybody's favorite musical."
— The Wall Street Journal, January 01, 1995
"PAL JOEY is a treasure, with Rodgers & Hart in peak form."
— The New York Times, January 01, 1995
"The masterpiece of the long collaboration between composer Richard Rodgers and lyricist Lorenz Hart."
— Newsweek, January 01, 1940

Song #
Song Name
Character Name
Play
Other Versions

---


Though the book was highly praised for the telling of an integrated story with a knowing point of view it is the Rodgers and Hart songs which have made the show unforgettable. "Bewitched, Bothered and Bewildered" and "I Could Write a Book" are but two standards in a score that contains the show-stopping number "Zip" and the delightful "In Our Little Den of Iniquity."

PAL JOEY is generally considered the pinnacle of the Rodgers and Hart collaboration and Richard Rodgers wrote of it in his autobiography: "It was the most satisfying and mature work that I was associated with during all my years with Larry Hart."

Richard Rodgers and Lorenz Hart worked together for twenty-five years, during which time they wrote the songs for 26 Broadway musicals, 3 London musicals, and 9 films. They also collaborated on one night club revue and one non-musical play. Mr. Hart died in 1943 at the age of 48. Mr. Rodgers then entered another extraordinary partnership with a man he had known from their Columbia University days – Oscar Hammerstein 2nd, with whom he worked exclusively until Mr. Hammerstein's death in 1960. Mr. Rodgers continued to entertain Broadway and television audiences with his music until his death in 1979.

---
"Bewitched" by PAL JOEY
In 1939, while out-of-town with their musical TOO MANY GIRLS, Richard Rodgers and Lorenz Hart received a letter from writer John O'Hara, asking if they would like to write a musical based on his series of short stories written for The New Yorker about a fast-talking Chicago cad whose adventures were told in the form of letters signed "Pal Joey." The idea was provocative and, with an anti-hero at its heartless heart, a challenge to Rodgers & Hart. They quickly said yes. "Not only would the show be totally different from anything we had ever done before," noted Rodgers in his autobiography, Musical Stages, "it would be different from anything anyone else had ever tried."
Working closely with George Abbott, who had signed on as the musical's director and producer, O'Hara sculpted a narrative steeped in blackmail, and sexual politics. The central story revolved around Joey and his affair with a worldly-wise society dame, Vera Simpson; Vivienne Segal was cast as Vera (the character, created for the musical, shared Segal's initials) and the title role went to a talented young actor named Gene Kelly. The supporting cast included June Havoc, Van Johnson and Stanley Donen.
After a tryout in Philadelphia, PAL JOEY opened at the Ethel Barrymore Theatre on Christmas night, 1940. Evidently, after a day of peace on earth and good will towards men, there wasn't much good will left in the critics for a heel like Joey. In the most famous, and influential, indictment, Brooks Atkinson of the NEW YORK TIMES queried, "Although it is expertly done, can you draw sweet water from a foul well?"
PAL JOEY had a Broadway run of less than a year, followed by a three-month, five-city tour. There was surprisingly scant interest in the score, though a few did pick up on "Bewitched, Bothered and Bewildered." Clearly, PAL JOEY was a work ahead of its time.
Its time was to come one decade later, and the impetus was "Bewitched." In the spring and summer of 1950, band-leaders and pop singers discovered the song, and before long seven different versions had reached the top of the charts, with five among them making the Top 10. To capitalize on this trend, in September of '50 legendary Columbia Records producer Goddard Lieberson produced a studio cast recording of the entire PAL JOEY score, teaming original star Vivienne Segal with newcomer Harold Lang.
The PAL JOEY album proved so popular that a Broadway revival was inevitable, produced by none other than composer Jule Styne, who brought PAL JOEY back to Broadway on January 3, 1952. Born in the twilight of the Rodgers & Hart musical comedy years, PAL JOEY re-emerged twelve years later to a Broadway irrevocably altered by the Rodgers & Hammerstein revolution. Playing at the Broadhurst Theatre, PAL JOEY shared 44th Street with SOUTH PACIFIC at the Majestic and THE KING AND I at the St. James, and also shared with those musicals an audience now primed for maturity and depth. This time around, PAL JOEY was a hit.
It outran the original by almost half a year, sparked a twelve-city national tour, and received the New York Drama Critics' Circle Award as Best Musical. The London premiere followed in 1954, and the film version, starring Frank Sinatra (a Bowdlerized imitation according to fans; "high heresy," according to one critic) was released in 1957. Its classic status assured, PAL JOEY has had many notable productions in the ensuing decades, including three separate revivals at New York's City Center; the first (in '61), starred London's original Vera, Carol Bruce, the second ('63) starred Viveca Lindfors, and both featured the incomparable Bob Fosse as Joey. Also at City Center, a triumphant concert version of PAL JOEY was held during the Hart centennial of 1995 as part of the Encores! series, starring Patti LuPone (Vera), Peter Gallagher (Joey) and Bebe Neuwirth (Melba Snyder) and subsequently recorded by DRG Records.
---

New York Drama Critics Circle Awards
January 01, 1952 — Award for Best Musical
January 01, 1952 — Award for Best Musical

Donaldson Awards
January 01, 1952 — Award for Best Musical

Tony Awards
January 01, 1964 — 1 Nomination for Actor (Musical), Bob Fosse

Vocal Range of Characters:

// Photos


Written By: Richard Rodgers

Larry Hart loved PAL JOEY not only because it was successful and people said good things about his work in it, but because of Joey himself. Joey is a disreputable character, and Larry understood and liked disreputable characters. He knew what John O'Hara knew -- that Joey was not disreputable because he was mean, but because he had too much imagination to behave himself, and because he was a little weak. If you don't understand this about Joey, you'll probably find him hard to take. If you do understand it, you'll be able to chuckle at him and understand him in more than a superficial sense.
Joey as a person met with a great deal of resistance in 1940 when he was first presented to the American public, but I have an idea that this was due largely to the fact that nobody like Joey had ever been on the musical stage before. In the conventional sense, his characteristics were those of a villain, and so long as there was an orchestra in the pit, the villain was supposed to wear a black mustache and be nasty all the way. Since that time, however, characters in musical plays have become more human, and the attitude of the public toward these characters has become more human, too.
While Joey himself may have been fairly adolescent in his thinking and his morality, the show bearing his name certainly wore long pants, and in many respects forced the entire musical comedy theatre to wear long pants for the first time. We were all pretty proud of this fact.
---

Playbill VIP
: 
MAKE YOUR OWN PLAYBILL! Playbill VIP allows you to create your very own Playbill Program. We have provided Playbill with all of the credits, song listings, musical numbers and more so that most of the work is already done for you. Just add your productions details, photos of the cast and share it with all of your friends. Learn more: www.playbillvip.com
---

STANDARD
PAL JOEY - Orchestration Package (17 Books/20 Players)

1 – PIANO CONDUCTOR SCORE

1 – PIANO (PIANO VOCAL SCORE)

1 – REED I (Clarinet, Alto Sax, Flute, Piccolo)

1 – REED II (Oboe, English Horn, Alto Sax, Clarinet)

1 – REED III (Clarinet, Bass Clarinet, Basset Horn, Tenor Sax)

1 – REED IV (Clarinet, Flute, Piccolo, Tenor Sax)

1 – REED V (Clarinet, Tenor Sax, Bassoon)

1 – HORN

1 – TRUMPET I-II

1 – TRUMPET III

1 – TROMBONE

1 – PERCUSSION (see "Materials Notes", under "Production Information")

1 – VIOLIN A (Divisi)

1 – VIOLIN B (Divisi)

1 – VIOLIN C (Divisi)

1 – CELLO

1 – Bass

Rehearsal Set (22 Books)

20 – Libretto-Vocal Books

1 – Logo CD

2 – PIANO (PIANO VOCAL SCORE)

Digital Logo
ADDITIONAL
Libretto/Vocal Books 10 pack

10 – Libretto-Vocal Books

PAL JOEY - PRE-PRODUCTION PACKAGE

1 – Libretto-Vocal Books

1 – PIANO (PIANO VOCAL SCORE)

PRINCIPALS
3 Women
1 Man
FEATURED
1 Woman
1 Man
ENSEMBLE
Singing-dancing ensemble with several small roles
CHARACTERS
Joey Evans
Mike Spears
Gladys Bumps
Assistant Stage Manager
The Kid
Terry
Tilda
Valerie
Claire
Diane
Janet
Linda English
Vera Simpson
Victor
Ernest - The Tailor
Stage Manager
Louis - the tenor
Melba Snyder
Herman - the photographer
Ludlow Lowell
Deputy Commissioner O'Brien
Manager

PAL JOEY takes place in Chicago, in the late nineteen thirties.
SPECIFIC LOCATIONS
Mike's South Side Night Club
The Pet Shop
A Phone Booth
The Tailor Shop
Ballet - Joey's Fantasy Night Club
Chez Joey
Joey's Apartment
Materials Notes
ORCHESTRATION NOTE: These orchestral materials use Hans Spialek's 1940 orchestration of PAL JOEY.
---
Trap Set, Timpani, Bells, Gong, Ratchet, Wood Blocks, Cow Bell, Temple Blocks, Xylophone
---
Media Rights
*

Currently media rights for Pal Joey are not available. Please contact customer service with any questions.