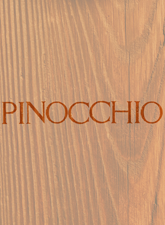 Pinocchio
The lonely old carpenter, Geppetto, carves himself a son from wood and no sooner is the job done than the boy springs to life. The timeless adventures of the puppet who yearns to be a real boy are magically brought alive with a vibrant score from the Tony and Pulitzer Prize winning lyricist of FIDDLER ON THE ROOF and the multi-award winning composer of ONCE UPON A MATTRESS. This beloved children's classic, devised for a combined cast of puppets and live actors, still amazes and delights, while instilling in youngsters the dangers of selfishness, the importance of honesty, and the power of love.
Participate in the R&H Online Community.
Leave comments or talk with other fans in the forum!

To request the rights to make merchandise for this show email brian.sherman@rnh.com.
Fan Info:



Song #
Song Name
Character Name
Play
Other Versions


Vocal Range of Characters:


// Photos


Playbill VIP
: 
MAKE YOUR OWN PLAYBILL! Playbill VIP allows you to create your very own Playbill Program. We have provided Playbill with all of the credits, song listings, musical numbers and more so that most of the work is already done for you. Just add your productions details, photos of the cast and share it with all of your friends. Learn more: www.playbillvip.com
---

STANDARD
Rehearsal Set (22 Books)

20 – Libretto-Vocal Books

1 – Logo CD

2 – Piano Vocal Scores

Digital Logo
ADDITIONAL
Libretto/Vocal Books 10 pack

10 – Libretto-Vocal Books

PINOCCHIO - PRE-PRODUCTION PACKAGE

1 – Libretto-Vocal Books

1 – Piano Vocal Scores

PRINCIPALS
2 Men
FEATURED
2 Men
ENSEMBLE
Variable cast of females and males, live actors and puppets
CHARACTERS
Carlos - a Hispanic cricket.
Gepetto - a kindly gray-haired carpenter.
His Tools:
Axe
Mallet
Chisel
Saw
Hammer
Scissors
A Log for Carving
Pinocchio - a wooden boy
Alex - a theatre barker
Harlequin - a character in the show at the theater
Pierrot - Harlequin's rival in the show
Columbine - the object of their rivalry
Fireball - the theater owner
Cat - a feline entrepreneur
Fox - the Cat's sly cohort
Two Policemen
The Magistrate
Mrs. Bluestone, a probation officer
Three Fish

PINOCCHIO takes place in a fairytale realm.
SPECIFIC LOCATIONS
Geppetto's Workshop
On the Street
Inside the Theatre
A Path in the Park
A Judicial Hearing Room
The Land of Toys
Underwater
Inside a Dolphin's Mouth
Materials Notes
This version of PINOCCHIO is designed for a combined cast of live actors and puppets. In the original production the characters of Gepetto, Alex, and Fireball were played by live actos, while all the rest were puppets. There were times in the original staging when a character played by a life actor in most of the scenes would be played by a small puppet in other scenes to simulate a distant view of that character.
---
Media Rights
*

Currently media rights for Pinocchio are not available. Please contact customer service with any questions.