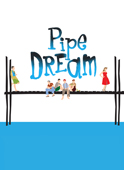 Pipe Dream
From the pages of Steinbeck, the drifters and dropouts along Cannery Row spring to life in this uncommon story of love and hope. When Suzy, a homeless girl, is picked up for stealing food, she's taken in by Fauna, the big-hearted Madam of the Bear Flag Café (which is no café at all). Here she meets Doc, a carefree marine biologist, and soon romance is in the air. Rodgers & Hammerstein struck a new tone with PIPE DREAM-intimate, warm and highly personal. It illuminates their benevolence for those searching outcasts who, although seamy and degraded, are infinitely capable of every emotion and longing felt by the more fortunate members of society. As sung by Doc at the top of the show, the soulful message is simple: 'It takes all kinds of people to make up a world.' Is there a better one? Currently Not Available.
Participate in the R&H Online Community.
Leave comments or talk with other fans in the forum!

To request the rights to make merchandise for this show email [email protected].
Fan Info:

We're going to finish up our three part exploration of musical and script restorations with a peek at the new edition of PIPE DREAM we'll be bringing on line next year. PIPE DREAM is an especially exciting addition for us as, due to various and sundry complications, this show has not been available for performance in many years. PIPE DREAM was R&H's 1955 musical adaptation of John Steinbeck's SWEET THURSDAY, a novella Steinbeck wrote with a musical adaptation in mind. read more

In 1955, the world premiere of PIPE DREAM was presented at the Shubert Theatre, New Haven.

In 1955, PIPE DREAM opened at the Shubert Theatre, New York, and ran for 246 performances.



Song #
Song Name
Character Name
Play
Other Versions

---
In August 2000, Rodgers & Hammerstein President Ted Chapin gave a talk on the duo's 1955 Broadway musical PIPE DREAM, telling its history and playing audio samples from the cast album and other recordings of its songs. Excerpts of that speech are reprinted here:
How good was PIPE DREAM? Did it miss the boat? Did it come close?
Well, it is generally considered a failure. I have been at the Rodgers & Hammerstein office for 18 years and this is the first time I've had an opportunity to spend this much time taking about this show! It has always had its fans – and I count myself cautiously among them – but it doesn't get produced often. And the score is the least known of all the Rodgers & Hammerstein collaborations.
Let's examine some of the elements of the show. Before I play a few of the songs, let's take a look at the plot. Doc is a marine biologist who became disenchanted when he returned from the war. He is a much admired citizen of Cannery Row. His friends, basically hanging around since the close of the canneries and now living in the Palace Flophouse, feel he is lonely. They think he needs a girl. Enter Suzy, a – well, girl of the road. She is street-wise but out of luck. Maybe she can find work at the Bear Flag Café, run by the indomitable Fauna. She is accepted into the community. Since Doc is such a beloved part of the town, everyone soon gets in on the act of getting Doc and Suzy together. The first scheme is top make them go to a seaside restaurant for an intimate dinner. Another is throwing a masquerade party in which Doc will both win the ownership of the Palace Flophouse in a bogus lottery (so the status quo can be maintained) and hear Suzy sing that "song from the hit parade WILL YOU MARRY ME?" and hopefully, get the hint. Neither scheme works right away. But Suzy is overheard to say she would take care of Doc only if he needed taking care of. So Hazel comes up with the idea of breaking Doc's arm with a baseball bat. He succeeds, Suzy comes to the rescue and it looks like she will take care of him forever as the curtain falls.
That plot might work. But there are two big problems. First, nothing important happens. The people of PIPE DREAM don't do much – yes, Doc collects marine samples to sell to universities and yes, Fauna runs the café - but it's a passive life on Cannery Row. The interest is then on the characters, and their problems simply aren't important enough. Rodgers & Hammerstein were expert at ratcheting up the emotional lives of their characters so we know and care about what's going on below the surface. For example, the last ten minutes of Act 1 of OKLAHOMA! is taken up with a metaphoric ballet entitled: "Laurey makes up her mind." That's what it is about - Laurey deciding whether she will let Curly or Jud Fry take her to the box social. A simple decision on the surface, yet we sit there spellbound wondering what the resolution will be, who she will decide should escort her, and what the ramifications for her will be.
Rodgers & Hammerstein couldn't figure out how to do that with the Steinbeck characters in PIPE DREAM, although they tried.
OK, but let's face it, these guys were Rodgers and Hammerstein. They weren't fools. They knew what they were doing. They had won every prize in the book, including the Pulitzer Prize for Drama. So let's talk a bit about the score.
Richard Rodgers was an instinctive composer. Especially in his musicals with Oscar Hammerstein, he knew how to place you where you needed to be without making an academic point of it. He never verbalized what he was doing; he just did it. He took enough of what he felt a locale needed, digested it, and allowed it to influence the melodies that came from his creative soul. There are hints of Siam in THE KING AND I, moments of church chorales and Austrian um-pa-pa bands in THE SOUND OF MUSIC, and waves are evident throughout "Bali H'ai" from SOUTH PACIFIC. He was influenced in PIPE DREAM by the sea coast (a very different sea from that in SOUTH PACIFIC) and by some of the ethnic variety evident in the characters in Steinbeck's stories.
I'm going to play 5 songs from PIPE DREAM, although not all from the original cast album. There were 15 songs in all, most of them quite wonderful. I wish I had time to play more of them, but I've decided upon 5 that tell us a great deal about this particular collaboration.
First, I want to play Suzy's initial character song, "Everybody's Got A Home But Me." Although this probably should have been a soliloquy, she sings this to Mac in Doc's lab. It would be wrong for Doc to hear these things about her so early in the story, but it does give us a lot of information about her character. This recording is a demo with only a piano and is sung by Judy Blazer, a remarkable and underused actress most recently seen in the musical TITANIC. Listen as Rodgers & Hammerstein find a vernacular for a true Steinbeck character.
Listen to "EVERYBODY'S GOT A HOME BUT ME" from a Demo Recording by Judy Blazer
I've always loved that verse. Those Hammerstein words seem very Steinbeck-like to me: "Scooted out of Frisco over Route 101; bummed a ride as far as San Jose. Rode aboard a Greyhound till I run out of dough, Landed on my can in Monterey." You all know that she's talking about a 100 mile journey, but she makes it sound like she's a member of the Joad family – travelling across endless dusty roads: "scooted," "Bummed a ride," "run out of dough" "landed on my can" – those are wonderful uses of words. This is good musical theater writing. The song is also very revealing – she's telling us – that she's longing for something – "a home." The release section in the middle is short and seems to belie the rest of the lyric: "I am free and I'm happy to be free" as if she were catching herself from being too revealing. And the melody Richard Rodgers wrote is typically surprising: it falls down at the beginning and then works its way back up to the title, when it settles back. This is a fascinating melody, full of longing. And by the end, you feel this is very much an unresolved statement.
But it does bring up a question which is at the core of the problem with PIPE DREAM. What is Suzy? We in this room know what she was – she was a hooker. But does that song make any reference to the life of a hooker? No. Which leads us to another big problem with PIPE DREAM: sex. You might not think sex is important in Rodgers & Hammerstein musicals, but as Oscar Hammerstein himself once said: "sex is at the core of every good story. If it's not there, the story's not worth telling." The problem here? Sex isn't at the core – in Cannery Row it's right on the surface. What is The Bear Flag Café, a diner? Not entirely. And that was a big problem for Rodgers & Hammerstein. They weren't used to characters for whom sex was just a part of daily life. Their characters have sexual longings that burn slowly and romantically – and which often aren't even consummated. The King of Siam and Mrs. Anna only touch once – and in a dance. Nellie Forbush and Emile deBecque grasp each other's hands – as the curtain falls. Even Ado Annie, that gal from OKLAHOMA! who "cain't say no", has her romp in the hay only at the penultimate moment of the show. To Steinbeck's characters, whose existence is largely about just getting through the day, sex isn't that big a deal. After PIPE DREAM failed, Billy Rose said to Oscar Hammerstein: "you guys couldn't write that show because you've never been to a whorehouse in your life!" And John Steinbeck, in a bit of desperation when he saw the way PIPE DREAM was headed, said: "you've turned my whore into a visiting nurse!"
What about Doc? His first song – which reveals a lot of his philosophy – comes again close to finding the right Steinbeck/Rodgers & Hammerstein tone. It is based on one line in SWEET THURSDAY, really a throw-away. When Doc leaves, one of the other guys says, "that's a funny guy" and Suzy replies: "It takes all kinds." Well, that was all Richard Rodgers and Oscar Hammerstein needed. So here, from the original cast album, is William Johnson as Doc singing ALL KINDS OF PEOPLE.
Listen to "ALL KINDS OF PEOPLE" from the PIPE DREAM 1995 Original Broadway Cast Recording
"Whether you like them, or whether you don't, you're stuck with the whole damn bunch." That's pretty dead-on. And I love the phrase "all kinds of people and things." "Things" is a very Steinbeck word and Hammerstein uses it cleverly here. He uses it again in a song which was directly influenced by a section from SWEET THURSDAY. Hammerstein prided himself on his ability to mine his source material for whatever he could – stealing when the stealing was good. And he stole from the best, since over the course of his career he based shows on work by such heavyweights as James Michener and Edna Ferber. The writers of the underlying works were flattered. Here's the scene that prompted the song: Fauna doesn't want Suzy around because the Coyote Club of Salinas has booked all the rooms at the Bear Flag Café. So she wants to try and persuade Suzy to go to dinner with Doc. Suzy fears that she is not worthy of him. Fauna encourages her to have confidence in herself. Here's a bit of Steinbeck:
"Now look, Suzy – tonight, just before you say something, say it first to yourself, and kind of dust it off"
"You mean cussing?"
"I mean cussing and I mean – well, sometimes if you look at it you don't say it. One whole hell of a lot that passes for talk is just running off at the mouth. I want you to repeat after me, "I'm Suzy and nobody else"
"I'm Suzy and nobody else"
"I'm a good thing"
"I'm a good thing."
"There ain't nothin' like me in the whole world."
"There ain't nothin' – goddam it, Fauna, now my eyes'll be red!"
Here are Helen Traubel as Fauna and the low-voiced Judy Tyler as Suzy from the original cast album singing "Suzy Is A Good Thing."
Listen to SUZY IS A GOOD THING – from the PIPE DREAM 1955 Original Broadway Cast Recording
That's a pretty interesting piece. I mentioned earlier that most Rodgers & Hammerstein shows have an older woman character who is wise and who sings an inspirational song. "Suzy Is A Good Thing" is as inspirational as PIPE DREAM gets. It's certainly not "Something Wonderful" in THE KING AND I or "Climb Every Mountain" in THE SOUND OF MUSIC. It's more of a coaching session, with a little bit of the teacher/student relationship that also appeared in several of the Rodgers & Hammerstein shows. Fauna's musical fate is sealed, I'm afraid, in the song that opens the second act. She is sitting around with the girls from the Bear Flag Café – discussing their Christmas Card. It's called THE HAPPIEST HOUSE ON THE BLOCK and I'm not going to play it. This could have been a moment for amusing irony – some of the lyrics go: "Our parlor is cheery, There's rest for the weary, the weary who don't want to rest!" - but irony doesn't work if we haven't been told what's really going on. Rodgers & Hammerstein just couldn't figure out how to say what these characters are really doing.
I now want to play the most popular song to emerge from this score. It is the big ballad, sung by Doc. Let me set the scene. It is the last scene of the first act. Doc and Suzy have each been convinced to go to Sonny Boy's Seaside Restaurant together alone. Under the twinkling lights there is a strolling musician playing a guitar and singing a bewitching melody in Spanish – quietly. Suzy mentions that it's a pretty melody, but doesn't understand the words. Doc knows what the words are – so he sings them. Here is Bill Johnson singing "All At Once You Love Her:"
Listen to ALL AT ONCE YOU LOVE HER from the PIPE DREAM 1955 Original Broadway Cast Recording
OK, that was this show's "Some Enchanted Evening." It was 1955, remember, and despite the advent of rock and roll, popular music still looked to Broadway for the ballads. Perry Como had a modest hit with this song. And despite the wonderfully 1950's reference to the romantic image of a man lighting a woman's cigarette, it is a perfectly fine song. And it served its dramatic task: as the curtain falls on Act One we realize that the song can, of course, be applied to our leads and that the leading man and the leading woman will realize it's about them and they'll get together by the final curtain.

There are eleven more songs. They are all perfectly professional, some better than that. Since Steinbeck presented a hodge-podge of ethnic types in SWEET THURSDAY, some of the songs evoke a Spanish and Latin flavor - which was also popular in the 1950's. There's a charming song for Doc entitled "The Man I Used To Be" in which he dances with the image of his former self. There's a show tune – "How Long?" - that sounds as if it could be from "Hello, Dolly." The libretto is constantly seeking the right tone. Once the show opened out of town many felt a grittiness in the libretto was replaced by a more simple-minded point of view. And despite the best of intentions, the show just didn't come together. In the early stages of development Steinbeck showed great enthusiasm in his letters. He loved the camaraderie of the theater and he was caught up in the extraordinary energy of assembling a new Broadway musical. But as the show started to turn sour, he felt his warnings were not being heeded. During the Boston tryouts he wrote this to Hammerstein:
I do not think this is a time to spare feelings nor to mince words. What emerges now is an old-fashioned love story. And that is not good enough for people who have looked forward to this show based on you and me and Dick. When OKLAHOMA! came out it violated every conventional rule of Musical Comedy. You were out on a limb. They loved it and were for you. But, Oscar, time has moved. The form has moved. You can't stand still. That's the price you have to pay for being Rodgers & Hammerstein.
"An old fashioned love story." One wonders what he was really trying to say. In once sense, many good love stories, whether conventional or not, could be said to be as old fashioned as love itself. And Rodgers and Hammerstein weren't scared of a new-fashioned love story. Here's what they said in the Herald Tribune before PIPE DREAM opened:
The characters stimulate us because we haven't met them before in our work. Their problems are simple…and we find pleasure that their worries, this time, are not concerned with the future of a kingdom or with miscegenation.
They must have hoped that by tackling characters unlike any they had dealt with before they would force themselves into doing something at least creatively interesting. But it is often true that artists who are revolutionary tend not to be able to move successfully from the revolutionary position they established. Rodgers and Hammerstein were clearly stuck, Steinbeck couldn't really help, and it was generally agreed the fixes took PIPE DREAM farther away from Steinbeck. I don't think anyone knew what to do.
The continuation of Steinbeck's letter is also revealing. He defends the story of PIPE DREAM as he sees it:
It's the almost tragic situation that a man of high mind and background and culture takes to his breast an ignorant, ill-tempered little hooker who isn't even very good at that. He has to take her, knowing that a great part of it is going to be misery, and she has to take him knowing that she will have to live the loneliness of not even knowing what he is talking about if the subject gets above the belt.
That certainly doesn't sound like the stuff of musical comedy. But it's interesting that Steinbeck refers to the situation of the story as "almost tragic." All the Rodgers & Hammerstein stories have situations that are "almost tragic." Let's face it, the von Trapp family is homeless at the end of THE SOUND OF MUSIC. THE KING AND I ends with Siam in the hands of a teenager. Both of those situations have elements of tragedy about them. But both have spiritually uplifting emotions underneath – the von Trapps are moving on to a new life of freedom, and Siam will be a more modern country for the wisdom and foresight that the King has passed on to his young son. Rodgers & Hammerstein were not able to find those in PIPE DREAM. They couldn't figure out how to create characters who could discover that you can follow your dreams and climb every mountain, whatever the price. Steinbeck's characters were trapped in a Rodgers & Hammerstein show. Steinbeck felt Rodgers & Hammerstein were being too soft on his characters. Rodgers & Hammerstein couldn't find the emotional core in Doc and Suzy that interested them enough. The end result satisfied no one.
So what should we do with PIPE DREAM? Put it in a drawer and forget about it? Frankly, it doesn't get performed much. Several years ago a musical director and composer friend of mine suggested that it might make a wonderful basis for a television special with the Muppets. In a weird way, everything that isn't right with PIPE DREAM could be made to work for Muppets. Miss Piggy would be Fauna and she can be as bossy as she wants. Doc and Suzy would be actors – think Matthew Broderick and Sarah Jessica Parker – while the rest of the denizens of Cannery Row would be Muppets. Fozzy Bear as Hazel? Kermit as Mac? The whole story would be about all the Muppet citizens of this place making the two humans realize they are made for each other. And keep in mind, Muppets have a life of their own; few have specific jobs and no one asks where they spend the night. And given the choice of who should write about their sex lives, I think the Muppets would be tempted to choose Rodgers & Hammerstein over Steinbeck. Along the way I believe the basic humanity of Steinbeck could be told in a fun and entertaining way. And the world could be introduced to some Rodgers & Hammerstein songs they don't know.
The other idea is to take a more careful look at Steinbeck and see if the libretto can't be made to be tougher and perhaps more appropriate to the source material. Maybe – in the musical theater today this is an increasingly alluring notion. I don't know - I am more than happy to keep my eyes and ears opened to suggestions, because I think what's good in PIPE DREAM is worth fighting for. Maybe what isn't so good can be minimized.
I want to conclude with one last song. It is entitled "The Next Time It Happens" and is sung in the show by both Suzy and Doc. It comes towards the end of the second act, and they are both resigned to go their separate ways. Of course, they will get together at the end, but this is a very interesting sentiment to express in song. The recording I'm going to play is not from a production of PIPE DREAM. The song was borrowed for the stage version of STATE FAIR where it worked in much the same position as it does in PIPE DREAM, albeit with different characters. Placed in a different Rodgers & Hammerstein context, the song was very well received. If a production of PIPE DREAM can have as much spirit as this recording, I think it augurs well for a future life. At least that's what I'm hoping for. Here is Andrea McArdle with "The Next Time It Happens."
THE NEXT TIME IT HAPPENS – from the STATE FAIR 1996 Original Broadway Cast Recording
© 2000 Theodore S. Chapin
---
For the past several months they had been film producers, on location in Nogales, Arizona, where they endured droughts, electrical storms and flash floods. Late in 1954, shooting completed, they returned home to New York. They would never produce another movie, but took pride in knowing that the film they had made of their own stage musical, OKLAHOMA!, would be first rate. For now, Richard Rodgers and Oscar Hammerstein II were happy to leave movie-making behind and get back to the task that suited them best: writing for the Broadway stage.
By this half-way point in their seventeen year partnership, Rodgers & Hammerstein had developed a persistent pattern: of their six Broadway shows, the four based on plays or novels—OKLAHOMA!, CAROUSEL, SOUTH PACIFIC and THE KING AND I—had been international triumphs, while the two wholly original works—ALLEGRO and ME AND JULIET—had been disappointments. It made sense that their seventh show should be an adaptation. The question was—where would they find the property to adapt?
Through conversations and speculation their search led to John Steinbeck. The illustrious author had been in their social circle for many years (R&H produced a play of his, BURNING BRIGHT in 1950, and his wife Elaine had been one of the original stage managers on OKLAHOMA!), and Steinbeck mentioned an idea for a musical that he thought had possibilities.
Steinbeck's proposal was to make a musical out of his 1945 novel CANNERY ROW. The setting, a ramshackle neighborhood on California's northern Pacific coast, and the characters, a collection of lazy but lovable bums, offered ample opportunity for a musical treatment. The first to spot this potential were producers Cy Feuer and Ernest Martin. They iniated the idea of a CANNERY ROW musical in the early '50s, hoping it would prove a natural follow-up to their smash hit GUYS AND DOLLS. After all, if they could transform Damon Runyon's Times Square lugs into the stars of a Broadway blockbuster, why couldn't they do the same with Steinbeck's gang from Cannery Row? The novelist agreed to write the libretto, and, hoping that lightning would strike twice, Feuer & Martin signed Frank Loesser to compose the score.
Steinbeck began to turn CANNERY ROW into a musical called THE BEAR FLAG CAFE—named after the popular watering hole central to the story—but he soon found himself uncomfortable with the task of librettist. He began instead to write a novelized sequel to CANNERY ROW intended to serve as the musical's blueprint, and was well into an outline for the new novel, SWEET THURSDAY, when the production stalled. Eventually Frank Loesser moved on, shifting his sights slightly northward from Monterey to the Napa Valley and THE MOST HAPPY FELLA. The novel lay unfinished in Steinbeck's desk.
Rodgers & Hammerstein wanted it. They wanted to write the show, and they wanted to produce it. They struck one deal with Steinbeck, using SWEET THURSDAY as their source, and another with Feuer & Martin: all rights and control of the property in exchange for 20% of the producers' share of the profits. Rodgers & Hammerstein were back in business.
What drew them to SWEET THURSDAY? The characters, certainly, who were fresh and off-beat in an OKLAHOMA!, salt-of-the-earth kind of way, and the story, which depicted real, everyday problems among ordinary folks. But what R&H took from SWEET THURSDAY was selective, and what they were not fully comfortable with they glossed over or ignored. Rodgers & Hammerstein decided that SWEET THURSDAY was right for them; but were they right for SWEET THURSDAY?
Steinbeck's heroine, Suzy, is a tough vagrant. She is taken in by a madam, Fauna, to live at a brothel and work as a prostitute. Rodgers & Hammerstein could handle most of the Steinbeck story, but, as Rodgers understated to his partner at the very beginning, "Whether we can get away with a factual house of prostitution...is something else again." The team was at home in Lynn Riggs' Oklahoma and James Michener's South Pacific, but did they belong on Steinbeck's Cannery Row? As he conceived it, no. The combination of an R&H sensibility with the Steinbeck point of view proved unworkable. We have this astute assesment from producer Billy Rose: "You know why Oscar shouldn't have written that? The guy has never been in a whorehouse in his life!"
A quick distinction: despite their reputation as cockeyed optimists, Rodgers & Hammerstein were not afraid to tackle complex, dark, adult themes. Nor did they shy from controversey. Collectively their musicals had so far covered such taboo'd topics as brutality, domestic abuse, corruption, racial intolerance and slavery. However, from the insidiousness of Jud Fry to the enigmatic romance of Anna and the King, these themes were always portrayed implicitly.
There is nothing implicit about a hooker, nothing vague about a whorehouse. Yet for Hammerstein, who had the primary task of shaping the libretto and creating the lyrics, there was no way to tackle the source material honestly without violating his own deeply-felt sense of propriety. It held him back and, from the beginning, lead to compromises by both him and Rodgers that ultimately undermined the show.
They began with the title, which they changed to PIPE DREAM (a pun on the scenes in Act II when Suzy takes refuge in a boiler pipe down on the beach.) Four years after the show opened, Steinbeck, in a letter to Rodgers & Hammerstein's longtime casting director John Fearnley, shared this observation:
"When Dick [Rodgers] announced that it was going to be called PIPE DREAM my heart fell but I didn't know why. Now I think I do know. That name indicated that R&H didn't believe it. They were telling the audience that it wasn't true before they started [and] not believing it themselves, they couldn't convince anyone else."
Rodgers probably had less trouble with the tone of the material than Hammerstein did. After all, he had written shows before in the brash, tawdry vernacular that PIPE DREAM required (one wonders what a musical version of Cannery Row would have sounded like if it had been adapted by Rodgers & Hart, working in the tough, subversive style of PAL JOEY and HALLELUJAH, I'M A BUM.) But Rodgers also knew the parameters with Hammerstein and, judging by the doubts he expressed at the outset, probably sensed that the lines were about to be crossed.
Rodgers was unable to warn his partner, however, because for the first time in their collaboration Rodgers was not at Hammerstein's side during the crucial rehearsal period. Rehearsals began in late summer of 1955, and on the first day Rodgers greeted the company, handed in a few last-minute pieces of music, went to lunch with his wife Dorothy, and then checked into the hospital; only a few days earlier a malignant cancer had been discovered in the left side of his jaw, and emergency surgery was required.
The operation was a success, and recovery, as he acknowledges in his autobiography Musical Stages, was miraculously quick. But Rodgers missed out on the most vital weeks in PIPE DREAM's development, and his absence had a profound impact on the musical's course. By now Rodgers & Hammerstein were more than just a writing and producing team—they spoke in one voice on every creative decision that was made, and each man was stymied without the other.
And Hammerstein without Rodgers had his hands full: PIPE DREAM's director, Harold Clurman, had never worked on a Broadway musical before; nor had PIPE DREAM's star, the great Wagnerian soprano Helen Traubel; and, most importantly, from the moment it opened in New Haven in October of 1955, PIPE DREAM wasn't working. The story said one thing, but the musical said another.
The great R&H musicals went virtually unchanged from their world premieres to their Broadway openings. PIPE DREAM, by comparison, went through extensive changes. But they were, for the most part, cosmetic and only seemed to make things worse: characters were sanitized, tough conflicts diluted, rough edges worn away. Steinbeck complained that his prostitute had become "an off-duty visiting nurse." Rodgers' response: "We write family shows."
Steinbeck remained with the creative team during the tryout period, plying them with memos and notes and suggestions. He was also the first to realize that PIPE DREAM was not going to be his story. Still, Steinbeck maintained his friendship with Rodgers & Hammerstein and even grew to like PIPE DREAM on its own terms. "It's a beautiful show," he said. "It needs only guts."
Steinbeck's sentiments were echoed by the New York critics, who got their say when PIPE DREAM opened at the Shubert Theatre on November 30, 1955. The critics felt let down by their heroes, and the tone of their reviews was more disappointed than vitriolic: "They must be human after all," summarized John McClain in the New York Journal American. PIPE DREAM ran for 246 performances, the shortest run of an R&H show, and it closed at a loss after only seven months on Broadway.
To this day, however, PIPE DREAM has its believers and its followers. The reason? The score. It is, after all, a Rodgers & Hammerstein musical and, PIPE DREAM isn't unworthy, merely undiscovered. Rodgers' melodies, like the folks who sing them along Cannery Row, are both brassy and grand, a musical dichotomy reflecting who PIPE DREAM's characters are and what they aspire to be. And Hammerstein's lyrics make the connection with Steinbeck's novel that his libretto misses. For while the story might not have been right for Hammerstein, so much of its message was.
PIPE DREAM takes its strongest theme directly from the Steinbeck source, and it is this affirmation of humanity and celebration of diversity that is carried throughout the musical. In the very first number Doc sings, "It takes all kinds of people to make up a world," and on this point above all else Steinbeck, Rodgers and Hammerstein spoke with one voice that carries to this day.
---

Tony Awards
January 01, 1956 — 9 Nominations including Best Musical

Vocal Range of Characters:


// Photos

---
---
---
---
---


Written By: John Steinbeck

There you might meet a German plant rust specialist, a Norwegian masseur, a composer, a bindlestiff and assorted girls, both hustlers and hustled. In the small laboratory you would hear records -- plainsong, Buxtehude, Cab Calloway. You might hear readings of the drinking poems of Li Po or the avantest garde obscurity from Carmel. Conversations grew into parties, parties into riots. I remember an unfrocked Presbyterian minister standing in the sink reciting in Hebrew. There you might meet a Chinese correspondence school detective and there you probably would have met a raggle-taggle aspiring novelist, namely me.
In this climate odd stories and odder characters abounded and I began to write them down -- some real, some fancied. Out of this material I built a kind of folklore in conscious imitation of the tales of the Middle Ages which have so colored our literature and thinking.
And what would we bums think of the current production of PIPE DREAM? Probably nothing, because in the first place we couldn't get in.
---

Playbill VIP
: 
MAKE YOUR OWN PLAYBILL! Playbill VIP allows you to create your very own Playbill Program. We have provided Playbill with all of the credits, song listings, musical numbers and more so that most of the work is already done for you. Just add your productions details, photos of the cast and share it with all of your friends. Learn more: www.playbillvip.com
---

STANDARD
PIPE DREAM - Orchestration Package (14 Books/19 Players)

1 – PIANO VOCAL SCORE

1 – PIANO

1 – FLUTE (Doubling Piccolo)

1 – CLARINET I

1 – CLARINET II

1 – HORN I-II

1 – TRUMPET I-II

1 – TROMBONE

1 – PERCUSSION (see "Materials Notes", under "Production Information")

1 – VIOLIN A (Divisi)

1 – VIOLIN B - D (Divisi)

1 – VIOLA (Divisi)

1 – CELLO (Divisi)

1 – BASS

Perusal Package (1 Lib., 1 VB)

1 – Libretto

1 – Vocal Book

Rehearsal Set (42 Books)

20 – Libretto

1 – Logo CD

20 – Vocal Book

2 – PIANO VOCAL SCORE

Digital Logo
ADDITIONAL
PIPE DREAM - PRE-PRODUCTION PACKAGE

1 – Libretto

1 – PIANO VOCAL SCORE

PRINCIPALS
2 Women
3 Men
FEATURED
8 Women
14 Men
ENSEMBLE
A singing-dancing ensemble with many small roles.
CHARACTERS
Doc
Hazel
Millicent Henderson
Mac
Suzy
Fauna
Jim Blaikey
Ray Busch
George Herman
Bill
Red
Whitey
Dizzy
Eddie
Alec
Joe
Pancho
Agnes
Magle
Emma
Beulah
Marjorie
Cho Cho Sen
Sumi
Sonny Boy
Esteban
A Waiter
Harriet
Hilda
Fred
Slick
Slim
Basha
Bubbles
Sonya
Kitty
Weirde
Johnny Carriagra
Pedro
Dr. Ormondy

PIPE DREAM takes place in Cannery Row, Monterey County, California, in the 1950's.
SPECIFIC LOCATIONS
The Western Biological Laboratory
Sonny Boy's Pier Restaurant
Cannery Row
The Bear Flag Cafe
The Palace Flophouse
Inside 'The Pipe'
A Room in the Bear Flag Café
Materials Notes
Trap Set, Timpani ,Bells, Wood Blocks, Xylophone, Triangle, Wind Machine, Whistle, Military Drum.
---
Media Rights
*

Currently media rights for Pipe Dream are not available. Please contact customer service with any questions.
Flat Poster
Format: .JPG, .TIFF, 14"x22", 300 DPI, CMYK
Price: $50.00
Broadway quality show art in a 14" x 22" poster format.
Don't worry about optimizing your poster for printing – at 300 pixels per square inch, this poster comes at a high resolution, with CMYK colors ready for printing.
Don't worry about leaving a blank margin around your show's artwork: This poster comes with a .25" margin on all sides, letting you trim the edges of the graphic for beautiful, full-bleed, edge-to-edge color.
Don't worry about adding social media icons to your poster – Facebook and Twitter logos are included with the art.
Don't worry about needing fancy design programs – these flat .JPG and .TIFF files are ready to use with any free paint or photo editing programs. Free text and video instructions show you how to customize graphics with your theater's text.
Choose between .JPG files that give you compatibility with any program, and .TIFF files providing the highest quality graphics for premium printing, compatible with many programs.