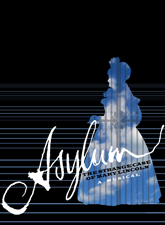 Asylum: The Strange Case of Mary Lincoln
Everyone knows the story of how President Abraham Lincoln died. But what happened afterward? What became of his eccentric wife, First Lady Mary Todd Lincoln, and their son Robert? Though not everyone knows it, the tale of their battle of wills is as thrilling as American history gets. In ASYLUM: THE STRANGE CASE OF MARY LINCOLN, writer June Bingham and composer Carmel Owen explore the dark psychological warfare and unique historical conditions that drove Robert Lincoln to have his mother wrongfully committed to an insane asylum. Imprisoned at a time when women had few rights, Mary must draw on all her strength and cleverness, as well as a few courageous friends and the memory of her husband, to fight the system and set herself free. A haunting character study of a strong-willed woman and a dangerous man, ASYLUM makes history come alive.
Participate in the R&H Online Community.
Leave comments or talk with other fans in the forum!

To request the rights to make merchandise for this show email [email protected].
Fan Info:


The birthday of June Bingham, book-writer for the musical ASYLUM: THE STRANGE CASE OF MARY LINCOLN.


"I loved working on this musical as did our actors and musicians. It was an amazing exeprience that all of us will treasure!! We expanded the orchestration and worked with the composer/lyricist to make additional special improvements in the script. It was one of the hits of our 2010 season - audiences came back multiple times to see it!! Our production - with the revised book and the expanded orchestrations - has freed the show from it's "opera" confines and relased it into the realm of sweeping musical theater!! This work has enormous potential for theaters of all sizes, anywhere in the world. The story of Mary Todd Lincoln may be American by birth, but the larger story is universal, empowering, uplifting and truly entertaining! For any theater who is looking to produce theater that is artistic, accessible, moving and one to please audiences, you have found that show with ASYLUM: THE STRANGE CASE OF MARY LINCOLN! ."


— Brett A. Bernardini, the Founding Artistic Director & CEO of the Spirit of Broadway Theater, 2010
"Touching and historically scrupulous."
— The Washington Times
"...music that's interesting at almost every turn...with arrangements that keep us listening intently."
— Steven Suskin, Variety
"...a worthy musical...Ms. Bingham's book has both humor and suspense and deft dialogue...Ms. Owen's music sounds like no one else's."
— John Simon, Bloomberg.com
"...the music takes center stage. Owen is onto something with her music...laudable moments of Puccini proportions."
— David Fuller, NYTheater.com
"...the music takes center stage. Owen is onto something with her music...laudable moments of Puccini proportions."
— David Fuller, NYTheater.com

Written By: Carmel Owen

I was interested to learn that Brett Bernardini had selected ASYLUM for his summer season in 2010, but I didn't know then what an incredible and exciting adventure it would be for me and for the show. As an experienced director who loves new work, he instinctively understood the dimension of the story and within his capacity at the theater, expanded both the cast and the orchestration to support it. In previous New York presentations and even in our Off-Broadway production, we had only six to seven actors and lots of doubling going on, with the result that large choral numbers lost a bit of their force and dramatic tension. Adding other instruments to our violin, cello and piano accompaniment made a huge difference as well and I am currently working on a possible expanded orchestration to make available to groups that can handle it.
This theater has an awards ceremony in December in which their subscribers and theater fans vote for favorite shows for recognition in various categories. It was quite thrilling to learn that ASYLUM had been nominated for 14 awards by the audiences of Spirit of Broadway, a sophisticated Connecticut group. Their enthusiasm for the piece was enormously encouraging for its future potential in the Rodgers and Hammerstein catalogue. There is much more in it than even I had ever imagined, for all sizes and kinds of theaters and dramatic venues.

Carmel Owen

Song #
Song Name
Character Name
Play
Other Versions


Vocal Range of Characters:


// Photos

---
---
---
---


Written By: June Bingham

In 1997 I was at an ASCAP workshop in New York with a previous musical of mine when, during the coffee break, a young woman came up to me: "Are you a book writer?"
"Yes."
"Well, I'm a composer-lyricist and I'm perishing to write a musical about a woman in the 19th Century ."
As with the fairy tale prince who was startled to find a frog jumping out of his mouth, I was startled to hear the words "Mary Lincoln" jumping out of mine.
"Mary Lincoln," she almost shouted. "Why would anyone ever want to write about her?"
By the time I had detailed Mary's dramatic character and her Greek tragedy-type conflict with Robert the only remaining of her four sons, I was even more attracted to the idea.
Carmel Owen, the composer-lyricist, turned out to have grown up in Kentucky and she knew a lot about Mary Todd Lincoln's luxurious childhood in Lexington followed by the financially difficult early years of marriage to Abraham Lincoln in Springfield, Illinois.
Thus was our joint musical "ASYLUM: The Strange Case of Mary Lincoln" born. After several false starts, we limited the action to the year 1875, 10 years after the death of Lincoln, when MARY's eldest son, ROBERT, had her committed to a lunatic asylum called Bellevue, near Chicago. The action starts with her entrance to her hospital room with its barred windows and ends with her departure from it. Her imaginative efforts to regain her freedom are fueled by her memories of LINCOLN's own courage (two full scenes of flashback enable the audience to see Lincoln himself). She was also eventually helped by her longtime friend, MYRA BRADWELL, the first woman lawyer in the US and the publisher of the first law journal, as well as by her feisty African-American nurse, DELIA, and by the journalist Frank Wilkie whom she allowed to interview her and who told the American public the truth, that indeed Mary Lincoln was not insane. In the end MARY also manages to win over her keeper, DR. RICHARD PATTERSON, psychiatrist and owner of Bellevue.
Only Nurse Delia is an invented character, although modeled very much on strong African-American friends that Mary always depended upon to give her strength in time of need, as when her 10 year old son Willie died in the White House. All other characters are historically accurate. The show is both a tragedy and a victory for the main character who moves from helpless despair to clever activism, from the fear that she might in fact be insane to a burning desire to be free again. Mary Todd Lincoln turned out to be even more worthy of being written about than I had thought possible ten years ago. Indeed, she has turned out from audience as well as authors' point of view to be fascinating and completely unforgettable.
---

Playbill VIP
: 
MAKE YOUR OWN PLAYBILL! Playbill VIP allows you to create your very own Playbill Program. We have provided Playbill with all of the credits, song listings, musical numbers and more so that most of the work is already done for you. Just add your productions details, photos of the cast and share it with all of your friends. Learn more: www.playbillvip.com
---

STANDARD
ASYLUM: THE STRANGE CASE OF MARY LINCOLN - Rehearsal Set - (24 Books/3 Players)

20 – Libretto-Vocal

2 – Piano-Conductor

1 – Violin

1 – Cello

1 – Digital Logo
ADDITIONAL
ASYLUM: THE STRANGE CASE OF MARY LINCOLN - Libretto-Vocal 10-Pack - (10 Books)
ASYLUM: THE STRANGE CASE OF MARY LINCOLN - Pre-Production Pack - (2 Books)

1 – Libretto-Vocal

1 – Piano-Conductor

PRINCIPALS
1 Woman
1 Man
FEATURED
3 Men
2 Women
COMMENTS
In the original production, all characters except Mary acted as the ensemble.
CHARACTERS
Mary Lincoln – 56 years old, widow of President Lincoln
Robert Lincoln – 35 years old, lawyer, son of the Lincolns
Doctor Patterson – 45 years, Alienist/Psychiatrist, head of Bellevue Asylum
Abraham Lincoln – 30's in age, Springfield years
Myra Bradwell – 50's in age, friend of Mary, first woman lawyer and publisher of first legal news
journal, The Chicago Legal News
Franc Wilkie – 30's in age, Editor of and Reporter for The Chicago Times
Delia – Mary's nurse at Bellevue, African-American
Ensemble – In the original production, all characters except Mary acted as the ensemble.
ASYLUM may be performed with or without this doubling.

ASYLUM: THE STRANGE CASE OF MARY LINCOLN takes place over four and a half months, from May 1875 to mid-September 1975, when Mary Lincoln is institutionalized at Bellevue Asylum in Batavia, Illinois, about 20 miles outside of Chicago.
Settings Include:
Bellevue Asylum
Mary's room at the asylum
Dr. Patterson's office in the asylum
Myra Bradwell's office in Chicago
Meeting of newsmen in Chicago
Memories in Mary's Mind of her sister's home in Springfield, her home with Abraham Lincoln in Springfield, and the court gallery at her trial
Materials Notes
Featured News
Historian Jean Baker discusses ASYLUM
"Asylum: The Strange Case of Mary Lincoln" is an outstanding musical drama based on Mary Lincoln's tragic, but ultimately ennobling life. As theater the drama combines historical accuracy with a successful script and some captivating music and lyrics. Indeed presented in New York a few years ago, the play received excellent reviews along with a full-house for its performances off Broadway.
Read More
Media Rights
Promotional
1. The Promotional Video shall be recorded and shown for the sole purposes of advertising your licensed production of the Play. For such a video, R&H allows theatres to film up to 10 minutes of total footage taken at either a performance or rehearsal (i.e.: 10 minutes of scripted moments.)
2. The Promotional Video may not include more than (i) 1 minute from any song or (ii) 3 minutes, in the aggregate, of footage of copyrighted material from the Play.
3. The Promotional Video may not include any sponsorship or underwriting without the prior consent of all R&H.
4. The Promotional Video must be submitted to R&H by sending the source video and video link to [email protected]
5. The Promotional Video must include the following: "Rights courtesy of Rodgers & Hammerstein, www.rnh.com"
6. Upon approval by R&H of the Promotional Video, you agree not to make any alterations in the approved copyrighted material used therein and you agree to obtain the prior written approval of R&H for any other use of the Promotional Video not specifically granted herein.
7. Upon termination of the Term, you shall cease to have any rights to use the Promotional Video including, without limitation, in connection with a future production of the Play, and shall immediately remove its content from any and all websites on the Internet.
8. You may not use a commercially available recording.
9. Any additional promotional rights must be approved by R&H by contacting[email protected].
*
Promotional video rights can only be granted once a performance license for Asylum: The Strange Case of Mary Lincoln has been secured. Please contact customer service if you have any questions. If you have not yet applied for Asylum: The Strange Case of Mary Lincoln, you can do so here. LOG IN to learn more.
---