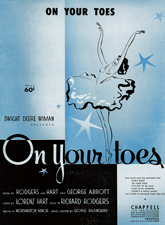 On Your Toes
Gangsters, vaudeville and the Russian Ballet come together in this riotous, romantic romp. Junior's folks pull him from the family's vaudeville act and pack him off to school where he becomes a music teacher. He meets Sydney, a composer, and Frankie, a coed who's fallen hard for him, and together they set about trying to sell Sydney's new jazz ballet to a Russian ballet company. The prima ballerina wants to teach Junior more than a few new steps, but with her assistance, 'Slaughter On Tenth Avenue' is produced with Junior dancing the lead. In one of the funniest set pieces ever devised, Junior dances the premiere while being shot at from the audience by thugs who've mistaken him for a dancer who owes on a gambling debt. This landmark musical was directed by the legendary George Abbott and choreographed by newcomer George Balanchine, whose use of ballet here marked the first time in musical comedy that dance was a direct proponent of the plot.
Participate in the R&H Online Community.
Leave comments or talk with other fans in the forum!

To request the rights to make merchandise for this show email [email protected].
Fan Info:

In 1937, ON YOUR TOES closed on Broadway after a run of 315 performances. This dance musical would later be revived on Broadway during the '50s, and again in the '80s.

In 1936 Rodger & Hart's musical ON YOUR TOES had its New York premiere at the Imperial Theatre before moving to the Majestic Theatre in November. The show ran for a total of 315 performances.

In 1887 George Abbott was born, Broadway actor, writer, and producer. His musical collaborations included ON YOUR TOES, THE BOYS FROM SYRACUSE, ON THE TOWN, PAL JOEY, DAMN YANKEES, and FIORELLO!, for which he won the Pulitzer Prize in 1959.


"ON YOUR TOES is very inspiring by virtue of its temperament and cheeky wit, its high musical standards, its speed, liveliness and brilliance of dancing...and delights the audience right from the prelude."
— Frankfurther Rundschau, January 01, 1990
"A triumph. Lots of applause... a happy audience."
— Emma Pegler, Critical Dance, January 01, 2003
"A revelation of joy."
— San Francisco Chronicle

Song #
Song Name
Character Name
Play
Other Versions

At the Ballet
A Look at "Slaughter on Seventh Avenue"
Richard Rodgers (1902-79) and Lorenz Hart (1895-1943) epitomized the wit and sophistication of Broadway musical comedy in its heyday—approximately 1930 to 1940. While conceived primarily as sheer entertainment, the Rodgers & Hart musical comedies quickly developed a reputation for innovation as well. Their 1936 musical comedy ON YOUR TOES, a lighthearted look at the world of dance, was no exception in its innovative mark: ON YOUR TOES was the first Broadway musical to use dance as a direct proponent of the plot. Here, for the first time, choreography became a means, and not merely an end, to the storyline's narrative.
Since dance was essential to the story, a strong choreographer was needed. Rodgers, Hart and their director and co-author George Abbott took the radical step of hiring a renowned talent from the world of classical ballet—the Russian-born co-founder of the New York City Ballet, George Balanchine—to create their dances. "He didn't speak much English," recalled Rodgers years later, "but he spoke an awful lot of ballet."
The jewel in this musical comedy's crown is the climactic Act II ballet "Slaughter on Tenth Avenue." Ostensibly written by one of the characters in the show (a WPA-funded struggling composer), it is an American ballet in the jazz vernacular. In its storyline, a customer in a seedy Tenth Avenue strip joint falls in love with a stripper, is discovered with her after closing by the Big Boss and, in the violence that ensues, sees her killed by the Big Boss. Not merely a showpiece, however, "Slaughter" is linked directly to the musical through a plot device, thus forwarding two lines of narrative at once. A dancer jealous of the ballet's leading man has hired two hit men to kill him during a performance of "Slaughter" the plot is uncovered and our hero alerted but, until help arrives, he is forced to keep dancing center stage and out of harm's way.
"Slaughter" is unique in the annals of American musical comedy; a recognized ballet in its own right, it has entered the repertory of several leading companies, particularly New York City Ballet. As an orchestral work, Rodgers' superlative score for the ballet has become a staple with many symphony and pops orchestras. Finally, while the musical has served to introduce many theatre companies to the rigor of ballet, in 1990 the reverse was true, when the world-famous Stuttgart Ballet of Germany premiered ON YOUR TOES as the first musical in its repertoire.
---

Tony Awards
January 01, 1983 — Best Musical Revival

Vocal Range of Characters:


// Photos

---
---
---
---


Written By: Richard Rodgers

I had heard that Pandro Berman, the head of RKO, was looking for a story for a new Fred Astaire picture. Hart and I sat down and worked for a couple of hours one afternoon finishing up with a two-page synopsis telling the tale of a hoofer mixed up with the Russian Ballet. We took it around to Berman, who liked it. He took it around to his associates, who rejected it. Astaire at that point in his career was a pretty chic fellow who usually wore white ties and tails, and the producers felt that there was no chance in our script for him to appear that way. I was as simple as that. It didn't matter much, we figured, since we had invested so little time.
A few weeks later in New York we ran into Lee Shubert and [his show coordinator] Harry Kaufman. The thing that had been keeping them up nights was the unhappy business of finding a vehicle for Ray Bolger. They thought he was star material. We, too, thought he was star material. Standing on the corner of Forty-fifth Street and Broadway we told Mr. Shubert and Mr. Kaufman the story of the hoofer and the Russian Ballet. They liked it, and this time there were no associates to be consulted. We concluded the deal standing there on the corner.
When the first draft of the book was finished we surveyed our work and found it was not so good. Anyway, be it said to our everlasting credit, we took the step of our own volition, without coaching from the managerial sidelines, and called in George Abbott. That was a lucky day. George straightened out the story line and kept it straight through the turmoil of production and the upheaval of out-of-town tryouts till the show emerged on the stage of the Imperial Theatre. The name would be 'On Your Toes.'
---

Playbill VIP
: 
MAKE YOUR OWN PLAYBILL! Playbill VIP allows you to create your very own Playbill Program. We have provided Playbill with all of the credits, song listings, musical numbers and more so that most of the work is already done for you. Just add your productions details, photos of the cast and share it with all of your friends. Learn more: www.playbillvip.com
---

STANDARD
ON YOUR TOES - Orchestration Package (20 Books/23 Players)

1 – PIANO VOCAL SCORE

2 – PIANO I-II (Piano II doubles Celesta)

1 – REED I (Piccolo, Flute)

1 – REED II (Oboe, English Horn, Optional Bass Oboe)

1 – REED III (Piccolo, Flute, Clarinet, Bass Clarinet, Alto Sax)

1 – REED IV (Clarinet, Alto Sax)

1 – REED V (Clarinet, Tenor Sax)

1 – HORN

1 – TRUMPET I-II

1 – TRUMPET III

1 – TROMBONE

1 – DRUMS (see "Materials Notes", under "Production Information")

1 – PERCUSSION (see "Materials Notes", under "Production Information")

1 – VIOLIN A

1 – VIOLIN B (Divisi)

1 – VIOLIN C (Divisi)

1 – VIOLA (Divisi)

1 – CELLO

1 – BASS

Rehearsal Set (22 Books)

20 – Libretto-Vocal Books

1 – Logo CD

2 – PIANO VOCAL SCORE

Digital Logo
ADDITIONAL
Libretto/Vocal Books 10 pack

10 – Libretto-Vocal Books

ON YOUR TOES - PRE-PRODUCTION PACKAGE

1 – Libretto-Vocal Books

1 – PIANO VOCAL SCORE

PRINCIPALS
3 Women
3 Men
FEATURED
2 Men
ENSEMBLE
Large singing-dancing ensemble with several small roles
CHARACTERS
Phil Dolan II (Pa)
Lil Dolan (Ma)
Phil Dolan III (Junior)
Stage Manager
Lola
Junior, 15 years later
Sidney Cohn
Frankie Frayne
Joe McCall
Vera Baronova
Anushka
Peggy Porterfield
Sergei Alaxandrovitch
Konstantine Morrosine
Oscar
Stage Doorman
A Woman Reporter
Dmitri Ivan
Louie
Princess Zenobia - In the 'Princess Zenobia' Ballet
Beggar - In the 'Princess Zenobia' Ballet
Kringa Khan - In the 'Princess Zenobia' Ballet
Ali Shhar - In the 'Princess Zenobia' Ballet
Ahmud Ben B'Du - In the 'Princess Zenobia' Ballet
Hank j. Smith
Ballet Leaders -In the 'On Your Toes' Ballet
Tap Leaders - In the 'On Your Toes' Ballet
Cop (2)
Messenger Boy
Hoofer - In the 'Slaughter on Tenth Avenue' Ballet
Striptease Girl - In the 'Slaughter on Tenth Avenue' Ballet
Big Boss - In the 'Slaughter on Tenth Avenue' Ballet

ON YOUR TOES takes place in the 1930s.
SPECIFIC LOCATIONS
A Vaudeville Stage, 1920s
A Vaudeville Dressing Room
Classroom at Knickerbocker University - WPA Extension
Vera's Apartment
Cosmopolitan Opera House Stage
Palace of Princess Zenobia
The Stage Door
Expressionistic Smoke-filled Dive
Materials Notes
DRUMS: Trap Set, Wood Block, Tambourine, Timpani, Oriental Cymbal.
---
2 Gongs, Xylophone, Temple, Blocks, Vibraphone, Bells, Whistle Siren, Timpani, Suspended Cymbal, Finger Cymbals, Tambourine, Bass Drum, Glockenspiel, Police Whistle.
---
Media Rights
*

Currently media rights for On Your Toes are not available. Please contact customer service with any questions.