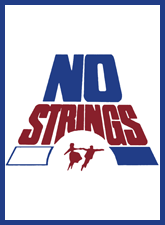 No Strings
A successful high-fashion model meets and falls in love with a writer in Paris. While this Pulitzer prizewinner has been trying to recover from a prolonged case of writer's block, he's assumed the dubious role of charming intellectual-in-residence at some of the Continent's more luxurious watering holes. As the model's work takes them on a whirlwind tour of the most exclusive European playgrounds, their romance develops into the first deeply-felt, honest relationship either has ever known. The model, however, ruefully comes to realize that the life-style demanded by her career is stifling the writer, and if he's ever to fulfill the promise of his earlier work, he must take responsibility for himself, go home, and write. Reluctantly, but with no strings, they part, each having discovered anew their capacity to love.
Participate in the R&H Online Community.
Leave comments or talk with other fans in the forum!

To request the rights to make merchandise for this show email [email protected].
Fan Info:

In 1963 NO STRINGS closed on Broadway after 580 performances. Richard Rodgers won the 1962 Tony Award for Best Composer for this show, which was his first and only experience writing lyrics as well as music without a collaborator.

Richard Rodgers did not write his first professional score with his own lyrics and music until he was sixty years old. The show was NO STRINGS - a love story whose leads Rodgers cast as an interracial couple, played by Richard Kiley and Diahann Carroll. NO STRINGS opened on this day in 1962 at the 54th Street Theatre.

Did you know? After Hammerstein passed away, Rodgers needed a new writing partner. For the first time in his career, he turned to himself for words. In 1962, Rodgers crafted new songs for the re-make of STATE FAIR and wrote both music and lyrics for the musical NO STRINGS. When the film version THE SOUND OF MUSIC needed new numbers, Rodgers wrote and composed the songs ?I Have Confidence? and ?Something Good.?


"Tart, breezy and lovelorn...The revelation of NO STRINGS is that [Richard Rodgers], one of songwriting's greatest collaborators, had it in him to fly high on his own."
— The New York Times, January 01, 2003
"The relationship between the fashion model and the writer is poignant and utterly believable. Rodgers' score helps to heighten the effect...and one can cite a handful of lovely ballads to back that statement up."
— The Daily Oklahoman, January 01, 1962

Song #
Song Name
Character Name
Play
Other Versions


Outer Critics Circle Awards
January 01, 1962 — Award for Best Musical

Tony Awards
January 01, 1962 — 4 Awards for the Original Broadway ProductionComposer, Richard RodgersActress (Musical), Diahann CarrollChoreographer, Joe LaytonSpecial Award, Richard Rodgers for all he has done for young people in the theatre and for taking the men of the orchestra out fo the pit and putting them on stage in NO STRINGS (from www.tonyawards.com)10 Nominations including Best Musical, Director and Actor (Musical)

Vocal Range of Characters:


// Photos


Written By: Richard Rodgers

There was more to Diahann [Carroll] than vocal ability...she looked like she had just stepped off the cover of a fashion magazine. Her singing and her appearance immediately gave me the idea of starring her in a musical in which she would play a chic, sophisticated woman of the world. She would not represent a cause or be a symbol of her race, but a believable human being, very much a part of a stratum of society that the theatre thus far had never considered for a black actress. Such casting, I felt, would be more effective than anything strident or preachy in breaking down racial stereotypes that had persisted for too long on Broadway...
Early that summer Dorothy and I went up to Sam [Taylor's] place in East Blue Hill, Maine, where we discussed various aspects of the story. Diahann would play an American model living in Paris who meets and falls in love with another American, a former Pulitzer Prize-winning novelist who is now just another expatriate bum sponging off wealthy tourists. The girl helps restore his self-confidence and his desire to resume writing, but the distractions of the affluent life around him are too much. He can only work if he returns home to Maine -- Sam's only autobiographical touch -- but when he asks the girl to go with him they both realize that it could never work out, and they part.
---

Playbill VIP
: 
MAKE YOUR OWN PLAYBILL! Playbill VIP allows you to create your very own Playbill Program. We have provided Playbill with all of the credits, song listings, musical numbers and more so that most of the work is already done for you. Just add your productions details, photos of the cast and share it with all of your friends. Learn more: www.playbillvip.com
---

STANDARD
Libretto 10-Pack (10 LIB, 10 PV)

10 – Libretto

10 – PIANO VOCAL SCORE

NO STRINGS - Orchestration Package (20 Books/21 Players)

2 – PIANO VOCAL SCORE

1 – REED I (Piccolo, Flute, Alto Flute, Clarinet, Tenor Saxophone)

1 – REED II (Flute, Clarinet, Bassoon, Baritone Saxophone)

1 – REED III (Piccolo, Flute, Oboe, Clarinet, Alto Saxophone)

1 – REED IV (Clarinet, Bass Clarinet, Alto Saxophone)

1 – REED V (Flute, Clarinet, Alto Saxophone)

1 – REED VI (Flute, Clarinet, Alto Saxophone)

1 – REED VII (Flute, Clarinet, Bass Clarinet, Tenor Saxophone)

1 – REED VIII (Clarinet, Bass Clarinet, Bassoon, Baritone Saxophone)

1 – TRUMPETS I-IV

1 – TRUMPETS II-III

1 – TROMBONE I

1 – TROMBONE II

1 – TROMBONE III (Doubles Bass Trombone)

1 – DRUMS

1 – PERCUSSION (see "Materials Notes", under "Production Information")

1 – GUITAR

1 – HARP

1 – BASS

Rehearsal Set (20 Lib, 22 PV)

22 – PIANO VOCAL SCORE

1 – Logo CD

20 – Libretto

Digital Logo
ADDITIONAL
Libretto/Vocal Books 10 pack (Do Not Use)

10 – Libretto-Vocal Books (Do Not Use)

NO STRINGS - PRE-PRODUCTION PACKAGE

1 – Libretto

1 – PIANO VOCAL SCORE

PRINCIPALS
1 Woman
1 Man
FEATURED
4 Women
4 Men
ENSEMBLE
Singing-dancing ensemble
CHARACTERS
Barbara Woodruff
David Jordan
Jeanette Valmy
Luc Delbert
Mollie Plummer
Mike Robinson
Louis dePourtal
Comfort O'Connell
Gabrielle Bertin
Marcello Agnolotti

NO STRINGS takes place in France.
SPECIFIC LOCATIONS
Paris
Monte Carlo,
Honfleur
Deauville
St. Tropez
The original production was a unit set using scaffolds, props, lights and revolving screens to depict scenes in Paris, Monte Carlo, Honfleur, Deauville and St. Tropez.
Materials Notes
The orchestral apparatus of the original Broadway production of NO STRINGS was entirely different from that of the usual Broadway musical play. There was no orchestra pit. The conductor and the orchestra were on stage, completely concealed behind the scenery to the right of the audience. The customary string section was eliminated and the only string instruments remaining were HARP, GUITAR, and BASS. The conductor and the orchestra appeared on stage only once in full view of the audience after the close of Act II to play the Exit Music. However, a specified number of musicians did appear and play on stage, either singly or in groups, and were an integral part of the action. These were REEDS I, II, III and IV TRUMPET I, TROMBONE and PERCUSSION.
---
Trap Set, Xylophone, Optional Door Bell, Siren, Glockenspiel, Triangle, Timpani, Vibraphone, Wood Block, Large Bell, Orchestra Bells, Pop Gun, Temple Blocks, Train Whistle, Bongos, Tambourine, Triangle, Suspended Cymbal
---
Media Rights
*

Currently media rights for No Strings are not available. Please contact customer service with any questions.