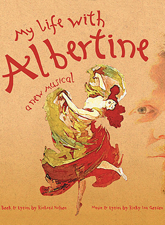 My Life with Albertine
The musical focuses on Proust's obsession with his red-haired mistress, Albertine. Departing from the typical 'boy meets girl' plot, it explores the darkness of jealousy. Young Marcel, the hero, irrationally believes that Albertine is having lesbian affairs while older Marcel (played by a different actor), reflects on this seminal period in his young life interacting with himself at 17. Simple lullabies and children's songs reflecting Marcel's childish character before his affair are juxtaposed with operatic dirges, capturing the tragic effect of his self-inflicted destruction of happiness. This fascinating play preserves both the essence and themes of Proust's work.
Participate in the R&H Online Community.
Leave comments or talk with other fans in the forum!

To request the rights to make merchandise for this show email [email protected].
Fan Info:


In 1956 Ricky Ian Gordon was born; composer known for his operas and art songs. Gordon wrote music and lyrics for MY LIFE WITH ALBERTINE, a musical based on the writings of Proust.

The birthday of Richard Nelson, playwright and lyricist of the musical MY LIFE WITH ALBERTINE.


"Much of Gordon's music is pensive in nature, sometimes exquisitely so. His contemplative score often recalls salon music of the 1920s. Piano notes fall like teardrops. Throbbing cello and violin lines suggest quickening of breath."
— Michael Sommers, N. J. Star Ledger
"Gordon's music aims for the dark beauty and sophistication that Stephen Sondheim or Kurt Weill might have brought to a project like this..."
— Elysa Gardner, USA Today
"...MY LIFE WITH ALBERTINE is a worthy and ambitious creation."
— Andy Propst, American Theatre Web

Song #
Song Name
Character Name
Play
Other Versions

Excerpted from "MAKE MINE RARE...BUT WELL DONE! ," as featured in Happy Talk, Volume 13, Issue 2 - Fall 2006:
"MY LIFE WITH ALBERTINE, with music and lyrics by Ricky Ian Gordon, book and lyrics by Richard Nelson and based on the work of Marcel Proust, is a rich and complex piece about the importance of love and art. Intertwined with the story of Marcel and his obsession with the alluring Albertine, we see that the artist lives his art while he creates it. The musical is both lush and intellectual, aurally conjuring up the spirit of the fin-de-siècle Paris—the impressionistic paintings of Degas, Monet and Toulouse Lautrec, combined with the poetry of Verlaine and Baudelaire. Deemed one of the creative heirs to Stephen Sondheim, Ricky Ian Gordon devises a show that pushes the boundaries of musical theatre for a thoughtful and probing audience. "...The music seems to swirl with regret, romance, fear and, yes, a sense of lost time, suggested by the wayward strains of an accordion."—Ben Brantley, New York Times"
---

Gilman & Gonzalez-Falla Theater Foundation Musical Theater Award
January 12, 1970 — Award-winner for the Playwrights Horizons production, 2002-2003
January 01, 2002 — Award-winner for the Playwrights Horizons production, 2002-2003

Vocal Range of Characters:


// Photos

---
---
---
---


Written By: Ricky Ian Gordon

I was in a reluctant mood the day Charlie Prince brought Richard Nelson to meet me on a hunch that he was making a good match. I was preparing to go out of town for a new production of my show ONLY HEAVEN, for which I was doing a lot of rewriting and orchestrating, as well as trying to finish the second act of MORNING STAR, the opera I was working on with William Hoffman for the Lyric Opera of Chicago. I was feeling overwhelmed and disgruntled, and I had heard the name Proust bounced around and thought…well, that I would be buried alive. Then I met Richard, a charming magnetic man who, almost upon meeting him, could convince me to jump out of a plane if need be.
We spoke of his interest in dramatizing the one story of Albertine and Marcel which runs through Proust's REMEMBRANCE OF THINGS PAST, and within minutes of listening to his passionate discourse on this, what seemed then, monumental idea, I was hooked. I uttered a tentative "let me think about it" for self protection, and he left with Charlie.
Less than a week later, I received a call. Richard had finished an outline for Act I as well as sketches for many songs—lyric ideas, which he suggested I work on with him. I was stunned at how quickly he was working, with, or without me, and I thought, ok, I have to give this a go for him. I went home, and began work on "Is it Too Late?" thinking maybe I would find the language, and if what I came up with seemed natural and Richard liked it, I would just do it. Sometimes you just have to see if you can enter a piece. I was very excited after I wrote that one song. It seemed the subject matter, the place and time, called upon a world of musical influences which seemed easily accessible to me. I was obsessed with the French "Les Six" growing up—Poulenc, Honneger, Tailleferre, Milhaud, Auric, and Durey—as well as the scores for all the French films I loved so much; the films of Truffaut (Delerue, Jaubert), Carne, Chabrol (Jansen), Godard, Resnais (Fusco), Rohmer (though he never used music).
Anyway, it was an easy world for me to enter, and once I started, it seemed to flow very quickly. We continued working that way, Richard giving me ideas and lyric sketches, and me finding music and reconstructing things as well as adding things. The music seemed to be writing itself and consequently, the lyrics took shape quickly as the music and musical moments defined them. I was reading my head off as well—Proust, Proust, Proust. When I went away to Dayton, Ohio, I was waking up at 5:00 every morning, working for two hours on MY LIFE WITH ALBERTINE, tow hours on ONLY HEAVEN, and two hours on MORNING STAR. I was staying next to a very beautiful white cathedral which seemed, with its solemn deep bells, like the church of Combray, and I felt cushioned and supported by the place. Even those bells ended up in our piece. By the time I arrived home a month later, we had Act I.
Tim Sanford came over with a small entourage from Playwrights Horizons, and heard me sing/screech through it as Richard told the story and read scenes…and Tim asked us to open the new Playwrights Horizons Theater on Theater Row. The music feels to me like, if I put everything I know to be French—the things I mentioned, adding the visuals of Degas, Manet, Monet, Toulouse Lautrec, Picasso, Matisse, Utrillo, and the poetry of people like Verlaine, Rimbaud, Appolinaire, Beaudelaire—and throw it all in the blender, then add a dash of Offenbach and Faure—a mélange, so to speak.
Sometimes, interesting things happened in our process together. I remember one day, we had a reading at my apartment when we had a great deal of Act II. There was a place where Maurice looks out the window as Albertine is going out. Richard wrote a monologue wherein Marcel spoke of the entire world seeming to whisper her name. I knew this should be a musical sequence and soon after, this became "The Street." I remember how hyper and jubilant I was when I called Richard, having found the frame at the end of "If It is True," the one song which Marcel could not put in his story and had to tack on as a sort of coda. I was so happy to go back to the opening ALBERTINE chords and motif. It felt so right and I'm sure I half deafened Richard over the phone that day.
Oh…I want to tell you one other wonderful thing about Richard and our process. Before I ever committed a note or word to paper, Richard did a kind of mock-up, fake MY LIFE WITH ALBERTINE with a tentative outline, using songs and music I had already written, brilliantly archived from my already existing body of work, to kind of give me the feeling that I could do it because I had already done it! This man knows composers! We had a good, easy collaboration, Richard and I. I felt at all times like I was doing what I was supposed to be doing, and I often called Richard excitedly playing and singing to him over the phone from whatever city I happened to be in.
---

Playbill VIP
: 
MAKE YOUR OWN PLAYBILL! Playbill VIP allows you to create your very own Playbill Program. We have provided Playbill with all of the credits, song listings, musical numbers and more so that most of the work is already done for you. Just add your productions details, photos of the cast and share it with all of your friends. Learn more: www.playbillvip.com
---

STANDARD
MY LIFE WITH ALBERTINE - Orchestration Package (9 Books/8 Players)

1 – ACCORDION

1 – CELLO

1 – PIANO

1 – PERCUSSION (see "Materials Notes", under "Production Information")

1 – PIANO VOCAL SCORE

1 – REED I (Flute, Clarinet, Alto Sax)

1 – REED II (Clarinet, Bass Clarinet, Soprano Sax)

1 – TROMBONE (Euphonium)

1 – VIOLIN

Rehearsal Set (22 Books)

20 – Libretto Vocal Book

1 – Logo CD

2 – PIANO VOCAL SCORE

Digital Logo
ADDITIONAL
MY LIFE WITH ALBERTINE - PRE-PRODUCTION PACKAGE

1 – Libretto Vocal Book

1 – PIANO VOCAL SCORE

PRINCIPALS
3 Women
2 Men
FEATURED
3 Women
4 Men
ENSEMBLE
Singing ensemble with many small roles.
COMMENTS
MY LIFE WITH ALBERTINE requires a strong cast of singers. The ensemble is traditional Soprano/Alto/Tenor/Bass, but they need to be good because the choral work is challenging, bringing the tenor to B-flat and the basses to G. They split up doing various roles-The Stroller, The Messengers, The Bathers. I leave that up to choice, but strongly suggest that a highly proficient group of singers be used for the cast of this show as its challenges are almost operatic.
-Ricky Ian Gordon
CHARACTERS
Narrator, 40s
Marcel, 18-20
Albertine, 17-19
Grandmother
Francoise
Elstir
Cottard
Lift boy
Messengers
Pianist
Andree
Rosemonde
Mlle. Lea, a cabaret singer
A Young Woman
Three Men
Ensemble - Strollers, bathers, mourners, cabaret audience, tango dancers, street singers, chorus: played by the company

MY LIFE WITH ALBERTINE requires a unit set representing a 'salle de theatre' (private theatre built in a private home) and various locales throughout the story.
Materials Notes
Snare Drum, Suspended Cymbal, Crash Cymbal, Concert Tom Toms (high & low), Timpani, Vibraphone, Xylophone, Bells, Glockenspiel, Triangle, Crotales, Mark Tree, Bell Tree, Tambourine (with skin), Tam Tam, Castanets, Slapstick, Cowbell, Ratchet, Wood Block, and Anvil
---
Featured News
My Life With Albertine Is Now Online!
R&H Theatricals is proud to announce MY LIFE WITH ALBERTINE is now online.
Read More
Media Rights
Promotional
1. The Promotional Video shall be recorded and shown for the sole purposes of advertising your licensed production of the Play. For such a video, R&H allows theatres to film up to 10 minutes of total footage taken at either a performance or rehearsal (i.e.: 10 minutes of scripted moments.)
2. The Promotional Video may not include more than (i) 1 minute from any song or (ii) 3 minutes, in the aggregate, of footage of copyrighted material from the Play.
3. The Promotional Video may not include any sponsorship or underwriting without the prior consent of all R&H.
4. The Promotional Video must be submitted to R&H by sending the source video and video link to [email protected]
5. The Promotional Video must include the following: "Rights courtesy of Rodgers & Hammerstein, www.rnh.com"
6. Upon approval by R&H of the Promotional Video, you agree not to make any alterations in the approved copyrighted material used therein and you agree to obtain the prior written approval of R&H for any other use of the Promotional Video not specifically granted herein.
7. Upon termination of the Term, you shall cease to have any rights to use the Promotional Video including, without limitation, in connection with a future production of the Play, and shall immediately remove its content from any and all websites on the Internet.
8. You may not use a commercially available recording.
9. Any additional promotional rights must be approved by R&H by contacting[email protected].
*
Promotional video rights can only be granted once a performance license for My Life with Albertine has been secured. Please contact customer service if you have any questions. If you have not yet applied for My Life with Albertine, you can do so here. LOG IN to learn more.
---