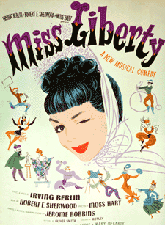 Miss Liberty
It is 1885 and Horace, a newspaper photographer, is fired when he bungles the important assignment of covering the Statue of Liberty ceremonies. At his girlfriend Maisie's urging, he goes to Paris in pursuit of the ultimate scoop-to discover the model who actually posed for the statue. When he finds her in sculptor Bartholdi's studio, Maisie sets about persuading the competing paper from which Horace was sacked to underwrite a U.S. tour for the model. What Horace doesn't realize is that he has the wrong model, and what Maisie doesn't know is that Horace has fallen in love with her. Upon their return from Paris, some antic and heartfelt complications ensue but a happy ending is inevitable when the statue is dedicated in a rousing patriotic finale that only Irving Berlin could have written.
Participate in the R&H Online Community.
Leave comments or talk with other fans in the forum!

To request the rights to make merchandise for this show email [email protected].
Fan Info:

In 1949 MISS LIBERTY opened at the Imperial Theatre on Broadway, with a score by Irving Berlin that includes the hit, "Let's Take an Old Fashioned Walk."" It ran for 308 performances."

In 1896 Robert E. Sherwood was born. He collaborated with Irving Berlin by writing the book for the musical MISS LIBERTY.

In 1950 MISS LIBERTY closed on Broadway after 308 performances.


"Shows exactly why the score is so prized by lovers of musical theatre...building to a triumphant choral finale, it is genuinely touching...Berlin's music is lovely ...stirs up more patriotic feeling than a stage full of flags."
— Norwich Fairpress, January 01, 1983
"A major source of musical enjoyment...With Berlin combining two of his favorite things — patriotism and romance — you can't go wrong."
— Oakland Tribune, January 01, 1949

Song #
Song Name
Character Name
Play
Other Versions


Vocal Range of Characters:


// Photos

---
---
---
---
---
---


Playbill VIP
: 
MAKE YOUR OWN PLAYBILL! Playbill VIP allows you to create your very own Playbill Program. We have provided Playbill with all of the credits, song listings, musical numbers and more so that most of the work is already done for you. Just add your productions details, photos of the cast and share it with all of your friends. Learn more: www.playbillvip.com
---

STANDARD
MISS LIBERTY - Orchestration Package (24 Books/28 Players)

1 – PIANO CONDUCTOR SCORE - Act I

1 – PIANO-CONDUCTOR SCORE - Act II

1 – Pit Piano Act I

1 – Pit Piano Act II

1 – REED I (Piccolo, Flute, Clarinet, Alto Sax)

1 – REED II (Clarinet, Alto Sax, Optional Oboe)

1 – REED III (Oboe, English Horn, Clarinet, Tenor Sax, Optional Flute)

1 – REED IV (Flute, Clarinet, Tenor Sax)

1 – REED V (Clarinet, Bass Clarinet, Bassoon, Baritone Sax)

1 – TRUMPET I-II

1 – TRUMPET III

1 – HORN

1 – TROMBONE I

1 – TROMBONE II (With F attachment)

2 – PERCUSSIONI-II (see "Materials Notes", under "Production Information")

1 – VIOLIN A (Divisi)

1 – VIOLIN B (Divisi)

1 – VIOLIN C (Divisi)

1 – VIOLIN D (Divisi)

1 – VIOLA I-II

1 – CELLO I-II

1 – BASS

1 – HARP

Rehearsal Set (24 Books)

20 – Libretto-Vocal Books

1 – Logo CD

2 – PIANO CONDUCTOR SCORE - Act I

2 – PIANO-CONDUCTOR SCORE - Act II

Digital Logo
ADDITIONAL
Libretto/Vocal Books 10 pack

10 – Libretto-Vocal Books

MISS LIBERTY - PRE-PRODUCTION PACKAGE

1 – Libretto-Vocal Books

1 – PIANO CONDUCTOR SCORE - Act I

1 – PIANO-CONDUCTOR SCORE - Act II

PRINCIPALS
2 Women
3 Men
FEATURED
1 Woman
2 Men
COMMENTS
Large singing-dancing ensemble with many small roles
CHARACTERS
Maisie Dell
The Herald Reader
James Gordon Bennett
Horace Miller
Police Captain
The Mayor
French Ambassador
Carthwright
Joseph Pulitzer
The Sharks
Bartholdi
The Models
Monique Dupont
The Boy
The Girl
The Acrobats
Strong Man
The Countess
A Lover
His Girl
A Gendarme
A Lamplighter
Another Lamplighter
A Socialite
An Actress
A Minister
An Admiral
The Boys
The Mother
The Policeman
The Brothers
The Train
Reception Delegation
A Maid

MISS LIBERTY takes place in various locations in Paris and New York, 1885.
SPECIFIC LOCATIONS
An Outdoor Ceremony in New York City
An Artist's Studio in Paris
A Newspaper Office
On the Quai Under a Paris Bridge
A Cabin on the RMS Aurania
A Dock in North River
A Salon in the Fifth Avenue Hotel
Outside Walhalla Hall
Inside Walhalla Hall (The Policemen's Ball)
The Interior of Castle Garden
Materials Notes
Trap Set, Timpani, Wood Block, Bells, Xylophone, Gong, Ratchet, Temple Blocks, Slide Whistle, Vibraphone, Slap Stick, Triangle.
---
Media Rights
Promotional
1. The Promotional Video shall be recorded and shown for the sole purposes of advertising your licensed production of the Play. For such a video, R&H allows theatres to film up to 10 minutes of total footage taken at either a performance or rehearsal (i.e.: 10 minutes of scripted moments.)
2. The Promotional Video may not include more than (i) 1 minute from any song or (ii) 3 minutes, in the aggregate, of footage of copyrighted material from the Play.
3. The Promotional Video may not include any sponsorship or underwriting without the prior consent of all R&H.
4. The Promotional Video must be submitted to R&H by sending the source video and video link to [email protected]
5. The Promotional Video must include the following: "Rights courtesy of Rodgers & Hammerstein, www.rnh.com"
6. Upon approval by R&H of the Promotional Video, you agree not to make any alterations in the approved copyrighted material used therein and you agree to obtain the prior written approval of R&H for any other use of the Promotional Video not specifically granted herein.
7. Upon termination of the Term, you shall cease to have any rights to use the Promotional Video including, without limitation, in connection with a future production of the Play, and shall immediately remove its content from any and all websites on the Internet.
8. You may not use a commercially available recording.
9. Any additional promotional rights must be approved by R&H by contacting[email protected].
*
Promotional video rights can only be granted once a performance license for Miss Liberty has been secured. Please contact customer service if you have any questions. If you have not yet applied for Miss Liberty, you can do so here. LOG IN to learn more.
---