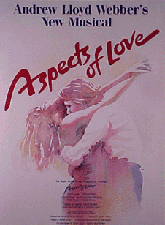 Aspects of Love
ASPECTS OF LOVE is no longer available to license through R&H Theatricals. Please visit www.themusicalcompany.com to license all Andrew Lloyd Webber shows.
Participate in the R&H Online Community.
Leave comments or talk with other fans in the forum!

To request the rights to make merchandise for this show email [email protected].
Fan Info:



Song #
Song Name
Character Name
Play
Other Versions


Vocal Range of Characters:


// Photos

---
---
---
---



STANDARD
ASPECTS OF LOVE - Orchestration Package - (15 Books/14 Players)

1 – Reed I (Flute, Alto Flute, Piccolo)

1 – Reed II (Oboe, English Horn)

1 – Reed III

1 – Reed IV (Flute, Clarinet, Alto Sax)

1 – Horn

1 – Percussion (see "Materials Notes", under "Production Information")

1 – Piano-Celeste

1 – Harp

1 – Synthesizer

1 – Violin I

1 – Violin II

1 – Viola

1 – Cello

1 – Bass

1 – Piano-Vocal
ADDITIONAL
ASPECTS OF LOVE - Pre-Production Package - (2 Books)

1 – Libretto

1 – Piano-Vocal

PRINCIPALS
2 Women
1 Teenage Girl
2 Men
FEATURED
3 Women
2 Men
ENSEMBLE
Singing-Dancing Ensemble with numerous small roles
CHARACTERS
Alex Dillingham - a young Englishman
Rose Vibert - a struggling actress
Marcel Richard - an actor-manager
Crooner (off-stage)
George Dillingham - Alex's uncle
Giulietta Trapani - an Italian sculptress
Jerome - George's gardener
First Fairground Barker
Second Fairground Barker
Elizabeth - George's housekeeper
A Hotelier
A Hotel Cashier
A Doctor
A Pharmacist
A Gondolier
A Registrar
An Assistant Registrar
Hugo - Rose's lover
Jenny Dillingham - daughter of George and Rose
Ensemble (suggested minimum 8 men 6 women)

ASPECT OF LOVE takes place in France and Italy between 1947 and 1964. A unit set is suggested to achieve fluidity and various locations.
SPECIFIC LOCATIONS
The Garden at Pau
A Small Theatre in Montpellier
A Café in Montpellier
The Railway Station
In a Train Compartment
The House as Pau
The Terrace at Pau
Outside the Bedroom
Up in the Pyrenees
Outside the House at Pau
The Railroad Station
A Fairground in Paris
George's Flat in Paris
Guilietta's Studio in Venice
A Café in Venice
A Registry Office
A Military Camp in Malaya
A Grand Theatre inParis
Rose's Dressing Room
The Countryside around the House
Inside the House at Pau
A Circus in Paris
Jenny's Bedroom in Paris
The Vineyards at Pau
Materials Notes
Media Rights
Promotional Video Right
1. The Promotional Video shall be recorded and shown for the sole purposes of advertising your licensed production of the Play.
2. The Promotional Video may not include more than (i) 1 minute from any song or (ii) 3 minutes, in the aggregate, of footage of copyrighted material from the Play.
3. With respect to advertising on YouTube, you may only produce one (1) Promotional Video.
4. The Promotional Video may not include any sponsorship or underwriting without the prior consent of all R&H.
5. The Promotional Video must be submitted to R&H by sending the source video and video link to [email protected]
6. The Promotional Video must include the following: "Rights courtesy of Rodgers & Hammerstein, www.rnh.com"
7. Upon approval by R&H of the Promotional Video, you agree not to make any alterations in the approved copyrighted material used therein and you agree to obtain the prior written approval of R&H for any other use of the Promotional Video not specifically granted herein.
8. In the event you shall breach any of the provisions set forth herein, the rights herein granted to you shall automatically terminate, without prejudice to our right to recover damages and obtain such other relief as we may be entitled to including, without limitation, a penalty of not less than $600.00 for each such occurrence.
9. Upon termination of the Term, you shall cease to have any rights to use the Promotional Video including, without limitation, in connection with a future production of the Play, and shall immediately remove its content from any and all websites on the Internet.
10. You may not use a commercially available recording.
11. Any additional promotional rights must be approved by R&H by contacting [email protected].
*
Promotional Video Right video rights can only be granted once a performance license for Aspects of Love has been secured. Please contact customer service if you have any questions. If you have not yet applied for Aspects of Love, you can do so here. LOG IN to learn more.
---