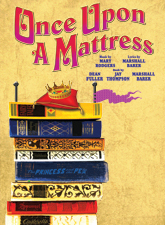 Once Upon a Mattress
If you thought you knew the story of 'The Princess and The Pea,' you may be in for a walloping surprise! Did you know, for instance, that Princess Winnifred actually swam the moat to reach Prince Dauntless the Drab? Or that Lady Larken's love for Sir Harry provided a rather compelling reason that she reach the bridal altar post haste? Or that, in fact, it wasn't the pea at all that caused the princess a sleepless night? Carried on a wave of wonderful songs, by turns hilarious and raucous, romantic and melodic, this rollicking spin on the familiar classic of royal courtship and comeuppance provides for some side-splitting shenanigans. Chances are you'll never look at fairy tales quite the same way again.
Participate in the R&H Online Community.
Leave comments or talk with other fans in the forum!

To request the rights to make merchandise for this show email [email protected].
Fan Info:

The birthday of Mary Rodgers, daughter of Richard Rodgers. She wrote the musicals ONCE UPON A MATTRESS (1959), THE MAD SHOW (1966), a song for WORKING (1978), and contributed to the album FREE TO BE?YOU AND ME (1972). She is also the writer of the children's book "Freaky Friday."" In 1964 she gave birth to Adam Guettel, future composer of THE LIGHT IN THE PIAZZA."

Did you Know? At the 1960 Tony Awards Mary Rodgers found her musical ONCE UPON A MATTRESS competing against a show by her father Richard Rodgers - THE SOUND OF MUSIC - for the category of Best Musical!

The birthday of Marshall Barer, lyricist and book writer for ONCE UPON A MATTRESS.

The birthday of Dean Fuller, book writer for the musical ONCE UPON A MATTRESS.

In 1959 ONCE UPON A MATTRESS opens off-Broadway at the Phoenix Theatre before moving to Broadway for 460 performances at four different theaters. Based on the story of "The Princess and the Pea,"" it is nominated for the Tony Award for Best Musical in 1960, with music by Mary Rodgers, lyrics by Marshall Barer, and book by Jay Thompson, Dean Fuller, and Marshall Barer."

In 1960 ONCE UPON A MATTRESS closed on Broadway after 244 performances, not including its off-Broadway run.


"As fresh, inventive and funny as ever...ONCE UPON A MATTRESS shows you can retell fairy tales with wit and sophistication, and more important, human feeling."
— New York Daily News, January 12, 1996
"A perfect pastiche of its own charming self."
— Liz Smith, January 01, 1996
"A hilariously nutty retelling of the beloved fairy tale THE PRINCESS AND THE PEA. The show itself is a musical comedy gem. MATTRESS is a masterpiece of its kind"
— Michael Portantiere, Theatermania, January 01, 2004

Song #
Song Name
Character Name
Play
Other Versions

ONCE UPON A MATTRESS History
Many moons ago, in the summer of 1958, at a resort in the Poconos called Camp Taminent, three young writers (composer Mary Rodgers and lyricist/librettists Marshall Barer and Jay Thompson) adapted Hans Christian Andersen's fairy tale The Princess and the Pea for a week-long run. In the true tradition of "hey kids, let's put on a show," this one-act musical proved so popular that it was held over and, before you could say "Mickey and Judy," the show was snapped up by producers for a commercial run in New York.
By the time it opoened off-Broadway in May of 1959 at the Phoenix Theatre (now a multiplex movie theatre), the show had acquired an additional author, Dean Fuller (who had previously worked with Marshall Barer on NEW FACES OF '56) a new director—the estimable George Abbott—a second act and a new title: ONCE UPON A MATTRESS. Casting had undergone many changes, but the biggest was the result of George Abbott's desire for a new face to play the starring role of Princess Winnifred. It was Abbott's daughter, Judy, who "discovered" Carol Burnett, a new comedienne then appearing at New York City's famed Blue Angel nightclub, and recommended her to Barer and his collaborators. Not long away from California, Burnett had made a splash with a funny piece of special material called "I Made a Fool of Myself Over John Foster Dulles," which she performed on several TV variety shows and which resulted in her club date. Upon her arrival in New York Burnett had determinedly insisted to her younger sister that she was going to be the star of a Broadway musical directed by the famous George Abbott—this piece of irony taking place long before anyone in The Big Apple had even heard the name Carol Burnett. The rest, as they say, is history. The reviews were great and Carol Burnett became a star.
The show had a healthy run of 460 performances in an extraordinary Broadway tour, moving from the Phoenix to Broadway's Alvin (now the Neil Simon) to the Winter Garden and then to the Cort and then finally to the St. James Theater. It was produced for television first in 1964 and again in 1972 with Ms. Burnett reprising her role both times. And the show? Well, what happened to this charming musical is a fairy tale as well. Over the next 35 years without anyone paying really close attention (except maybe the authors) it has ranked consistently among the top five shows licensed from Rodgers and Hammerstein Theatricals, with over 300 productions annually in the US alone. Not bad at all for a show that began life as a 45-minute divertissement!
In the fall of 1995, Dodger Productions (whose previous Broadway efforts included the Tony Award-winning revivals of GUYS AND DOLLS and THE KING AND I) set about putting together a creative team to bring ONCE UPON A MATTRESS back to Broadway. The anchor for any …MATTRESS production is Princess Winnifred, and to play the part they signed an actress who was then the toast of New York—for playing the part of a dog. But in addition to her winsome turn as the canine title role in A.R. Gurney's off-Broadway comedy SYLVIA, Sarah Jessica Parker also had extensive stage credits going back to Broadway appearances in ANNIE, THE INNOCENTS and THE HEIDI CHRONICLES, as well as a considerable film career. And of course, though no one knew it then, she was a few years away from mega-stardom for her turn as Carrie Bradshaw on HBO's acclaimed Sex and the City. Here at last, everyone agreed, was a Winnifred to charm contemporary audiences.
Carol Burnett appeared in the ABC television version of …MATTRESS in 2005, this time as the imposing Queen Aggravain, while the esteemed British comedienne Tracey Ullman stepped into Winnifred's moat-swimming shoes. The production was directed by Tony Award-winning director Kathleen Marshall.
---

Tony Awards
January 12, 1970 — 1 Nomination for Best Revival of a Musical
January 01, 1997 — 1 Nomination for Best Revival of a Musical

Vocal Range of Characters:

// Photos

---
---
---
---
---
---
---


Written By: Marshall Barer

I made a special effort to catch the Hartford opening of the bus and truck company of ONCE UPON A MATTRESS, because Edward Everett Horton had been a major idol to me since I was a kid -- and now -- at 80! -- he was playing King Sextimus. I had decided to watch the first performance from backstage and was standing in the wings, promptside, then Horton came and stood beside me, waiting for his cue. Suddenly the stage manager gasped: 'Mr. Horton! You're on the wrong side of the stage! Your entrance is stage left!' 'Ohmigod, yes!' said Horton. 'What are we to do?'
The only way to the other side was through the dark, narrow space behind the cyclorama. The stage manager handed me a flashlight and asked me if I could help the actor across. I was pleased to, of course, and we made it without mishap, and even with a moment to spare. Long enough for the Adorable One to brush off his robe and straighten his crown; then in the instant before he made his entrance (into a scene I had written!) he turned to me and in three short words managed to blow away every negative thing anyone has ever said about Life In The Theatre.
With his world-famous twinkle, he whispered: 'Isn't this fun?'
---

AccompanEase
: 
AccompanEase
: This product is a rehearsal tool that allows for unlimited teaching, training and practice of individual vocal parts or dance sequences. Contact Realtime Music Solutions for more information:
www.accompanease.com
, via email:
[email protected]
, or via phone: 212-620-0774.
---
InstrumentalEase
: 
InstrumentalEase
: This product is an orchestra enhancement instrument capable of augmenting a traditional ensemble of any size. Contact Realtime Music Solutions for more information:
www.rms.biz
, via email:
[email protected]
, or via phone: 212-620-0774.
---
RMS Mix®
:
 RMS Mix® is a new app from Realtime Music Solutions that can be added onto your purchase of AccompanEase and InstrumentalEase and brings rehearsal and performance tools to your mobile devices. RMS Mix® syncs with AccompanEase and InstrumentalEase to allow your creative team, cast and instrumentalists access to rehearsal tracks on their own computer, tablet or smartphone. Customized changes made on AccompanEase and InstrumentalEase can be exported to the RMS Mix® app, so that rehearsing for your production is as easy as hitting play!
Contact Realtime Music Solutions for more information:
www.rms.biz
, via email:
[email protected]
, or via phone: 212-620-0774.
---
KeyboardEase
: 
This unique resource is designed specifically to meet the needs of productions that want convenient, cost-effective access to these hard to find keyboard sounds. We have carefully assembled all sounds required for a given show. Everything is laid out in correct sequential order, so you can easily progress through each song in each keyboard book with professional, authentic, show-specific sounds. All you have to do is connect any standard keyboard (or multiple keyboards) to your laptop and you'll be ready to perform. And we'll help you every step of the way.
Demo KeyboardEase for Mac or PC.

Contact Realtime Music Solutions for more information: www.keyboardease.com, via email: [email protected], or via phone: 212-620-0774.
---
Playbill VIP
: 
MAKE YOUR OWN PLAYBILL! Playbill VIP allows you to create your very own Playbill Program. We have provided Playbill with all of the credits, song listings, musical numbers and more so that most of the work is already done for you. Just add your productions details, photos of the cast and share it with all of your friends. Learn more: www.playbillvip.com
---

STANDARD
ONCE UPON A MATTRESS - Orchestration Package (18 Books/16-19 Players)

2 – Piano Vocal Scores

1 – FLUTE (Doubling Piccolo)

1 – OBOE

1 – CLARINET

1 – Bass Clarinet

1 – HORN

1 – TRUMPET I

1 – TRUMPET II

1 – TROMBONE

1 – GUITAR (Acoustic with amp)

1 – PIANO (Doubles Celeste)

1 – HARP

2 – VIOLINS (Divisi)

1 – VIOLA (Divisi)

1 – CELLO (Divisi)

1 – Bass

1 – PERCUSSION (see "Materials Notes", under "Production Information")

1 –

20 – Libretto-Vocal Books

1 – Digital Logo

Rehearsal Set (22 Books)

20 – Libretto-Vocal Books

2 – Piano Vocal Scores

1 – Digital Logo
ADDITIONAL
Libretto/Vocal Books 10 pack

10 – Libretto-Vocal Books

MATTRESS - PRE-PRODUCTION PACKAGE

1 – Libretto-Vocal Books

1 – Piano Vocal Scores

MATTRESS - Partitur
ARTWORK
Once Upon A Mattress Flat Bundle

1 – Flat Banners

1 – Flat Facebook Tabs

1 – Flat Poster

1 – Flat Print

Once Upon A Mattress Layered Bundle

1 – Layered Banners

1 – Layered Facebook Tabs

1 – Layered Poster

1 – Layered Print

1 – Layered Facebook Tabs

PRINCIPALS
3 Women
6 Men
FEATURED
1 Woman
1 Man
ENSEMBLE
Singing and dancing ensemble consisting of Ladies-in-Waiting, Knights, Soldiers, Servants, and Musicians.
CHARACTERS
Minstrel
Pantomime Characters
Princess No. 12
Wizard
Lady Larkin
Queen Aggravain
Prince Dauntless
King Sextimus the Silent
Jester
Sir Studley
Sir Luce
1st Knight
2nd Knight
3rd Knight
1st Lady-in-Waiting - Rowena
2nd Lady-in-Waiting - Merrill
3rd Lady-in-Waiting - Lucille
Sir Harry
Kitchen Wench
Princess Winnifred
Emily
Lady Mabelle
Nightingale
Ladies-in-Waiting, Knights, Soldiers, Servants, Musicians, etc.

ONCE UPON A MATTRESS takes place many moons ago in a far off place.
SPECIFIC LOCATIONS
A Large Room In A Medieval Castle
A Castle Corridor
The Castle Courtyard
Winnifred's Dressing Room
Tents in the Courtyard
The Great Hall
A Room in the Castle
The Wizard's Chamber
Winnifred's Bedchamber
The Banquet Hall
Materials Notes
2 Timpani, Orchestra Bells (Glock.), Triangle, Shakers, Bongos, Bird Whistle, Xylophone, Vibes, Tambourine, Tam-Tam, Castanets, Wood Blocks (high and low), Temple Blocks (5 pitches) and Trap Set (Snare Drum, Bass Drum, High Hat and Suspended Cymbal)
---
Media Rights
*

Currently media rights for Once Upon a Mattress are not available. Please contact customer service with any questions.
Vector Title
Format: .PSD Vector
Price: $200.00
Take your show art to limitless sizes with this scalable vector file! This will allow you to use the title treatment at any size while maintaining a high, printable resolution.
Don't worry about jagged, pixelated edges when printing large signs, banners, or advertisements: This .PSD file will print smoothly and vibrantly at any size.
Please note that this file includes the show title ONLY. If you need full poster artwork, please consider the layered or flat poster or packages in addition. This item is NOT included in the Flat or Layered Package.