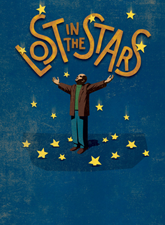 Lost in the Stars
For his final Broadway score, Kurt Weill gave passionate voice to this powerful, uncompromising social indictment of apartheid South Africa. The stirring story is of two aging men-a black country parson and a white British planter-drawn into friendship by a shared grief. The parson's faith is challenged by his son's unintentional murder of the planter's son, while the planter acquires faith through the loss of his son. Sadly, the years have not diminished the timeliness of the theme, which is the tragedy of all people, whether black or white, rich or poor, young or old.
Act I
In Ndotsheni, South Africa in the 1940s ("The Hills of Ixopo"), Rev. Stephen Kumalo, a black Anglican priest, has not heard from his son Absalom since he left to look for work in Johannesburg a year earlier. Though untroubled at heart ("Thousands of Miles"), he decides to search for Absalom there. At the railroad station ("Train to Johannesburg"), he is greeted by Arthur Jarvis, a white lawyer who is a benefactor of his church, though Arthur's father James, a wealthy planter, frowns upon any association between the races.
In Johannesburg, Stephen takes charge of his sister Gertrude's illegitimate son Alex. His brother John, a tobacconist and Zulu community organizer, tells him Absalom is no longer working in the mines. Stephen goes all over Soweto looking for Absalom ("The Search") by day, renting a hovel in Shantytown by night. He learns Absalom has served jail time but is on parole living with his pregnant girlfriend Irina. At night in his rented hut, Stephen promises little Alex that he will soon take him to Ndotsheni where he will live more comfortably ("The Little Gray House").
Absalom, his cousin Matthew (John's son), and their friend Johannes party at a dive in Shantytown with their girlfriends ("Who'll Buy"). To raise money to support his expected child, Absalom joins a burglary plot with the other two; there seems to be little risk, because Johannes knows the house well. Still, the other two insist that Absalom bring a gun. Irina tries to dissuade him, to no avail. Later Rev. Kumalo and a parole officer find Irina at her hut in Shantytown but she tells them she doesnít know where Absalom is. Stephen disdains her loose morals but makes an alliance with her to find Absalom and keep him out of further legal jeopardy ("Trouble Man").
Absalom, Matthew, and Johannes, faces concealed, break into the home late at night. But a servant there recognizes Johannes's voice; then the homeowner--Arthur Jarvis, Stephen's patron--unexpectedly appears. Absalom fires his gun in panic and kills him. The three men flee ("Murder in Parkwold"). Later, the parole officer visits the home and tells Arthur's grieving father James that the police have arrested Johannes; outside in the street both the black and white communities are in turmoil ("Fear!"). The parole officer conducts Stephen to Absalom's jail cell, thus finally reuniting father and son. Stephen doesn't believe Absalom could be guilty of the crime, but Absalom confesses. Back in his Shantytown hut, Stephen struggles to explain all the bad news in a letter to his wife back in Ndotsheni. He prays to Tixo (God) fervently, but finds his bedrock faith shaken ("Lost in the Stars").
Act II
The Chorus sings of "The Wild Justice" that seems to thwart the impulses of civility.
John Kumalo tells Stephen a good lawyer can get all three men off, but only if they conform their alibis. However, Absalom wants to "go straight" to make it up to his father. Stephen is anguished by this dilemma ("O Tixo, Tixo, Help Me!"). He decides to try to plead for mercy with the dead man's father, James Jarvis. He tells him that Absalom has confessed and that he fired his gun accidentally. Could Jarvis intervene so Absalom would receive a life sentence instead of death? Jarvis sternly refuses.
Meanwhile, in her long absence from Absalom, Irina's affection for him has only deepened, despite the trouble he's brought her ("Stay Well"). She tells Stephen that she repents of her ways and will wait for Absalom no matter how long he's in prison.
At the murder trial Johannes and Matthew both lie, offering shaky alibis. Absalom implicates the two of them and admits his own guilt, but says the gun was only meant to frighten the servant of the house. Yet the judge acquits Matthew and Johannes and sentences Absalom to death. As the Chorus keens ("Cry, the Beloved Country"), Stephen marries Absalom and Irina in the prison cell.
Stephen returns home to Ndotsheni with Irina and Alex to wait out the judicial appeal. One day little Alex is overheard singing ("Big Mole") by young Edward Jarvis. James Jarvis arrives to pick up his grandson and chides him for talking to Alex. Since the murder James's wife has also died and now he is left to take care of his orphaned grandson alone. But before they leave he overhears Stephen's voice from the pulpit inside his church and he decides to listen. Stephen is telling his congregation he must resign his pastorate, not only because they have lost their benefactor, not only because his own son has killed, but because Stephen has lost his own faith. His parishioners protest but resign themselves to the transience of life ("Bird of Passage").
The appeals have failed and the execution looms. At dawn Stephen, his wife Grace, and Irina await the dreaded hour when Absalom will be hanged far away in Pretoria ("Four O'Clock"). Suddenly James Jarvis knocks on the door. He has had a profound conversion. He tells Stephen he will step in for everything his son did to support Stephen's church and beseeches Stephen to stay on. Moreover, "I shall come and worship in your church if I wish to worship . . . Edward will come tomorrow to see Alex. He wants to come and play."
Stephen agrees to stay on. The clock strikes four. Jarvis puts his arm around Stephen. They have become comrades in both grief and hope ("Thousands of Miles" reprise).
© The Kurt Weill Foundation for Music
Participate in the R&H Online Community.
Leave comments or talk with other fans in the forum!

To request the rights to make merchandise for this show email larisa.borshman@rnh.com.
Fan Info:

Innovative composer Kurt Weill was born this day in 1900, in Dessau, Germany. In Europe, Weill collaborated with playwright Bertolt Brecht on iconic works such as THE THREEPENNY OPERA and THE RISE AND FALL OF THE CITY OF MAHAGONNY. After emigrating to America in 1935, Weill composed for musicals including KNICKERBOCKER HOLIDAY, LADY IN THE DARK, LOST IN THE STARS, and ONE TOUCH OF VENUS. His life and relationship with singer Lotte Lenya are dramatized by the show LOVEMUSIK.

In 1949, LOST IN THE STARS opened at the Music Box Theatre and ran for 281 performances. It became composer Kurt Weill's final work for the stage.

In 1950 LOST IN THE STARS closed after 281 performances on Broadway. It was composer Kurt Weill's final work for the stage.


"For her second season at the Glimmerglass Festival ...Francesca Zambello has hit a home run. The high pointis Kurt Weill's Lost in the Stars....This hybrid of opera and music theater is ideally served by Tazewell Thompson's sensitive, understated production; the splendid Glimmerglass chorus; ...and especially the towering, heartfelt performance of Eric Owens. Lost in the Stars resembles an oratorio, and the chorus...brings weight and pathos to the show's great laments and its theme about how fear keeps the races divided....Subtle stage direction and ... thoughtful conducting let the deep emotion of this piece come through."
— Heidi Waleson, Wall Street Journal, 2012
"With the lush, urgent conducting of John DeMain and the full-voiced singing of a winning cast, the production, directed by Tazewell Thompson in a dark, affecting and fluid staging, draws out the operatic resonances of Weill's score. Mr. Owens triumphed in the lead role of Stephen Kumalo.... [His] complete identification with Kumalo comes through in every moment of his searing portrayal.... Nuanced and powerful."
— Anthony Tommasini, New York Times, 2012
"Of the four Glimmerglass presentations this season, [Lost in the Stars] is the most timely and deeply felt. Through the immediacy of the songs and the quality of the performances, ...labels and genres are transcended. The primacy of art and humanity rise to the fore."
— Joseph Dalton, Albany Times Union, 2012
"Beautifully conceived, brilliant in its theatrical effects ...and, without ever being maudlin, is so affecting in its emotional content that not only was the audience at the performance's end in tears, so were the cast members....A great theatrical experience."
— William Burnett, OperaWarhorses.com, 2012
"A masterpiece of articulate eloquence and solid structure that sidesteps obvious clichés.... The point of the show isn't to question individual faults, but how apartheid poisoned people. And the point of this revival is the music--evocative, lush and downright brilliant.... The repeated use of choral singing creates haunting effects, and Weill's original orchestrations alone are so intricate that you'd need a repeat visit to fully appreciate them... Lost in the Stars may have a somber message, but when this kind of magic happens onstage, all feels right with the world--of theater, at least.
— Elizabeth Vincentell, New York Post, 2011
"Contains some of [Weill's] most stirring and original work . . . . His music captures native dignity, the bustle of city life, and the plangent feelings of life under assault . . . . Anderson's lyrics, alternately gritty and poetic evocations of individual and collective souls, are ideal complements . . . . A masterful work that, even 61 years after its debut, cries out to be heard."
— Matthew Murray, Talkin' Broadway, 2011
"Packed with gorgeous and emotional musical moments . . . . [Weill's] most dramatically rich work. . . . Anderson's book and lyrics, in the style of musical dramas of the day, is filled with heart-on-its-sleeve sincerity and warm, simple poetry."
— Michael Dale, Broadway World, 2011
"The shattering story and seductive Weill score had me spellbound."


— John Simon, Uncensored John Simon, 2011
"Lost in the Stars proves to be a fresh and compelling piece of work. Weill's richly expansive score is one of the best he ever wrote for Broadway, while Maxwell Anderson's parable-like text is very effective."
— Terry Teachout, Wall Street Journal, 2009
"Weill's music lifts it onto the exalted plane of spiritual experience. Instead of the manufactured uplift of modern musicals, we are offered an overwhelming moral statement about our common humanity."
— Michael Billington, The Guardian, 1991
"The score ranges from some sensuous ballads to a few lighthearted songs to a number of pieces so soaring, so powerful they seem like hymns . . . . A reminder of what great musical theater is."
— Howard Kissel, Daily News, 1988
"The work remains remarkably moving. Paton's anguished vision of his country's divisions still strikes deep and Weill's score still soars.
— Walter Goodman, New York Times, 1988
"Kurt Weill was the greatest composer ever to write for Broadway. Lost in the Stars is very moving . . . with a score of magisterial sweep. A distinguished and thrilling piece of musical theater."


— Clives Barnes, New York Times, 1972
"Kurt Weill was the greatest composer of theater songs of the century . . . . I am moved closer to tears by the title song of Lost in the Stars than by any other single song created for the American stage."
— Alan Rich, New York Magazine, 1972
"Alan Paton's Cry, the Beloved Country is one of the great moral acts in literature. In his adaptation Anderson caught much of its power, anguish and dignity, and Weill's music is a treasure of our lyric theater . . . the best show of the Broadway season."
— Jack Kroll, Newsweek, 1972
"A masterwork. Its musical score by Kurt Weill, making generous use of full choruses, is powerful and exciting . . . . Lost in the Stars is a synthesis of song and drama such as you are not likely to have encountered before . . . . A theatrical event of major importance."
— John Hobart, San Francisco Chronicle, 1950
"Triumphant and deeply moving . . . theater at its best."


— Theatre, 1949
"A work of truth, beauty and immense artistry. . . . a triumphant piece of theater."


— Howard Barnes, New York Herald Tribune, 1949

Song #
Song Name
Character Name
Play
Other Versions

---
Provided by The Kurt Weill Foundation
Twelve bars of passionate outcry played by a chamber orchestra, a song leader intoning Alan Paton's line, "There is a lovely road that runs from Ixopo into the hills," a Greek chorus of voices mournfully echoing the minor pentatonic scale of the melody--just the first minute of music in Lost in the Stars proclaims a Broadway musical unlike any other. In the late nineteenth century, when Reginald DeKoven's operettas ruled Broadway, musical numbers were predominantly choral. Then from Victor Herbert onward to Kern, Gershwin, and Porter, solo and duet songs dominated book musicals, with full ensemble writing saved for special moments (e.g., "Make Our Garden Grow" in Candide). Two experimental shows in the 1940s--Marc Blitzstein's 1941 No for an Answer and Rodgers and Hammerstein's 1947 Allegro--ventured to reintroduce the full chorus as a recurring device. But No for an Answer's vocal ensembles are largely unison writing, and Allegro's seem collegiate compared with Weill's. In no other musical in the Broadway literature does the chorus provide so much momentum, or interact so seamlessly with the parallel score of solo songs, as in Lost in the Stars.
Weill created a prototype of the polystylism of composers of the late 20th and early 21st century, and Lost in the Stars is, perhaps even more than Street Scene, his most polystylistic work. It contains operatic arias with recitative ("O Tixo, Tixo, Help Me!"), chorales (the prelude to "The Little Gray House," "Bird of Passage"), blues ("Trouble Man"), folk music influences ("Train to Johannesburg"), Tin Pan Alley pop tunes ("Lost in the Stars"), even jitterbug (the coda to "Who'll Buy"). But there is more to it than merely cataloguing different types of songs, for music is deployed throughout the show in multiple--and sometimes revelatory--ways. The tone is naturalistic, but the Greek chorus is a principal player, commenting on the action from a perspective unavailable to the characters. Some of the principals sing, some do not. (The chorus itself is a principal player.) There are underscored dialogue sections, and there are intense passages of dialogue unadorned by music. Seen in the theatre, the work plays not as a musical or opera so much as an intense dramatic play enhanced by music, poetry, and movement.
In its distinctive use of heightened poetic language, Lost in the Stars is also one of the most peculiarly literary musical plays ever staged on Broadway. Two voices, two literary sensibilities--Alan Paton and Maxwell Anderson--inform its text, thanks to Weill's, Anderson's, and Paton's agreement that Anderson should incorporate some passages from Paton's novel directly into his lyrics. Something similar happened with Porgy and Bess, to which Ira Gershwin and DuBose Heyward both contributed lyrics, but it's much more difficult to tell their efforts apart than to distinguish, say, the complex metonymies of Anderson's "The Wild Justice" from the scriptural evocation of Paton's "Who can enjoy the land? Who can enjoy the seventy years?" in "Fear." And Weill's chant-like vocal settings of the lyrical prose passages from Paton's novel render their free, unmetered cadences with a splendid indifference to Broadway convention, belying his reputation in some Broadway quarters as an approval-seeker.
The scoring includes no violins, an interesting choice for a piece with so many moments of "heart-string" sentimentalism. The muted quality of Weill's orchestration--there are few passages in high treble registers in any instrument, and apart from the accordion in "Johannesburg" almost no instrumental licks that call attention away from the actors and singers--was clearly a choice, not only to underline the "tragedy" in "musical tragedy" but to compel the audience to attend to the serious drama onstage. The doleful A minor pentatonic "Ixopo" gamut, and its sunny antipode, the C major pentatonic "Thousands of Miles" gamut, are woven leitmotivically throughout the score, as is the railroad-rhythm motif of the latter (which rhythm must have been noted by composer Frederick Loewe, for he copied it in "They Call the Wind Maria" from Paint Your Wagon).
Weill avoided using African music when he composed Lost in the Stars, as Richard Rodgers rejected the Siamese music Bernard Herrmann lent him for The King and I. But whereas "March of the Siamese Children" still comes across as chinoiserie, Lost in the Stars never sounds faux African. Despite the differing provenance of parts of its score (the title song, "The Little Gray House," and earlier versions of "Trouble Man" and "Stay Well" were all written in 1939 for the abortive Anderson-Weill collaboration Ulysses Africanus), in execution it somehow sounds all of a piece. Always the practical theater man, Weill wrote "O Tixo, Tixo, Help Me!" for Todd Duncan only after he was signed for the role and the bulk of the score was already finished, and the startling 11 o'clock number "Big Mole" expressly for young Herbert Coleman (the Ethel Merman of boy sopranos). The 1949 production's white-hot intensity, owing much to director Rouben Mamoulian, is captured on the original cast album, possibly the least canned, most spontaneous OC album ever recorded. Listening to it one feels as if one were witnessing the actual live performance in the theater.
The composer, who achieved fame in his twenties etching Brecht's sarcasm with musical acid, capped his career with arguably his most un-Brechtian, heart-on-sleeve work. Here and there perhaps it is almost too sentimental: Anderson originally placed the title song at the end of the show, but the finale was later changed to a tear-jerking Hollywood-style final reprise of "Thousands of Miles." (Commented Agnes de Mille: "Beethoven would have been hard-pressed and Kurt delivered a dear little sentimental ditty.") Nevertheless the score shows a sincerity and fearlessness of emotional expression that lifts it above such criticisms. Lost in the Stars is not only a fitting end to Weill's career, but it provided his epitaph: a portion of Maxwell Anderson's lyric to "Bird of Passage" (a paraphrase of a quotation from the Venerable Bede) is engraved on the composer's tombstone in Haverstraw, New York.
© The Kurt Weill Foundation
---
'The Pathways of the Heart' by Tazewell Thompson
"Not miles, or walls, or length of days, / Nor the cold doubt of midnight can hold us apart, / For swifter than wings of the morning / The pathways of the heart! Over tens of thousands of miles."
(from "Thousands of Miles," sung by Stephen Kumalo in Kurt Weill and Maxwell Anderson's Lost in the Stars)
Lost in the Stars and Cry, the Beloved Country, the powerful novel on which it is based, have always touched me in deeply personal and meaningful ways.  As I revisit these masterworks today, I find myself captivated by their prophetic voice and compassionate heart, even as I am saddened by the timelessness and relevance of their story.
I am an American of African descent.  These works transport me back home to the land of my ancestors, connecting me to a people and a culture that is truly my inheritance and to a struggle I am all too familiar with here in the United States.
I first encountered the novel and the hybrid opera/musical in high school at the height of the tumultuous Civil Rights movement.  Both my schoolroom and the world outside were filled with rage and outrage.  Day after day, in every possible medium, I was confronted with accounts of beatings and horrific attacks from fire hoses and dogs; the bombing of a Black church leaving four young Black girls dead and twenty-two other students wounded; and the unjustified incarceration of my people.   I saw, and felt, the humiliation of children denied the schools of their choice; I saw assassinations of ordinary and extraordinary martyrs of the Freedom Movement.  As I witnessed contemporary events at home in the United States, I had no choice but to identify intimately with the injustices suffered by my brothers and sisters under the evil apartheid system on the other side of the world in South Africa.
On the one hand, since that time fifty years ago, there have been terrific advancements that ring happily in the heart and deeply stir the soul: the Voting Rights Act; Women's Liberation; the LGBT revolution; the freeing of Nelson Mandela and the dissolution of apartheid; and the election of the first Black President of the United States.
On the other hand, today's multi-media headlines continue to attest that my country's legacy of racism, inequality, and injustice is all too alive and blatantly so: the mass incarceration of one million Black men and boys by an unjust criminal justice system; police shootings of unarmed Black people (mostly men); wholesale stop and search police tactics targeting Blacks amounting to racial profiling;  the Supreme Court's gutting of the Voting Rights Act resulting in voter suppression that disproportionately strikes people of color; Black unemployment consistently double that of White, whether the economy is robust or sluggish; and neighborhoods in cities across the country where racial segregation in housing and schools is the rule, not the exception.  In the United States today, racial polarization is as disheartening as it is monumentally universal.  Blacks and Whites, viewing their country through the same telescope today, see a political, social, and economic landscape that is, well, black and white.
All the more reason, I believe, for all of us to return to Lost in the Stars and come to grips with a human story of hard-won reconciliation, compassion, understanding of the "other," forgiveness, and moral transformation.  A story of different races and cultures painfully and awkwardly, yet willingly and hopefully, learning to live together.
It is a multi-dimensional, sensitively layered exploration of the social and political injustices of the apartheid system, the vicious cycle of crime and distrust of the "other" that this engenders, the loss of family ritual and tribal customs, and the corruption of the land.  At its core is the mirror it holds up to the struggles of the deeply religious character Stephen Kumalo, whose faith in God, the very foundation of his life, is profoundly challenged. As he searches for his lost son, the injustice of the apartheid system strips away the very fabric of his heart and soul: his religion.  He believes that God has forgotten him and that he is alone on the planet—lost out here in the stars.
For me, the heart and spine of this masterwork lie in the struggle of fathers and sons to recognize and know each other in a changing world, and for the fathers to really see how they will live in that world and deeply understand the South Africa of their sons.  It is also, perhaps, a cautionary tale for each of us, so we may find a way to see each other for what we really are, maybe even learn to love those vastly different from us.
I'm grateful for the tools of opera and theater because they allow us to act as witnesses, testifiers, judge, and jury; where we can examine our constant struggles with pain, evil, and injustice; where we can aspire to hope, joy, freedom, and collective laughter; and rejoice, finally, in the human capacity for change.
Read the Fall 2015 Kurt Weill Foundation newsletter about LOST IN THE STARS here: www.kwf.org/images/newsletter/kwn332p1-15.pdf
---
---

Drama Desk Awards
1972 — Award for Outstanding Performance, Brock Peters

Tony Awards
1973 — 2 nominations

Vocal Range of Characters:


// Photos

---
---
---
---


Written By: Maxwell Anderson in a letter to Alan Paton

For years I've wanted to write something which would state the position and perhaps illuminate the tragedy of our own Negroes. Now that I've read your story I think you have said as much as can be said both for your country and ours. My first concern would be to keep as much as possible of the dialogue and the story structure, just as they stand. Your effects are both powerful and delicate. Some of the lyric prose could be lifted out intact and set to music. Kurt Weill is as enthusiastic about the book and about this dramatic method for it as I am.
It would be our task -- as we see it -- to translate into stage form without dulling its edge or losing its poetry this extraordinarily moving tale of lost men clinging to odds and ends of faith in the darkness of our modern earth. For the breaking of the tribe is only a symbol of the breaking of all tribes and all the old ways and beliefs. It's more than a novel, and I think it can be as touching and tragic in the theatre as on the printed page.
---

Playbill VIP
: 
MAKE YOUR OWN PLAYBILL! Playbill VIP allows you to create your very own Playbill Program. We have provided Playbill with all of the credits, song listings, musical numbers and more so that most of the work is already done for you. Just add your productions details, photos of the cast and share it with all of your friends. Learn more: www.playbillvip.com
---

STANDARD
LOST IN THE STARS - Orchestration Package (14 Books/12 Players)

1 – FULL SCORE ACT I

1 – FULL SCORE ACT II

1 – PIANO/ACCORDIAN (Doubles Organ)

1 – REED I (Flute, Clarinet, Alto Sax)

1 – REED II (Oboe, English Horn, Clarinet, Tenor Sax)

1 – REED III (Clarinet, Alto Sax, Bass Clarinet)

1 – TRUMPET

1 – PERCUSSION (see "Materials Notes", under "Production Information")

1 – VIOLA I

1 – VIOLA II

1 – CELLO I

1 – CELLO II

1 – BASS

1 – HARP

Rehearsal Set (22 Books)

20 – Libretto-Vocal Books

1 – Logo CD

2 – Piano Vocal Scores

Digital Logo
ADDITIONAL
Libretto/Vocal Books 10 pack

10 – Libretto-Vocal Books

LOST IN THE STARS - PRE-PRODUCTION PACKAGE

1 – Libretto-Vocal Books

1 – Piano Vocal Scores

PRINCIPALS
1 Woman
4 Men
1 Boy
FEATURED
1 Woman
5 Men
ENSEMBLE
Singing-dancing ensemble with numerous small roles and children.
CHARACTER LIST
Leader
Answerer
Stephen Kumalo
Grace Kumalo
Nita
Stationmaster
Young Man
Young Woman
James Jarvis
Arthur Jarvis
Edward Jarvis
John Kumalo
Paulus
William
Jared
Alex
Foreman
Mrs. Mkize
Hlabeni
Mark Eland
Linda
Matthew Kumalo
Johannes Pafuri
Absalom Kumalo
Rose
Irina
Servant
Policeman
White Man
White Woman
The Guard
Burton
The Judge
Parishioners
McRae
Villager
Singers

LOST IN THE STARS takes place in Ndotsheni and Johannesburg, South Africa in 1949.
SPECIFIC LOCATIONS
Ndotsheni:
Stephen Kumalo's House
Railroad Station
Stephen's Chapel
Johannesburg:
John Kumalo's Tobacco Shop
Factory Office
Mrs. M'Kize's House
Hlabeni's House
Parole Office
Stephen's Shantytown Lodging
A dive in Shantytown
Irina's Hut in Shantytown
Kitchen in Arthur Jarvis' Home
Arthur Jarvis' Library
A Street
Prison
Arthur Jarvis' Doorway
Courtroom
Prison Cell
Materials Notes
Trap Set, Timpani, Glockenspiel, Triangle, Temple Blocks, Gong, Xylophone, Chimes
---
Media Rights
*

Currently media rights for Lost in the Stars are not available. Please contact customer service with any questions.