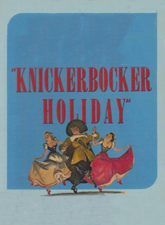 Knickerbocker Holiday
In 17th-century Manhattan, the roguish Dutch council eagerly awaits the arrival of their new autocratic governor, Pieter 'Peg-Leg' Stuyvesant. Hoping to make a good impression, and in the awkward position of having no one to hang on hanging day, they arbitrarily select an independent-minded young man for the unfortunate fate and we're off and running with a satirical fable pitting totalitarianism against democracy. This first musical to use historical perspective to comment upon contemporary political matters leaves virtually no aspect of government unscathed, with some hilarious and knowing results. Washington Irving, himself stepping in and out of the narrative as the plot unfolds, manages an eleventh hour turn of events for an upbeat conclusion to the delight of all concerned.
Act I
In 1809, Washington Irving hopes to create an enduring work that will augur a new American literature. He decides to write a history of the original Dutch settlement of New Amsterdam ("Washington Irving Song").
As Irving looks on, the scene shifts to Manhattan, 1647. Dutch maidens swab the pier ("Clickety-Clack"), and the town council ("Entrance of the Council"), headed by Tienhoven, sights the ship carrying their new Governor, Peter Stuyvesant. To honor him and prove they are diligent public servants--though they admit to under-the-table dealings ("Hush, Hush")--the council members decide to hang a convict. But there are no prisoners; they have all escaped.
Now Irving decides on a commoner, Brom Broeck, as his hero. Brom hopes to marry Tina, Tienhoven's daughter, but wants to be more respectable first ("There's Nowhere to Go But Up!"). He admits that he is incapable of taking orders, which means he can't tolerate bosses or officials. He and Tina still love each other anyway ("It Never Was You"). The council enters, still seeking a victim. Brom accuses Tienhoven of selling brandy and firearms to the Indians--a hanging offense. Irving intervenes and tells Brom to disregard the facts so that he won't have to report such disagreeable charges to his latter-day readers. But he and Brom agree that an inability to take orders combined with a hatred of corruption add up to a working definition of an American ("How Can You Tell an American?").
The council votes to hang Brom. Tina protests as they tie him up ("Will You Remember Me?"). Brom tricks the council into putting the noose around his belly, not his neck. They hoist him just as Stuyvesant makes his entrance. Impressed by Brom's ingenuity, Stuyvesant pardons him. The governor promises democratic reform, which proves indistinguishable from tyranny ("One Touch of Alchemy"), but the crowd cheers. Stuyvesant confronts Tienhoven with his crimes, but notes that he will be useful when the government takes over the sale of contraband to the Indians ("The One Indispensable Man"). Then Tienhoven announces that Tina will marry Stuyvesant. Tina objects furiously to the arranged marriage ("Young People Think About Love") and pleads for time. But Stuyvesant wants to marry the next day, since he is getting old and doesn't have the luxury of waiting ("September Song"), and he persuades her. Stuyvesant detects Brom's resistance and throws him in jail, ordering the crowd to sing and rejoice ("All Hail the Political Honeymoon").
Act II
Observing Brom in his jail cell, Washington Irving notes the irony that the real crooks are all on the outside ("Ballad of the Robbers"). Tina comes to return Brom's ring. Then Stuyvesant enters and tells Brom that he ought to write a jailhouse book, like Bunyan and Cervantes ("Sitting in Jail"). When Stuyvesant leaves, Tina tries to sneak into the cell past the jailer, but as Brom and the jailer engage in a tug of war over her, her skirts are ripped off. They resolve to escape together, but the jailer foils them. Tienhoven reminds Tina she must wed Stuyvesant; if she resists, Brom will be hanged. Tina and Brom lament their fate ("We Are Cut in Twain").
Irving sets the next scene ("There's Nowhere to Go But Up!" reprise), and the newly mustered army marches in ("To War"). Stuyvesant orders the council to reorganize the colony's economy; for the first time the council members object to his tyrannical plans, but only after he exits ("Our Ancient Liberties"). The betrothal ceremony proceeds ("May and January") as Stuyvesant makes Tina recite his list of rules for wives. He is not alarmed that Tina was seen without her skirt in Brom's cell the previous night ("The Scars").
Suddenly shots ring out: Brom and his friend Tenpin enter, fleeing the Indians who have burned down the jail ("The Algonquins from Harlem" dance). The council members retreat, but Stuyvesant and Brom stand and fight. Tenpin is felled by arrows ("Dirge for a Soldier"); Brom rescues Stuyvesant and together they drive away the Indians. Then Brom tells the crowd he witnessed Stuyvesant selling the Indians firearms. Tenpin recovers and corroborates Brom's charge. An enraged Stuyvesant swears he will hang Brom, who tells the crowd that they were better off with the inefficient corruption of the council than with Stuyvesant's efficient corruption. The council mutinies and refuses to proceed with the hanging ("No We Vouldn't Gonto Do It").
Stuyvesant is preparing to gun down the mutineers when Washington Irving intervenes. He advises Stuyvesant not to fire so he will not seem a ruthless tyrant to posterity. Stuyvesant has a change of heart; he pardons Brom and allows him to marry Tina. Then he allows that he may be an American, too, since he was never able to take orders, either ("How Can You Tell an American?" reprise).
© The Kurt Weill Foundation for Music
Participate in the R&H Online Community.
Leave comments or talk with other fans in the forum!

To request the rights to make merchandise for this show email larisa.borshman@rnh.com.
Fan Info:

Both Kurt Weill – Maxwell Anderson musicals are being presented back-to-back this winter in New York City with star-studded casts... read more

Innovative composer Kurt Weill was born this day in 1900, in Dessau, Germany. In Europe, Weill collaborated with playwright Bertolt Brecht on iconic works such as THE THREEPENNY OPERA and THE RISE AND FALL OF THE CITY OF MAHAGONNY. After emigrating to America in 1935, Weill composed for musicals including KNICKERBOCKER HOLIDAY, LADY IN THE DARK, LOST IN THE STARS, and ONE TOUCH OF VENUS. His life and relationship with singer Lotte Lenya are dramatized by the show LOVEMUSIK.

In 1939 KNICKERBOCKER HOLIDAY, a musical comedy set in New York's infancy as a Dutch colony, closed on Broadway. After tossing around ideas to work together for a number of years Anderson persuaded Weill to musicalize Washington Irving's 1809 History of New York by Diedrich Knickerbocker about Peter Stuyvesant. This ultimately became KNICKERBOCKER HOLIDAY. Read more about the history of this show here: http://www.rnh.com/show/59/Knickerbocker-Holiday#shows-history

In 1938, KNICKERBOCKER HOLIDAY, a musical comedy set in New York's infancy as a Dutch colony, opened on Broadway at the Ethel Barrymore Theatre. The show later moved to the 46th Street Theatre, and ran for a total of 168 performances.

In 1888, Maxwell Anderson was born; book writer and lyricist of the satirical musical KNICKERBOCKER HOLIDAY.


"Handsome and tuneful and eloquent. In 'September Song' and 'To Our Ancient Liberties,' Kurt Weill has written a couple of the best songs of the year."
— New Yorker, 1938
"A beautiful score . . . and an air of refreshing fun-poking that most playgoers will associate with Gilbert and Sullivan . . . . A novel piece of quality craftsmanship . . . . One of the smoothest ribs of modern politics yet staged."
— Variety, 1938
"The satire, the irony, the sparkle and bite of [Anderson's] text contain an authority worthy of W.S. Gilbert. Admirably wedded to this libretto is Kurt Weill's graceful and original music, melodious and full of light-hearted zest."
— Boston Globe, 1938
"Spirited, tuneful and pungent political satire, so skillfully embellished with pithy lines and lyrics and so handsomely melodized with a variegated musical score as to create the illusion of a completely new form in the theater . . . . An evening of sheer delight."
— Washington Post, 1938
"The beauty of 'September Song' and the quiet, warming way in which Mr. Huston tinkles out its wise and winning words are among the most delightful moments the Theater of all time has ever delivered. No entertainment in a blue theatrical moon has had such tantalizing tunes, for Mr. Weill's music is gay, stimulating and alive . . . [an] unforgettable score."
— Pittsburgh Post Gazette, , 1939
"The Weill music, rolling out like a colorful carpet, makes the evening."
— New York Times, 1975
"Sophistication, wit and also heart . . . a beautiful score."
— New York Times, 1977
"The astonishing thing about it is how topical it remains. Anderson's political kick gives Knickerbocker Holiday some topical tang; its enduring strength lies in Weill's music."


— Toronto Star, 2009
"A fascinating mixture of operetta choruses, peppy vaudeville turns, gorgeous Broadway ballads, and Germanic-flavored strains, all orchestrated brilliantly by the composer himself.... Persuasive evidence that Weill was and remains one of Broadway's most original, skilled, and artistically ambitious composers."
— Backstage, 2011
"The breezy score for Knickerbocker Holiday effervesces like a Gilbert and Sullivan operetta."


— New York Times, 2011
"Weill's work is vibrantly refreshing, an intriguing mix of his familiar Berlin style with his first explorations of the American musical. A pleasure to hear the score in all its musical splendor."
— Variety, 2011
"Splendid choral writing and rich orchestrations . . . .
Knickerbocker Holiday
has one of the greatest songs in American musical theater history. Let's amend that and say one of the greatest songs ever written . . . 'September Song.'"
— Huffington Post, 2011
ON THE RECORD: Kurt Weill's Knickerbocker Holiday
Written By: Steven Suskin
Listening to the first full album of the 1938 Kurt Weill musical Knickerbocker Holiday and the original 1961 London cast album of The Music Man starring Van Johnson.
Knickerbocker Holiday [Ghostlight 8-4450]They don't write them, it is safe to say, like this anymore.
"This" refers to Kurt Weill and Maxwell Anderson's 1938 musical comedy Knickerbocker Holiday. A relatively lost musical, and not of the ignominious flop variety; while it wasn't a financial success, neither were most musicals of that late Depression year. It had a satisfactory run, and not an overlooked one in that it featured a legendary performance from Walter Huston (father of John and grandfather of Anjelica); an inventive production from a director who was to dominate the Broadway musical for 20 years, Josh Logan; and an all-time classic song hit, the enduring "September Song."

Advertisement But Knickerbocker Holiday came before the day of the original cast album, and it lacked the "punch" that has resulted in revivals and recordings of other pre-Oklahoma! musicals like Anything Goes, Girl Crazy, The Boys from Syracuse and — of course — Show Boat. If you didn't catch Knickerbocker Holiday in its only full-scale revival, in 1971 starring Burt Lancaster at the Civic Light Opera in Los Angeles and San Francisco, you've likely never heard the full score with full orchestrations.There was a concert reduction at Town Hall in 1977, starring Richard Kiley, and another as part of the York Theatre's Mufti Series in 2009. Those, until now, were the only mainstream appearances of Knickerbocker Holiday other than a few selections recorded on various Weill CDs. Not to mention a non-Weillesque 1944 Hollywood version, with interpolated songs along the lines of "Love Has Made This Such a Lovely Day" from Jule Styne and Sammy Cahn.
I first heard Knickerbocker, years ago, by sitting down and plunking through the vocal score. What I found was thoroughly intriguing, with three songs — plus that old "September Song" — standing out: "Nowhere to Go but Up," "It Never Was You," and "How Can You Tell an American." These three still get to me; whenever I hear them, the melodies and rhythms stay with me for weeks thereafter, and I'm in precisely that state now.

Kurt WeillOther parts of the score were less exceptional, and several somewhat puzzling; odd songs that didn't sound quite right, at least the way I played them. An especially mystifying question arose from the orchestral cues printed in the score, indicating a (Knickerbocker) holiday for saxophones. I've really got to hear what this actually sounds like, I thought; but this seemed more and more unlikely, as the years passed by and the days dwindled down.

Until my birthday this past January, that is, when Knickerbocker Holiday came to Alice Tully Hall with a 27-piece orchestra, a full cast including more than a handful of musical comedy veterans, and an exploded chorus of 68 (as opposed to the 13 that Weill's original producers provided).
This from The Collegiate Chorale, a New York institution which two years earlier favored us with a full-sized concert version of Weill's Firebrand of Florence — which was, indeed, a long-lost flop despite the score Weill wrote with Ira Gershwin. While Firebrand was a treat, January's Knickerbocker Holiday was a revelation. Here was Weill and Maxwell Anderson's adaptation of Washington Irving's "A History of New York," with Weill providing cool colors and sly fun; this wedded to Anderson's sometimes tortured lyrics and heavy-handed attacks on the sitting President and his New Deal. (The bumbling New Amsterdam town council stands in for Roosevelt's cabinet, with the bumblingest member going by the name Roosevelt.)

The flaws of the piece were clear to see, and they in some ways explain why Knickerbocker Holiday never had a chance to become a member of the Anything Goes/Show Boat club referred to above. But the Collegiate concert gave audiences — and me — a once-in-60-years chance to hear what Weill's Knickerbocker Holiday, in actuality, sounds like. Which is to say, glorious.

Thanks to Ghostlight Records and a group of contributors who graciously saw fit to underwrite the costs, a live recording drawn from the two performances now makes it possible for one and all to hear Knickerbocker Holiday. And yes, it is as vibrant, bubbling, and unexpected as expected.
The big surprise for me is that the songs above cited — those I plunked out at the piano, and plucked out as favorites — are, indeed, the best of the score. With good singers and those 27 musicians, they sound bright and strong and refreshing.

"Nowhere to Go but Up" is one of those when-you're-on-rock-bottom-things-can-only-change-for-the-better songs, powerful and rambunctious. Weill casts it in the mode of a 1920s fox-trot, of all things; this is still the Weill of Berlin, three years after he arrived in New York. "How Can You Tell an American?" is another rouser with a driving rhythm, somewhat in the style of the
"Kanonensong" ("Army Song") from Weill's 1928 Threepenny Opera. Anderson defines an American as "a person with a really fantastic and inexcusable aversion to taking orders, coupled with a complete abhorrence for governmental corruption — and an utter incapacity to do anything about it." Don't tell the Tea Party people, as they might try to adopt it as their theme song.

Kelli O'Hara performs Knickerbocker Holidayphoto by Joseph Marzullo/WENNMy other two favorites are less dynamic but equally compelling. The big Act One ballad for the lovers is called "It Never Was You." A fine ballad, and unlike anything the Messrs. Porter, Rodgers or Berlin were writing at the time. The form, for those of you who might be interested in such things, is: A (4 bars)-B (8)-C (8)-A (4)-tag (4). This after a 25-bar verse. That breakdown doesn't signify much, perhaps; but it makes for an arresting song, especially since the title phrase comes right up front — in the first bar of the refrain — and only eventually returns, once, after a grandly dramatic buildup. (If one of the themes sounds familiar, it's because Weill reused it in the song "Lost on the Stars," written in 1939 for Paul Robeson and reused in 1949 as the title song of the composer's final work.) And then there's "September Song," which is in a straightforward A-A-B-A form. But there's nothing straightforward about it, with the familiar A section offset by an especially dramatic bridge as "the days dwindle down to a precious few."

Now, a listener could reasonably raise an eyebrow or three over Anderson's lyrics. "It never was you," goes that ballad, "No — it never was anywhere you." Never was anywhere you what? Anderson was a poet, with numerous verse plays to his credit; but that doesn't seem to translate to song lyrics. When he gets in rhyming trouble, he either fudges the issue or simply crosses his fingers and hopes nobody will notice.

There's a song, written in Habanera tempo, called "Sitting in Jail." Max sees fit to rhyme the title phrase with "they bring in your victuals in the well-known pail" — I guess he means dinner pail? — and "where they don't serve turtle and they don't serve quail." Which is a bit of a stretch. There's also an odd rumba duet for the lovers: "We are cut in twain," they complain, "and nat-ur-'lleeeee we bleed." (Maybe it's supposed to be funny?) Anderson goes so far as to try to rhyme "obligations" with "vivisection." Mr. Sondheim had no reason to discuss Knickerbocker Holiday in his "Finishing the Hat," but methinks it would have been ugly.

Victor Garber performs Knickerbocker Holidayphoto by Joseph Marzullo/WENNLet us say on behalf of Maxwell Anderson, songwriter, that in his very first attempt he did come up with the evergreen "September Song." The Pulitzer Prize-winning Anderson wrote some 40 produced plays (including What Price Glory? and Winterset) and numerous screenplays (including those for "All Quiet on the Western Front" and "Death Takes a Holiday"). I daresay that after all that, the only property that is presently contributing a stream of income to his heirs is his chestnut from Knickerbocker Holiday.

Now let's talk orchestrations for a moment. If you were working on a musical adaptation of an 1809 book set in Dutch New Amsterdam, circa 1647, what instruments would you use? Weill — in what might be his most delightful set of American orchestrations — builds the sound around sax and guitar. That's right; I don't suppose the Dutch burgers had saxophones, but they sure work deliciously well — and point up the fact that while the story was three hundred years old, the political connotations were from this morning's newspaper (circa 1938). Being a composer/orchestrator, Weill doesn't hesitate to include wild, delicious countermelodies.

Contributing to the joys of the CD are the leading players. Victor Garber is old man Stuyvesant, and presumably sings the role far better than Mr. Huston or Mr. Lancaster. (But what of Mr. Kiley?) Garber has just the right touch here as the mellow, peg-legged tyrant. Ben Davis, who has been a replacement in several Broadway musicals, is especially good in the main singing role of Brom Broeck. The similarly little-know Bryce Pinkham also does well as Washington Irving. Overshadowing them all is Kelli O'Hara, singing the relatively subsidiary role of Tina Tienhoven and shining all the way through.

There is also a bevy of featured clowns, including David Garrison, Brad Oscar, Brooks Ashmanskas, Steve Rosen, Orville Mendoza and Michael McCormick; none other than Garrison are prominent on the CD. Also on hand is Christopher Fitzgerald, battling steep obstacles. The small role he is playing (Tenpin) is here expanded, uncomfortably so, by adding a song ("Bachelor's Song") that was cut back in 1938 and for good reason.
The Collegiate Chorale's music director James Bagwell and the American Symphony Orchestra give a good reading of the score, and one that finally makes it come alive once more. The Alice Tully production was directed and co-adapted by Ted Sperling, who presumably contributed his Broadway musical knowhow to the proceedings.

Since I wholeheartedly recommend this recording, I'll skip the part of the review where I discuss the songs which for me don't work (sometimes in spectacular fashion). Get the CD of Knickerbocker Holiday. They don't write them like this anymore.
Source: Playbill.com

Song #
Song Name
Character Name
Play
Other Versions

Provided by The Kurt Weill Foundation
Kurt Weill earned his living entirely from his music, and he almost always had more than one project at a time in development, because in show business, not every deal closes. In early 1938, three projects in which he had already invested a lot of time and work were going nowhere. "The Opera from Mannheim" (lyrics by Yip Harburg, book by Sam and Bella Spewack, to be produced by Max Gordon) fizzled, and a combination of circumstances forced Weill to abandon The Common Glory, a collaboration with Paul Green (Green later completed it and it was produced regionally in 1947). A musical version of Davy Crockett for the Federal Theatre failed to find Broadway backing, even though actor Burgess Meredith had initiated the project and was helping to produce it.
Burgess Meredith had had a small role in the short-lived 1933 Broadway production of Threepenny Opera, auditioned unsuccessfully for Johnny Johnson, and become a friend of Weill's. Even after two misfires, Meredith told playwright Maxwell Anderson he'd jump at the chance to appear in any musical the two wrote together. The young actor had been catapulted to stardom performing in Anderson's plays Winterset, High Tor, and The Star Wagon, and Anderson took him under his wing, even helping him find property in rustic Rockland County near Anderson's home. Anderson and Weill had already met; the two men had been tossing around ideas for collaboration for a couple of years. For High Tor (1936), Anderson, borrowing a page from The Flying Dutchman, had created a subplot for ghosts of shipwrecked seventeenth-century Dutch sailors. Still mining Dutch colonial history, Anderson persuaded Weill to musicalize Washington Irving's 1809 History of New York by Diedrich Knickerbocker about Peter Stuyvesant. He even recycled High Tor's jokes about braining people with bowling balls into what became Knickerbocker Holiday.
At that time Maxwell Anderson was, after O'Neill, the most prestigious dramatist on Broadway. In fact, he was produced more frequently than O'Neill: he had twelve plays on Broadway in the 1930s alone. He was best known for dramas written mostly in neo-Shakespearean blank verse (though Anderson's scansion is irregular); he even versified Winterset, a treatment of the Sacco and Vanzetti story. With only the World's Fair commission Railroads on Parade as an active project in 1938, Weill could hardly refuse to work with Broadway's top dramatist. But something more happened: the two men developed a warm friendship unusual for both, Weill's closest friendship with any of his collaborators in America. In his published preface to Knickerbocker Holiday, Anderson adoringly calls Weill's work "the best score in the history of our theatre." In the summer of 1938 Weill and Lenya rented a house outside Suffern, near Anderson's home, and they stayed in Rockland for the rest of Weill's life, joining an exurban community of artists that included Meredith, Anderson, Milton Caniff, Henry Varnum Poor, Helen Hayes, Alan Jay Lerner, and others.
Anderson and Weill envisioned Knickerbocker Holiday as an enlightened entertainment, a Mikado-like allegory about absolute political power. But whereas Weill's bête noire à clef was Hitler, Anderson made Stuyvesant into a lampoon of President Franklin Roosevelt--who he believed had grasped too much power--much sharper than Kaufman and Hart's FDR portrait in I'd Rather Be Right the previous year. The deus ex machina finale of Knickerbocker Holiday--Washington Irving stepping in to warn Governor Stuyvesant that history will view him poorly if he massacres his opposition--alludes to an actual event: when FDR attempted (unsuccessfully) to sponsor a bill to pack the Supreme Court, one of his leading New Deal allies, Senator Joseph O'Mahoney, publicly upbraided him, "Mr. President, think what posterity will say about your court bill!" (FDR actually attended a pre-Broadway Washington tryout of Knickerbocker and laughed throughout.) When Anderson's colleagues in the Playwrights' Company, which produced the show, read an early draft, they pressed Anderson to delete some of the more barbed references to the New Deal. He complied, but not totally, and the role of Stuyvesant continued to grow. Burgess Meredith, who had expected his character, Brom Broeck, to be the lead, backed out of the show, severely damaging his friendship with Anderson (director Guthrie McClintic also opted out, replaced by Joshua Logan). Meanwhile, to appeal to the proverbial "tired businessman," Anderson, highflown verse dramatist, wrote the Dutch councilmen's dialogue in grotesque vaudeville-German accents (though with no particular logic, he wrote Stuyvesant's part in standard English). Such atypical concessions to popular taste, and the fact that Anderson wanted to write a musical at all, indicate that part of his aim was simply to make more money than he thought he would with yet another straight play.
As a result Knickerbocker Holiday is a peculiar mixture of highbrow and lowbrow; in it one can hear Weill experimenting with all-American pop, cheek-by-jowl with old-world operetta styles. Unlike typical 1930s Broadway scene change music based on other tunes from the show, Weill's is original, employing chromatic chord sequences not used in other numbers. But in the songs "How Can You Tell an American" and "The Scars" he all but emulates up-tempo Irving Berlin, and in the dance "The Algonquins from Harlem" he even takes a stab at jazz--while "We Are Cut in Twain" recalls the recent hit "Begin the Beguine," and "It Never Was You" seems consciously written for the hit parade. Yet at the same time "Our Ancient Liberties" sounds like a mock-Viennese waltz, "Sitting in Jail" is a habanera reminiscence of "Captain Valentine's Tango" from Johnny Johnson, and "May and January" is almost a parody of Gilbert and Sullivan operetta. Weill's choral writing is operatically elaborate: "Young People Think about Love" gives a coloratura part to the female lead over a five-part vocal texture; the 11 o'clock number "No We Vouldn't Gonto Do It" builds excitement with canonic imitation in the choir voices, then modulates toward a climax in block chorale style. But regardless of the musical treatment, many of the songs make sharp political points: even "Nowhere To Go But Up" is a crypto-paean to unemployed workers in the Depression.
Another thread running through the show is a youth-versus-age motif--"Young People Think About Love," "We Are Cut in Twain," "May and January," and of course "September Song." To get Walter Huston to agree to play Stuyvesant, Weill and Anderson had to come up with a romantic ballad for him. The tune was not new; Weill recycled six bars from his 1935 operetta Der Kuhhandel, where they had attracted little notice as a brief introduction to an arietta. Weill's biographer Ronald Sanders noted that the lyric, "for it's a long, long while" is a pun on the German "Langeweile" and a play on Kurt's name (and stature--he was a "short ("kurz") Weill"). The song soon became Weill's first American hit, and over the years it was covered by Bing Crosby, Frank Sinatra, Maurice Chevalier, Liberace, Jimmy Durante, James Brown, Lou Reed, and countless other well-known artists. So Anderson did make his money, more from one song than from the whole show.
Of the original cast, only Ray Middleton (Washington Irving) went on to bigger roles in the theater (Frank Butler in Annie Get Your Gun). Female lead Jeanne Madden (Tina) faded from sight after the show, her only Broadway appearance. Richard Kollmar (Brom Broeck) became a producer and radio personality in the 1940s. Perhaps the hidden star of the production was costume designer Frank Bevan, particularly for the way he rigged Huston's garments to make him appear peg-legged. So widespread was the wonderment at Huston's one-legged dancing in a chorus line that the actor got sick of talking to the press about it. Bevan's cloaks and breeches for Stuyvesant were so voluminous that "Mr. Huston could carry a keg of beer in the seat of his pants without anyone being conscious of the fact," wrote one commentator.
The show went on a road tour after Broadway. The 1944 film version with Nelson Eddy scrapped most of Weill's music and Anderson's book. The Theatre Guild of the Air broadcast a radio version with Huston reprising his role on December 30, 1945. This version so abridges the piece that it does not do the score justice; it is further distorted by the sugary orchestrations of Harold Levey (1894-1967), a Victor Herbert protegé. ABC's Pulitzer Play Playhouse broadcast a live television version November 17, 1950, also truncated, with Dennis King, John Raitt, and Doretta Morrow.
While Anderson's book is uneven (the distasteful attempts at comedy in the hanging scenes give new meaning to "gallows humor"), at his poetic best he is our theater's most underappreciated lyricist. And Weill's score, largely unheard in recent years, is long overdue for reappraisal. It is the prime missing link in the evolution of his style from Europe to Broadway.


© The Kurt Weill Foundation for Music
---

Vocal Range of Characters:

// Photos

---
---
---
---


Written By: Maxwell Anderson

There has been a good deal of critical bewilderment over the political opinions expressed in KNICKERBOCKER HOLIDAY. I should like to explain that it was my intention only to remind the audience of the attitude toward government which was current in this country at the time of the revolution in 1776. At that time it was generally believed that the gravest and most constant danger to a man's life, liberty and happiness is the government under which he lives. A government is always, as Stuyvesant says in the play, 'a group of men organized to sell protection to the inhabitants of a limited area at monopolistic prices.' The members of a government are not only in business, but in a business which is in continual danger of lapsing into pure gangsterism, pure terrorism and plundering, buttered over at the top by a hypocritical pretense at patriotic unselfishness. The constitution is so built that while we adhere to it we cannot be governed by one man or faction. The fact that there are three branches of government makes for a salutary delay and a blessed inefficiency, the elective rotation makes for a government not by cynical professionals but by normally honest and fairly incompetent amateurs. That was exactly what the wary old founding fathers wanted, and if we are wise we shall keep it.
---

Playbill VIP
: 
MAKE YOUR OWN PLAYBILL! Playbill VIP allows you to create your very own Playbill Program. We have provided Playbill with all of the credits, song listings, musical numbers and more so that most of the work is already done for you. Just add your productions details, photos of the cast and share it with all of your friends. Learn more: www.playbillvip.com
---

STANDARD
KNICKERBOCKER HOLIDAY - Orchestration Package (17 Books/18 Players)

1 – PIANO VOCAL SCORE

1 – PIANO

1 – REED I (Flute, Piccolo)

1 – REED II (Oboe, Clarinet, Alto Sax)

1 – REED III (Clarinet, Bass Clarinet, Alto Sax)

1 – REED IV (Clarinet, Tenor Sax, Baritone Sax)

1 – TRUMPET I

1 – TRUMPET II

1 – TROMBONE I

1 – TROMBONE II

1 – PERCUSSION (see "Materials Notes", under "Production Information")

1 – VIOLIN I (Divisi)

1 – VIOLIN II (Divisi)

1 – VIOLA

1 – CELLO

1 – BASS

1 – GUITAR (Doubles Banjo)

Perusal Package (1Lib., 1 VB)

1 – Libretto

1 – Vocal Books

Rehearsal Set (42 Books)

20 – Libretto

1 – Logo CD

20 – Vocal Books

2 – PIANO VOCAL SCORE

Digital Logo
ADDITIONAL
KNICKERBOCKER HOLIDAY - PRE-PRODUCTION PACKAGE

1 – Libretto

1 – PIANO VOCAL SCORE

PRINCIPALS
1 Woman
6 Men
FEATURED
1 Woman
6 Men
ENSEMBLE
Large singing-dancing ensemble with several small roles.
CHARACTERS
Pieter Stuyvesant
Brom Broeck
Tina Tinehoven
Washington Irving
Tienhoven
Mistress Schermerhorn
DePeyster
General Poffenburgh
Van Cortlandt, Jr.
Schermerhorn
Tenpin
Van Rensselaer
Vanderbilt
Roosevelt
DeVries
Ensemble: councilors, citizens of New Amsterdam, soldiers, Indians

KNICKERBOCKER HOLIDAY takes place in Washington Irving's study in 1809 and in Old New York in 1647.
SPECIFIC LOCATIONS
Washington Irving's Study, 1809
Interior of the Jail
The Battery, New York City
Materials Notes
Trap Set, Timpani, Vibraphone, Triangle, Gong, Bells, Tom Toms, Castanets, Military Drum, Tambourine
---
Media Rights
*

Currently media rights for Knickerbocker Holiday are not available. Please contact customer service with any questions.