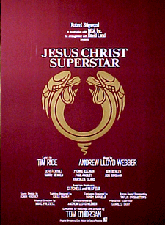 Jesus Christ Superstar
JESUS CHRIST SUPERSTAR is no longer available to license through R&H Theatricals. Please visit www.themusicalcompany.com to license all Andrew Lloyd Webber shows.
Participate in the R&H Online Community.
Leave comments or talk with other fans in the forum!

To request the rights to make merchandise for this show email [email protected].
Fan Info:

In 1971, JESUS CHRIST SUPERSTAR opened on Broadway where it ran for 711 performances at the Mark Hellinger Theatre.

The birthday of Tim Rice, lyricist and longtime collaborator with Andrew Lloyd Webber on EVITA, JESUS CHRIST SUPERSTAR, and JOSEPH AND THE AMAZING TECHNICOLOR DREAMCOAT. Rice also contributed lyrics to the Disney films ALADDIN, BEAUTY AND THE BEAST and THE LION KING.

In 1973 JESUS CHRIST SUPERSTAR closed after 711 performances on Broadway.


"A triumph...Andrew Lloyd Webber's score is vibrant, richly varied and always dramatically right and much the same things can be said of Tim Rice's lyrics."
— Daily News
"Powerful and Poignant."
— Miami Herald
"More than 30 years after it premiered, SUPERSTAR is still contentious. It plays with sacred images and beliefs in ways that continue to push boundaries. This story of how Jesus comes to cleanse the world of its sins of money and sex and is then betrayed by Judas has a lot of hipswiveling, sexy fun with the sinful parts."
— Rohan Preston, Star Tribune, January 01, 2004
"For a 2,000-year-old story set to 30-year-old music, JESUS CHRIST SUPERSTAR still has a fresh, timeless appeal. Andrew Lloyd Webber's music is haunting, snappy and touching... Tim Rice's lyrics are too good to miss a word."
— Sue Merrell, Grand Rapids Press, January 01, 2003
Jesus Christ Superstar: Broadway Tryout,
Variety
Written By: Jesus Christ Superstar
A La Jolla Playhouse presentation of the Stratford Shakespeare Festival production of a rock opera in two acts, with lyrics by Tim Rice and music by Andrew Lloyd Webber. Directed by Des McAnuff. Choreography, Lisa Shriver. Musical director, Rick Fox. Sets, Robert Brill; costumes, Paul Tazewell; lighting, Howell Binkley; video, Sean Nieuwenhuis; sound, Jim Neil; fight director, Daniel Levinson, stunt coordinator, Simon Fon. Opened Nov. 30, 2011. Reviewed Dec. 3. Runs through Dec. 31. Running time: 110 MIN.
Jesus Christ - Paul Nolan
Judas Iscariot - Josh
Young Mary Magdalene - Chilina KennedyPontius
Pilate - Jeremy Kushnier
King Herod Bruce Dow
Caiaphas - Marcus Nance
Annas - Aaron Walpole
With: Matt Alfano, Mary Antonini, Karen Burthwright, Jacqueline Burtney, Mark Cassius, Ryan Gifford, Kaylee Harwood, Mike Nadajewski, Melissa O'Neil, Laurin Padolina, Stephen Patterson, Katrina Reynolds, Jennifer Rider-Shaw, Matthew Rossoff, Jaz Sealey, Jason Sermonia, Julius Sermonia, Lee Siegel, Jonathan Winsby, Sandy Winsby.
In Des McAnuff's Broadway-bound revival of "Jesus Christ Superstar," costume designer Paul Tazewell dresses the title character in solid white, as if offering a blank canvas on which the world is invited to paint for the next 2,000 years and beyond. The usefulness of the carpenter from Nazareth to serve everyone's select purposes is the theme here, surely the most thoughtful and scintillating reading of the Webber/Rice rock opera since its 1969 recording.
Under the overture, turbanned, black-coated riot police spin spears to whack raggedy proles. While this production was conceived in Stratford, Ontario long before the Wall Street protests, an inescapable sense of "Occupy Judea" creates immediacy, reinforced by a news ticker orienting us to time and place. Pharisees wielding pepper spray wouldn't be a surprising sight.
Establishing the nation's power vacuum opens the door (literally, at the rear of Robert Brill's glittering palace of a set) to the answer to a prayer. Not the usual one-dimensional saintly/pallid Jesus, Paul Nolan offers intriguing levels of engagement and detachment, always leaving us once removed from understanding him in full. In that, he consciously evokes the remote superstars of our age: James Dean; John Lennon; Bowie and Jagger - all those enigmas on which we could eagerly project whatever we fancied.

It's no different in Jerusalem, circa 33 A.D. An oppressed populace dances its need for Messiah in Lisa Shriver's exciting choreography. The apostles sing their craving for a fighting commander. Temple elders Annas (weaselly Aaron Walpole) and Caiaphas (menacing basso Marcus Nance) must manufacture a scapegoat to keep Rome out of their hair, while Governor Pilate (a subtly nuanced Jeremy Kushnier) is plagued by existential doubt. Jesus becomes everybody's obscure object of desire, exactly as he remains today.

Even King Herod (Bruce Dow), typically dismissable as a preening, queeny jester ("Walk across my swimming pool"), is granted gravitas. His vaudevilley Charleston is an amusingly rousing Vegas lounge act, but because this potentate is desperately seeking salvation, Dow is crushed to realize "You're not the Lord/You're nothing but a fraud!" An ordinarily contemptuous snap is invested with genuine terror.

Still more personal demands are placed by tormented Judas (Josh Young) and reviled Mary Magdalene (Chilina Kennedy). McAnuff sets up an affectional triangle in which the Master's mixed signals alternately seduce and perturb his dearest disciples, analogous to the spiritual crises described by sages from St. Augustine to Thomas Merton.

The helmer's notion would actually work better if Jesus kept both at equal arm's length. By isolating Judas yet granting Mary unfettered access to Jesus' attention, McAnuff stacks the deck and reduces the tension. Kennedy lacks vulnerability anyway, and her "I Don't Know How to Love Him" comes across as a mere announcement, not an anguished question. It's a rare directorial misstep in an array of incidents marked by equal measures of theatricality and probing intelligence.

Concept comes to full fruition in the title number, usually carelessly tossed in just because A, it's great; and B, it's on the album. Here, McAnuff reincarnates Judas as a spangled Jimmy Swaggart, strutting atop a ramp jutting out over the auditorium. As the quietly dignified Jesus begins to speak at his side, the sizzling Young revs up the evangelical fervor - and suddenly we can't hear a word of The Word; the gospel becomes an afterthought. This dramatization of man's inhumanity to Jesus' message becomes a memorable staging coup.

"Superstar" is a triumph of interpretation no less impressive than the helmer's brilliantly multicultural reimagining of "The Wiz" in 2006, which unfortunately never made it out of La Jolla. Mischievous original helmer Tom O'Horgan announced, "I want to shake 'em up," but McAnuff wants to make 'em think and feel. What premiered in Gotham in 1971 as a campy mess will shortly return as a smart and moving spectacle.

Song #
Song Name
Character Name
Play
Other Versions

---
1971: Broadway debut in the US at the Mark Hellinger Theatre, New York1972: UK debut on London's West End at the Palace Theatre, starring Paul Nicholas and   Stephen Tate
1972: Record breaking tours open in Sweden and Australia.1973: Shiki show interpretation opens in Japan.
1983: UK touring production began at the Manchester Palace1992: UK 20th anniversary tour, co-produced by and starring Paul Nicholas
1991: Japanese Kabuki production in London's Dominion Theatre
1992: Australian arena concert broke all box office records at the time attracting an audience of over one million.
1995: Productions in Italy by Massimo Romeo Piparo over 10 years from 1995-2005, with revivals  from 2009-20111996: 25th anniversary heralded a brand new UK production at the Lyceum, Theatre, London. Steve Balsamo sang the part of Jesus and Zubin Varla played Judas
1998: A new production by Really Useful Group and starring Glenn Carter mounted for UK tour, opening to critical and public acclaim in Newcastle Upon Tyne and transferring after an 18 month run to Germany
2000: Revival of the 1998 UK tour for 10 months
2000: Production at New York's Ford Center for the Performing Arts on Broadway, again starring Glenn Carter
2001: A production in Mexico City ran for nine months2002: USA tour revival which ran for over two years.
2004: Two month tour in Korea2004: UK tour which ran for a year and then again in
2008, produced and directed by Bill Kenwright
2005/06: Netherlands national tour
2006: Tour across USA featuring Ted Neeley from the 1973 movie.
2006: Production opens in South Africa.2007: Production in Greece at the Badminton Theater, Athens
2007/08: Production in Madrid, followed by tour around Spain
2010: Production opens in Hungary at the Madach Theatre, Budapest, and continues today
2011: 40th anniversary of the first USA stage production
2011: Show revival in South Africa.2011: Japanese Shiki Revival launches.
2011: Czech Republic production opens at the Karlin Theatre, Prague, and continues today
2012: A new production directed by Des McAnuff opened on Broadway at the Neil Simon Theatre on 22 March
---
The 12th October 1971 should have been the happiest night of my life. I was 23 years old and a fairy tale was about to come true. An unknown British young man was to have his first musical premiered on Broadway. Jesus Christ Superstar was to open on the very same stage as My Fair Lady had played only a decade and a half before.
I shall never forget the saga of Jesus Christ Superstar on Broadway. Never in my opinion was so wrong a production mounted of my work. Even though this brash and vulgar interpretation was quite leniently dealt with by the critics at the time, the public saw through it. The biggest selling double album of all time ran in its first theatre incarnation a mere 20 months.
Throughout its entire preview period I was never allowed to rehearse the orchestra. Looking back 25 years later, I suppose there were pluses. Because the production was so awful, no production of Superstar in the rest of the world was the same, so I had a baptism of fire by a kaleidoscopic gaggle of directors.
Most important, I resolved that night that when I got my first opportunity I would start my own production company.
---

Tony Awards
January 01, 1972 — 1 Nomination for Best Musical Revival
January 01, 2000 — 1 Nomination for Best Musical Revival

Vocal Range of Characters:


// Photos

---
---
---
---
---


AccompanEase
:
 
AccompanEase
: This product is a rehearsal tool that allows for unlimited teaching, training and practice of individual vocal parts or dance sequences. Contact Realtime Music Solutions for more information:
www.accompanease.com
, via email:
[email protected]
, or via phone:
212-620-0774
---
InstrumentalEase
: 
InstrumentalEase
: This product is an orchestra enhancement instrument capable of augmenting a traditional ensemble of any size. Contact Realtime Music Solutions for more information:
www.rms.biz
, via email:
[email protected]
, or via phone:
212-620-0774
---
Playbill VIP
: 
MAKE YOUR OWN PLAYBILL! Playbill VIP allows you to create your very own Playbill Program. We have provided Playbill with all of the credits, song listings, musical numbers and more so that most of the work is already done for you. Just add your productions details, photos of the cast and share it with all of your friends. Learn more: www.playbillvip.com
---

STANDARD
JESUS CHRIST SUPERSTAR - Orchestration Package (18 Books/17-18 Players)

1 – PIANO CONDUCTOR SCORE

1 – REED I (Flute Doubling Piccolo)

1 – REED II (Flute Doubling Clarinet)

1 – REED III (Oboe)

1 – REED IV (Bassoon)

1 – HORN

1 – TRUMPET I

1 – TRUMPET II

1 – TROMBONE

1 – VIOLIN I (Divisi)

1 – VIOLIN II (Divisi)

1 – VIOLA (Divisi)

1 – CELLO

1 – ELECTRIC BASS GUITAR

1 – ELECTRIC GUITAR

1 – PIANO/ORGAN

1 – DRUMS

1 – PERCUSSION (1 or 2 players - see "Materials Notes", under "Production Information")

Rehearsal Set (22 Books)

20 – Libretto-Vocal Books

1 – Logo CD

2 – PIANO CONDUCTOR SCORE

1 – Logo sheet

Digital Logo
ADDITIONAL
Libretto/Vocal Books 10 pack

10 – Libretto-Vocal Books

Jesus Christ Superstar - Pre-Production Pack

1 – Libretto-Vocal Books

1 – PIANO CONDUCTOR SCORE

PRINCIPALS
1 Woman
2 Men
FEATURED
6 Men
ENSEMBLE
Large singing ensemble consisting of Lepers, Cured Lepers, Merchants, Apostles, Soldiers, Judas's Tormentors, Reporters, Temple Ladies, and Soul Girls.
CHARACTERS
Mary Magdalene
Jesus of Nazareth
Judas Iscariot
King Herod
Caiaphas
Peter
Pontius Pilate
Simon Zealotes
Annas
3 Priests
Lepers
Cured Lepers
Merchants
Apostles
Soldiers
Judas's Tormentors
Reporters
Temple Ladies
Soul Girls

JESUS CHRIST SUPERSTAR takes place during the last seven days in the life of Jesus Christ in Roman occupied Jerusalem and environs.
Materials Notes
Timpani, Vibraphones, Glockenspiel, Xylophone, Cymbal, Large Suspended Cymbal, Triangle, Bass Drum, Snare Drum, Tambourine, Wood Block, Siren, Bongos, Chime (F) and Hammering Nails.
---
Featured News
What's the Buzz?
Tell me what's happening! New developments for JESUS CHRIST SUPERSTAR...
Read More
Media Rights
Promotional Video Right
1. The Promotional Video shall be recorded and shown for the sole purposes of advertising your licensed production of the Play.
2. The Promotional Video may not include more than (i) 1 minute from any song or (ii) 3 minutes, in the aggregate, of footage of copyrighted material from the Play.
3. With respect to advertising on YouTube, you may only produce one (1) Promotional Video.
4. The Promotional Video may not include any sponsorship or underwriting without the prior consent of all R&H.
5. The Promotional Video must be submitted to R&H by sending the source video and video link to [email protected]
6. The Promotional Video must include the following: "Rights courtesy of Rodgers & Hammerstein, www.rnh.com"
7. Upon approval by R&H of the Promotional Video, you agree not to make any alterations in the approved copyrighted material used therein and you agree to obtain the prior written approval of R&H for any other use of the Promotional Video not specifically granted herein.
8. In the event you shall breach any of the provisions set forth herein, the rights herein granted to you shall automatically terminate, without prejudice to our right to recover damages and obtain such other relief as we may be entitled to including, without limitation, a penalty of not less than $600.00 for each such occurrence.
9. Upon termination of the Term, you shall cease to have any rights to use the Promotional Video including, without limitation, in connection with a future production of the Play, and shall immediately remove its content from any and all websites on the Internet.
10. You may not use a commercially available recording.
11. Any additional promotional rights must be approved by R&H by contacting [email protected].
*
Promotional Video Right video rights can only be granted once a performance license for Jesus Christ Superstar has been secured. Please contact customer service if you have any questions. If you have not yet applied for Jesus Christ Superstar, you can do so here. LOG IN to learn more.
---