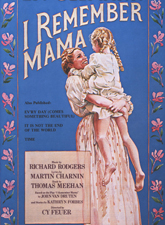 I Remember Mama
For his final score, Richard Rodgers turned to a play he and Hammerstein had produced on Broadway 35 years earlier that had gone on to become a modern classic. Set in San Francisco following the turn of the century, this story of a Norwegian family's survival in the New World is told in retrospect by the eldest daughter, a successful writer recounting the start of her career and the childhood that inspired it. She takes us back to relive familial hardships and triumphs including the near loss of their home, Papa's desperate return to Norway when he can no longer find work, and the sale of her first story-this one. But, of course, it's Mama she remembers most of all, always guiding their precarious journey with a firm hand and a warm heart.
Participate in the R&H Online Community.
Leave comments or talk with other fans in the forum!

To request the rights to make merchandise for this show email [email protected].
Fan Info:

In 1944, John van Druten's play I REMEMBER MAMA opened at the Music Box Theatre, New York, and ran for 714 performances. It was presented by Rodgers & Hammerstein.

The birthday of Martin Charnin; Broadway producer, director, and lyricist who conceived and mounted shows including ANNIE. Charnin not only collaborated with composer Richard Rodgers on TWO BY TWO and I REMEMBER MAMA - he also worked with Rodger's daughter Mary on the musical HOT SPOT.


"A charming family musical...If you liked THE SOUND OF MUSIC and ANNIE, you'll love I REMEMBER MAMA!"
— Houston Chronicle, January 01, 2004
"Pure, rich Rodgers...the songs burst from Rodgers' amazing fount of melody...meaty tunes that stick to the ribs...the score surges with confidence and youth and has the appealing lilt, warmth and optimism of any Rodgers musical."
— San Francisco Chronicle
"Pure, rich Rodgers...the songs burst from Rodgers' amazing fount of melody...meaty tunes that stick to the ribs...the score surges with confidence and youth and has the appealing lilt, warmth and optimism of any Rodgers musical."
— San Francisco Chronicle

Song #
Song Name
Character Name
Play
Other Versions

Remembering I REMEMBER MAMA
By Theodore S. Chapin
For generations of Americans, the words "For as long as I could remember, the house on Steiner Street had been home" have a more than familiar ring to them. They are the opening words of the Kathryn Forbes story about the Hansen family, a stalwart group of Norwegian immigrants who settled in San Francisco at the turn of the century, which has charmed readers, listeners, viewers and theater goers for over forty years.
The first story appeared in 1943 as MAMA'S BANK ACCOUNT in the Readers' Digest. Its success prompted Miss Forbes to write other short stories about her family, which were later published as a collection. These stories were bought by RKO to be filmed, but that was not where their first dramatization was to take place.
At the urging of his daughter and wife, Richard Rodgers read MAMA'S BANK ACCOUNT and after conferring with his partner Oscar Hammerstein II, decided to turn it into a play (the team decided to produce plays as well as the musicals for which they were famous, and MAMA seemed to fit in perfectly). The play version adapted by John Van Druten, opened in 1944—with the title that was to stick from then on: I REMEMBER MAMA. (It is interesting to note that the role of Nils was played by a newcomer by the name of Marlon Brando).
The Broadway success was followed by the George Stevens film starring Irene Dunne and by various radio presentations. On July 1, 1949, however, MAMA began her longest and most fondly remembered life as the matriarch of the CBS television series. As played by Peggy Wood, MAMA was to reign 8 years over those early days of television with her characteristic blend of earthy practicality and undiminishing vision of good and wholesome life in the "new" land. In 1979, I REMEMBER MAMA came full circle and opened as a bright and cheerful Broadway musical. One wonders if Richard Rodgers knew all along that he would some day compose a score for a musical version of MAMA. He did and it was to be his final score. His collaborators were the team who had had an enormous success with ANNIE—librettist Thomas Meehan and lyricist Martin Charnin. For Rodgers, it was musical number 40 in a career which spanned 50 years
During the Broadway run of MAMA, Rodgers was visited in New York by record producer Norman Newell, and at the time the composer said, "My greatest wish is for MAMA to be recorded." Five years after his death, Rodgers' wish came true when Newell assembled a superlative cast to record the album for TER Records, with Broadway originators George Hearn and George S. Irving joined by Sally Ann Howes as Mama, Ann Morrison as Katrin, with cameos from such West End stars as Elizabeth Seal, Gay Soper, Patricia Routledge and Sian Phillips, and all under the musical direction of Bruce Pomahac.
---

Vocal Range of Characters:

// Photos

---
---
---
---
---


Written By: Dorothy Rodgers

In 1943 someone gave our daughter, Mary, a book called 'Mama's Bank Account' by Kathryn Forbes. The title intrigued me because I thought it would be about a kind of Billie Burke character who couldn't add or keep a checkbook and it might be fun. I read it and was enchanted by it even though it turned out to have nothing to do with arithmetic. I said to Dick, 'I think this would make a delightful play -- not a musical but a straight play.' Well in the thirteen years that we had been married, I had never said that about any other book and Dick, who was always looking for things to do in the theatre, read the book, liked it enormously and passed it on to Oscar who shared his enthusiasm. They decided to make it their first production only to learn that the book had already been sold to one of the big film studios, but they were able to persuade the executive who had planned to produce the picture that if their theatre production were to be successful, the studio would have a much more valuable asset to film. Happily, this turned out to be the case. It was a big success and an altogether lovable show. After a long run on Broadway and the road, it had several other lives as a radio serial, a film and a TV series.
In 1979, Alex Cohen and his wife, Hildy Parks, took Dick and me to dinner at The Four Seasons and Alex said to Dick, 'How would you feel about writing a score for I REMEMBER MAMA with Liv Ullmann playing Mama?' Without a beat Dick said, 'I'll do it!' He was still eager to find something to write for the theatre. I was rather hoping that he would be able to sit back and enjoy his wonderfully successful career in retrospect but I think I really knew that he would only be happy working to the end of his life. The musical version of I REMEMBER MAMA was his last work.
---

Playbill VIP
: 
MAKE YOUR OWN PLAYBILL! Playbill VIP allows you to create your very own Playbill Program. We have provided Playbill with all of the credits, song listings, musical numbers and more so that most of the work is already done for you. Just add your productions details, photos of the cast and share it with all of your friends. Learn more: www.playbillvip.com
---

STANDARD
I REMEMBER MAMA - Orchestration Package (23 Books/27 Players)

1 – FLUTE I (Doubling Piccolo)

1 – FLUTE II (Doubling Piccolo)

1 – OBOE (Doubling English Horn)

1 – CLARINET I

1 – CLARINET II

1 – BASSOON (Doubling Bass Clarinet)

1 – HORN I

1 – HORN II

1 – HORN III

1 – TRUMPET I

1 – TRUMPET II

1 – TROMBONE

1 – TUBA

1 – PERCUSSION (see "Materials Notes", under "Production Information")

1 – VIOLIN A (Divisi)

1 – VIOLIN B (Divisi)

1 – VIOLIN C (Divisi)

1 – VIOLA (Divisi)

1 – CELLO (Divisi)

1 – BASS

1 – HARP

1 – PIANO/CELESTE

1 – PIANO CONDUCTOR SCORE

Rehearsal Set (22 Books)

20 – Libretto-Vocal Books

1 – Logo CD

2 – PIANO CONDUCTOR SCORE

Digital Logo
ADDITIONAL
Libretto/Vocal Books 10 pack

10 – Libretto-Vocal Books

I REMEMBER MAMA - PRE-PRODUCTION PACKAGE

1 – Libretto-Vocal Books

1 – PIANO CONDUCTOR SCORE

PRINCIPALS
2 Women
2 Men
4 Girls
1 Boy
FEATURED
3 Women
2 Men
COMMENTS
Singing-dancing ensemble with some small roles
CHARACTERS
Mama
Papa
Katrin
Christine
Dagmar
Johanna
Nils
Aunt Trina
Aunt Jenny
Aunt Sigrid
Peter Thorkelson
Uncle Chris
Lucy
Dame Sybil Fitzgibbons
McGuire
Arne
Doctor Anderson
Nurse
Seamen
Chorus

I REMEMBER MAMA takes place in San Francisco from the Spring of 1910 through the Summer of 1911.
SPECIFIC LOCATIONS
Kitchen and Dining Room of the Hansen House on Steiner Street
The Hansen Parlor
The Hansen Kitchen
The Hospital
The Hansen Back Porch
Lobby of the Fairmont Hotel
Uncle Chris' Ranch
Materials Notes
STRING NOTE: The original version of I REMEMBER MAMA was scored for two players on each string part with the exception of the Bass
---
PERCUSSION: Trap Set, Timpani, Chimes, Triangle, Bells, Chinese Bell Tree, Suspended Cymbal, Wood Block, Temple, Block, Xylophone, Tambourine
---
Media Rights
*

Currently media rights for I Remember Mama are not available. Please contact customer service with any questions.