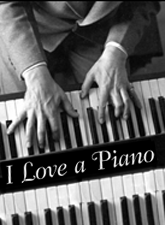 I Love a Piano
Music and Lyrics by
Irving Berlin
| Conceived By Ray Roderick and Michael Berkeley
I LOVE A PIANO is the celebration of the music and lyrics of Irving Berlin. It follows the journey of a piano as it moves in and out of American lives from the turn of the century to the present. Along the way, the story comes to vibrant life with over sixty of Irving Berlin's most beloved songs, including classics such as 'Blue Skies,' 'There's No Business Like Show Business,' 'Puttin' on the Ritz,' 'Cheek to Cheek,' 'Always,' 'How Deep is the Ocean,' 'Anything You Can Do,' 'God Bless America,' and, of course, 'I Love a Piano.' Alternately heartbreaking and hilarious, rousing and reflective, I LOVE A PIANO is a fitting tribute to the man Jerome Kern famously said had 'no place in American music - he is American music.'
Participate in the R&H Online Community.
Leave comments or talk with other fans in the forum!

To request the rights to make merchandise for this show email larisa.borshman@rnh.com.
Fan Info:


"I LOVE A PIANO captures the joy, wit, and nostalgia of Berlin's melting pot ideal."
— Colorado Drama
"You will love I LOVE A PIANO!"
— Showtime Magazine
"Roderick and Berkeley have captured both the astonishing range of Berlin's musical styles and the cleverness of his simple rhymes, which makes it easy to understand why the songwriter remains a national treasure."
— The Boston Globe
"If you're looking for a shot of vibrant good spirits set to Berlin's jazzy masterpieces, I Love a Piano is a powerhouse of delights."
— EDGE Boston

Song #
Song Name
Character Name
Play
Other Versions

I LOVE A PIANO is an enchanting new musical journey spanning seven decades of American history as seen through the perceptive and hopeful eyes of Irving Berlin—a man whom Jerome Kern described by saying "Irving Berlin has no place in American music...He is American Music!"
Using 64 of Berlin's enduring and popular favorites, I LOVE A PIANO captures the spirit of America from the Ragtime rhythms of the early 20th century through the swinging sophistication of the 1920s and 30s. From the sentimental songs that inspired a nation during two World Wars to the innocent optimism of the 1950's. Timeless classics, such as "White Christmas,"God Bless America,"Puttin' On The Ritz," and "There's No Business Like Show Business," do more than define the music of a generation, they define the music of our country.
---

Vocal Range of Characters:


// Photos

---
---
---
---
---
---


Written By: Ray Roderick and Michael Berkeley

I LOVE A PIANO is the celebration of the music and lyrics of Irving Berlin. It follows the journey of a piano as it moves in and out of American lives from the turn-of-the-century to the present. Most people have known and have had some kind of a relationship with a piano in their lifetime. A piano, however, rarely remains in one place for seventy years. It moves. It sees a lot. It brings people together during times in their lives when they are the happiest, saddest, proudest, loneliest, closest, most romantic. This is the story of one piano's experience; of the people it touches; of the lives it shares.
I LOVE A PIANO is a tribute to the man, who, according to Jerome Kern, "...has no place in American music. He is American music."


---

Playbill VIP
: 
MAKE YOUR OWN PLAYBILL! Playbill VIP allows you to create your very own Playbill Program. We have provided Playbill with all of the credits, song listings, musical numbers and more so that most of the work is already done for you. Just add your productions details, photos of the cast and share it with all of your friends. Learn more: www.playbillvip.com
---

STANDARD
I LOVE A PIANO - Orchestration Package (8 Books/8 Players)

1 – PIANO-CONDUCTOR SCORE

1 – DRUMS (see "Materials Notes", under "Production Information")

1 – BASS (Doubles Tuba)

1 – GUITAR (Acoustic Guitar, Banjo, Ukulele)

1 – TROMBONE

1 – TRUMPET

1 – REED (Clarinet, Tenor Sax, Flute, Piccolo)

1 – VIOLIN

Rehearsal Set (12 Books)

10 – Libretto-Vocal Book

1 – Logo CD

2 – PIANO-CONDUCTOR SCORE
ADDITIONAL
I LOVE A PIANO - PRE-PRODUCTION PACKAGE

1 – Libretto-Vocal Book

1 – PIANO-CONDUCTOR SCORE

Libretto-Vocal 10-pack

PRINCIPALS
3 Men
3 Women
COMMENTS
I LOVE A PIANO requires 6 triple-threat performers. While the cast retain their identities and names throughout the show, they play different characters in different time periods.

I LOVE A PIANO requires a unit set, with one main prop - an early 20th century piano. The original production of the show relied heavily on the use of projections to set the scenes though subsequent productions have been equally effective without the use of slides.
Materials Notes
Traps, Train Whistles, Castanets, Wood Block, Triangle, Siren Whistle, Police Whistle, Glock, Mark Tree, Cow Bell, Whistle, Shaker, Sand Blocks, Timp, Sleigh Bells & Chime [F]
---
Media Rights
Promotional
1. The Promotional Video shall be recorded and shown for the sole purposes of advertising your licensed production of the Play. For such a video, R&H allows theatres to film up to 10 minutes of total footage taken at either a performance or rehearsal (i.e.: 10 minutes of scripted moments.)
2. The Promotional Video may not include more than (i) 1 minute from any song or (ii) 3 minutes, in the aggregate, of footage of copyrighted material from the Play.
3. The Promotional Video may not include any sponsorship or underwriting without the prior consent of all R&H.
4. The Promotional Video must be submitted to R&H by sending the source video and video link to editor@rnh.com.
5. The Promotional Video must include the following: "Rights courtesy of Rodgers & Hammerstein, www.rnh.com"
6. Upon approval by R&H of the Promotional Video, you agree not to make any alterations in the approved copyrighted material used therein and you agree to obtain the prior written approval of R&H for any other use of the Promotional Video not specifically granted herein.
7. Upon termination of the Term, you shall cease to have any rights to use the Promotional Video including, without limitation, in connection with a future production of the Play, and shall immediately remove its content from any and all websites on the Internet.
8. You may not use a commercially available recording.
9. Any additional promotional rights must be approved by R&H by contactingTheatre@rnh.com.
*
Promotional video rights can only be granted once a performance license for I Love a Piano has been secured. Please contact customer service if you have any questions. If you have not yet applied for I Love a Piano, you can do so here. LOG IN to learn more.
---