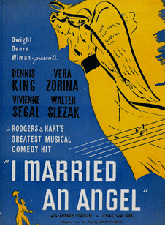 I Married an Angel
When a wealthy banker becomes disillusioned with women and vows that the only woman for him would have to be an angel, it's only a song or two before she comes flying in through the window! He marries her only to discover that angels can sometimes be troublesome, having none of the human failings that allow us mere mortals to tolerate one another. Her inability to be in any way dishonest results in her alienating everyone, from the banker's biggest depositor to society's grand dame. Through some side-splitting shenanigans, Angel is brought down to earth for what is- naturally- a marriage made in heaven.
Participate in the R&H Online Community.
Leave comments or talk with other fans in the forum!

To request the rights to make merchandise for this show email larisa.borshman@rnh.com.
Fan Info:

In 1908, director Joshua Logan was born. He directed and collaborated with Rodgers & Hammerstein on the script for SOUTH PACIFIC, and directed the Broadway premieres of I MARRIED AN ANGEL, BY JUPITER, THIS IS THE ARMY, and ANNIE GET YOUR GUN.

In 1895 Lorenz Milton Hart was born in New York City. In 1918 he was introduced to Richard Rodgers, and they collaborate on twenty six Broadway musicals over the next two decades, including A CONNECTICUT YANKEE (1927), BABES IN ARMS (1937), I MARRIED AN ANGEL (1938), THE BOYS FROM SYRACUSE (1938), PAL JOEY (1940), and BY JUPITER (1942).

In 1938, Rodger & Hart's musical I MARRIED AN ANGEL had its New York premiere at the Shubert Theatre. The show ran for 290 performances.


"It's a lovely idea for a stage musical. Hart's lyrics have verve, wit and a springtime poetry. Rodgers' music is fresh and alive, and the book (by the two of them) is surprisingly urbane and sophisticated."
— New York Post, January 01, 1938
"Glorious Rodgers melodies... We can revisit the topical humor and the wicked double entendre and recall why Lorenz Hart was so good at what he did. And we can relive the joyous thrill of discovering a genuine show-stopping hit in the aforementioned "At the Roxy Music Hall," which is so well-conceived that it scores big even without a corps of Balanchine dancers to help put it over; so funny that you laugh out loud."
— Martin Denton, NYTheatre.com, January 01, 2000

Song #
Song Name
Character Name
Play
Other Versions


Vocal Range of Characters:

// Photos

---
---
---
---


Playbill VIP
: 
MAKE YOUR OWN PLAYBILL! Playbill VIP allows you to create your very own Playbill Program. We have provided Playbill with all of the credits, song listings, musical numbers and more so that most of the work is already done for you. Just add your productions details, photos of the cast and share it with all of your friends. Learn more: www.playbillvip.com
---

STANDARD
I MARRIED AN ANGEL - Orchestration Package (13 Books/12 Players)

2 – PIANO-CONDUCTOR SCORE (Piano-Celesta)

1 – REED I (Piccolo, Flute, Clarinet, Alto Sax)

1 – REED II (Flute, Clarinet, Tenor Sax)

1 – REED III (Clarinet, Bass Clarinet, Tenor Sax)

1 – REED IV (Clarinet, Baritone Sax)

1 – HORN

1 – TRUMPET I

1 – TRUMPET II

1 – TROMBONE

1 – PERCUSSION (see "Materials Notes", under "Production Information")

1 – BASS

1 – HARP

Rehearsal Set (22 Books)

20 – Libretto-Vocal Books

1 – Logo CD

2 – PIANO-CONDUCTOR SCORE (Piano-Celesta)

Digital Logo
ADDITIONAL
Libretto/Vocal Books 10 pack

10 – Libretto-Vocal Books

I MARRIED AN ANGEL - PRE-PRODUCTION PACKAGE

1 – Libretto-Vocal Books

1 – PIANO-CONDUCTOR SCORE (Piano-Celesta)

PRINCIPALS
3 Women
3 Men
FEATURED
10 Women
1 Man
ENSEMBLE
Large singing-dancing ensemble with numerous small roles.
CHARACTERS
Major Domo
Two Guests
Olga Madayn
General Lucash
Guest
Peter Mueller
Count Willy Palaffi
Countess Peggy Palaffi
Anna Murphy
Angel
Justice of Peace
Valet de Chambre
Femme de Chambre
Modiste
1st Vendeuse
2nd Vendeuse
Harry Mischka Szigetti
Duchess of Holstein-Kuhhoff
1st Clerk
2nd Clerk
1st Stenographer
2nd Stenographer
Lucinda
Clarinda
Philomena
Rosalina
Seronella
Arabella
Florabella
Premier Danseur

I MARRIED AN ANGEL takes place in various locations in Geneva and Paris.
SPECIFIC LOCATIONS
Chez Valerie
Outside Chez Valerie
The Study at the Perrin Mansion
Bedroom in a Paris Hotel
The Office of the Bank
The Study at the Perrin Mansion
Angel's Boudoir
Materials Notes
Trap Set, Timpani, Wood Block, Bells, Triangle, Bongos
---
Media Rights
*

Currently media rights for I Married an Angel are not available. Please contact customer service with any questions.