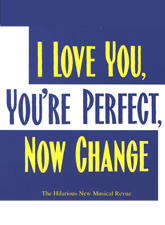 I Love You, You're Perfect, Now Change
This celebration of the mating game takes on the truths and myths behind that contemporary conundrum know as 'the relationship.' Act I explores the journey from dating and waiting to love and marriage, while Act II reveals the agonies and triumphs of in-laws and newborns, trips in the family car and pick-up techniques of the geriatric set. This hilarious revue pays tribute to those who have loved and lost, to those who have fallen on their face at the portal of romance, to those who have dared to ask, 'Say, what are you doing Saturday night?'
For the 2018 updated version of I LOVE YOU, YOU'RE PERFECT, NOW CHANGE: Click Here
Participate in the R&H Online Community.
Leave comments or talk with other fans in the forum!

To request the rights to make merchandise for this show email [email protected].
Fan Info:

In 2008 the musical I Love You, You're Perfect, Now Change closed after twelve years off-Broadway, where it ran for 5,003 performances.

In 1996 the musical I LOVE YOU, YOU'RE PERFECT, NOW CHANGE opened off-Broadway at the Westside Theatre, where it ran for 5,003 performances.



Song #
Song Name
Character Name
Play
Other Versions

In a theatrical age of mammoth spectacles and brooding musical dramas, I LOVE YOU, YOU'RE PERFECT, NOW CHANGE is a rollicking throwback to a nearly extinct theatrical genre: the musical comedy revue. With book and lyrics by Joe DiPietro and music by Jimmy Roberts, I LOVE YOU... reinvigorates the revue by taking a hilarious and tuneful joyride through the dizzying spectrum of modern male-female relationships.
In 1995, I LOVE YOU... premiered at New Jersey's American Stage Company, where, in the middle of one early performance, a woman in the audience couldn't help but blurt out, "This is my life!" From that moment on, the creators knew they were on to something. The following season, I LOVE YOU...moved to New Haven's Long Wharf Theater, and then on August 1st, 1996, I LOVE YOU... opened off-Broadway at The Westside Theater, where it was hailed as "Entirely winning! A show for real people about real people." (Gannett Newspapers).
I LOVE YOU, YOU'RE PERFECT, NOW CHANGE has been playing for over 4,000 performances and 10 years since it opened in 1996 to become the second longest running show and longest running revue in Off-Broadway history. The musical has been showcased in more than 250 cities world-wide including London, Tel Aviv, Amsterdam, Sydney, Seoul, Rio de Janeiro and Johannesburg. In addition to its enormous success, the Off-Broadway production has been the site of 50 marriage proposals.
- From the liner notes of I LOVE YOU, YOU'RE PERFECT, NOW CHANGE
---

Carbonell Awards (South Florida)
January 01, 1999 — 3 Awards including Best Production of a Musical

Vocal Range of Characters:


// Photos

---
---
---
---
---
---


Written By: Joe DiPietro

A Few Words on the Playing Style –
Whenever I tell people I wrote a new play, the first question always is, "Well, what's it about?"ť  With I LOVE YOU, YOU'RE PERFECT, NOW CHANGE, my answer is simple – "People trying to connect."ť  During the initial productions of the piece, the creative team never lost sight of this dictum.  As irreverent and satirical as much of the humor is, we always felt what made the show such  success was the underlying sense of compassion we had for every character.  "A Stud and a Babe"ť is probably the broadest bit in the show, but at the core of the situation are two lonely people who desperately want to attract one another.  The difference between playing these characters merely as two losers (and not as two people who happen to be losers) is the difference between a comic scene that's merely fun to watch and one that most of us can also relate to on some level.  As a matter of fact, nothing in the play was written to be performed as straight satire – it's all intended to be played for the truth of the situation.  If "Always a Bridesmaid," for example, is performed as a send-up of country music, its effect is rather minimal.  But if it's sung as a woman's lament that happens to be in the form of a country-western song, the truth (and humor) of the situation will emerge.  Now don't get me wrong.  The play is first and foremost a musical comedy.  Make it as funny as you possibly can.  Just don't forget to make it human too.
---
Composer Jimmy Roberts's Off-Broadway Closing Night Speech
The Westside Theatre, New York, NY
July 27, 2008
I'm Jimmy Roberts, the composer of the music for
I Love You, You're Perfect, Now Change
—and how lucky we are, we chosen 300 or so, to be here, all of us, audience and actors—to be gathered in this former church, this house of worship—to experience this milestone together, as one body.
It was always an unlikely show, an unlikely addition to the hip New York musical theater scene: the overly-long title, its seeming reliance on truisms about dating and marriage, its focus on boring heterosexuals. But some saw more in it: a universality that quickly establishes a sweet relationship between the audience and the material—wherein they are tickled at times, touched at other times—and always recognize themselves, to their own laughter and delight.
One of those far-seeing oracles was James Vagias, then the artistic director of the American Stage Company in Teaneck, NJ, who gave us our first production in 1995. Then, out of nowhere, the prestigious and edgy Long Wharf Theatre, in New Haven, CT, expressed some interest. I once quipped, and it may not be far from the truth, that a Long Wharf board member traveled down to Jersey to see the show and reported back that it was "extremely entertaining"—and then I somehow imagined the entire Long Wharf board convening and deciding "Well, let's do it anyway!"
It was really a boon when we snagged the lovely Westside Theatre, I mean the much sought-after
upstairs
Westside Theatre, to finally make our New York debut in 1996. But, back to the "unlikely" theme, the slot they gave us was for the shank of the summer; hot, muggy August, when everyone, including the press, is away—traditionally the worst time to bring in a new show. In fact, I was told that the theater management said, "We'll let 'em run through the Jewish Holidays, then that'll be it!" (That's how business is negotiated in New York City!)
Well, that was the Rosh Hashanah of 5756—now it is 5768, so I guess we definitely ran through the Jewish Holidays. Many of them.
12 Years; 5,001 performances; there are plenty of numbers to joyfully cite:
Over 55 marriage proposals, from audience members, on this very stage—because the public sensed that this was a show that was NOT entirely cynical about the possibility of people connecting with other people.
And then there's the number 11. In the scene, A Stud and a Babe, as you all observed this afternoon, the "babe" in a desperate conversational gambit, offers up the unusual fact that her brother has 11 toes. Well, it turns out that a regional production of our show boasted a male understudy who…yes….actually had 11 toes—which he proudly displayed, upon request, to our director, Joel Bishoff!
But, when I go deeper, I know it's not at all about the numbers; it's not about the 12 years, or any other statistics—it's about the people. And in particular, the people who day in/day out accomplished those 5,001 performances. I include of course those backstage, as well as that tempestuous and talented musical couple on the balcony who squabble every night during our entr'acte and cadenza—but how about those four actors, who play—what is it?—60 different characters?
Which leads me to thoughts of our much-appreciated Joel Bishoff, who never stopped caring about the upkeep and quality control of our show. Even after moving to California, he made it a point to fly in whenever necessary to give each new cast member (almost without exception) the benefit of his inspiration and guidance. Joel reminded me recently of the particular requirements for an actor in "I Love You, You're Perfect, Now Change." In addition to acting and singing, and acting WHILE singing—we always seek a real "mensch" —and I mean in all four roles, male and female. We search for someone deeply human, and sensitive—not to mention funny and attractive—four vulnerable, genuine performers whom the audience would want to spend two hours with, up close. That's certainly what we have now, with Anne Bobby, Christy Faber, Jonathan Rayson, and Frank Vlastnik—and that's what we've always had. Trust me, if any of you were sitting in with me at our auditions through the years—you'd have known as quickly and clearly as we did, just who the real deals were, and who we HAD to hire. Why did they stand out? Why did they have that extra sparkle? Because in addition to possessing manifold dramatic and musical skills, they were willing and eager to bare and share their truths with a roomful of strangers.
And for me (and I'll close with this thought), my special relationship was a professional one, with the guy whose witty and sometimes piercing observations about ordinary people are what nourish this enterprise. To the public, it's a 12-year run, but for me, that means it's been 18 years of knowing Joe DiPietro.
Tom Jones, bookwriter and lyricist for THE FANTASTICS (the only Off-Broadway musical that has us beat), in his book,
Making Musicals
, talks about finding the right collaborator. He refines it down to this:
"Find someone whose taste in shows is similar to yours. Not taste in art, not taste in clothes, not in lifestyle. But in actual theater experiences. If you consistently find that you are excited, or bored, by the same shows, it is a good sign."
That description fits Joe and me to a "T." We do tend to appreciate the same shows—however our many contrasts and differences also burnish our collaboration. He's stronger in areas where I'm weaker, and, I like to think, vice-versa. In addition, Joe tends to be firm and decisive—and I…um…um… am not!
We're all extremely proud of Joe for what he has already accomplished beyond
I Love You
… and for the great places we know his drive and talent will take him.
But not without the help of those risk-takers, those dreamers, those…producers, who were kind enough to offer an unsurpassable combination: money and artistic freedom! I'm talking of the wise and beloved James Hammerstein—and then the equally essential Jon Pollard, Bernie Kukoff and Dena Hammerstein—all of whom have continued to risk and dream in many subsequent distinguished productions.
It is sad to close—to end—it can't be denied. Especially in theater, because what the actors do is so evanescent. Whether it's one week, or twelve years, it completely disappears every night.
And now we, too, disappear from New York —but there's no time for despair! Yesterday I heard from a small theater in Pacific Palisades, CA where I LOVE YOU, YOU'RE PERFECT, NOW CHANGE was the best-attended and most financially-lucrative production in their history; we just got word that it opens in April 2009 in Sydney, Australia; a friend recently sent a postcard advertising our show in Whitefish, Montana, and on the back he wrote: "I just can't escape you, can I?"
No—you will not escape us that easily. We just keep comin' back. Our studs and babes and Rose Ritzes and Arthurs and Muriels will always be there, ready to share their sorrows and joys with anyone who will listen.
---

AccompanEase
: 
AccompanEase
: This product is a rehearsal tool that allows for unlimited teaching, training and practice of individual vocal parts or dance sequences. Contact Realtime Music Solutions for more information:
www.accompanease.com
, via email:
[email protected]
, or via phone: 212-620-0774.
---
Playbill VIP
: 
MAKE YOUR OWN PLAYBILL! Playbill VIP allows you to create your very own Playbill Program. We have provided Playbill with all of the credits, song listings, musical numbers and more so that most of the work is already done for you. Just add your productions details, photos of the cast and share it with all of your friends. Learn more: www.playbillvip.com
---

STANDARD
Rehearsal Set (13 Books)

10 – Libretto-Vocal Books

1 – Logo CD

1 – VIOLIN

2 – PIANO VOCAL SCORE

Digital Logo
ADDITIONAL
Libretto/Vocal Book

10 – Libretto-Vocal Books

I LOVE YOU - PRE-PRODUCTION PACKAGE

1 – Libretto-Vocal Books

1 – PIANO VOCAL SCORE

I Love You, You're Perfect, Now Change - Bass

PRINCIPALS
2 Women
2 Men
COMMENTS
In the original production, all characters were played by a cast of four. However, each scene in the revue introduces new characters who are not seen again, and therefore it can be cast with virtually as many actors as desired.

I LOVE YOU, YOU'RE PERFECT, NOW CHANGE takes place in various locations.
A unit set on which various pieces of furniture and scenic elements can come and go quickly to suggest various locales such as a restaurant, kitchen, wedding chapel, living room, and 4 swivel chairs representing a car.
Materials Notes
Media Rights
Promotional
1. The Promotional Video shall be recorded and shown for the sole purposes of advertising your licensed production of the Play. For such a video, R&H allows theatres to film up to 10 minutes of total footage taken at either a performance or rehearsal (i.e.: 10 minutes of scripted moments.)
2. The Promotional Video may not include more than (i) 1 minute from any song or (ii) 3 minutes, in the aggregate, of footage of copyrighted material from the Play.
3. The Promotional Video may not include any sponsorship or underwriting without the prior consent of all R&H.
4. The Promotional Video must be submitted to R&H by sending the source video and video link to [email protected]
5. The Promotional Video must include the following: "Rights courtesy of Rodgers & Hammerstein, www.rnh.com"
6. Upon approval by R&H of the Promotional Video, you agree not to make any alterations in the approved copyrighted material used therein and you agree to obtain the prior written approval of R&H for any other use of the Promotional Video not specifically granted herein.
7. Upon termination of the Term, you shall cease to have any rights to use the Promotional Video including, without limitation, in connection with a future production of the Play, and shall immediately remove its content from any and all websites on the Internet.
8. You may not use a commercially available recording.
9. Any additional promotional rights must be approved by R&H by contacting[email protected].
*
Promotional video rights can only be granted once a performance license for I Love You, You're Perfect, Now Change has been secured. Please contact customer service if you have any questions. If you have not yet applied for I Love You, You're Perfect, Now Change, you can do so here. LOG IN to learn more.
---
Archival
1. Subject to the information provided in Licensee's application and payment of the fee as set forth in Paragraph 3 herein, Licensee shall have the right to create a single copy of the Video for internal archival, private viewing purposes at Licensee's address only and shall not be re-copied, distributed or otherwise exploited, in whole or in part, in any media now known or hereafter developed without the prior written approval of R&H. Without limiting the generality of the foregoing, the Video shall not be (i) sold to anyone (ii) telecast by any television station or network, including, without limitation, any local cable station or (iii) distributed, exhibited or otherwise exploited over the Internet or as part of any online auction.
2. Licensee agrees to include the following language at the beginning of the Video:
©Year By R&H Theatricals. This production was videotaped by special arrangement with R&H Theatricals for archival purposes only. All Rights Reserved.
WARNING: Federal law provides severe civil and criminal penalties for the unauthorized reproduction, distribution or exhibition of copyrighted motion pictures, videotapes or videodiscs. Criminal copyright infringement is investigated by the FBI and may constitute a felony with a maximum penalty of up to five years in prison and/or a $250,000.00 fine.
This Video is provided to you for private, organizational and home viewing purposes only. By accepting the Video, you agree not to authorize or permit the Video to be copied, distributed, broadcast, telecast or otherwise exploited, in whole or in part, in any media now known or hereafter developed.
*
Archival video rights can only be granted once a performance license for I Love You, You're Perfect, Now Change has been secured. Please contact customer service if you have any questions. If you have not yet applied for I Love You, You're Perfect, Now Change, you can do so here. LOG IN to learn more.
---
Banner Ads - Flat Graphics
Format: .JPG
Price: $60.00
Display customized, eye-catching banner ads to promote your production.
Don't worry about reshaping banners to fit different websites: This package already includes 4 standard banner sizes - vertical, horizontal, and rectangular.
Don't worry about optimizing the color format, size and resolution. These files are already optimized for online viewing.
Don't worry about needing a designer to convert static banners into rotating, animated ads. We've taken care of this for you! Text and video instructions are provided to help you animate your ads with ease – using free programs and apps.
Don't worry about needing fancy design programs – these flat .JPG files are ready to use with any free paint or photo editing program. Demos show you how to customize graphics with your theater's text.
Included:
160x600 - Wide Skyscraper
300x250 - Medium Rectangle
468x60 - Full Banner
728x90 – Leaderboard