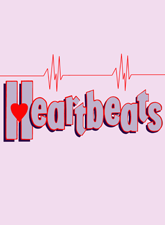 Heartbeats
Annie married Steve on her twentieth birthday- she fell for him the minute they met. Two children and twenty years later, they're still in love...but they've forgotten how to say it. Amanda McBroom, who leapt to the top of the pop charts with the multi-Grammy Award-winning 'The Rose,' has fashioned more than twenty of her songs into a knowing musical portrait of a woman facing her fortieth birthday and twentieth wedding anniversary all in one day. While looking back at her life and wondering if fulfillment hasn't passed her by, this mid-Western housewife is on the verge of discovering a new definition for happiness. Informed by tremendous humor and insight, this contemporary musical contemplates and illuminates the age-old conundrum known as 'self discovery.'
Participate in the R&H Online Community.
Leave comments or talk with other fans in the forum!

To request the rights to make merchandise for this show email [email protected].
Fan Info:

The birthday of composer Craig Safan, who contributed music to the musical HEARTBEATS.


"If you find yourself growing weary of dissonant chords and angst-ridden plotlines, HEARTBEATS is the show for you! A good-humored, intimate musical with universal import."
— Los Angeles Drama- Logue
"Accessible...real commercial possibilities...the characters launch into one stirring number after another."
— Variety, January 01, 1993

Song #
Song Name
Character Name
Play
Other Versions


Vocal Range of Characters:

// Photos

---
---
---
---
---
---
---
---


Written By: Amanda McBroom

I write stories about the lives of myself, my friends, and people I read about in various media formats. People's lives sing to me, and I set them down on paper. That, to me, is real life. I am always delighted and amazed by how people from many different walks of life seem to identify with my music. It just proves to me that though we may live thousands of miles apart, our hearts and souls are very much the same.
Sorrow is a color in everyone's rainbow. Stronger in some than others. Necessary to all. I feel music, in almost any form, is one of the great healing powers on the planet...at the most cellular level. I am honored if some of my music touches and lightens anyone's heart.
How do I explain my success? Luck, of course. And, I guess, the ability to exchange feelings with others in a simple, clear way. Someone told me I let people know we all feel the same way about certain things, and there is great comfort in knowing you are not alone.
---

Playbill VIP
: 
MAKE YOUR OWN PLAYBILL! Playbill VIP allows you to create your very own Playbill Program. We have provided Playbill with all of the credits, song listings, musical numbers and more so that most of the work is already done for you. Just add your productions details, photos of the cast and share it with all of your friends. Learn more: www.playbillvip.com
---

STANDARD
HEARTBEATS - Orchestration Package (5 Books/5 Players)

1 – KEYBOARD I/CONDUCTOR SCORE

1 – KEYBOARD II (Synthesizer)

1 – GUITAR (Electric, Acoustic)

1 – BASS (Electric, Acoustic)

1 – DRUMS (Traps)

1 – Errata Sheet

Rehearsal Set (12 Books)

10 – Libretto-Vocal Books

1 – Logo CD

2 – KEYBOARD I/CONDUCTOR SCORE

Digital Logo
ADDITIONAL
Libretto/Vocal Book 10 pack
Pre-Production Package

1 – KEYBOARD I/CONDUCTOR SCORE

1 – Libretto-Vocal Books

PRINCIPALS
1 Woman
1 Man
FEATURED
2 Women
2 Men
CHARACTERS
Annie - A nice, attractive middle-class woman facing the crisis of her fortieth birthday. She's energetic, smart, relatively happy, and stuck in a marriage that's grinding to a halt.
Steve - Annie's husband, a nice, attractive, totally masculine blue-collar American male in his forties, who is being dragged into a marital crisis he never saw coming.
Woman #1 - Twenty-ish, she plays Annie as a young woman; Jennifer, Annie's daughter, and others.
Woman #2 - She plays Annie's best friend; a salty, no-nonsense, sexy woman from Texas with a good sense of humor, and others.
Man #1 - Twenty-ish, he plays Steve as a young man, and others.
Man #2 - In his late twenties and quite handsome, he plays Annie's son Jeff, the Waiter, and others.

Most of HEARBEATS takes place in Annie and Steve's home - a pleasant, middle class house somewhere on the outskirts of a Mid-Western town. The remaining locations can be suggested by bits of furniture and appliances.
SPECIFIC LOCATIONS
The kitchen of a pleasant, middle-class house
In front of the TV in the Living Room
A grocery store
A Chippendale's-like nightclub
A quiet neighborhood bar
Materials Notes
Media Rights
*

Currently media rights for Heartbeats are not available. Please contact customer service with any questions.