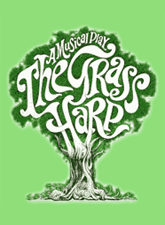 The Grass Harp
Book and Lyrics by Kenward Elmslie | Music by
Claibe Richardson
| Based on the novel by Truman Capote
This 1971 musical has long been considered among enthusiasts as one of the lost treasures of the musical theater. Kept alive largely thanks to the extraordinary cast recording featuring an incandescent Barbara Cook, THE GRASS HARP is an intimate tale of fascinating characters carried on the wings of a ravishing score. The title refers to the wind rustling though fields of tall grass - 'a harp of voices telling stories.' This story tells of Dollyheart, a sweet-natured spinster with a secret receipe for an elixir cure, and her demanding sister, Verena, who is determined to exploit the recipe for her own purposes. When tensions rise, Dollyheart leaves her sister's house with their orphaned teenage nephew and black housekeeper in tow to take up residence in a tree house. It isn't long before other outcasts join their extended family including the revivalist Babylove and the children who comprise her Miracle Show, and the dearly eccentric Judge Cool. The deep emotional currents of these shifting relationships lead to an uplifting, compelling reconciliation. THE GRASS HARP is a Broadway cult favorite and anyone who has experienced its emotional tug and exhilarating score easily understands why.
Participate in the R&H Online Community.
Leave comments or talk with other fans in the forum!

To request the rights to make merchandise for this show email [email protected].
Fan Info:

In 1971, THE GRASS HARP premiered at New York's Martin Beck Theatre.


"A charming little story."
— David Horiuchi, Amazon.com
"One of my most favorite Broadway scores. It is a delightful score with some memorable numbers such as "If There's Love Enough" and the sly "Marry With Me". "Yellow Drum" is especially catchy and downright hummable."
— Richard Connema, TalkinBroadway.com, January 01, 2003

Song #
Song Name
Character Name
Play
Other Versions


Vocal Range of Characters:

// Photos

---
---
---
---
---
---
---
---


Playbill VIP
: 
MAKE YOUR OWN PLAYBILL! Playbill VIP allows you to create your very own Playbill Program. We have provided Playbill with all of the credits, song listings, musical numbers and more so that most of the work is already done for you. Just add your productions details, photos of the cast and share it with all of your friends. Learn more: www.playbillvip.com
---

STANDARD
Rehearsal Set (22 Books)

20 – Libretto/Vocal Books

1 – Logo CD

2 – Piano Conductor Scores

Digital Logo
ADDITIONAL
Libretto/Vocal Books 10 pack

10 – Libretto/Vocal Books

GRASS HARP - PRE-PRODUCTION PACKAGE

1 – Libretto/Vocal Books

1 – Piano Conductor Scores

PRINCIPALS
4 Women
1 Teenage Girl
3 Men
1 Teenage Boy
FEATURED
3 Boys (ages 8-14)
2 Girls (ages 8-14)
CHARACTERS
Dollyheart Talbo - A quirky but feisty woman in her forties.
Verena Talbo - Dollyheart's older sister; a bossy, demanding, self-assured businesswoman.
Collin - The Talbo sisters' teenage nephew.
Catherine Creek - Dollyheart's lifelong companion; a grouchy but practical black woman in her forties.
Judge Cool - A good-natured retired circuit judge in his fifties.
Dr. Morris Ritz - A bombastic, narcissistic drifter.
Maudi Riordan - An extremely pretty, mature teenage girl.
Babylove - A sexy and resilient woman in her thirties.
Sherriff Amos Legrand - An unkempt and paranoid man in his thirties.
The Heavenly Pride-'n-Joys -Babylove's children, ranging in age from eight to fourteen:
Burmashave - The oldest, a son.
Dr. Pepper - The next-to-oldest, a son.
Dixiecup - Gangly and shy, a daughter.
Bubber Texaco - Wears glasses, a son.
Juicyfruit - The youngest and shortest, a daughter.

THE GRASS HARP takes place in various locations in and on the outskirts of Joy City, a Southern town.
SPECIFIC LOCATIONS
The Talbo Backyard in Joy City
The Talbo House
A Tree-House in River Woods
The Front Entrance of the Joy City Jail
Phil's Café
Verena's Office
Joy City Jail - inside the pokey
Materials Notes
There is no Orchestration available.
---
Media Rights
Promotional
1. The Promotional Video shall be recorded and shown for the sole purposes of advertising your licensed production of the Play. For such a video, R&H allows theatres to film up to 10 minutes of total footage taken at either a performance or rehearsal (i.e.: 10 minutes of scripted moments.)
2. The Promotional Video may not include more than (i) 1 minute from any song or (ii) 3 minutes, in the aggregate, of footage of copyrighted material from the Play.
3. The Promotional Video may not include any sponsorship or underwriting without the prior consent of all R&H.
4. The Promotional Video must be submitted to R&H by sending the source video and video link to [email protected]
5. The Promotional Video must include the following: "Rights courtesy of Rodgers & Hammerstein, www.rnh.com"
6. Upon approval by R&H of the Promotional Video, you agree not to make any alterations in the approved copyrighted material used therein and you agree to obtain the prior written approval of R&H for any other use of the Promotional Video not specifically granted herein.
7. Upon termination of the Term, you shall cease to have any rights to use the Promotional Video including, without limitation, in connection with a future production of the Play, and shall immediately remove its content from any and all websites on the Internet.
8. You may not use a commercially available recording.
9. Any additional promotional rights must be approved by R&H by contacting[email protected].
*
Promotional video rights can only be granted once a performance license for The Grass Harp has been secured. Please contact customer service if you have any questions. If you have not yet applied for The Grass Harp, you can do so here. LOG IN to learn more.
---
Archival
1. Subject to the information provided in Licensee's application and payment of the fee as set forth in Paragraph 3 herein, Licensee shall have the right to create a single copy of the Video for internal archival, private viewing purposes at Licensee's address only and shall not be re-copied, distributed or otherwise exploited, in whole or in part, in any media now known or hereafter developed without the prior written approval of R&H. Without limiting the generality of the foregoing, the Video shall not be (i) sold to anyone (ii) telecast by any television station or network, including, without limitation, any local cable station or (iii) distributed, exhibited or otherwise exploited over the Internet or as part of any online auction.
2. Licensee agrees to include the following language at the beginning of the Video:
©Year By R&H Theatricals. This production was videotaped by special arrangement with R&H Theatricals for archival purposes only. All Rights Reserved.
WARNING: Federal law provides severe civil and criminal penalties for the unauthorized reproduction, distribution or exhibition of copyrighted motion pictures, videotapes or videodiscs. Criminal copyright infringement is investigated by the FBI and may constitute a felony with a maximum penalty of up to five years in prison and/or a $250,000.00 fine.
This Video is provided to you for private, organizational and home viewing purposes only. By accepting the Video, you agree not to authorize or permit the Video to be copied, distributed, broadcast, telecast or otherwise exploited, in whole or in part, in any media now known or hereafter developed.
*

You must be logged in and licensed to present The Grass Harp in order to license Archival rights. Please contact customer service with any questions.
---