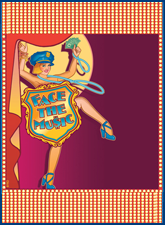 Face the Music
Originally presented on Broadway by the legendary Sam Harris, FACE THE MUSIC opened at the New Amsterdam Theater on February 17, 1932, and ran for 165 performances, before touring and then returning to Broadway's Forty-Fourth Street Theater. Sharply satirical, its humor both timely and timeless, FACE THE MUSIC combined a piquant Moss Hart script with a superlative Irving Berlin score that featured such soon-to-be standards as "Let's Have Another Cup Of Coffee," "Soft Lights And Sweet Music," the ground-breaking "Manhattan Madness," and the utterly unique "I Say Its Spinach (And The Hell With It)." After lying dormant for nearly seven decades, FACE THE MUSIC was lovingly and painstakingly restored by a team of musical archivists led by R&H Director of Music Bruce Pomahac. With an adaptation by David Ives, direction by John Rando and choreography by Randy Skinner, FACE THE MUSIC proved to be the discovery of the 14th season of City Center's Encores!: Great American Musicals in Concert.
Participate in the R&H Online Community.
Leave comments or talk with other fans in the forum!

To request the rights to make merchandise for this show email [email protected].
Fan Info:

In 1932, FACE THE MUSIC opened in New York. The score included Irving Berlin's songs "Let's Have Another Cup of Coffee, "" ""Manhattan Madness,"" and ""Soft Lights and Sweet Music."""

In 1904, Moss Hart was born; playwright, director, and producer. Hart collaborated with Irving Berlin on the shows FACE THE MUSIC and AS THOUSANDS CHEER, created LADY IN THE DARK with Ira Gershwin and Kurt Weill, and also worked with Lorenz Hart and Richard Rodgers on the musical satire I'D RATHER BE RIGHT.



Song #
Song Name
Character Name
Play
Other Versions


Vocal Range of Characters:


// Photos



Playbill VIP
: 
MAKE YOUR OWN PLAYBILL! Playbill VIP allows you to create your very own Playbill Program. We have provided Playbill with all of the credits, song listings, musical numbers and more so that most of the work is already done for you. Just add your productions details, photos of the cast and share it with all of your friends. Learn more: www.playbillvip.com
---

STANDARD
Rehearsal Set

1 – Logo CD

20 – Vocal Book

2 – Piano Vocal Score

Digital Logo

FACE THE MUSIC - Orchestration (22 Books/26 Players)

1 – Reed I

1 – Reed II

1 – Reed III

1 – Reed IV

1 – Reed V

1 – Trumpet I

1 – Trumpet III

1 – Trombone

1 – Guitar-Banjo

1 – Piano

1 – Drums

1 – Percussion

1 – Violin I

1 – Violin II

1 – Violin III

1 – Violin IV

1 – Viola

1 – Cello

1 – Bass

1 – Full Score, Act I

1 – Full Score, Act II

1 – Trumpet II
ADDITIONAL
Pre-Production Pack

1 – LIBRETTO-VOCAL

1 – Piano Vocal Score

LIbretto-Vocal 10 PACK

PRINCIPALS
3 Women
4 Men
FEATURED
1 Woman
2 Men
ENSEMBLE
A singing, dancing ensemble with many small roles.
CHARACTERS
Hal Reisman - a Broadway producer
Kit Baker – a musical comedy actress
Pat Mason – a musical comedy actor
Mrs. Myrtle Meshbesher – a rich socialite
Martin Van Buren Meshbesher – the Police Chief
O'Rourke – a policeman
Joe Malarkey – part of a "genu-wine, A-number-one comical dancing team"
Pickles Crouse – the other part of a "genu-wine, A-number-one comical dancing team"
Streetwalker – a woman who wants to sing a torch song
Rodney St. Clair – a sensational baritone
ENSEMBLE
(in order of appearance):
Gentleman
Doorman
First Society Lady
Second Society Lady
Cartier Manager
Bergdorf Manager
Elizabeth Arden Manager
Page Boys
Depressed Man
Uncle Sam
Policemen
First Actor
Second Actor
The Pratt Sisters
Booking Agent (Lou Shurr)
Costumer
Stenographer
Mailman
Louis
Rivington
Reporter
Stage Manager
Chorus Girl
First Bum
Second Bum
Federal Investigator (Agent Jones)
Hotel Detective
Two Newboys
Clerk
Judge
Prosecutor
Defense Attorney

FACE THE MUSIC takes place in various locations in New York City, 1932.
SPECIFIC LOCATIONS
The Automat, 47th and Broadway
Fifth Avenue
Mr. Meshbesher's Office in the Empire State Building
All Over Town
Hal Reisman's Office, in front of the Palace Theatre
The Meshbeshers' Roof Terrace
Onstage at the Theatre
The Ballroom at Central Park Casino
The Police Station
Outside The Theatre
A Bench in Bryant Park
A Speakeasy in the Fifties
Times Square
A Swanky Resort
The Federal Courthouse
Materials Notes
Media Rights
Promotional
1. The Promotional Video shall be recorded and shown for the sole purposes of advertising your licensed production of the Play. For such a video, R&H allows theatres to film up to 10 minutes of total footage taken at either a performance or rehearsal (i.e.: 10 minutes of scripted moments.)
2. The Promotional Video may not include more than (i) 1 minute from any song or (ii) 3 minutes, in the aggregate, of footage of copyrighted material from the Play.
3. The Promotional Video may not include any sponsorship or underwriting without the prior consent of all R&H.
4. The Promotional Video must be submitted to R&H by sending the source video and video link to [email protected]
5. The Promotional Video must include the following: "Rights courtesy of Rodgers & Hammerstein, www.rnh.com"
6. Upon approval by R&H of the Promotional Video, you agree not to make any alterations in the approved copyrighted material used therein and you agree to obtain the prior written approval of R&H for any other use of the Promotional Video not specifically granted herein.
7. Upon termination of the Term, you shall cease to have any rights to use the Promotional Video including, without limitation, in connection with a future production of the Play, and shall immediately remove its content from any and all websites on the Internet.
8. You may not use a commercially available recording.
9. Any additional promotional rights must be approved by R&H by contacting[email protected].
*
Promotional video rights can only be granted once a performance license for Face the Music has been secured. Please contact customer service if you have any questions. If you have not yet applied for Face the Music, you can do so here. LOG IN to learn more.
---