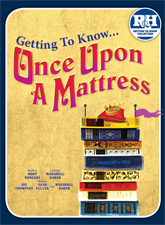 Getting to Know... Once Upon A Mattress
The Getting To Know Series: Uniquely adapted musicals specifically for youth performers. If you thought you knew the story of 'The Princess and The Pea,' you may be in for a walloping surprise! Did you know, for instance, that Princess Winnifred actually swam the moat to reach Prince Dauntless the Drab? Or that it may not have been the pea at all that caused the princess a sleepless night? Carried on a wave of beguiling songs, by turns hilarious and raucous, romantic and melodic, this rollicking spin on the familiar classic of royal courtship and comeuppance provides for some side-splitting shenanigans. Chances are, you'll never look at fairy tales quite the same way again. In this adaptation for pre-high school students, the content has been edited to better suit younger attention spans, but all the elements that make this show a classic are still in place. You and your students will be enchanted by the timeless story and the dazzling score, while at the same time learning about theater and its production.
Participate in the R&H Online Community.
Leave comments or talk with other fans in the forum!

To request the rights to make merchandise for this show email [email protected].
Fan Info:




Song #
Song Name
Character Name
Play
Other Versions


Vocal Range of Characters:
| | | | |
| --- | --- | --- | --- |
| Name | Vocal Type | Low Note | High Note |
| | | | |
| --- | --- | --- | --- |
| Princess Winnifred | the Woebegone | Mezzo-Soprano | Ab |
| | | | |
| --- | --- | --- | --- |
| Prince Dauntless | the Drab | Baritone | A |
This role can be played by a male or female actor.
This role can be played by a male or female actor.
| | | | |
| --- | --- | --- | --- |
| 1st Knight | Please select type | C# | G# |
| | | | |
| --- | --- | --- | --- |
| 2nd Knight | Please select type | E | B |
| | | | |
| --- | --- | --- | --- |
| 3rd Knight | Please select type | C# | C# |
Vocal Range notes for Getting to Know... Once Upon A Mattress:


// Photos




STANDARD
1 – Accompaniment Tracks (CD)

1 – Digital Resources Disc (CD)

1 – Digital Resources Download

1 – Guide to Choreography & Staging (DVD)

1 – Production Guide

1 – Vocal Tracks (CD)

30 – Student Script

1 – Piano Vocal Score

GTK ONCE UPON A MATTRESS-Student Script 10
ADDITIONAL
GTK ONCE UPON A MATTRESS-Libretto-Vocal 10 Pack
GTK ONCE UPON A MATTRESS-

1 – Piano Vocal Score

1 – Student Script

GTK ONCE UPON A MATTRESS-Libretti-Vocal 10 Pack

CHARACTERS
(in order of appearance)
Prince Dauntless the Drab
Minstrel
Jester
Queen Aggravain
King
Princess #12
Lady Larken
Wizard
Lucille
Rowena
Sir Harry
Princess Winnifred the Woebegone
1st Knight
2nd Knight
3rd Knight
Beatrice
Harold
Knights
Ladies-in-Waiting
Chorus

ONCE UPON A MATTRESS takes place many moons ago, in a far-off place. However, it requires only a simple set and some props and small set pieces to suggest the three different locations.
SPECIFIC LOCATIONS
The Grand Hall in the Castle
A Corridor in the Castle
Winnifred's Bedchamber
Materials Notes
Special Feature: Instant Digital Downloads
Once you have been approved for a license, you will receive an email from the Rodgers & Hammerstein organization welcoming you to the Getting To Know family. This email will include a download link for the following digital resources:
Audition-ready materials, including ready-to-print, show-specific audition music, scenes, and even specially created audition accompaniment tracks (Audition accompanist optional!)
Show specific information, including a music cue sheet, props list, scene-by-scene set breakdown, a list of costumes by character, and official show artwork
A digital copy of the Production Guide, which you can use on your tablets and mobile devices
A complete set of Vocal Tracks for the show - start your rehearsals now!
By accessing these digital resources, you can begin the process of planning your show, and even hold auditions, prior to receiving your printed Production Pack. No more waiting for your show materials to arrive!
New Production Pack Resources:
iTheatrics built on the strength of the original G2K resources and brought them up to date with the best practices from the field. Materials are streamlined and consist of:
Production Guide
Student Scripts
Piano/Vocal Score
Accompaniment and Vocal Tracks
Guide to Choreography and Staging DVD
Digital Resources Disc.
This means fewer physical books for you to carry. It also means that the resources you need most in rehearsals like Vocal Tracks and the Production Guide can be uploaded onto your mobile device. Forgot your Production Guide? No worries, you can now access it on your iPad. This is an industry first, and something that will make putting on a show with young people even better!
---
Media Rights
*

Currently media rights for Getting to Know... Once Upon A Mattress are not available. Please contact customer service with any questions.