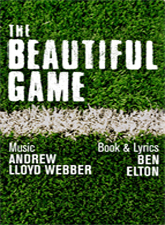 The Beautiful Game
THE BEAUTIFUL GAME is no longer available to license through R&H Theatricals. Please visit www.themusicalcompany.com to license all Andrew Lloyd Webber shows.
Participate in the R&H Online Community.
Leave comments or talk with other fans in the forum!

To request the rights to make merchandise for this show email larisa.borshman@rnh.com.
Fan Info:



Song #
Song Name
Character Name
Play
Other Versions


Vocal Range of Characters:


// Photos




STANDARD
THE BEAUTIFUL GAME - Orchestration

1 – Bass Guitar

1 – Drums

1 – THE BEAUTIFUL GAME - Full Score

1 – Guitar

1 – Keyboard 1

1 – Keyboard 2

1 – Keyboard 3

1 – Percussion

1 – Violin

1 – Woodwind
ADDITIONAL
THE BEAUTIFUL GAME - Libretto Vocal 10-Pack
THE BEAUTIFUL GAME - Pre-Production Pack

1 – Piano Vocal

1 – Libretto Vocal

CHARACTERS
Father O'Donnell
John Kelly
Mary McGuire
Thomas Malloy
Daniel Gillen
Bernadette
Gregory O'Shaugnessy
Derek Copeland
Christine Warner
New Announcers
Referee
Unpleasant looking Women x 2
Head Orange Marcher
Woman at the Orange March
Policemen x 2
Prison Guard
Prison Inmates
Men and Women of Belfast x 22 (ish)
Children x 4

THE BEAUTIFUL GAME takes place in Belfast, 1972
Materials Notes
Media Rights
Promotional Video Right
1. The Promotional Video shall be recorded and shown for the sole purposes of advertising your licensed production of the Play.
2. The Promotional Video may not include more than (i) 1 minute from any song or (ii) 3 minutes, in the aggregate, of footage of copyrighted material from the Play.
3. With respect to advertising on YouTube, you may only produce one (1) Promotional Video.
4. The Promotional Video may not include any sponsorship or underwriting without the prior consent of all R&H.
5. The Promotional Video must be submitted to R&H by sending the source video and video link to editor@rnh.com.
6. The Promotional Video must include the following: "Rights courtesy of Rodgers & Hammerstein, www.rnh.com"
7. Upon approval by R&H of the Promotional Video, you agree not to make any alterations in the approved copyrighted material used therein and you agree to obtain the prior written approval of R&H for any other use of the Promotional Video not specifically granted herein.
8. In the event you shall breach any of the provisions set forth herein, the rights herein granted to you shall automatically terminate, without prejudice to our right to recover damages and obtain such other relief as we may be entitled to including, without limitation, a penalty of not less than $600.00 for each such occurrence.
9. Upon termination of the Term, you shall cease to have any rights to use the Promotional Video including, without limitation, in connection with a future production of the Play, and shall immediately remove its content from any and all websites on the Internet.
10. You may not use a commercially available recording.
11. Any additional promotional rights must be approved by R&H by contacting Theatre@rnh.com.
*
Promotional Video Right video rights can only be granted once a performance license for The Beautiful Game has been secured. Please contact customer service if you have any questions. If you have not yet applied for The Beautiful Game, you can do so here. LOG IN to learn more.
---