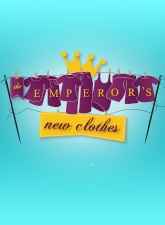 The Emperor's New Clothes
The frivolously fashionable Emperor and his opinionated daughter Sam just can't get along. But with the help of some colorful characters and not-so-colorful threads, the two come to see themselves—and appreciate each other—for the first time. This family musical based on the classic Hans Christian Andersen fairy tale promises to warm the hearts of children and adults alike!

Suggested Audience Age Range: Ages 5 and Up
Running Time: 1 hour, 15 minutes; No Intermission
Participate in the R&H Online Community.
Leave comments or talk with other fans in the forum!

To request the rights to make merchandise for this show email [email protected].
Fan Info:




"The Emperor's New Clothes is far and away the most successful of Chicago Shakespeare Theater's annual summer projects to draw in the thousands of families who visit Navy Pier. You'd be crazy to take your family or guests to Navy Pier this summer without seeing this show… Trust me, it's the best thing there. And the show skews slightly older than you might be thinking. Given all the kid-power tech in the show and the irreverence of the style, 'tweens sick of Miley Cyrus will have a great time. And if you appreciate new musicals of quality, no kid is required to attend. Young Alan Schmuckler will, mark my words, be a major Broadway composer. With the Great White Way littered with songwriters who keep trying and failing to set an audience's toes tapping, Schmuckler's particular talents could, to put it mildly, profitably fill a need. And if seeing for yourself is preferable to marking my words, you need only trot over to Navy Pier, where you will be treated to a veritable cascade of musical numbers that manage to be fresh, catchy and complex."
— Chicago Tribune, January 01, 1970
"New spin keeps The Emperor's New Clothes popping. In their newly imagined 75-minute family musical, now at the Chicago Shakespeare Theater, composer-lyricist Alan Schmuckler (who did such a beguiling job with How Can You Run With a Shell on Your Back?) and writer David Holstein have devised a wonderfully zesty hybrid of Andersen's fairy tale. Sophisticated enough for any adult, the show also contains just enough goofy vaudeville to entertain 10-year-olds."
— Chicago Sun-Times, January 01, 1970
"Well-timed physical comedy, bright costumes and fun melodies engage young children, while the snarky lyrics and subtext will keep adults laughing."
— Chicago Parent, January 01, 1970
"This update of Hans Christian Andersen, smartly directed and choreographed by Rachel Rockwell, sports a book by David Holstein that holds comic appeal for kids and adults alike; rising composer Alan Schmuckler provides a clever, winning score. The eight-member cast is uniformly terrific."
— TimeOut Chicago, January 01, 1970
"Catchy tunes, eye-popping costumes, a magnificent fairyland set, a roly-poly jovial emperor with a pleasantly booming voice in the person of Don Forston—they're all part of The Emperor's New Clothes. the show fills a gap that theater rarely fills, appealing to teens and pre-teens with over a dozen jaunty songs and lyrics straight out of 21st-century jargon. Adults will appreciate the tongue-in-cheek references to the angst issues of our time. Oh what fun everyone will have in this fast-paced, delightfully updated version of this classic tale with music and lyrics created by Alan Schmuckler…"
— The Beverly Review, January 01, 1970
"This show modernizes the classic Hans Christian Andersen fable, adding the spark and flare it needs to be a hit! All of the elements of this wonderfully silly play make it enjoyable for adults and children alike. It will have your foot tapping the entire time."
— Cheeky Chicago, January 01, 1970
"The songs, composed by Alan Schmuckler, are energetic and help the younger children in particular to engage with the storyline. … There are enough new twists to this old story to make it fresh no matter how many times you've heard it."
— Examiner.com Chicago, January 01, 1970

Song #
Song Name
Character Name
Play
Other Versions


Vocal Range of Characters:


// Photos




STANDARD
THE EMPEROR'S NEW CLOTHES - Rehearsal Set

10 – Libretto Vocal

2 – Piano Conductor

THE EMPEROR'S NEW CLOTHES - Orchestration (5 Books/5 Players)

1 – Reed I (Tenor Sax, Bari Sax, Clarinet, Bass Clarinet, Flute)

1 – Reed II (Alto Sax, Clarinet, Soprano Sax, Flute, Piccolo)

1 – Bass (Acoustic)

1 – Drums (Standard Kit, Bells, Bodhran, Woodblocks, Xylophone)

1 – Piano Conductor
ADDITIONAL
THE EMPEROR'S NEW CLOTHES - Libretto Vocal 10 Pack
THE EMPEROR'S NEW CLOTHES - Pre-Production Pack

1 – Libretto Vocal

1 – Piano Conductor

PRINCIPALS
5 Men
2 Women
CHARACTERS
The Emperor
Kimberly
Mama
Sam
Lord Vince
Oversecretary/Ensemble
Undersecretary/Ensemble
Intersecretary/Ensemble

THE EMPEROR'S NEW CLOTHES takes place in the Kingdom of New Patagonia.
Scene 1: The Kingdom of New Patagonia
Scene 2: The Emperor's Chambers
Scene 3: A Poor Tailor's Shop
Scene 4: The Emperor's Shoe Closet (Sam's Old Room)
Scene 5: The Emperor's Throne Room
Scene 6: The Emperor's Chambers
Scene 7: The Tailor Shop
Scene 8: The Emperor's Chambers/Cemetery
Scene 9: A Hallway Outside Sam's Room
Scene 10: The Shoe Closet
Scene 11: Emperor's Day
Materials Notes
Accompaniment Tracks and Vocal Tracks are available for download from
www.rnh.com/mydownloads
upon booking. 
You may also rent an Orchestra Set for live musicians.
---
Featured News
Theatre for Young Audiences (TYA) Now Available at R&H Theatricals
R&H Theatricals is proud to announce the launch of a new collection of titles for Young Audiences. All of the titles in the Theatre For Young Audiences (TYA) series have a run-time of approximately 60 minutes and are designed for adults to perform for an audience of children.
Read More
Media Rights
Promotional
1. The Promotional Video shall be recorded and shown for the sole purposes of advertising your licensed production of the Play. For such a video, R&H allows theatres to film up to 10 minutes of total footage taken at either a performance or rehearsal (i.e.: 10 minutes of scripted moments.)
2. The Promotional Video may not include more than (i) 1 minute from any song or (ii) 3 minutes, in the aggregate, of footage of copyrighted material from the Play.
3. The Promotional Video may not include any sponsorship or underwriting without the prior consent of all R&H.
4. The Promotional Video must be submitted to R&H by sending the source video and video link to [email protected]
5. The Promotional Video must include the following: "Rights courtesy of Rodgers & Hammerstein, www.rnh.com"
6. Upon approval by R&H of the Promotional Video, you agree not to make any alterations in the approved copyrighted material used therein and you agree to obtain the prior written approval of R&H for any other use of the Promotional Video not specifically granted herein.
7. Upon termination of the Term, you shall cease to have any rights to use the Promotional Video including, without limitation, in connection with a future production of the Play, and shall immediately remove its content from any and all websites on the Internet.
8. You may not use a commercially available recording.
9. Any additional promotional rights must be approved by R&H by contacting[email protected].
*
Promotional video rights can only be granted once a performance license for The Emperor's New Clothes has been secured. Please contact customer service if you have any questions. If you have not yet applied for The Emperor's New Clothes, you can do so here. LOG IN to learn more.
---