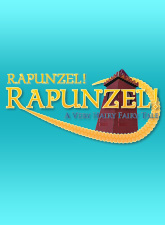 Rapunzel! Rapunzel! A Very Hairy Fairy Tale (Expanded Cast)
Visit an enchanted fairy tale land with dragons, a handsome prince, an evil would-be Queen, a really great hair stylist, and that famous princess with the long, long, long hair! Hold on to your hair and prepare for a brand new magical musical re-telling of the classic fairy tale! On the edge of glory, the evil Lady Za Za determines to rule the kingdom by keeping the beautiful Princess Rapunzel - with the long, long, long hair - trapped in a tower in the deep, dark, dank, dismal, dreary forest. It'll be up to Sir Roderick and his hair stylist friend Edgar (who is on a quest to find the perfect head of hair) to rescue Princess Rapunzel and restore the kingdom - with the help of a slightly neurotic Gypsy Woman - isn't there one in every fairy tale? and a tired, yet witty, old dragon named Socrates - who has lost his poof!

This version is for an expanded cast.
Suggested Audience Age Range: Ages 4 and Up
Running Time: 1 hour, Optional Intermission
Participate in the R&H Online Community.
Leave comments or talk with other fans in the forum!

To request the rights to make merchandise for this show email [email protected].
Fan Info:




"Rapunzel! Rapunzel! A Very Hairy Fairy Tale" is a colorful and genially zany musical that will delight the kids and charm the parents as well. With an appealing pop-rock score by Janet Yates Vogt and Mark Friedman, this musical adaptation of the Rapunzel fairy tale is full of lighthearted hilarity, keeping the proceedings broad and frolicsome. Children will enjoy the musical's gentle merriment. The inside jokes directed at theater and fairy tales, meanwhile, will likely beguile the adults. Winning! A perfect storybook atmosphere."
— Paul Hyde, Arts Writer, Greenville Online, April 25, 2013
"Just saw this show yesterday at Casa Manana Theatre. First time I took my daughter to a play or musical and she absolutely adored it. She can't wait to come back to see another. I thoroughly enjoyed it, too! Very good musical for kids - she kept glued to the stage the whole time and laughed and clapped throughout!"
— Melanie K. , A Happy Online Mom, April 23, 2013
"Rapunzel! Rapunzel! A Very Hairy Fairy Tale" is recommended for children 4 and older. Adults will enjoy it as well with a clever script that's full of fun pop culture references. …take some time to relax with the family, and enjoy this hair-larious update of a familiar fairy tale."
— Cathy O'Neal, Theater Jones, September 24, 2014
"The musical by Janet Yates Vogt and Mark Friedman kept a young crowd enthralled with its clever take on a familiar story.  The melodies are tuneful… it's a silly, fractured fairy tale, but there's a lot of charm…"
— Nancy Churnin, Dallas News, September 30, 2014

Song #
Song Name
Character Name
Play
Other Versions


Vocal Range of Characters:


// Photos




STANDARD
20 – Libretto

2 – Piano Vocal
ADDITIONAL
Rapunzel! Rapunzel! A Very Hairy Fairy - Pre-Production Pack

1 – Libretto

1 – Piano Vocal

PRINCIPALS
4 Men
4 Women
+ Ensemble
CHARACTERS
RAPUNZEL – A princess with extremely long hair – trapped in a tower - who loves to sing – longs to be free
SOCRATES – An enchanted dragon - an older, bespectacled dragon – worse for wear - with an English accent – he has been enchanted so he cannot fly or breathe fire and must stay near to Rapunzel's tower all by a spell cast by Za Za.
LADY ZA ZA (aka LADY ZAZALINSKY) – Rapunzel's Aunt – secretly the Wicked Enchantress – who is outrageously dressed with over the top hair and makeup (in the style of "Lady Gaga") – and who always wears large a bright purple jewel on a necklace around her neck. She has been running the Kingdom as the Duchess but is obsessed with being Queen.
NOTE:
consider changing her hair/wigs at various times during the show.
SIR RODERICK – A handsome young man seeking a worthy quest – he just doesn't know what it is yet
EDGAR – The greatest hair stylist in the kingdom and Sir Roderick's best friend
MAN EXTRA / KING – A peasant – who in the final scene - is revealed to be the King, Rapunzel's father
WOMAN EXTRA 1 / QUEEN – A peasant – who in the final scene – is revealed to be the Queen, Rapunzel's mother
GYPSY WOMAN / WOMAN EXTRA 2 – A mysterious woman living in the forest – a cross between an older Fran Drescher and a hypochondriac Jersey Housewife – plus other doubled roles
EXTRA TOWNSPEOPLE / COURT MEMBERS / LADIES-IN-WAITING / GYPSY CHORUS – As to the number of extras – that is up to the Director/Producing

RAPUNZEL! RAPUNZEL! A VERY HAIRY FAIRY TALE takes place in a fairy tale kingdom – in a distant time and a land far, far, away - or maybe it simply takes place tomorrow in a kingdom just a few miles down the freeway.
Materials Notes
Accompaniment Tracks and Vocal Tracks are available for download from
www.rnh.com/mydownloads
upon booking. 
There is no live orchestration available for this show.
---
Featured News
Theatre for Young Audiences (TYA) Now Available at R&H Theatricals
R&H Theatricals is proud to announce the launch of a new collection of titles for Young Audiences. All of the titles in the Theatre For Young Audiences (TYA) series have a run-time of approximately 60 minutes and are designed for adults to perform for an audience of children.
Read More
Media Rights
*

Currently media rights for Rapunzel! Rapunzel! A Very Hairy Fairy Tale (Expanded Cast) are not available. Please contact customer service with any questions.