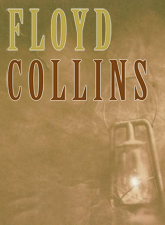 Floyd Collins
In 1925, while chasing a dream of fame and fortune by turning a Kentucky cave into a tourist attraction, Floyd Collins himself became the attraction when he got trapped 200 feet underground. Alone but for sporadic contact with the outside world, Floyd fought for his sanity and ultimately his life as the rescue effort above exploded into the first genuine media circus. Reporters and gawkers from across the country descended on the property, fueling the hysteria and manipulating the nation into holding its collective breath. This haunting musical - one of the most acclaimed in recent years - tells the transcendent tale of a true American dreamer.
Participate in the R&H Online Community.
Leave comments or talk with other fans in the forum!

To request the rights to make merchandise for this show email [email protected].
Fan Info:

In 1996, the musical FLOYD COLLINS opened off-Broadway at Playwrights Horizons, where it ran for 25 performances.

The birthday of Adam Guettel, award-winning composer of the musicals THE LIGHT IN THE PIAZZA, MYTHS AND HYMNS, and FLOYD COLLINS. Musicals run in the family: Guettel is the son of Mary Rodgers, and the grandson of Richard Rodgers.

The birthday of Tina Landau; playwright and director who wrote the book for the musical FLOYD COLLINS, as well as STATES OF INDEPENDENCE, and AMERICAN VAUDEVILLE.


"This is
the
original and daring musical of our day... a powerhouse."
— New York Magazine
"One of the three or four truly great music theatre scores of the last decade."
— New York Newsday
"A daring and original piece of musical theater...One-of-a-kind, FLOYD COLLINS suggests promising futures for both its creators."
— San Diego Union Tribune
"Plaintive, often inspired...Adam Guettel is a composer for the new century."
— Los Angeles Times
"FLOYD COLLINS is a work of exhilirating imagination and humanity...Daring, intelligent and almost unbearably poignant."
— Cleveland Plain Dealer, January 01, 1999
"Easy to admire...sometimes ravishing...a clearly gifted [writing] team."
— Variety
"Compelling...haunting melodies and down-to-earth lyrics."
— New York Magazine

Song #
Song Name
Character Name
Play
Other Versions

Excerpted from "MAKE MINE RARE...BUT WELL DONE! ," as featured in Happy Talk, Volume 13, Issue 2 - Fall 2006:
FLOYD COLLINS
When Floyd Collins sets out to find his fortune under the Kentucky ground, he uncovers fame and notoriety he never expects. Based on a true story, FLOYD COLLINS is a visionary musical about family, faith and the American Dream by Tony Award-winning composer/lyricist Adam Guettel (THE LIGHT IN THE PIAZZA) and book writer/lyricist Tina Landau. When Floyd gets trapped in his newly found Sand Cave, a media circus erupts to fuel the hysteria and manipulate the nation into holding its collective breath. Highlighted in The New American Musical: An Anthology from the End of the Century, and wrapped in Guettel's complex and invigorating score, FLOYD COLLINS offers a timely haunting legend with modern voices that speaks to the struggles of the American dreamer.
---

Barrymore Awards (Philadelphia)
January 01, 1996 — 5 Awards for Prince Music Theater's 1999 ProductionOutstanding Overall Production of a Musical (Prince Music Theater)Harold Prince Award For Outstanding Direction of a Musical (Tina Landau)Outstanding Leading Actor in a Musical (Romain Frugé)Outstanding Supporting Actor in a Musical (Guy Adkins)Outstanding Lighting Design (Scott Zielinski)

Vocal Range of Characters:

// Photos

---
---
---
---
---

TalkinBroadway.com
Written By: Adam Guettel

American Music Theatre Festival commissioned me to write a piece in 1991 and by 1992 Tina [Landau, co-author of
Floyd
] and I had teamed up on this idea, which was an idea that we found in a book. It was just one paragraph; it was sort of one of those broad survey compendium books about life in America, and the heading of this little paragraph was "Deathwatch Carnival." The paragraph underneath said "a man trapped in a cave and media circus ensues" or something like that. And that\'s really all we had to go on. Then we found some other research sources, some primary, some secondary, and found the whole thing sort of fascinating, we couldn\'t stop.
Dana Williams, who was at that time working at Playwrights Horizons, came down to Philly and saw the show, and she is largely responsible, in a way, for Floyd\'s success in the world. If she hadn\'t seen it and recommended it to Playwrights, they wouldn\'t have done it, and it wouldn\'t have been recorded, and the recording is really the calling card to the show.
---

Playbill VIP
: 
MAKE YOUR OWN PLAYBILL! Playbill VIP allows you to create your very own Playbill Program. We have provided Playbill with all of the credits, song listings, musical numbers and more so that most of the work is already done for you. Just add your productions details, photos of the cast and share it with all of your friends. Learn more: www.playbillvip.com
---

STANDARD
Song: "It Moves" (10 Books)

1 – PIANO CONDUCTOR SCORE

1 – BASS

1 – PERCUSSION (see "Materials Notes", under "Production Information")

1 – KEYBOARD (Piano, Synthesizer)

1 – GUITAR

1 – HARMONICA (Chromatic, Bass Harmonica, Crossharps in C, C#, D, E, F, F#, G, A, Bb, B)

1 – CELLO

1 – VIOLA

1 – VIOLIN

1 – VOCAL PART

FLOYD COLLINS - Orchestration Package (9 Books/8 Players)

1 – PIANO CONDUCTOR SCORE

1 – VIOLIN

1 – VIOLA (Doubling Violin)

1 – CELLO

1 – BASS

1 – PERCUSSION (see "Materials Notes", under "Production Information")

1 – KEYBOARD (Piano, Synthesizer)

1 – HARMONICA (Chromatic, C# Crossharp)

1 – Guitar

Rehearsal Set ( 22 Books)

20 – Libretto/Vocal Books

1 – Logo CD

2 – PIANO CONDUCTOR SCORE

Digital Logo
ADDITIONAL
Libretto/Vocal Books 10 pack

10 – Libretto/Vocal Books

FLOYD COLLINS - PRE-PRODUCTION PACKAGE

1 – Libretto/Vocal Books

1 – PIANO CONDUCTOR SCORE

PRINCIPALS
2 Women
4 Men
FEATURED
7 Men
ENSEMBLE
Consists of characters at the Carnival - Hawkers, Con Man, Jugglers, Sparkplug Eddie Bray, et al.
CHARACTERS
Floyd Collins - a caver
Bee Doyle - owner of the farm in which Floyd becomes trapped
Ed Bishop - a local caver
Jewell Estes - a local teenage boy
Lee Collins - Floyd's father
Miss Jane - Floyd's stepmother
Nellie Collins - Floyd's younger sister
Homer Collins - Floyd's younger brother
Skeets Miller - a reporter for the Louisville Courier-Journal
H.T. Carmichael - an engineer
3 Reporters
Cliff Roney - a young filmmaker
Dr. Hazlett - a doctor from Chicago
Frederick Jordan - a local farmer
FLOYD COLLINS can be performed with a cast of 11 men and 2 women. Doyle, Bishop and Estes can play characters in the Carnival, and the 3 Reporters can play Locals in the first scene aboveground, various roles in the Carnival, as well as the roles of Cliff Roney, Dr. Hazlett, Frederick Jordan and the National Guardsmen.

FLOYD COLLINS takes place from January 30 - February 16, 1925 on Bee Doyle's farm in Barren County, Kentucky, in and around a small opening in the ground which will later become known as 'Sand Cave.'
Materials Notes
NOTE: On stage guitar part for No. 22: "The Ballad of Floyd Collins (Act II Reprise) is located in the back of the Libretto-Vocal Book.
---
Trap Set, Anvil, Concert Toms, Suspended Cymbal, Mark Tree, Orchestra Bells, Washboard, High Toms, Crotales, Vibraphone, Concert Bass Drum, Wood Blocks (3), Waterphone, Ratchet, Spoons, Small Shaker, Rain Stick, Gong, Pod Wind Chimes, Cow Bell, Pop Gun, Triangle, Splash Cymbal, Tambourine, Eerie Drum, Lead Pipes (2)
---
Media Rights
Promotional
1. The Promotional Video shall be recorded and shown for the sole purposes of advertising your licensed production of the Play. For such a video, R&H allows theatres to film up to 10 minutes of total footage taken at either a performance or rehearsal (i.e.: 10 minutes of scripted moments.)
2. The Promotional Video may not include more than (i) 1 minute from any song or (ii) 3 minutes, in the aggregate, of footage of copyrighted material from the Play.
3. The Promotional Video may not include any sponsorship or underwriting without the prior consent of all R&H.
4. The Promotional Video must be submitted to R&H by sending the source video and video link to [email protected]
5. The Promotional Video must include the following: "Rights courtesy of Rodgers & Hammerstein, www.rnh.com"
6. Upon approval by R&H of the Promotional Video, you agree not to make any alterations in the approved copyrighted material used therein and you agree to obtain the prior written approval of R&H for any other use of the Promotional Video not specifically granted herein.
7. Upon termination of the Term, you shall cease to have any rights to use the Promotional Video including, without limitation, in connection with a future production of the Play, and shall immediately remove its content from any and all websites on the Internet.
8. You may not use a commercially available recording.
9. Any additional promotional rights must be approved by R&H by contacting[email protected].
*
Promotional video rights can only be granted once a performance license for Floyd Collins has been secured. Please contact customer service if you have any questions. If you have not yet applied for Floyd Collins, you can do so here. LOG IN to learn more.
---