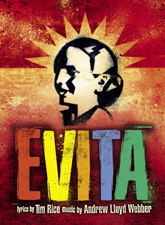 Evita
EVITA is no longer available to license through R&H Theatricals. Please visit www.themusicalcompany.com to license all Andrew Lloyd Webber shows.
Participate in the R&H Online Community.
Leave comments or talk with other fans in the forum!

To request the rights to make merchandise for this show email [email protected].
Fan Info:

The birthday of Broadway director and producer Harold Prince. Prince directed the 1994 revival of SHOW BOAT, and the premieres of EVITA, THE PHANTOM OF THE OPERA, LOVEMUSIK, and CABARET. His hit collaborations with Stephen Sondheim include FOLLIES, COMPANY, and SWEENEY TODD.

In 1986, the original production of EVITA closed in London after a West End run of 2,900 performances.

In 1979, EVITA opened on Broadway at the Broadway Theatre starring Patti LuPone in the title role. It ran for 1,567 performances, and won seven Tony Awards, including Best Musical, Book, Score, and Direction.

The birthday of Tim Rice, lyricist and longtime collaborator with Andrew Lloyd Webber on EVITA, JESUS CHRIST SUPERSTAR, and JOSEPH AND THE AMAZING TECHNICOLOR DREAMCOAT. Rice also contributed lyrics to the Disney films ALADDIN, BEAUTY AND THE BEAST and THE LION KING.

In 1978, EVITA premiered at the West End's Prince Edward Theatre where it ran for 2,900 performances.

In 1983 EVITA closed on Broadway after a run of 1,567 performances and seven Tony Awards, including Best Musical.



Song #
Song Name
Character Name
Play
Other Versions

Like JESUS CHRIST SUPERSTAR, Andrew Lloyd Webber and Tim Rice's EVITA began first as a double album in 1976 followed by the stage production at the Prince Edward Theatre in London in 1978. The show was conceived after Tim Rice visited Argentina in February 1974. The story itself tells the tale of Eva Peron, Argentina's controversial First Lady, and her rise to fame.
EVITA premiered at the Broadway Theatre in New York on September 25, 1979, where it would run for 1,567 performances. The show marked legendary director Hal Prince's first collaboration with Webber (they would later team up for PHANTOM OF THE OPERA in 1988).
The 1981 cast recording was awarded a Grammy Award, and there have been over 100 covers of the hit single "Don't Cry for Me Argentina." The song was first recorded by Julie Covington and sold over 2 million copies—it was Webber and Rice's first UK no. 1. Pop-star Madonna played the title role alongside Antonio Banderas and Jonathan Pryce in the 1996 movie version. The first major revival of EVITA, directed by Michael Grandage and starring Elena Roger, opened at the Adelphi Theatre in London June 21, 2006 to rave reviews.
---

L.A. Drama Critics Circle Awards
January 01, 1980 — Awards including Distinguished Achievement
January 01, 1980 — Awards including Distinguished Achievement

Laurence Olivier Awards (London)
January 01, 1978 — 2 Awards for Musical of the Year and Performance of the Year in a Musical

Golden Globe Awards
January 01, 1997 — 3 Awards including Best Motion Picture (Comedy/Musical) and Best Original Song

Drama Desk Awards
January 01, 1980 — 6 Awards, including Outstanding Musical, Outstanding Music and Outstanding Lyrics

Academy Awards
January 01, 1997 — Best Music–Original Song

Vocal Range of Characters:


// Photos

---
---
---
---
---
---


Written By: Andrew Lloyd Webber

EVITA was Tim Rice's idea. He was very intrigued by the fact that she was mentioned in the context of a whole load of fifties figures who were very successful, including people like James Dean, and I think he was curious to find out why she became this kind of cult figure, this huge figure in Argentina. And I think he became very attracted to the story.
The biggest problem for me as the composer of it is that of course I could have let the whole thing go as a high romance. I could make everybody cry their eyes out at the end of all this, but that was not the point of the piece. In a way, the piece had to keep this slightly Brechtian approach to the whole thing, where you have the Ché character able to commentate on the quite grisly things that she did. And to turn her into some sort of great romantic figure would have been really quite easy. But no, I never fell in love with the woman—very much the reverse. When Tim talked to me about the idea of doing the piece, I thought that if I could crack the moment where she did some piece which indeed did turn into an anthem, then I would have done it. This is a very interesting dramatic thing, because here you have a song that represents Eva Perón at her very height and at her most manipulative—when she's speaking on the Casa Rosada balcony—and yet the song eventually turns on her. When she does the final broadcast, it becomes something which is really pathetic. And I thought, if I could crack that, then I've got a dramatic line through the piece from which most other things would follow. And so, in fact, "Don't Cry for Me" was the first thing I wrote. And if that hadn't happened, I don't think we would have gone on to do EVITA. It's very hard, because I just know that we had to have one central thing like that. It was the gangplank of the whole thing. But, in fact, the song that would carry the show or would carry the person playing Eva Perón in the theater was "Rainbow High." If the artist cracked that, then the show was theirs.
---

KeyboardEase
: 
KeyboardEase:This unique resource is designed specifically to meet the needs of productions that want convenient, cost-effective access to these hard to find keyboard sounds. We have carefully assembled all sounds required for a given show. Everything is laid out in correct sequential order, so you can easily progress through each song in each keyboard book with professional, authentic, show-specific sounds. All you have to do is connect any standard keyboard (or multiple keyboards) to your laptop and you'll be ready to perform. And we'll help you every step of the way.
Demo KeyboardEase for Mac or PC.

Contact Realtime Music Solutions for more information: www.keyboardease.com, via email: [email protected], or via phone: 212-620-0774.
---
AccompanEase
:
 
AccompanEase
: This product is a rehearsal tool that allows for unlimited teaching, training and practice of individual vocal parts or dance sequences. Contact Realtime Music Solutions for more information:
www.accompanease.com
, via email:
[email protected]
, or via phone:
212-620-0774
---
InstrumentalEase
: 
InstrumentalEase
: This product is an orchestra enhancement instrument capable of augmenting a traditional ensemble of any size. Contact Realtime Music Solutions for more information:
www.rms.biz
, via email:
[email protected]
, or via phone: 212-620-0774.
---
Playbill VIP
: 
MAKE YOUR OWN PLAYBILL! Playbill VIP allows you to create your very own Playbill Program. We have provided Playbill with all of the credits, song listings, musical numbers and more so that most of the work is already done for you. Just add your productions details, photos of the cast and share it with all of your friends. Learn more: www.playbillvip.com
---

STANDARD
Rehearsal Set (26 Books)

20 – Libretto Vocal

1 – Logo sheet

1 – Digital Logo

6 – Piano Vocal

EVITA - Orchestration (18 Books/18 Players)

1 – Full Score

1 – Woodwind 1 (Flute, Piccolo, Alto Flute)

1 – Woodwind 2 (Bb Clarinet, Bass Clarinet, Tenor Sax)

1 – Horn

1 – Trumpet 1 (in Bb)

1 – Trumpet 2 (in Bb)

1 – Trombone

1 – Keyboard 1

1 – Keyboard 2

1 – Keyboard 3 (Doubling Accordion)

1 – Guitar (Acoustic, Electric)

1 – Bass (Contrabass [String Bass], Bass Guitar)

1 – Drum

1 – Percussion (Orchestral Bass Drum, Timpani, Tam Tam, Bongos, Gran Cassa, Marimba, Glock, Large Temple Blocks, Congas, Timbales, Xylophone, Triangle, Small Woodblocks, Snare, Guiro, Ride Cymbal, Metal Cabasa, Whistle, Tamourine

1 – Violin 1

2 – Violin 2 & 3

1 – Viola

1 – Cello
ADDITIONAL
Libretto Vocal 10-Pack
EVITA - Pre-Production Package

1 – Libretto Vocal

1 – Piano Vocal

PRINCIPALS
1 Woman
2 Men
FEATURED
1 Woman
1 Men
ENSEMBLE
Singing-dancing ensemble consisting of the people of Argentina
CHARACTERS
Eva Peron
Peron
Che
Peron's Mistress
Magaldi
Men, Women and Children of Argentina

EVITA takes place in Argentina between 1934 and 1952.
SPECIFIC LOCATIONS
A Cinema in Buenos Aires
A Nightclub in Junin
Buenos Aires
A Vaudeville Stage
Backstage at the Theatre Colon
A Bedroom
A Balcony
The face of the Casa Rosada
Materials Notes
KEYBOARD II: Piano, Prophet 5 Synthesizer with volume pedal
---
(Two Players): Bomba, Cymbal, Timpani, Marimba, Maracas, Tam-Tam, Wood Block, Slap Stick, Whip, Triangle, Castanets, Gong and Gourd Scrapper
---
Media Rights
Promotional Video Right
1. The Promotional Video shall be recorded and shown for the sole purposes of advertising your licensed production of the Play.
2. The Promotional Video may not include more than (i) 1 minute from any song or (ii) 3 minutes, in the aggregate, of footage of copyrighted material from the Play.
3. With respect to advertising on YouTube, you may only produce one (1) Promotional Video.
4. The Promotional Video may not include any sponsorship or underwriting without the prior consent of all R&H.
5. The Promotional Video must be submitted to R&H by sending the source video and video link to [email protected]
6. The Promotional Video must include the following: "Rights courtesy of Rodgers & Hammerstein, www.rnh.com"
7. Upon approval by R&H of the Promotional Video, you agree not to make any alterations in the approved copyrighted material used therein and you agree to obtain the prior written approval of R&H for any other use of the Promotional Video not specifically granted herein.
8. In the event you shall breach any of the provisions set forth herein, the rights herein granted to you shall automatically terminate, without prejudice to our right to recover damages and obtain such other relief as we may be entitled to including, without limitation, a penalty of not less than $600.00 for each such occurrence.
9. Upon termination of the Term, you shall cease to have any rights to use the Promotional Video including, without limitation, in connection with a future production of the Play, and shall immediately remove its content from any and all websites on the Internet.
10. You may not use a commercially available recording.
11. Any additional promotional rights must be approved by R&H by contacting [email protected].
*
Promotional Video Right video rights can only be granted once a performance license for Evita has been secured. Please contact customer service if you have any questions. If you have not yet applied for Evita, you can do so here. LOG IN to learn more.
---