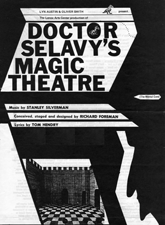 Dr. Selavy's Magic Theatre
Welcome to the extraordinary odyssey of a confused young man, led by wacky doctors through a labyrinth of wildly theatricalized versions of major life crises and temptations -- wealth, sensuality, power, romance, lost innocence, and death. Presided over by the enigmatic Dr. Selavy (or C'est La Vie, if you like), himself an illusion created by master trickster Marcel Duchamp, this outrageous journey leads our hero in an ironic dance through an eccentric fun house of extravagant awakenings to a climax of self-knowledge and acceptance. To the strains of an eminently hummable and upbeat score, this offbeat piece provides an adventurous departure from the traditional expectations of musical theatre.
Participate in the R&H Online Community.
Leave comments or talk with other fans in the forum!

To request the rights to make merchandise for this show email [email protected].
Fan Info:

The birthday of Richard Foreman, founder of the iconic Ontological-Hysteric Theatre and creator of the show DR. SELAVY'S MAGIC THEATRE.

The birthday of Stanley Silverman, celebrated composer for the theater who collaborated with Richard Foreman on the show DR. SELAVY'S MAGIC THEATRE.



"You don't have to be paranoid to enjoy 'Doctor Selavy's Magic Theatre.' Concieved, staged and designed by Richard Roreman, this excursion into a funhouse is more funny than houselike. There is a rare zaniness here. Mr. Foreman has done an astonishing job of staging - with style, wit and taste. He has been helped at every turn - by the music of Stanley Silverman, and the lyrics of Tom Hendry. The music ranges from rock to ballad to nursery tale, and yet everything Mr. Silverman writes has interest - uncommon skill and offers uncommon enjoyment. Both music and lyrics are original and yet sophisticatedly parodistic. The cast is uniformly excellent. There is a most engaging madness to 'Doctor Selavy's Magic Theatre.'"
— Clive Barnes, New York Times
"Brilliantly unique. Entertaining - the music is really good- everything from hard rock to soft Bach to superfly soul to McCartney ballad!"
— Newsweek Magazing
"An evening of musical fun. It has the look of continental cabaret - an evening of crooning (with megaphone), soul singing, rock and plaintive musical interludes. I think you'll find it as much fun as a cage full of monkeys!"
— Douglas Wall, New York Daily News
Stanley Silverman is the brightest talent in this medium to come along since the Leonard Bernstein of "On The Town" and "Wonderful Town". Indeed, he could turn out to be the later day Cole Porter
— Harold C. Schoenberg, New York Times
"Lots of brainpower. A most entertaining evening on the surreal side."
— Jerry Tallmer, New York Post
"It is definitely easy to be continually amazed and amused ...it is 'Marat/Sade' as if executed by Marcel Duchamp, Soupy Sales, Mack Sennett, Busby Berkely, the cast of 'Hair,' Julius Monk and Sigmund Freud!"
— The New York Times
"Recaptures a charming adventure in zany Surrealism."
— John Rockwell, The New York Times, January 01, 1984

Song #
Song Name
Character Name
Play
Other Versions


Drama Desk Awards
— Award for Most Promising New Composer

Vocal Range of Characters:

// Photos


Written By: Stanley Silverman

The songs, originally written for the Stratford Shakespeare Festival of Canada's production of The Satyricon were reorganized by Foreman "to tell the story of Ben, who is put through a series of treatments by Dr. Selavy which include 1) facing the pirates 2) living the good life 3) dreaming of love 4) the symbolic death 5) the rebirth and anger 6) the ecstasy and cure."
Doctor Selavy premiered at The Lenox Arts Center in Stockbridge, Massachusetts and was transferred in tact for an Off-Broadway run at The Mercer Arts Center. Produced by Lyn Austin and Oliver Smith, the show's run had an abrupt end when the theatre complex collapsed.
The cast was made up largely of ex-pats from the recently closed Hair. The only note I remember giving was to Richard pointing out that the layout of the production had to be reversed with the audience facing south (downtown) as it had in the Berkshires (towards Stockbridge) in order to replicate the original success. Richard bought into it and reversed the entire space.
Foreman's staging was hypnotic. Years before MTV he had a knack for making each song a complete choreographic episode never losing sight of their importance as part of the whole.
There were other first-class productions—Chicago, Cleveland, the Oxford Playhouse in England, a brief revival in New York—each with their own take on Richard's edict, "The director of each production should feel free to change all elements of the staging or narrative to suit the particular circumstance of his (her) production."
When living through a period and composing for the musical theatre without any particular political or social motives other than to entertain with a certain degree of freshness, it is now clear that the early '70's was quite a remarkable time. I was taken by Mick Jagger's recent comment concerning the re-release of Exile on Main Street: "There is no need to update that period if you can just show it and hear it."
---

Written By: Richard Foreman

I recall a meeting with Lyn Austin and Stanley Silverman at that moment in 1972 when they asked me to create a piece based on pre-existent songs by Stanley and Tom Hendry. 'My dream,' said Lyn, 'is to have an experience in the theatre that's like going into an art gallery and seeing all these wonderful paintings, or going to a lavish buffet dinner, passing from table to table and savoring just the right amount of whatever you like best. Just moving from one wonderful treat to another without any boring in between.'
So I tried to fill her dream by imagining one of my own, and, amazingly quickly, the songs crystallized into the odyssey of a confused young man, led by wacky doctors through a labyrinth of goblins and gargoyles springing up to confront the young man with wildly theatricalized versions of the major life crises and temptations -- wealth, sensuality, power, romance, nostalgia for lost innocence, and death. I imagined that young man lightly and ironically singing and dancing his way through a fun house, presided over by the mysterious Dr. Selavy ('C'est La Vie') -- an ironic androgynous persona created by modern art's most profound punster and master trickster, Marcel Duchamp. Then, during rehearsals, whenever a difficult moment arrived and I was wracking my brains for a new idea, I'd step outside under the trees (this was in Lenox, Massachusetts, where the piece was created) and say to myself, 'Now Richard, imagine, what would Marcel Duchamp invent to make this moment just a little more outrageous and delightful and funny? And indeed, the imaginary Duchamp came up with such items as the heavy wooden beam that keeps falling from the sky to knock a new idea or insight into our poor young hero's head.
---

Playbill VIP
: 
MAKE YOUR OWN PLAYBILL! Playbill VIP allows you to create your very own Playbill Program. We have provided Playbill with all of the credits, song listings, musical numbers and more so that most of the work is already done for you. Just add your productions details, photos of the cast and share it with all of your friends. Learn more: www.playbillvip.com
---

STANDARD
DR. SELAVY'S MAGIC THEATRE - Orchestration Package (6 Books/6 Players)

1 – Piano Conductor Scores

1 – GUITAR I (Electric Guitar, Banjo, Acoustic Guitar, Ukulele)

1 – GUITAR II (Classical Guitar, Electric Guitar, Mandolin)

1 – CELLO

1 – ELECTRIC BASS (Doubling Acoustic)

1 – Drums

Rehearsal Set (22 Books)

20 – Libretto/Vocal Books

1 – Logo CD

2 – Piano Conductor Scores

Digital Logo
ADDITIONAL
Libretto/Vocal Books 10 pack

10 – Libretto/Vocal Books

DR. SELAVY - PRE-PRODUCTION PACKAGE

1 – Libretto/Vocal Books

1 – Piano Conductor Scores

PRINCIPALS
4 Women
4 Men
1 Boy
COMMENTS
The characters should be identified by the names of the actors in each role.
CHARACTERS
Ben - the young and bewildered patient
Dr. Mary - the strong-willed matron
Dr. Bob - short and lively with rolling eyes
Dr. Steve - the hippie type
Dr. Denise - exotic, svelte and sinuous
Dr. Amy - short, childlike but slightly macabre
Dr. Jessica - the beautiful, country club type
Dr. Selavy - austere, maniacal, tall and elegant
Young Ben (non-singing)

DR. SELAVY'S MAGIC THEATRE takes place in the mind of the narrator. A unit set is suggested.
Materials Notes
DRUMS: Trap Set, Finger Cymbal, Gong, Triangle, Claves, Optional Wood Block, Tabla, Tambourine, Optional Timpani, Optional Shaker
---
Media Rights
*

Currently media rights for Dr. Selavy's Magic Theatre are not available. Please contact customer service with any questions.