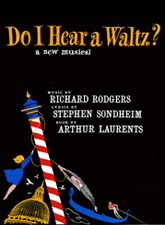 Do I Hear a Waltz?
Leona, an unmarried American secretary 'of a certain age,' goes on a vacation to Venice where, under the spell of that enchanted city, she falls in love. The gentleman is an attractive, middle-aged shopkeeper, whose attentions give flight to her deepest dreams of romance. Too soon, however, he openly informs her that he is a contented family man, and Leona's hopes are dashed. She can, for a short time, harness romance, yet realizes that such a relationship would have nowhere to go. Still, might it be better than never having loved at all? This timeless story, which is the basis of the movie 'Summertime' starring Katharine Hepburn, remains a bittersweet testament to the complexities of the heart.
Participate in the R&H Online Community.
Leave comments or talk with other fans in the forum!

To request the rights to make merchandise for this show email [email protected].
Fan Info:

Do I Hear a Waltz?
will return to the New York stage for the first time in decades. Below, Encores! Music Director Rob Berman explains why the show is ripe for rediscovery.
read more

The birthday of Arthur Laurents, book writer for Do I Hear A Waltz?

In 1965, DO I HEAR A WALTZ? closed on Broadway after 220 performances.

In 1965, DO I HEAR A WALTZ? - a collaboration between Richard Rodgers, Arthur Laurents, and Stephen Sondheim - opened at 46th Street Theater (now the Richard Rodgers Theater) where it ran for 220 performances.

In 1930 composer and lyricist Stephen Sondheim was born, creator of iconic musicals INTO THE WOODS, SWEENEY TODD, COMPANY, FOLLIES, and many more.



"What can be said is that the results are right up there with some of the best scores Rodgers helped turn out - and Sondheim's agile words are also among his most devilishly clever!"
— David Finkle, The Huffington Post , May 12, 2016
"Do I Hear a Waltz? beautifully sets the growing archness of Sondheim's lyrics to Rodgers' traditionally romantic and spirited melodies."
— BroadwayWorld.com, May 12, 2016
"Richly entertaining...There's plenty that should be seen."
— Los Angeles Times, January 01, 2001
"It's clear this uncommonly literate work opened far ahead of its time...The hard-edge themes seem closer to what we typically expect of Sondheim than of Rodgers, but their union yielded a beguiling score that beautifully dovetails with the bittersweet text. Sondheim's incisively ironic lyrics foreshadow his later triumphs, and Rodgers' melodies are lush and lovely."
— Backstage West, January 01, 2001
"Deft and intelligent...the score is filled with pleasures...haunting...charming...brightly sardonic."
— The New York Post
"Rodgers has flooded the stage with lilting melody...Sondheim is at his wittiest...everything about the musical is tasteful...quality is stamped on everything and everybody."
— Cue Magazine, January 01, 2001

Song #
Song Name
Character Name
Play
Other Versions



Well before the first act was over it was evident that "…Mr. Rodgers is still king of the hill…"as Walter Kerr of the New York Herald Tribune put it – while Richard Watts of the New York Post praised Sondheim's lyrics as being "…deft and intelligent…" The show, with book by Arthur Laurents, bas on his play "The Time of the Cuckoo," went on to enjoy a run of 220 performances. In addition to its enduring title song, DO I HEAR A WALTZ? contains the beautiful "Take the Moment," "Moon in My Window" and "Stay."

Stephen Sondheim (lyricist) won Tony Awards as Best Composer and Lyricist for three consecutive years for Company, Follies and A Little Night Music. All three of these musicals won the New York Drama Critics' Circle Award, as did his Pacific Overtures. In 1979 Mr. Sondheim received a Tony and Two Drama Desk Awards for his score for Sweeney Todd. His accent to Broadway began with his lyrics for West Side Story, Gypsy, and DO I HEAR A WALTZ? and continued with music and lyrics for A Funny Thing Happened on the Way to the Form and Anyone Can Whistle.

Richard Rodgers (composer) worked with his first collaborator, Lorenz Hart, for twenty-five years, during which time they wrote the songs for 26 Broadway musicals, 3 London musicals, and 9 films. They also collaborated on one night club revue and one non-musical play. Mr. Hart died in 1943 at the age of 48. Mr. Rodgers then entered another extraordinary partnership with a man he had known from their Columbia University days – Oscar Hammerstein 2nd, with whom he worked exclusively until Mr. Hammerstein's death in 1960. Their partnership produced nine Broadway musicals, including Oklahoma!, Carousel, South Pacific, The King and I, and The Sound of Music, as well as one film musical Cinderella. Mr. Rodgers continued to entertain Broadway and television audiences with his music until his death in 1979.

---

Tony Awards
January 01, 1965 — 3 Nominations Including Best Composer and Lyricist

Vocal Range of Characters:

// Photos

---
---
---
---
---
---
---
---


Written By: Arthur Laurents

An attractive lady has been libeled. For years now she has been called a virgin and worse, and I would like to clear her record. Her name is Leona Samish, the heroine of a play I wrote called 'The Time of the Cuckoo.' She is also the heroine of a movie called 'Summertime.' And now she is the heroine of a musical called DO I HEAR A WALTZ? Why has she constantly been described as a 'spinster school teacher?' She is in her/my words a 'fancy secretary' in advertising -- and always has been. She is not now nor has she ever been a 'spinster school teacher.' Nor the over-age virgin that phrase connotes. What I wrote is the story of a woman who could not give herself emotionally, a woman young enough to have a chance at the future. Leona, the original Leona, has emotion, passion in her which wants to come out. One of the virtues, one of the beauties of the musical form is that passion and emotion can and should come out fully in music. That is a major reason I have always wanted to musicalize 'The Time of the Cuckoo': the real Leona sings.
---

Playbill VIP
: 
MAKE YOUR OWN PLAYBILL! Playbill VIP allows you to create your very own Playbill Program. We have provided Playbill with all of the credits, song listings, musical numbers and more so that most of the work is already done for you. Just add your productions details, photos of the cast and share it with all of your friends. Learn more: www.playbillvip.com
---

STANDARD
DO I HEAR A WALTZ? - Orchestration Package (19 Books/20 Players)

1 – PIANO VOCAL SCORE

1 – REED I (Piccolo, Flute, Clarinet, Optional Alto (G) Flute)

1 – REED II (Piccolo, Flute, Clarinet)

1 – REED III (Oboe, Clarinet,Optional English Horn, Optional Flute)

1 – REED IV (Clarinet, Bass Clarinet, Optional Bassoon, Optional Flute)

1 – TRUMPET I-II (Trumpet I doubles Flugelhorn)

1 – TROMBONE I

1 – TROMBONE II

1 – TROMBONE III (Bass Trombone)

1 – PERCUSSION (see "Materials Notes", under "Production Information")

2 – VIOLIN A-B (Divisi)

2 – VIOLA (Divisi)

2 – CELLO (Divisi)

1 – BASS

1 – HARP (Doubling Celesta)

1 – GUITAR (Doubling Mandolin)

Perusal Package (1Lib, 1 VB)

1 – Libretto

1 – Vocal Books

Rehearsal Set (42 Books)

20 – Libretto

1 – Logo CD

20 – Vocal Books

2 – PIANO VOCAL SCORE

Digital Logo
ADDITIONAL
DO I HEAR A WALTZ? - PRE-PRODUCTION PACKAGE

1 – Libretto

1 – PIANO VOCAL SCORE

PRINCIPALS
4 Women
3 Men
FEATURED
1 Woman
1 Man
1 Boy
ENSEMBLE
Singing-dancing ensemble
CHARACTERS
Mauro
Leona Samish
Fioria
Eddie Yeager
Jennifer Yeager
Mr. McIlhenny
Mrs. McIlhenny
Giovanna
Vito
Renato Di Rossi

DO I HEAR A WALTZ? takes place in Venice.
SPECIFIC LOCATIONS
Venice
Pensione Garden
Di Rossi's Shop
Piazza San Marco
Pensione Interior
Pensione Façade
Materials Notes
Trap Set, Timpani, Chimes, Wood Block, Ratchet, Vibraphone, Glockenspiel, Triangle, Bongos, Bells, Sandpaper, Castanets, Cymbals, Toms
---
Featured News
DO I HEAR A WALTZ?: The One-Time Collaboration of Rodgers and Sondheim
This May, the ravishingly romantic 1965 musical
Do I Hear a Waltz?
will return to the New York stage for the first time in decades. Below, Encores! Music Director Rob Berman explains why the show is ripe for rediscovery.
Read More
Media Rights
*

Currently media rights for Do I Hear a Waltz? are not available. Please contact customer service with any questions.