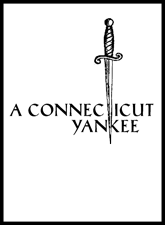 A Connecticut Yankee
On the eve of his wedding, our hero receives an unexpected visit from his former fiancée. When his current wife-to-be finds them together, she knocks the fellow out cold with - what else? - a champagne bottle. He awakes to find himself transported back to the days of Camelot where he charms King Arthur's court and is soon put in charge of industrializing the country. He falls in love only the have his armour kidnapped by the King's hilariously evil sister. He awakes from his prophetic dream realizing that he almost married the wrong girl. This delectable musical comedy with its willfully silly dedication to pure hi-jinks, was meticulously restored in 2001 for its presentation by the acclaimed Encores! series in New York City and is now available with Don Walker's thrilling orchestrations.
Participate in the R&H Online Community.
Leave comments or talk with other fans in the forum!

To request the rights to make merchandise for this show email [email protected].
Fan Info:

The birthday of Herbert Fields, who wrote the book for the musicals ANNIE GET YOUR GUN and A CONNECTICUT YANKEE.

In 1927, Rodgers & Hart's musical A CONNECTICUT YANKEE had its New York premier at the Alvin Theatre. The show ran for 418 performances.

In 1895 Lorenz Milton Hart was born in New York City. In 1918 he was introduced to Richard Rodgers, and they collaborate on twenty six Broadway musicals over the next two decades, including A CONNECTICUT YANKEE (1927), BABES IN ARMS (1937), I MARRIED AN ANGEL (1938), THE BOYS FROM SYRACUSE (1938), PAL JOEY (1940), and BY JUPITER (1942).



Song #
Song Name
Character Name
Play
Other Versions

Vocal Range of Characters:


// Photos

---
---
---
---
---
---
---


Playbill VIP
: 
MAKE YOUR OWN PLAYBILL! Playbill VIP allows you to create your very own Playbill Program. We have provided Playbill with all of the credits, song listings, musical numbers and more so that most of the work is already done for you. Just add your productions details, photos of the cast and share it with all of your friends. Learn more: www.playbillvip.com
---

STANDARD
A CONNECTICUT YANKEE - Orchestration (20 Books/24 Players)

1 – PIANO CONDUCTOR SCORE

1 – PIANO

1 – REED I (Flute, Piccolo, Clarinet)

1 – REED II (Oboe, English Horn)

1 – REED III (Flute, Clarinet, Baritone Sax)

1 – REED IV (Clarinet, English Horn, Bass Clarinet, Tenor Sax)

1 – REED V (Clarinet, Tenor Sax, Flute, Bassoon)

1 – HORN

2 – TRUMPET I&II

1 – TRUMPET III

1 – TROMBONE

1 – DRUMS (see "Materials Notes", under "Production Information")

1 – VIOLIN A (Divisi)

1 – VIOLIN B (Divisi)

1 – VIOLIN C (Divisi)

1 – VIOLIN D (Divisi)

1 – VIOLA (Divisi)

1 – CELLO

1 – BASS

Rehearsal Set [22 books]

20 – Libretto/vocal Books

1 – Logo CD

2 – PIANO CONDUCTOR SCORE

Digital Logo
ADDITIONAL
Libretto/Vocal Books 10 pack

10 – Libretto/vocal Books

A Connecticut Yankee - PRE-PRODUCTION PACKAGE

1 – Libretto/vocal Books

1 – PIANO CONDUCTOR SCORE

PRINCIPALS
3 Women
4 Men
FEATURED
1 Woman
1 Man
ENSEMBLE
Singing-Dancing ensemble as desired
CHARACTERS
Lt. Kenneth Kay, U.S.N. / Sir Kay
Judge Thurston Merrill / Merlin
Admiral Arthur K. Arthur, U.S.N. / King Arthur
Ensign Gerald Lake, U.S.N. / Sir Galahad
Lt. Martin Barrett, U.S.N.
Capt. Lawrence Lake, U.S.N. / Sir Lancelot
Lt. Fay Merrill, W.A.V.E. / Queen Morgan Le Fay
Corp. Alice Courtleigh, W.A.C. / Alisande La Courtelloise (Sandy)
Evelyn
Queen Guinivere
Lady Angela
Naval Officers / Knights and Slaves
Dancing Girls / Ladies-in-Waiting

A CONNECTICUT YANKEE takes place in Hartford, Connecticut in 1943 and Camelot in the time of King Arthur's Court.
SPECIFIC LOCATIONS
The Grand Ballroom of a Hotel in Hartford, Connecticut, 1943
On the Road to Camelot, 543 A.D.
A Courtyard of King Arthur's Castle
A Corridor of the Royal Factory - three months later
The Palace of Morgan Le Fay
Materials Notes
REED IV NOTE: English Horn cued for Clarinet or Bass Clarinet.
---
Media Rights
*

Currently media rights for A Connecticut Yankee are not available. Please contact customer service with any questions.