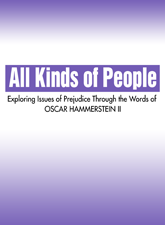 All Kinds of People
Throughout a career that spanned four decades, Oscar Hammerstein II used the theatre to promote human understanding. He continually tackled themes of racism and cultural bias, changing the very course of musical theatre in the process. ALL KINDS OF PEOPLE is a musical revue developed especially for schools (running time: 50 minutes) that addresses the dangers of prejudice, the importance of tolerance and the empowerment of self-esteem. These issues are considered through such songs as 'Ol' Man River' from Hammerstein's 1927 masterpiece SHOW BOAT, 'You've Got To Be Carefully Taught' from his Pulitzer Prize winning SOUTH PACIFIC, and many others from such beloved musicals as THE KING AND I, FLOWER DRUM SONG, THE SOUND OF MUSIC and CAROUSEL. Oscar Hammerstein believed wholeheartedly in celebrating our differences instead of fearing them, as simply and eloquently expressed in his musical PIPE DREAM - 'It takes all kinds of people to make up a world.'
Participate in the R&H Online Community.
Leave comments or talk with other fans in the forum!

To request the rights to make merchandise for this show email larisa.borshman@rnh.com.
Fan Info:



Song #
Song Name
Character Name
Play
Other Versions


Vocal Range of Characters:


// Photos


Playbill VIP
: 
MAKE YOUR OWN PLAYBILL! Playbill VIP allows you to create your very own Playbill Program. We have provided Playbill with all of the credits, song listings, musical numbers and more so that most of the work is already done for you. Just add your productions details, photos of the cast and share it with all of your friends. Learn more: www.playbillvip.com
---

STANDARD
ALL KINDS OF PEOPLE - Perusal Package - (1 Book)
ALL KINDS OF PEOPLE -Rehearsal Set - (11 Books)

10 – Libretto-Piano Vocal

1 – Logo CD

Digital Logo
ADDITIONAL
ALL KINDS OF PEOPLE-Libretto-Piano Vocal 10-Pack - (10 Books)

10 – Libretto-Piano Vocal

ALL KINDS OF PEOPLE-Pre-Production Package - (1 Book)

PRINCIPALS
2 Women
2 Men
COMMENTS
The cast can easily be expanded to include as many as desired, and the revue can be performed either by students, adults or both.

ALL KINDS OF PEOPLE is a musical revue; a unit set is suggested.
Materials Notes
Media Rights
*

Currently media rights for All Kinds of People are not available. Please contact customer service with any questions.