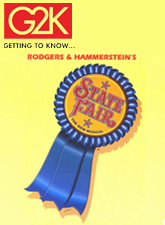 G2K State Fair
Rodgers & Hammerstein's only musical written directly for the screen is now a stage musical that's had critics raving from coast to coast. Set against the colorful backdrop of an American heartland tradition, STATE FAIR travels with the Frake family as they leave behind the routine of the farm for three days of adventure at the annual Iowa State Fair. Mom and Pop have their hearts set on blue ribbons while their daughter and son find romance and heartbreak on the midway. Set to the magical strains of an Academy Award-winning score and augmented by other titles from the Rodgers and Hammerstein songbook, STATE FAIR is the kind of warm-hearted family entertainment only Rodgers & Hammerstein could deliver!

In this adaptation for pre-high school students, the content has been edited to better suit younger attention spans, but all the elements that make this show a classic are still in place. You and your students will be enchanted by the timeless story and the dazzling score, while at the same time learning about theater and its production. Getting to Know...STATE FAIR is the perfect show to introduce young people through the 9th grade to the magic of live theater.
Run Time: Approximately 50 - 70 minutes.
Participate in the R&H Online Community.
Leave comments or talk with other fans in the forum!

To request the rights to make merchandise for this show email [email protected].
Fan Info:



Song #
Song Name
Character Name
Play
Other Versions

Fifty years after it was introduced, STATE FAIR, Rodgers & Hammerstein's only musical written for the screen, finally made it to the stage. The book for the stage version was written by Louis Mattioli and our own Tom Briggs, Director of the R&H Theatre Library, who also had the idea to adapt STATE FAIR to the stage in the first place. Here, Briggs explains how the newest Rodgers & Hammerstein musical came to be.

Phil Stong's novel State Fair was published in 1932 and a non-musical motion picture version was released the following year starring Will Rogers, Janet Gaynor and Lew Ayres. Twelve years later, fresh on the heels of their success with OKLAHOMA!, Rodgers and Hammerstein were persuaded by Hollywood mogul Darryl F. Zanuck, head of 20th Century Fox studios, to adapt STATE FAIR as a movie musical. Their version, released in August of 1945, starred Charles Winninger, Fay Bainter, Jeanne Crain, Dick Haymes, Dana Andrews and Vivian Blaine, winning R&H the Academy Award for their song, "It Might As Well Be Spring." A 1962 remake overseen by Rodgers (Hammerstein had died two years earlier) updated the story and transplanted it from its original Iowa setting to Texas; Rodgers augmented the score with several songs he wrote on his own. So it was with the combined resources of one novel and three film versions that my late collaborator, Louis Mattioli and I began our work in bringing STATE FAIR to the stage.

We were facing two major challenges, the first of which was the story. While the movies were a brief evocation of the fair itself, the story, characters and relationships would clearly require deeper exploration and development for the stage. The second challenge was the score. R&H had written only six songs for the original picture, so it was clear the theatrical score would need to include other songs. But where to find them?

Whatever songs we needed would have to blend stylistically with those from the movie, illuminate the various characters and situations and, above all (as R&H taught us), propel the story forward. They could also not be indelibly associated with other R&H musicals. (No "Climb Ev'ry Mountain" or "Some Enchanted Evening.")

Unlike many writers, R&H did not leave behind a plethora of undiscovered songs, or "trunk material." Seldom was a song replaced, and if so, it often found a home in a subsequent musical. (For instance, "Getting To Know You" from THE KING AND I began life as the melody of "Suddenly Lovely," written for SOUTH PACIFIC.) Also, R&H were theatre writers and rarely wrote outside the context of the musicals they created.

We began our musical search with the 1962 remake of STATE FAIR. There was a terrific comic number Rodgers wrote for it that seemed to fit perfectly, so "More Than Just A Friend" became the seventh song in the score. I was familiar with a lovely song that had been cut out-of-town from OKLAHOMA! when that show was still called AWAY WE GO! It was just right for the parents of our young protagonists and so "Boys And Girls Like You And Me" became the eighth song in our STATE FAIR. We also discovered one of the earliest song written for OKLAHOMA! which had never even made it into rehearsal—"When I Go Out Walking With My Baby."
Because we were setting the show in the postwar 40's, we wanted the score to reflect the Big Band flavor of that era. We also had in Emily, a band singer, a character who could afford to surprise us with some arrangements that would jump a bit. Swing music is not exactly what you think of when the names Rodgers and Hammerstein pop up, but we wanted to try. Two songs written for 1953's ME AND JULIET fit the bill—"You Never Had It So Good" (which had been cut prior to Broadway) and "That's The Way It Happens."
We rounded out the score with two songs from PIPE DREAM—"The Man I Used To Be" and "The Next Time It Happens"—and one from ALLEGRO—"So Far." 14 songs in all—now that's a theatrical score!

The story of the Frake Family of Iowa and their outing to the State Fair, Rodgers & Hammerstein's "newest" musical began its National Tour, naturally, in Des Moines during the opening of the '95 Iowa State Fair in August. The Theatre Guild, Rodgers & Hammerstein's first producers of OKLAHOMA!, carousel and ALLEGRO, revived that tradition as producers of this STATE FAIR, with Philip Langner and Robert Franz at the helm.
Governor Terry E. Branstad hosted the opening night performance in Des Moines, Iowa, where stars John Davidson, Kathryn Crosby, Andrea McArdle, Donna McKechnie, Scott Wise and Ben Wright were hailed as adopted hometown heroes and even made honorary Iowans. Also on hand were Rodgers & Hammerstein—Mary Rodgers and her family, and Hammerstein's son James, who not only carried the family name but also its theatrical pedigree—in this case, as co-director of STATE FAIR with Randy Skinner.

To the Des Moines crowd, every line in STATE FAIR that mentioned blue ribbon-winning hogs, tractor pulls, or corn dogs on the midway hit home with gusto. Songs like "It Might as Well Be Spring" and "It's a Grand Night for Singing" were greeted as good old-fashioned showstoppers, while lesser-known numbers like "So Far" and "The Man I Used to Be" were warmly welcomed. As for "All I Owe Ioway," it was received by the hometown crowd as nothing short of a standing-O, rip-roaring love-anthem to their Hawkeye State, earning STATE FAIR a front-page rave review in the Des Moines Register.

In the months and cities that followed, this STATE FAIR, to quote Hammerstein's opening lyric, proved to be "a great STATE FAIR" that triumphed far beyond local pride.
In Chicago, Sun-Times critic Hedy Weiss declared, "The show is perfection...Just pin that blue ribbon on the theater marquee," while her colleague Richard Christiansen of the Tribune wrote, "This is a smart, sharp and refreshing show, bursting with wonderful songs and beautiful voices, staged with savvy and snap, and performed with gusto, good humor and charm." Milwaukee Journal-Sentinel critic Damien Jacques called it "a pure delight... sweeter and more fun than cotton candy."

Typical of many reviewers, Pamela Sommers of the Washington Post felt that STATE FAIR is "corny and quaint, straight as an arrow and sentimental as all get out...But gosh darn it, [this] newly minted production...is surprisingly hard to resist." Philadelphia Inquirer critic Clifford Ridley, after telling his readers that he "fell for" STATE FAIR the first time he saw it on screen, confessed that, having now seen it on stage, "I tumbled for it all over again." Robert Hurwitt of the San Francisco Examiner saluted STATE FAIR for having "more glorious melodies than Broadway has seen in a very long time, [sung by] the kinds of gloriously bright voices...that remind you of Broadway's heyday." And in the trade paper Variety, Chris Jones decreed that "the crowd- pleasing charms of [this] 'new' musical are considerable and compelling—a witty book, lush R&H songs and a barrelful of strong performances are what provoked the lengthy and much-deserved standing ovation."
After an eight-month tour, STATE FAIR came to Broadway, where it racked up more than 100 performances. In early June, shortly before the show closed, DRG released the original Broadway cast album of STATE FAIR—billed as Rodgers & Hammerstein's first in 36 years. Produced for records by Hugh Fordin, it has proven to be a welcome souvenir for fans of the show, and a consolation prize for those who didn't catch its Broadway incarnation.
"The cast recording is a melodic delight," reported Show Music. "The cast sparkles [and] the chorus is exemplary, bringing even more zest to the proceedings via Kay Cameron's vocal arrangements. Bruce Pomahac's vivid orchestrations make Rodgers' melodies sound new, but stay true to their intent. It adds up to a STATE FAIR that makes return visits a joy." Billboard cheered, "This STATE FAIR is a great STATE FAIR...It all fits beautifully." In his original stage review, Ken Mandelbaum of TheatreWeek predicted that STATE FAIR "would make a delightful cast album," and in his follow-up review for the album, confirmed it: "STATE FAIR makes an expectedly smooth translation to disc...It makes for pleasant listening, and it's one that should stick around, as this stage version of State Fair...becomes, as it is bound to, a stock and community theater staple."

Indeed, STATE FAIR is a beloved show in the R&H catalogue and a popular choice in community theaters across the country. And thanks to the recent release of the film's 60th-anniversary double-disc DVD, an even wider fanbase is sure to emerge for this American treasure.
---

Vocal Range of Characters:

// Photos



Playbill VIP
: 
MAKE YOUR OWN PLAYBILL! Playbill VIP allows you to create your very own Playbill Program. We have provided Playbill with all of the credits, song listings, musical numbers and more so that most of the work is already done for you. Just add your productions details, photos of the cast and share it with all of your friends. Learn more: www.playbillvip.com
---

ADDITIONAL
Libretto/Vocal Book 10 Pack
Pre-Production Pack

1 – Piano /Vocal Score

1 – Libretto/Vocal Book

PRINCIPALS
3 Women
3 Men
FEATURED
4 Women
1 Girl
6 Men
ENSEMBLE
Singing-dancing ensemble consisting of Barkers, Vendors, Judges, and Fairgoers
CHARACTERS
Abel Frake – a farmer
Melissa Frake – Abel's wife
Margy Frake – the Frake's daughter
Wayne Frake – the Frake's son
Gus – the Frake's hired man
Dave Miller – the local storekeeper
Eleanor – Wayne's girlfriend
Harry – Margy's boyfriend
The Fair Announcer
The Hoop-La Barker
Emily Arden – a performer at the fair
Vivian
Pat Gilbert – a newspaper reporter
Charlie – a newspaper photographer
Lem – a farmer
Clay – a farmer
Hank Munson – a farmer
The Chief of Police
Violet – his daughter
The Fairtones – Emily's backup act
Judge Heppenstahl
Mrs. Edwin Metcalf of Pottsville
Barkers, Vendors, Judges and Fairgoers

STATE FAIR takes place over five days in late August of 1946 on the Frake farm in Brunswick, Iowa and at the Iowa State Fair in Des Moines.
SPECIFIC LOCATIONS
The Frake Farm
The Midway at the Hoop-La Booth
The Concessions Tent
Outside the Dairy Pavilion
The Starlight Dance Meadow
Camper's Hill
Exhibition Hall
Another Area of the Fair
Outside the Livestock Pavilion
Materials Notes
Media Rights
*

Currently media rights for G2K State Fair are not available. Please contact customer service with any questions.