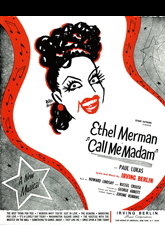 Call Me Madam
Once President Harry S. Truman appointed Washington hostess Perle Mesta as Ambassador to Luxembourg, the foundation was laid for a musical comedy that would kid politics-foreign and domestic alike. Ambassador Sally Adams, with slim credentials, is sent off to administer in the tiny duchy of Lichtenburg. It's not long before her down-to-earth, typically undiplomatic manner has surprised and charmed the local gentry, especially the handsome Prime Minister. A second romance is blossoming between her young Ivy League aid and Lichtenburg's enchanting young Princess. The course of love is threatened by the stuffy opposition, who eventually succeed in wrangling Sally's recall, but not before all has resolved happily for both pairs of lovers.
Participate in the R&H Online Community.
Leave comments or talk with other fans in the forum!

To request the rights to make merchandise for this show email larisa.borshman@rnh.com.
Fan Info:

The birthday of Russel Crouse, book writer of the musicals CALL ME MADAM and THE SOUND OF MUSIC. Crouse was born in 1893.

In 1918, dance legend Jerome Robbins was born in New York City. His Broadway credits included THE KING AND I and CALL ME MADAM.

In 1950, Irving Berlin's CALL ME MADAM opened at the Imperial Theatre, New York.

In 1952, CALL ME MADAM opened at the Coliseum Theatre, London.

In 1889 book writer Howard Lindsay was born. Lindsay became best known for writing the books to THE SOUND OF MUSIC, CALL ME MADAM, MR. PRESIDENT, and ANYTHING GOES.


"Sailing on one of Irving Berlin's most rhythmically propulsive scores, CALL ME MADAM soars like a musically-powered balloon. And what a ride it turns out to be!"
— The New York Times, January 01, 1950
"Sailing on one of Irving Berlin's most rhythmically propulsive scores, CALL ME MADAM soars like a musically-powered balloon. And what a ride it turns out to be!"
— The New York Times, January 01, 1995
"A reminder of how much sheer fun it used to be to go to the theater!"
— New York Daily News, January 01, 1995

Song #
Song Name
Character Name
Play
Other Versions

About CALL ME MADAM
By Robert Kimball
October 12, 1950. War was raging in Korea. The US Army had advanced north of the 38th parallel. Harry S. Truman was flying to Wake Island in the Pacific for the first-ever meeting with General Douglas MacArthur. Back home, rainfall was dampening New York's Columbus Day parade. Americans were listening to "Goodnight, Irene" and Bing and Gary Crosby's interpretation of a 1914 song by Irving Berlin, "Play a Simple Melody." And Berlin's new musical, CALL ME MADAM, was opening at New York's Imperial Theater with an advance of over one million dollars, by far the largest in Broadway history.
CALL ME MADAM was the summer-of-1949 brainchild of writers Howard Lindsay and Russel Crouse, whose Pulitzer Prize-winning play about a presidential election, STATE OF THE UNION, was a triumph of the 1945-46 theatrical season. It was President Truman's appointment of noted party-giver Perle Mesta as Ambassador of Luxembourg that gave them the idea for MADAM. Ethel Merman was a natural choice for the starring role, having been the leading lady of Lindsay & Crouse's first Broadway collaboration, ANYTHING GOES (1934), and Berlin's most recent hit ANNIE GET YOUR GUN (1946). Leland Hayward, who presented STATE OF THE UNION, MR. ROBERTS and SOUTH PACIFIC, was the producer. George Abbott directed. Jerome Robbins staged the musical numbers.
While CALL ME MADAM was not really in big trouble during its mid-September 1950 New Haven break-in, it needed work and received what Variety's Hobe Morrison, an ardent cheerleader, described as "a heroic job of tryout doctoring." One important change occurred when the 26-year-old juvenile lead, Russell Nype, scored a sensational success singing "It's a Lovely Day Today." Merman, noting the cheers for Nype, whose crew cut made him look as if he'd just stepped off a college campus, said to Berlin, "I want a duet with the kid!" She got it—the show-stopping double song "You're Just in Love" was fashioned in a hotel room in less than two days. A month later Brooks Atkinson wrote in The New York Times, "When Miss Merman and Mr. Nype sing "You're Just in Love," which is Mr. Berlin's top achievement for the evening, CALL ME MADAM throws a little stardust around the theatre and sets the audience roaring." Both Merman and Nype went on to win Tony Awards for their performances.
Another change occurred a few days later in Boston when Robbins told Berlin that the second act needed "something to dance about." Berlin took Robbins at his word and promptly gave him a song with that very title. Years later Berlin told me, "One of the many reasons I love Jerome Robbins is that he always seems to know what to fix and how to fix it, but just as important he knows what to leave alone."
RCA was MADAM's sole investor, putting up the entire $225,000 plus $30,000 needed for union bonds in order to secure all radio, television and cast album rights. The top ticket price, $7.20, was the highest on Broadway at that time
CALL ME MADAM received generally splendid reviews and notched up 644 performances. A national tour followed featuring Elaine Stritch and Kent Smith. Two London productions were mounted, one with an American, Billie Worth, and another with England's own Dora Bryan. 20th Century Fox released the film version starring Ethel Merman, George Sanders, Donald O'Connor and Vera-Ellen in 1953.
In 1995, Tyne Daly lead a glorious concert revival at New York City Center's ENCORES! series, leading to a cast recording from DRG Records, and sparkling numerous revivals, including a Papermill Playhouse (Millburn, N.J) production in 1996 starring Leslie Uggams.
---

Tony Awards
January 01, 1951 — Best Original ScoreBest Actress (Musical), Ethel MermanBest Featured Actor (Musical), Russell Nype

Vocal Range of Characters:


// Photos


Written By: Irving Berlin

Dear Ed:
Following is the story behind I Like Ike.
In 1948 when the talk of Eisenhower for President started, I wrote a chorus of a song called I Like Ike as a campaign number. The first version was a straight campaign song. I thought then that the traditional fear of a military man in the White House would be a big issue, so one of the couplets in that original version was --
'With so many treasures in our back yard/It's good to have a soldier standing guard'
Talk about Eisenhower for President died down and I forgot about the song.
When CALL ME MADAM came along I saw a spot in Lindsay and Crouse's script where we could use the Ike number as a comedy song. I then rewrote it and switched I to They. The rest of the story you know.
Ike came to the opening night and he seemed to enjoy it. I never dreamed it would be embarrassing to him.
In any event, the number started going better with each performance and I realized after a while that it was based on the warm feeling we all had for General Eisenhower.
After the convention, I had to change the lyrics and kept on changing them from then on to fit every change in the political situation.
If you do this Sunday night, I suggest having Pat Harrington, Ralph Chambers and Jay Velie do the version that they did the opening night at the Imperial Theater.
Good Luck and many thanks.
---

Playbill VIP
: 
MAKE YOUR OWN PLAYBILL! Playbill VIP allows you to create your very own Playbill Program. We have provided Playbill with all of the credits, song listings, musical numbers and more so that most of the work is already done for you. Just add your productions details, photos of the cast and share it with all of your friends. Learn more: www.playbillvip.com
---

STANDARD
CALL ME MADAM - Orchestration Package (20 Books/23 Players)

1 – Piano Conductor

1 – Piano

1 – Reed I (Piccolo, Flute, Clarinet, Alto Sax)

1 – Reed II (Clarinet, Bass Clarinet, Alto Sax)

1 – Reed III (Oboe, English Horn, Clarinet, Tenor Sax)

1 – Reed IV (Flute, Clarinet, Tenor Sax)

1 – Reed V (Clarinet, Bass Clarinet, Alto Sax, Baritone Sax, Optional Bassoon)

1 – Horn

1 – Trumpet I

1 – Trumpet III

1 – Trombone I

1 – Trombone II

1 – Percusssion (see "Materials Notes", under "Production Information")

1 – Guitar (Doubles Banjo)

1 – Violin A - C (Divisi)

1 – Violin B - D (Divisi)

1 – Viola (Divisi)

1 – Cello (Divisi)

1 – Bass

1 – Trumpet II

CALL ME MADAM -Rehearsal Set (22 Books)

20 – Libretto-Vocal

1 – Logo CD

2 – Piano Conductor

Digital Logo
ADDITIONAL
CALL ME MADAM - Libretto-Vocal 10-Pack (10 Books)
CALL ME MADAM - Pre-Production Pack (2 Books)

1 – Libretto-Vocal

1 – Piano Conductor

PRINCIPALS
2 Women
3 Men
FEATURED
1 Woman
3 Men
ENSEMBLE
Large singing-dancing ensemble with several small roles.
CHARACTERS
Mrs. Sally Adams
The Secretary of State
Supreme Court Justice
Congressman Wilkins
Henry Gibson
Kenneth Gibson
Senator Gallagher
Secretary to Mrs. Adams
Butler
Senator Brockbank
Cosmo Constantine
Pemberton Maxwell
Clerk
Hugo Tantinnin
Princess Maria
Court Chamberlain
A Maid
Grand Duchess Sophie
Grand Duke Otto
Sebastian Sebastian
Principal Dancers
The Ocarina Players

CALL ME MADAM takes place in New York and Lichtenburg during the Truman-era.
SPECIFIC LOCATIONS
Office of the Secretary of State
Sally's Washington Living Room
Lichtenburg Public Square
Office of the Embassy
A Fair at a public square
Corridor in the Palace
Sally's Sitting Room in the Embassy
Embassy Garden
Materials Notes
Reed IV Note: Flute in REED IV is double lined for Clarinet
---
Reed V Note: Bassoon in REED V is double lined for Bass Clarinet
---
Reed V Note: Bassoon in REED V is double lined for Bass Clarinet
---
Reed V Note: Bassoon in REED V is double lined for Bass Clarinet
---
Trap Set, Bells, Xylophone, Timpani, Wood Blocks, Triangle, Vibraphone
---
Trap Set, Bells, Xylophone, Timpani, Wood Blocks, Triangle, Vibraphone
---
Media Rights
Promotional
1. The Promotional Video shall be recorded and shown for the sole purposes of advertising your licensed production of the Play. For such a video, R&H allows theatres to film up to 10 minutes of total footage taken at either a performance or rehearsal (i.e.: 10 minutes of scripted moments.)
2. The Promotional Video may not include more than (i) 1 minute from any song or (ii) 3 minutes, in the aggregate, of footage of copyrighted material from the Play.
3. The Promotional Video may not include any sponsorship or underwriting without the prior consent of all R&H.
4. The Promotional Video must be submitted to R&H by sending the source video and video link to editor@rnh.com.
5. The Promotional Video must include the following: "Rights courtesy of Rodgers & Hammerstein, www.rnh.com"
6. Upon approval by R&H of the Promotional Video, you agree not to make any alterations in the approved copyrighted material used therein and you agree to obtain the prior written approval of R&H for any other use of the Promotional Video not specifically granted herein.
7. Upon termination of the Term, you shall cease to have any rights to use the Promotional Video including, without limitation, in connection with a future production of the Play, and shall immediately remove its content from any and all websites on the Internet.
8. You may not use a commercially available recording.
9. Any additional promotional rights must be approved by R&H by contactingTheatre@rnh.com.
*
Promotional video rights can only be granted once a performance license for Call Me Madam has been secured. Please contact customer service if you have any questions. If you have not yet applied for Call Me Madam, you can do so here. LOG IN to learn more.
---