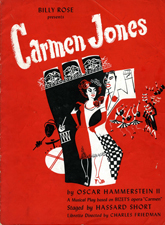 Carmen Jones
In a Southern town during World War II, Joe, an army corporal, is stationed near a parachute factory where Carmen Jones is employed. This reputed hussy soon manages to steal Joe away from his fiancée, and the army as well, and they run off to Chicago together. But the fickle Carmen loses interest in Joe when she meets and successfully woos Husky Miller, a prize fighter on his way to the top. Mad with jealousy, Joe waits for Carmen outside the stadium the night of Husky's big fight to make a last desperate plea for her love. When she denies him resolutely, he stabs her to death in a rage of passion to the eerie accompaniment of the crowd inside the stadium cheering Husky's victory.
Participate in the R&H Online Community.
Leave comments or talk with other fans in the forum!

To request the rights to make merchandise for this show email larisa.borshman@rnh.com.
Fan Info:

In 1945, CARMEN JONES closed on Broadway, after a run of 503 performances.

In 1943, CARMEN JONES opened at the Broadway Theatre, where it ran for 503 performances.


"CARMEN JONES can still be exciting...a daring piece of liberal and liberated theatre."
— Variety, January 01, 1943
"CARMEN JONES can still be exciting...a daring piece of liberal and liberated theatre."
— Variety, January 01, 1992
"Hammerstein's lyrics are as right and renovating as his book."
— Time Magazine, January 01, 1943
"CARMEN JONES has endured because of its sublime balance of memorable music and strong dramatic impetus...CARMEN JONES packs a terrific emotional punch."
— Telegraph.co.uk

Song #
Song Name
Character Name
Play
Other Versions


Laurence Olivier Awards (London)
January 01, 1992 — 3 Awards including Best Musical, 1992

Vocal Range of Characters:


// Photos

---
---
---
---


Written By: Oscar Hammerstein 2nd

CARMEN JONES is not an opera. It is a musical play based on an opera. CARMEN JONES however, does prove this much: that a surprisingly large number of the regular theatre-going public will enjoy operatic music if you let them in on the story. The most interesting indication that opera is not 'over the heads of the theatrical public' is the last scene of CARMEN JONES. Throughout this distinctly 'operatic' sequence, the audience is held as at no other time in the evening. They are tense and still in their seats. The characters look their parts. And they are acting as well as singing. They are not waving their arms and pounding the stage like heavy-footed mastodons. They are not using that phony sob-in-the-throat trick of grand-opera singers in emotional passages. They are portraying two human beings in terrible trouble, two confused souls moving toward their destruction with every word they sing. The audience, knowing what the words mean, are held in a tight grip of interest until the tragedy finds its inevitable end and Carmen sinks to the floor, stabbed by her crazed heart-torn lover.
---

Playbill VIP
: 
MAKE YOUR OWN PLAYBILL! Playbill VIP allows you to create your very own Playbill Program. We have provided Playbill with all of the credits, song listings, musical numbers and more so that most of the work is already done for you. Just add your productions details, photos of the cast and share it with all of your friends. Learn more: www.playbillvip.com
---

STANDARD
CARMN JONES Full Score Package - (2 Books)

1 – Full Score, Act 1

1 – Full Score, Act 2

CARMEN JONES Orchestration - (58 Books/56 Players)

1 – Full Score, Act 1

1 – Full Score, Act 2

1 – Flute I (Double Piccolo)

1 – Flute II (Double Piccolo)

1 – Oboe I

1 – Oboe II (Double English Horn)

1 – Clarinet I (Bb and Ab)

1 – Clarinet II (Bb and Ab)

1 – Bassoon I

1 – Bassoon II

1 – Horn I

1 – Horn II

1 – Horn III

1 – Horn IV

1 – Trumpet I (Bb and A)

1 – Trumpet II (Bb and A)

1 – Trombone I

1 – Trumpet II

1 – Trombone III

1 – Harp

2 – Percussion (2 Players)

1 – Timpani (1 Player)

9 – Violin I (Divisi)

8 – Violin II (Divisi)

7 – Viola (Divisi)

6 – Cello (Divisi)

5 – Bass

CARMEN JONES Perusal - Chorus Vocal & Piano Vocal (2 Books)

1 – Chorus Vocal

1 – Piano Vocal

CARMEN JONES - Rehearsal Set (55 Books)

1 – Logo CD

40 – Chorus Vocal

15 – Piano Vocal

Digital Logo
ADDITIONAL
CARMN JONES - Pre-Production Pack - (2 Books)

1 – Chorus Vocal

1 – Piano Vocal

Principals
4 Women
6 Men
Featured
2 Women
4 Men
Ensemble
Large singing-dancing ensemble with several small roles and children
CHARACTERS
*
Corporal Morrell
Foreman
Cindy Lou
Sergeant Brown
Joe
Carmen Jones
Sally
T-Bone
Tough Kid
Drummer
Waiter
Frankie
Myrt
Rum
Dink
Husky Miller
Soldiers (3)
Mr. Higgins
Miss Higgins
Photographer
Card Players
Dancing Girl
Poncho
Dancing Boxers (2)
Bullet Head
Referee
*Casting Note: CARMEN JONES was written to be performed with an all African American cast as it was originally produced on Broadway in 1943.

CARMEN JONES takes place during World War II in the American South and in Chicago.
SPECIFIC LOCATIONS
Outside the Parachute Factory
A Nearby Roadside
Billy Pastor's Cafe
Terrace of the Meadowlawn Country Club, The Southside of Chicago
Outside of a Sports Stadium
Materials Notes
Media Rights
*

Currently media rights for Carmen Jones are not available. Please contact customer service with any questions.