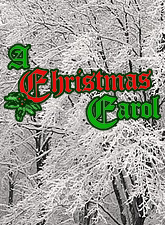 A Christmas Carol
The Academy Award-winning composer Michel Legrand has teamed with Sheldon Harnick, one of the theatre's most celebrated Tony Award and Pulitzer Prize winning librettists, and the tale of Ebenezer Scrooge's prophetic Christmas Eve is reborn. From the pages of Dickens comes this scintillating musical adaptation of the Yuletide classic that continues to touch hearts and minds the world over. This universal story is ultimately one of family and conscience, of desperation and regret and second chances. Give your audience the holiday gift of embracing its warmth and wisdom as never before, carried on the wings of a soaring theatrical score.
Participate in the R&H Online Community.
Leave comments or talk with other fans in the forum!

To request the rights to make merchandise for this show email larisa.borshman@rnh.com.
Fan Info:

The birthday of film composer and jazz performer Michel Legrand, who wrote the score of the musical A CHRISTMAS CAROL.

The birthday of Sheldon Harnick; best known for FIDDLER ON THE ROOF, he also the lyricist of A CHRISTMAS CAROL, REX, and A WONDERFUL LIFE.


"Theatrical magic... of the countless adaptations, this one is among the best...dialogue and lyrics are intelligent, the music tuneful and sprightly...a full-fledged musical with plenty of jollity...a smoothly-flowing show that respects its source while preventing it from being a musty museum piece."
— New Haven Register
"A buoyant, tuneful show."
— Paul Kolas, Worcester Telegram

Song #
Song Name
Character Name
Play
Other Versions

It was composed by Michel Legrand, an Oscar and Grammy winner, and the book and lyrics were written by Sheldon Harnick, who collaborated with Mr. Legrand on an Off-Broadway musical version of "The Umbrellas of Cherbourg" several years ago.
Recently, a tribute was held in celebration of Mr. Harnick's 30th anniversary as a lyricist. He may be best known for the prize-winning "Fiddler on the Roof" and "Fiorello," but "She Loves Me,"Tenderloin" and "The Apple Tree" and his "early" revue material, starting with "New Faces of 1952," make up a momentous chapter of musical theater history.
For all that, "A Christmas Carol" remains a debut of sorts for Mr. Harnick. "It's the first book I've done from scratch," he said during a recent rehearsal break. "This isn't a rock or jazz or Depression Christmas Carol or a spoof. It's really Dickensian."
Mr. Harnick continued: "I found an annotated edition of the novel which had an introduction that explained the essence of Dickens. He knew the evils of society had to be corrected but his approach was to change the individual, not the world. Scrooge typifies the total utilitarian businessman for whom business is the be-all and end-all in life. That leads to all kinds of injustice he can't even see, but the change must come from within himself. Dickens had a poetic, a dreamer's approach to life, not a social reformer's."
For the production's director and choreographer, Charles Abbott, who began his career as a performer, the novel is a conflict between greed and generosity, but the plot's important subtheme is love. Mr. Abbott said: "What Scrooge does is because of a lack of love. He lost it along the way and began loving money instead. He became mean and vindictive, but he has a sense of humor underneath and you don't hate him—for very long!"
The Hartman production evolved from a 10-week touring "package" in which Richard Kiley starred as Scrooge. It started in Elmira and wound up in New Orleans last year. Originally, it had been intended as a television project, which was commissioned—and dropped—by the National Broadcasting Company. The present staging was also supposed to be part of a "television deal" and that, too, didn't materialize. Mr. Kiley then backed out. "We were desperate for a Scrooge and when Woody Romoff came in to audition for the part of Marley, he was startled when we offered him Scrooge," Mr. Harnick said.
Recalling last year's tour, he commented: "We opened badly. At first, I was so concerned with the book that I neglected to preserve the proper balance between it and the music. My first impulse was to be too Victorian and flowery. When we started in Elmira we were so book heavy that each scene was half again as long as it should have been. By the end of the fifth week, those problems were solved and we began to get good notices."
The show was then in Baltimore where the theater's management, confused by all the Christmas Carols that were going around, requested a name change. For the Baltimore run, the show was called "Penny by Penny," the title of one of its songs.
The musical is still being revised and reshaped—and new songs have been added. Since Mr. Legrand is living in France, this was done "by phone calls and tapes," according to Mr. Harnick, who admitted it was an "inconvenience—but possible."
With such considerable talent involved, will there be life for this "Christmas Carol" after Stamford? "We'll invite the Shuberts and the Nederlanders to see it and if it's economically feasible, maybe it could be done as a seasonal attraction in New York next year," Mr. Harnick mused.
"We could open it up easily for Radio City Music Hall," Mr. Abbott added with a laugh. The Hartman production has a seven-member orchestra and a cast of 18, 15 of whom play three to seven roles each. While the 140-year-old classic may be timeless and timely, both Messrs. Harnick and Abbott agree that, indeed, it isn't a show for all seasons. (A black musical adaptation, "Comin' Uptown," opened on Broadway in December 1979—and closed the next month.)
''It was never conceived for an indeterminate Broadway run,'' said Mr. Harnick. "My wife, Margery, summed it up last year when we opened in Elmira in November. She said, 'With all the best will in the world, I'm resisting this show. It isn't even Thanksgiving yet. I don't want to know about Christmas.' And the closer we got to Christmas, the more responsive the audiences were."
---

Vocal Range of Characters:


// Photos

---
---
---
---


Playbill VIP
: 
MAKE YOUR OWN PLAYBILL! Playbill VIP allows you to create your very own Playbill Program. We have provided Playbill with all of the credits, song listings, musical numbers and more so that most of the work is already done for you. Just add your productions details, photos of the cast and share it with all of your friends. Learn more: www.playbillvip.com
---

STANDARD
Orchestration Package (6 Books/6-7 Players)

1 – PIANO CONDUCTOR SCORE - Act I

1 – PIANO CONDUCTOR SCORE - Act II

1 – SYNTHESIZER

1 – REED (Piccolo, Flute, Oboe, Clarinet, Bass Clarinet, Alto Sax)

1 – BASS (Plus Insert)

1 – PERCUSSION (see "Materials Notes", under "Production Information")

Piano Conductor Scores (1 Act 1, 1 Act 2)

1 – PIANO CONDUCTOR SCORE - Act I

1 – PIANO CONDUCTOR SCORE - Act II

Rehearsal Set (24 Books)

20 – Libretto/Vocal Books

1 – Logo CD

2 – PIANO CONDUCTOR SCORE - Act I

2 – PIANO CONDUCTOR SCORE - Act II

Digital Logo
ADDITIONAL
Libretto/Vocal Books 10 pack

10 – Libretto/Vocal Books

CHRISTMAS CAROL - PRE-PRODUCTION PACKAGE

1 – PIANO CONDUCTOR SCORE - Act I

1 – PIANO CONDUCTOR SCORE - Act II

1 – Libretto/Vocal Books

PRINCIPALS
2 Women
4 Men
FEATURED
4 Women
3 Girls
5 Men
3 Boys
ENSEMBLE
Singing-dancing ensemble with several small roles, children and much doubling possible.

A CHRISTMAS CAROL requires a unit set on which the following scenes can be simply and fluidly suggested with furnishings, props, and perhaps projections.
SPECIFIC LOCATIONS
The Streets of London
Scrooge's Counting House
Scrooge's Bedroom
A Wintry English Countryside
A Schoolroom
Fezziwig's Warehouse
A Park
Fred's Parlor
The Cratchit Home
Old Joe's Shop
Materials Notes
SYNTH NOTE: The Piano/Conductor part requires at least one (1) Synth Keyboard (in addition to the acoustic piano). The Synthesizer part requires at least two (2) synth keyboards. A third keyboard, dedicated to Soft String sound is recommended. The Synthesizer is intended for two players, but can be performed by one by omitting certain portions.
---
Chimes (Tubular Bells), Glock, Xylophone, Vibes, Timpani, Orchestral Bass Drum, Bell Tree, Triangle, Tambourine, Sleigh Bells, Finger Cymbals, Wood Block, Ratchet, Moracas, Shaker, Cow Bell, Tam Tam, Whip, Chains, Scraping Metal Sounds
---
Media Rights
*

Currently media rights for A Christmas Carol are not available. Please contact customer service with any questions.