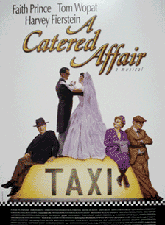 A Catered Affair
Book by
Harvey Fierstein
| Music and Lyrics by
John Bucchino
| Based on the Turner Entertainment motion picture distributed by Warner Brothers and written by Gore Vidal, and the original teleplay by Paddy Chayefsky
A CATERED AFFAIR tells the story of a Bronx mother's efforts to give her only daughter the elaborate wedding she never had – and the bride never asked for. In this funny, poignant and oh, so human show of love and disaffection, Harvey Fierstein's book and John Bucchino's score explore both our need for love and true meaning of family. The Broadway production received 12 Drama Desk Award nominations, the most of any show of the 2007-2008 season, and was chosen as Best Musical by the New York Drama League.
Participate in the R&H Online Community.
Leave comments or talk with other fans in the forum!

To request the rights to make merchandise for this show email [email protected].
Fan Info:

In 2008 A CATERED AFFAIR closed on Broadway after 116 performances and three Tony nominations.

The birthday of composer John Bucchino, who wrote the scores for the musical A CATERED AFFAIR and the revue IT'S ONLY LIFE.

In 2008 A CATERED AFFAIR opened on Broadway at the Walter Kerr Theater for 116 performances, with a score by John Bucchino and a book by Harvey Fierstein. It is nominated for three Tony Awards.

The birthday of Harvey Fierstein, award-winning Broadway actor and writer of shows including A CATERED AFFAIR and LA CAGE AUX FOLLES.


"This Bronx tale, with its interlocking, underlining and quietly beautiful music and lyrics by John Bucchino, skims along the edge of sentimentality to find honest sentiment in this story. These are not musical comedy stereo-types - these are people. It's simply a musical with an honest heart, and that's enough."
— Clive Barnes, New York Post, April 18, 2008
"An emphasis on characters drawn with passion and compassion, and handled with that most quaint of virtues: dignity. [Fierstein] has fashioned a witty, wise, moving script. John Bucchino's score is similarly thoughtful and heartfelt."
— Elysa Gardner, USA Today, April 18, 2008
"Running a concise but enthralling 90 minutes, this quietly intense, intimate musical possesses a heart and emotional power that too often has been missing from Broadway musicals... The beautiful score by John Bucchino, making his Broadway debut, gives each of the main players their chance to shine."
— Frank Scheck, The Hollywood Reporter, April 18, 2008
"Perhaps the perfect show for a new period of economic anxiety and widening class divide...the show commands respect by further challenging standard preconceptions of how the Broadway musical should sound, function and feel."
— David Rooney, Variety, April 18, 2008
"A triumph of craft over commercialism. Fierstein's book is a sweet tale filled with humor and pathos. Bucchino's score for A CATERED AFFAIR is a ravishing combination of gorgeous melodies and scrupulously crafted lyrics. He has ingeniously blended recitative and song into character-driven pieces that fuse perfectly with the dialogue. It's an auspicious Broadway debut for Bucchino and several songs in the score, such as ''Don't Ever Stop Saying 'I Love You,''' are destined to become standards."
— David Hurst, Next Magazine, April 18, 2008
Battle Creek Enquirer
Written By: Christopher Tower
'A Catered Affair' magnificent example of humandrama
"A Catered Affair" is neither splashy nor star−driven; it's not over−blown nor does it feature a superhero andmusic by U2. What is it? Magnificent. Extraordinary. A show that defines the real artistry and power oftheater: to move the heart and spirit in ways that no other medium can achieve.
Those who attended the packed house in the intimate quarters of the Farmers Alley Theatre in Kalamazoolast Friday night learned why theater is so special and why it has the power to emotionally enrich our livesunlike any other art form.
Longtime local favorites Joe Aiello and Scott Burkell understood the power of this show when seeing it onBroadway in 2008, which, coincidentally, starred another local favorite, Tom Wopat, in its short run. Writtenby Harvey Fierstein with music and lyrics by John Bucchino, Aiello and Burkell realized that "A CateredAffair" would play very well in Farmers Alley, which is dedicated to bringing professional theaterproductions to Kalamazoo. Three years later, the duo direct this production, reuniting with Barbara Marineau,one of Kalamazoo's greatest success stories, who has gone on to have a thriving Broadway career.
New York Critics dismissed "A Catered Affair" as "small," dooming it to a short run, but its only seasonreceived twelve Drama Desk Award nominations.
Set in 1953 in the Bronx, "A Catered Affair" tells a story that's only "small" if one measures with a lavishyardstick and places a premium on special effects. If one charts the course of the heart, the story's themes oflove, marriage, money and commitment are vast, deep and powerful.
Janey (Denene Mulay Koch), daughter of a cab−driver, and Ralph (Jeremy Koch), son of a wealthy NewYork real estate broker, decide to get married in a simple civil ceremony with only their four parents. Janey'sparents Tom (Joe Aiello) and Aggie (Barbara Marineau) accept their daughter's decision at first, but abereavement gift from their son killed in an unspecified service to the armed forces changes this acceptanceto a desire to do something nice for their daughter, for whom they "never gave nothing."
At first, the wedding plans help mother Aggie and daughter Janey bond and grow closer, but soon, plansspiral out of control with Ralph's parents (Tim Brown and Priscilla Swiat) inviting more than double theagreed−upon guests and lovable Uncle Winston adding more to the mix than just his signature floralarrangements. Conflict builds to a breaking point when Tom has to decline to buy out a share in his cab and truths of his marriage with Aggie are exposed.
Given the emotional power of the story as it unravels in the second act, it's difficult to imagine that the showremains light and features fun musical numbers, but it does. Managing to keep just enough humor to balancethe pathos of the family drama, the show tours a wide range of human emotions from joy to heartache, andmost of all, love.
Though the script is good, in lesser hands the show would not be nearly as magnificent. With powerfulperformances, stunning musical direction, professional technical work and brilliant stage direction, "ACatered Affair" flirts with masterpiece status, quite likely far better than the Broadway production thatinspired Aiello/Burkell to bring it to Kalamazoo.
The show unites married couple Denene Mulay Koch and Jeremy Koch on stage again. Though Jeremy Kochsees less stage time, he serves as a good counterpoint to his wife's performance. Once again, Denene MulayKoch proves that she is one of the area's top talents. Burkell shows why he's at his best in comic roles withcontrol and subtlety in his role of soon to come out of the closet Uncle Winston.
But the blockbuster work comes from Aiello and Marineau. If not for Marineau, Joe Aiello's "I Stayed" in thesecond act would be the showstopper. A consummate professional, Aiello acts the stuffing out of the role ofTom. Though not overshadowed by Barbara Marineau, her role takes a greater share of the stage and rightlyso.
Marineau is a brilliant actress, and in this role, she exceeds all expectations (which were already high).Marineau's homecoming to the city where she began her career provides enough reason to see this show.
Though space will not allow for everyone associated with this show to receive a mention, notables includemusical direction by Marie McColley Kerstetter, scenic design by W. Douglas Bickle, costumes by AmberMarisa Cook, and lighting by Lanford Potts.
Farmers Alley has added another weekend to its run of "A Catered Affair" to meet demand for tickets. Hurryand reserve seating before this bright flame that illustrates the true transformative power of theater goes dark.
A Catered Affair,
Stage Scene La
Written By: Steven Stanley , April 15, 2013
WOW!
While it may be true that no musical is too big for Broadway, Spider Man being a case in point, it's equally true that some musicals are simply too small, too intimate, too "chamber" to make it on the Great White Way, one more reason to celebrate Musical Theatre Guild for bringing these delicate gems back to life, if only for an evening or afternoon of musical theater bliss.

Such is the case with 2008's A Catered Affair, which despite its pedigree (music and lyrics by John Bucchino and book by Harvey Fierstein, based on a screenplay by Gore Vidal and a teleplay Paddy Chayefsky) and a cast which included Tom Wopat, Faith Prinze, and Fierstein, closed on Broadway after a mere 143 performances and previews.

Still, as its twelve Drama Desk Award nominations and its Drama League Award win for Distinguished Production of a Musical suggest, and as last night's MTG concert staged reading made abundantly clear, this is one musical deserving of a better fate than the one Broadway gave it.

Fierstein's book introduces circa 1953 us to middle-aged Brooklyn cab driver Tom Hurley (David Holmes), who has just learned that he and fellow cabbie Sam (John Sloman) can at last become equal partners, each of them owning 50% of the cab they've been driving for twenty years simply by buying about-to-retire Pasternak's one-third share of the business.

Simultaneously, Tom's daughter Jane (Melissa Fahn) and her boyfriend Ralph (Jeffrey Christopher Todd) have decided to formalize their own partnership in a quickie city hall ceremony, the better to take advantage of an offer to drive a friend's car out to California, all expenses paid, have a West Coast honeymoon, and get back to New York in time for Ralph's teaching job to start back up.

There's only one catch. Once their respective parents have learned of their decision, there's no way the adults will let their kids get married in anything less than a grand church ceremony, followed by a gala reception for family and friends, the titular "Catered Affair."

Tom's wife Aggie (Marsha Kramer) sees her daughter's wedding as a chance to make up to Janie for having always favored their son Terrance, a recently fallen hero/victim of America's Korean War. Yes, Janie's marriage to Ralph may someday end up as loveless as Aggie's to Tom appears to have been, but at least she'll have that one magical moment to look back on in the future. As for Ralph's parents, the hoity-toity Hallorans (Sloman and Tracy Lore) can hardly see their son-and-heir married in a civil ceremony. After all, what will their hundred and eighty-six friends and relatives think if they don't get their very own embossed wedding invitations in the mail?

Complicating matters even further is Janie's "confirmed bachelor" Uncle Winston (Roy Leake, Jr.), who despite having lived all of Tom and Aggie's married life under the same roof with them, doesn't qualify as "immediate family" and will therefore not be invited to join them at City Hall, since how will the rest of Janie's uncles and aunts feel if only Uncle Win is at the ceremony?

With a storyline as slight as this, a cast of ten mostly over-fifty actors, and a ninety-minute running time, how could A Catered Affair possibly have made it on Broadway opposite In The Heights, Legally Blonde, and Mary Poppins, to name just three concurrently-running hits?

Still, with a score as gorgeously intricate (and just plain gorgeous) as the one Bucchino has written—kissing cousins to Adam Guettel's for The Light In The Piaza—and characters whose intersecting stories can't help touching the hearts of all but the most heartless, A Catered Affair is more than deserving of its brief post-Broadway afterlife with Musical Theatre Guild.

The last time we saw Kramer, Holmes, and Leake on stage together was in 2010's entirely forgettable 70, Girls, 70, all the more reason to celebrate a musical that does justice to the talents of three of the brightest and most venerable jewels in the MTG crown, each of them doing unforgettable work under Alan Bailey's supremely nuanced direction.

Watch the pain in Kramer's eyes as she realizes the short end of the bargain Aggie has given "Our Only Daughter" or her face light up as the long-suffering housewife describes her "Vision" for Janey and Ralph's "catered affair" and you realize you're in the presence of a master performer given the proverbial "role of a lifetime" and nailing its every facet.

As Tom, a man who loves his daughter but knows that an expensive wedding will mean extinguishing any hope of finally becoming his own boss, Holmes is a powerhouse of anger and resentment and, in the gut-wrenching "I Stayed," unexpected marital devotion and even love.

And then there's Leake in a part Fierstein wrote for himself, not surprisingly the musical's most scene-stealing role, making "bent" Uncle Win entirely his scene-stealing own, and never more so than in a tour-de-force "Immediate Family," which has Leake singing out a repressed gay man's rage even as he repeatedly mangles Mrs. Halloran's name for laughs, a performance that would have the entire audience erupting in cheers were it not cut short by another character's entrance (an interruption both inexplicable and indefensible, whoever the culprit).
Supporting performances are all-around splendid, beginning with Fahn's exquisite, utterly authentic Janie, proof positive that this MTG treasure can play it straight, and every bit as winningly as she does the bubble-headed bimbos she's best known for. And as Todd's recent romantic lead in Call Me Madam made abundantly clear, no leading lady could ask for a handsomer or more charming romantic leading man. The duo get A Catered Affair's most gorgeous song, "Don't Ever Stop Saying I Love You," a heavenly joining of voices if there ever was one.

The inimitable Helen Geller and the one-and-only Carol Kline join the always sensational Lore as a trio of gossiping neighborhood biddies, Geller and Kline doubling terrifically as women who make weddings their business. Guest artist Sloman is every bit the equal of his MTG member costars as two very different characters.

Completing the cast in a pair of non-singing roles is the luminous Melissa Lyons Caldretti as an army sergeant who delivers an American flag and government check with equal parts dignity and heart, and as a friend of Janie's whose recent marriage has brought her the opposite of wedded bliss.

An entirely justified Tony-nomination went to orchestrator Jonathan Tunick, and if MTG's four-piece orchestra substitutes synthesized violins for the real thing (impeccably transposed by musical director Brent Crayon), the beauty of Tunick's orchestrations shines through as performed by Crayon and Cassie Nickols on keyboards, Adrienne Geffen on woodwinds, and Dustin McKinney on trumpet.
AJS Costumes' A. Jeffrey Schoenberg gives each character not only just the right 1950s look but one that matches age, income, and social position. A Catered Affair also features some of the most beautiful lighting choices I've seen in an MTG production, particularly in "Vision." Actors mime most props, allowing audience imagination to do the rest.

Jessica Olson is assistant costume designer. Tara Sitser is production stage manager, Kirsten D'Agostaro Shook assistant stage manager, and Art Brickman production manager.

Jill Marie Burke is production coordinator.
A Catered Affair cries out for a 99-seat production, one that would best suit its intimacy and give audiences the chance to see it fully-staged. In the meantime, there's MTG stripped-down big-stage reading to celebrate—with only one remaining performance in Thousand Oaks this coming Sunday. This is one affair, catered or otherwise, you won't want to miss.
'A Catered Affair' a musical feast on every level at Porchlight Theatre,
Chicago Sun Times
Written By: Hedy Weiss
Although more and more people are now living the single life, weddings remain the biggest theatrical event produced and performed by ordinary people. And often, the couple tying the knot are overly manipulated actors, while their parents (in league with pushy party planners) assume the roles of tyrannical directors, designers, marketers, menu planners and producers.

Aggie Hurley (in a fearless, altogether unforgettable portrayal by Rebecca Finnegan) is the fierce principal character in "A Catered Affair," the 2008 Broadway musical by Harvey Fierstein (book) and John Buccino (music and lyrics) now in a heartwrenching Chicago debut by Porchlight Music Theatre. She is the mother of the bride who observes that the most important thing with a marriage is to "make a good start of it." Her own wedding ceremony with Tom (Craig Spidle) was a rushed, unglamorous affair, and while the marriage has endured, it is largely joyless. So now she misguidedly hopes to compensate for this (and the favoritism she long showed to her son) by splurging on a big, unaffordable wedding for her daughter, Janey (a wonderfully natural, low-key turn by Kelly Davis Wilson), who wants nothing but a bare-bones City Hall ceremony.

Set in Brooklyn in 1953, "A Catered Affair" is an old-fashioned story (its source is a Paddy Chayevsky teleplay and a subsequent film from the era) about a money-strapped, working class Irish-Catholic family in the Bronx. It is easy to see why the show floundered on Broadway (it lacks any hint of spectacle). But this is precisely what makes it such a triumphant work for Porchlight, where, under Nick Bowling's skilled direction (and music direction by Doug Peck), it more than compensates for flashy production numbers with intimacy, heart and deeply drawn human relationships.

Aggie and Tom have just returned from a memorial service for their son, who was killed in the Korean War, when Janey announces she is hurriedly marrying Ralph (Jim Deselm), a tenure-track teacher from a wealthier family, so they can honeymoon in California by delivering a friend's car. Tom, who had hoped to buy out a partner in the taxicab he shares, watches as his life savings are promised to an ever larger, more lavish, conformity-driven, status-seeking wedding party. Meanwhile, Uncle Winston (Jerry O'Boyle), Aggie's "bachelor" (i.e. "gay") brother feels both ostracized and empowered by events.

Fierstein's insistence on creating a subplot around Winston, clearly idevised as a cry for gay marriage, is misguided. It feels jarringly anachronistic in this quintessentially period piece, and at moments threatens to topple it. But Bucchino's beguiling, emotion-filled score could not be more on point. And Finnegan — who leaves an indelible imprint on this role at every second — delivers a scorching version of "Our Only Daughter," while Spidle belts out the fearsome anthem "I Stayed," Wilson enchants with "One White Dress," and O'Boyle nails "Immediate Family," a song that says everything just as it would have been said in the 1950s.

The rest of the cast does well, with a superb (only partly visible) onstage orchestra conducted by Elizabeth Doran, an inspired beige-on-beige street scene and interior set design (complete with Romeo and Juliet-like balcony) by Brian Sidney Bembridge, and vintage Eisenhower-era costumes by Bill Morey.

This is a home-cooked rather than catered affair, and a most memorable meal.

Song #
Song Name
Character Name
Play
Other Versions


Vocal Range of Characters:


// Photos



John Bucchino Master Class
: 
John Bucchino, composer and lyricist of A CATERED AFFAIR, is available for Master Classes. He is also available to coach and accompany performances of the show.
Mission Statement
My goal with these classes is to broaden the singers' perspective on what is possible in the performance of my (or anyone's) songs, to encourage them to find their own emotional truth in the interpretation of words and notes. I also hope that discussion of my career and creative process will inspire them to pursue their own unique path, discovering their strengths and continuing to narrow their focus as to where their deepest passion lies and how they might best offer their gifts to the world.


For more information, or to book a class, please contact John



---
Playbill VIP
: 
MAKE YOUR OWN PLAYBILL! Playbill VIP allows you to create your very own Playbill Program. We have provided Playbill with all of the credits, song listings, musical numbers and more so that most of the work is already done for you. Just add your productions details, photos of the cast and share it with all of your friends. Learn more: www.playbillvip.com
---

STANDARD
A CATERED AFFAIR-Orchestration (11 Books/10 Players)

1 – Bass (Acoustic)

1 – Cello (Solo)

1 – Piano-Conductor

1 – Piano (Acoustic)

1 – Percussion(see "Materials Notes", under "Production Information")

1 – Reed I (Clar., Flute, Alto Fl, Piccolo)

1 – Reed II (Bassoon and Clarinet)

1 – Trumpet (Trumpet and Flugel)

1 – Viola (Solo)

1 – Violin I (Solo)

1 – Violin II (Solo)

A CATERED AFFAIR - Rehearsal Set

20 – Libretto-Vocal

2 – Piano-Conductor

1 – Digital Logo
ADDITIONAL
A CATERED AFFAIR - Pre-Production Pack (2 Books)

1 – Libretto-Vocal

1 – Piano-Conductor

PRINCIPALS
2 Women
3 Men
FEATURED
1 Man
4 Women
CHARACTERS
Aggie Hurley – mother of the bride
Tom Hurley – father of the bride
Janey Hurley – the bride
Ralph Halloran – the groom
Winston – uncle of the bride
Mr. Halloran – groom's father (double as Sam)
Mrs. Halloran – groom's mother (doubles as Pasha)
Myra – neighbor (doubles as Wedding Dress Saleswoman)
Delores – neighbor (doubles as The Caterer)
Alice – Janey's best friends (doubles as Army Sergeant)
Sam – cab driver
Pasha – neighbor
Wedding Dress Saleswoman
Caterer
Army Sergeant

A CATERED AFFAIR takes place in New York's South Bronx, Tuesday following Memorial Day weekend and onward, 1953
SPECIFIC LOCATIONS
Tenement Courtyard
The Apartment – kitchen, bedroom and fire escape
Bridal Shop Interior
Catering Hall
Front Stoop
Materials Notes
Traps [Snare Drum & Bass Drum] Susp. Cymbal, Bell Tree, Glock, Timpani, Xylophone, Triangle and Small Triangle
---
Featured Videos
Media Rights
Promotional
1. The Promotional Video shall be recorded and shown for the sole purposes of advertising your licensed production of the Play. For such a video, R&H allows theatres to film up to 10 minutes of total footage taken at either a performance or rehearsal (i.e.: 10 minutes of scripted moments.)
2. The Promotional Video may not include more than (i) 1 minute from any song or (ii) 3 minutes, in the aggregate, of footage of copyrighted material from the Play.
3. The Promotional Video may not include any sponsorship or underwriting without the prior consent of all R&H.
4. The Promotional Video must be submitted to R&H by sending the source video and video link to [email protected]
5. The Promotional Video must include the following: "Rights courtesy of Rodgers & Hammerstein, www.rnh.com"
6. Upon approval by R&H of the Promotional Video, you agree not to make any alterations in the approved copyrighted material used therein and you agree to obtain the prior written approval of R&H for any other use of the Promotional Video not specifically granted herein.
7. Upon termination of the Term, you shall cease to have any rights to use the Promotional Video including, without limitation, in connection with a future production of the Play, and shall immediately remove its content from any and all websites on the Internet.
8. You may not use a commercially available recording.
9. Any additional promotional rights must be approved by R&H by contacting[email protected].
*
Promotional video rights can only be granted once a performance license for A Catered Affair has been secured. Please contact customer service if you have any questions. If you have not yet applied for A Catered Affair, you can do so here. LOG IN to learn more.
---