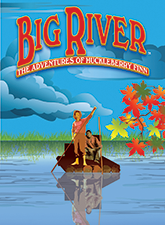 Big River
Twain's timeless classic sweeps us down the mighty Mississippi as the irrepressible Huck Finn helps his friend Jim, a slave, escape to freedom at the mouth of the Ohio River. Their adventures along the way are hilarious, suspenseful and heartwarming, bringing to life your favorite characters from the novel-the Widow Douglas and her stern sister, Miss Watson; the uproarious King and Duke, who may or may not be as harmless as they seem; Huck's partner in crime, Tom Sawyer, and their rowdy gang of pals; Huck's drunken father, the sinister Pap Finn; the lovely Mary Jane Wilkes and her trusting family. Propelled by an award winning score from Roger Miller, the king of country music, this jaunty journey provides a brilliantly theatrical celebration of pure Americana.
Participate in the R&H Online Community.
Leave comments or talk with other fans in the forum!

To request the rights to make merchandise for this show email larisa.borshman@rnh.com.
Fan Info:

The birthday of Roger Miller, composer and lyricist of BIG RIVER.

In 1987, BIG RIVER, a musical based on THE ADVENTURES OF HUCKLEBERRY FINN, closed its Broadway run after 1,005 performances.

The birthday of William Hauptman, writer of the book for BIG RIVER.

In 1985 BIG RIVER, a musical based on THE ADVENTURES OF HUCKLEBERRY FINN, opened on Broadway at the Eugene O'Neill Theatre where it ran for 1,005 performances and won 8 Tonys, including Best Musical.


"A classic American musical with the most fetching score of the decade."
— Time Magazine
"The story is a fun one including lots of social and historical relevance, and a moral conscience...the score is one that audiences will likely go home humming. "
— Matthew Murray, TalkinBroadway.com, January 01, 2005
"A rousing, high spirited show that sets your hands to clapping, your feet to stomping and your heart to rise within you!"
— WCBS-TV

Song #
Song Name
Character Name
Play
Other Versions

From The Official Roger Miller Website (www.rogermiller.com):
The story of BIG RIVER is as fantastic as any of Roger's life. The key man was Rocco Landesman, a former Yale professor at the Yale School of Drama who happened to be the world's #1 Roger Miller fan.
"I thought he was an absolute genius," Landesman says. On the way to a New York appearance by Roger at the Lone Star Cafe, Landesman conceived the notion that Miller ought to write a Broadway score—and the Adventures of Huckelberry Finn would be the perfect vehicle. He approached Roger's wife, Mary, after the show. She encouraged him to write a letter to Roger with the idea. Roger jokes, "He made me an offer I couldn't understand."
Nevertheless, Landesman wrote a number of letters to Miller and about a year later had him convinced he was the right man for the project. Roger was off on another new journey. Landesman commissioned William Hauptman to adapt Twain's book and the project was underway.
Roger, initially intimidated, spent a year and a half on the first phase of the musical. He was "writing from every corner of my heart," as he put it. The play opened at Harvard's American Repertory Theatre, then moved to La Jolla, California, where a struggling young actor named John Goodman took the role of Huck's father, Pap. In the play, Pap's feature song is "Guv'ment," which Roger wrote while thinking about the uncle who raised him. Elmer Miller didn't drink like Pap, but he did "used to cuss out the government," Roger said.
BIG RIVER opened at New York's Eugene O'Neill Theatre on April 25, 1985, during one of the bleakest seasons in the history of the Great White Way. The press offered the hope, which they clearly considered him, that BIG RIVER might save the day.
As it turned out, the play was a smash hit, earning seven Tony Awards, including Miller's for best score. When Goodman left the role for the movies, Roger took over his part for three months. He also made an album on MCA, called Roger Miller, on which he sang several songs from the play, including "Guv'ment" and the magnificent "River in the Rain."
For Roger, BIG RIVER was the crowning achievement of a fantastic career that to him only then seemed complete. He is the only Country artist to win a Tony Award. With BIG RIVER a proven success, Roger was able to relax at his Santa Fe home and focus on the family life he had made with Mary and their two young children, Taylor and Adam. "I have a brother who's five and sister who's seven," says Dean Miller, "and they were his all-consuming passion." Roger had found a happiness with Mary and the children he had longed for all his life.
---

Drama Desk Awards
January 01, 1985 — 7 Awards including Outstanding Music and Outstanding lyrics
January 01, 1985 — 4 Nominations, including Outstanding Revival of a Musical
January 01, 2004 — 4 Nominations, including Outstanding Revival of a Musical

Tony Awards
January 01, 2004 — Tony Honors for Excellence in Theatre: The cast of the 2003 Broadway Production of BIG RIVER2 Tony Award Nominations including Best Revival

Vocal Range of Characters:


// Photos

---
---
---
---
---


---
---
---
---

STANDARD
BIG RIVER - Orchestration (10 Books/10 Players)

1 – Woodwind (Flute, Clarinet, Soprano Sax, Optional English Horn, Bass Clarinet)

1 – Piano-Conductor (Piano, Harmonium, DX7, Organ)

1 – Trumpt (Doubles Flugelhorn)

1 – Trombone (Doubles Baritone Horn)

1 – Drums: (Trap Set, Bells, Bell Tree and Triangle)

1 – Bass

1 – Guitar I (Banjo, Mandolin, 6 and 12 String Acoustic)

1 – Guitar II (Banjo and 6 String Acoustic)

1 – Violin

1 – Harmonica: (Doubles Jew's Harp, Tamb, Bass Harmonica)

BIG RIVER - Rehearsal Set (22 Books)

20 – Libretto-Vocal

1 – Logo CD

2 – Piano-Conductor (Piano, Harmonium, DX7, Organ)

Digital Logo
ADDITIONAL
BIG RIVER - Libretto-Vocal 10-Pack(10 Books)
BIG RIVER - Pre-Production Pack (2 Books)

1 – Libretto-Vocal

1 – Piano-Conductor (Piano, Harmonium, DX7, Organ)

PRINCIPALS
2 Men
FEATURED
6 Women
4 Men
ENSEMBLE
Singing ensemble with many small roles and much doubling possible, consisting of Slaves, Townspeople, Tarts, Mourners, Movers, Patients, Hired Hands
COMMENTS
There are 3 Onstage Musicians: a Fiddle Player, Guitar Player, and a Harmonica Player.
The Broadway production used a cast of 7 Women and 14 Men: 9 of whom doubled in various roles.
CHARACTERS
Mark Twain
Tom Sawyer
Pap Finn
Huckleberry Finn
Ben Rogers
Judge Thatcher
Widow Douglas
Jo Harper
Strange Woman
Miss Watson
Simon
Jim*
Dick
The King
The Duke
A Posse
Hank
Andy
Lafe
A Young Fool
A Servant
Sheriff Bell
Mary Jane Wilkes
Counselor Robinson
Harvey Wilkes
Susan Wilkes
Joanna Wilkes
Alice*
Alice's Daughter*
Sally Phelps
Silas Phelps
Doctor
Fiddle Player
Guitar Player
Harmonica Player
Slaves, Townspeople, Tarts, Mourners, Movers, Patients, Hired Hands, et al.*
*Casting Note: Jim, Alice, Alice's Daughter, and appropriate ensemble roles should be cast with African American actors.

BIG RIVER takes place along the Mississippi River Valley sometime in the late 1840's.
SPECIFIC LOCATIONS
St. Petersburg, Missouri
The Illinois Shore
Jackson's Island
The Mississippi River, south of St. Louis
The Mississippi River, near Cairo, Illinois
The Riverbank in Kentucky
Bricktown, Arkansas
Hillsboro, Arkansas
A Farm near Hillsboro
Materials Notes
Violin, Harmonica and Guitar II are onstage musicians.
---
In the original Broadway production of BIG RIVER, the conductor also played keyboards, and the Woodwind book was played by one player as the English Horn and Bass Clarinet were minimally used.
---
Media Rights
*

Currently media rights for Big River are not available. Please contact customer service with any questions.
Banner Ads - Flat Graphics
Format: .JPG
Price: $60.00
Display customized, eye-catching banner ads to promote your production.
Don't worry about reshaping banners to fit different websites: This package already includes 4 standard banner sizes - vertical, horizontal, and rectangular.
Don't worry about optimizing the color format, size and resolution. These files are already optimized for online viewing.
Don't worry about needing a designer to convert static banners into rotating, animated ads. We've taken care of this for you! Text and video instructions are provided to help you animate your ads with ease – using free programs and apps.
Don't worry about needing fancy design programs – these flat .JPG files are ready to use with any free paint or photo editing program. Demos show you how to customize graphics with your theater's text.
Included:
160x600 - Wide Skyscraper
300x250 - Medium Rectangle
468x60 - Full Banner
728x90 – Leaderboard