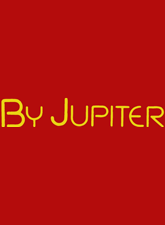 By Jupiter
An army of Greek warriors set off for the land of the Amazons on a mission to capture the Sacred Girdle of Diana, currently flattering the figure of the Queen of the Amazons. Upon their arrival they are dumbfounded to discover that, in this land, the women rule and do battle while the men mind the children and buy new hats. The Greeks are seized and hauled before the female council, who are initially nonplussed by the notion of equality for men. However, over the course of two hilarious acts, a dozen captivating Rodgers & Hart songs, and a meeting of the minds, there's the inevitable meeting of the hearts.
Participate in the R&H Online Community.
Leave comments or talk with other fans in the forum!

To request the rights to make merchandise for this show email [email protected].
Fan Info:

In 1908, director Joshua Logan was born. He directed and collaborated with Rodgers & Hammerstein on the script for SOUTH PACIFIC, and directed the Broadway premieres of I MARRIED AN ANGEL, BY JUPITER, THIS IS THE ARMY, and ANNIE GET YOUR GUN.

In 1895 Lorenz Milton Hart was born in New York City. In 1918 he was introduced to Richard Rodgers, and they collaborate on twenty six Broadway musicals over the next two decades, including A CONNECTICUT YANKEE (1927), BABES IN ARMS (1937), I MARRIED AN ANGEL (1938), THE BOYS FROM SYRACUSE (1938), PAL JOEY (1940), and BY JUPITER (1942).

In 1942, Rodger & Hart's BY JUPITER premiered in New York at the Shubert Theatre. The show ran for 427 performances.


"A thorough-going delight...its melodiousness, humor, high spirits and charm make it one of the joys of the season."
— The New York Post
"A melodious laugh rouser. The score sparkles."
— Richard Connema, TalkinBroadway.com
"A melodious laugh rouser. The score sparkles."
— Richard Connema, TalkinBroadway.com

Song #
Song Name
Character Name
Play
Other Versions

---
Rodgers and Hart's BY JUPITER opened at the Shubert Theatre in New York on June 3, 1942, and enjoyed the longest run (427 performances) of any of their shows – thus surprising several critics who praised it but called it a "summertime hit." The book, by Richard Rodgers and Lorenz Hart, was based on the play "The Warrior's Husband" by Julian F. Thompson, with music by Mr. Rodgers and lyrics by Mr. Hart. One of the most memorable songs from this score is "Wait Till You See Her," a charming waltz. Strangely enough, this was cut from the show for a time in New York only because the show was running late. Fortunately, it was put back towards the end of the run. Other musical highlights are: "Nobody's Heart," and "Ev'rything I've Got."

BY JUPITER was the last show Rodgers wrote with Hart, although they did write several new songs for a 1943 revival of A CONNECTICUT YANKEE (a Rodgers and Hart hit of the 1920's.) Lorenz Hart died on November 22, 1943, a few months after BY JUPITER had completed its Broadway run. Richard Rodgers and Lorenz Hart worked together for twenty-five years, during which time they wrote the songs for 26 Broadway musicals, 3 London musicals, and 9 films. They also collaborated on one night club revue and one non-musical play. Mr. Hart died in 1943 at the age of 48. Mr. Rodgers then entered another extraordinary partnership with a man he had known from their Columbia University days – Oscar Hammerstein 2nd, with whom he worked exclusively until Mr. Hammerstein's death in 1960. Mr. Rodgers continued to entertain Broadway and television audiences with his music until his death in 1979.
---
Excerpted from "Buried Treasure," as featured in Happy Talk, Volume 9, Issue 3 - Summer 2002:
"Rodgers & Hart's final Broadway musical comedy was also one of their biggest hits, and their longest running show: BY JUPITER (1942) introduced Nobody's Heart, Ev'rything I've Got and Wait Till You See Her. As musical theatre scholar Laurence Maslon remarked to R&H President Ted Chapin, after attending a performance at the York Theatre in early April, Imagine a time when a musical comedy lyric could be filled with classic literary allusions of the ancient world ' and the audience got it!
Today's audiences get BY JUPITER, too, judging by the two concert presentations given this spring on opposite coasts. The topsy-turvy tale, based on THE WARRIOR'S HUSBAND, is set in an ancient land (told of in Homer's ODYSSEY), where women do the hunting and men do the housework. The classic-retro tone, witty score and great character parts make for a crowd-pleaser among both cast and spectators. The brassy Amazon queen Hippolyta (played at the York by Klea Blackhurst as a combination of Catherine the Great and Ethel the Merman), and the youthful Sapiens who captures her heart (played originally by Ray Bolger, and at the York by Kevin Cahoon), are just two of the choice roles.
Following the York's early April stagings of BY JUPITER, the widely heralded 42nd Street Moon of San Francisco presented it over a series of weekends from April 17 through May 12, with Lesley Hamilton (as Hippolyta) and Bill Fahrner (as Sapiens) heading the cast. The show is a joy, cheered the San Francisco Chronicle. Every song is a reminder of Rodgers' incomparable skill and Hart's seemingly inexhaustible wit, and the book is an irreverently frivolous delight."
---

Vocal Range of Characters:


// Photos

---
---
---
---


Written By: Fred Ebb

I have an 18 year old nephew. I am willing to concede that he's my problem, not yours, but he provokes this discussion. The other day in one of his rare attacks of curiosity about my well-being, he asked me what I had been doing lately. I replied that I was working on some book revisions for an off Broadway revival of the musical BY JUPITER. 'What's that?' he asked. I finally worked up the calm to say that was a musical comedy. A famous musical comedy. I remembered the score vividly, Larry Hart's phenomenally well-considered rhymes, the Richard Rodgers of another time writing melodies that are destined to live forever. BY JUPITER had been an adaptation of a play THE WARRIOR'S HUSBAND (which gave Katharine Hepburn her start, in case you're 18, too) about the 'war' between Amazon ladies and Greeks. I informed my nephew that I was appalled by his ignorance, but then a terrible thought passed my mind. BY JUPITER opened in New York in 1942. Of course he might never have heard of it. I apologized. He forgave me on the ground that when he first mentioned the Beach Boys to me I thought they were a basketball team.
---

Playbill VIP
: 
MAKE YOUR OWN PLAYBILL! Playbill VIP allows you to create your very own Playbill Program. We have provided Playbill with all of the credits, song listings, musical numbers and more so that most of the work is already done for you. Just add your productions details, photos of the cast and share it with all of your friends. Learn more: www.playbillvip.com
---

STANDARD
BY JUPITER - Orchestration (10 Books/10 Players)

1 – Piano-Conductor

1 – Reed I (Piccolo, Flute, Clarinet)

1 – Reed II (Oboe, Clarinet, Bass Clarinet)

1 – Trumpet I-II

1 – Trombone

2 – Percussion (see "Materials Notes", under "Production Information")

1 – Bass

1 – Harp

1 – Piano-Celesta (Piano-Conductor)

BY JUPITER - Perusal Package (2 Books)
BY JUPITER - Rehearsal Set (42 Books)

20 – Libretto

1 – Logo CD

20 – Vocal

2 – Piano-Conductor

Digital Logo
ADDITIONAL
BY JUPITER - Pre-Production Pack (2 Books)

1 – Libretto

1 – Piano-Conductor

PRINCIPALS
2 Women
2 Men
FEATURED
5 Women
2 Men
ENSEMBLE
Large singing-dancing ensemble with numerous small roles
CHARACTERS
Theseus
Homer
Hercules
Herald
Achilles
Buria
Sergeant
1st Sentry
2nd Sentry
3rd Sentry
Caustica
Heroica
Pomposia
Trumpeters
Hippolyta
Sapiens
Messenger
Antiope
Huntress
A Runner
Penelope
Amazon and Greek Women
Greek Warriors and Amazon Men

BY JUPITER takes place in the land of the Amazons in ancient times.
SPECIFIC LOCATIONS
The Greek Camp
The Amazon Palace
Inside Theseus' Tent
Materials Notes
ORCHESTRATION NOTE: Orchestration from the 1967 Production of BY JUPITER.
---
ORCHESTRATION NOTE: Orchestration from the 1967 Production of BY JUPITER.
---
Trap Set, Timpani, Bells, Wood Block, Triangle, Hand Cymbals, Finger Cymbals
---
Trap Set, Timpani, Bells, Wood Block, Triangle, Hand Cymbals, Finger Cymbals
---
Media Rights
*

Currently media rights for By Jupiter are not available. Please contact customer service with any questions.