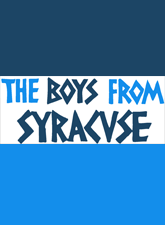 The Boys From Syracuse
Twins! More twins! Women-chased and chaste! The first musical ever adapted from Shakespeare remains the most madcap musical farce ever to animate the stage. Antipholus and his wily servant, Dromio, travel to Ephesus in search of their respective twins, from whom they were separated in a shipwreck. Naturally, they are immediately taken for their brothers and we're off and running on a riotous chase from marketplace to marital bed. Perplexed wives, disgruntled courtesans, outraged constables and an audience roaring with laughter are left in its wake before this show's tangled web is unraveled, and Rodgers & Hart & Abbott have triumphed once again!
Participate in the R&H Online Community.
Leave comments or talk with other fans in the forum!

To request the rights to make merchandise for this show email [email protected].
Fan Info:

In 1938, Rodgers & Hart's musical THE BOYS FROM SYRACUSE had its New York premier at the Alvin Theatre, and ran for 235 performances.

The birthday of William Shakespeare! Rodgers & Hart's musical THE BOYS FROM SYRACUSE (1938) marked the first time that Shakespeare was adapted for Broadway. Based on THE COMEDY OF ERRORS, the story brings not just one but two sets of estranged twins into a series of near-collisions, resulting in a major case of mistaken identity. Hart's lyrics throw in further Shakespearean references, as in the song "This Can't Be Love"" : ""Though your cousin loved my cousin Juliet / Loved her with a passion much more truly yet / Some poor playwright / Wrote their drama just for fun. / It won't run!"""

In 1895 Lorenz Milton Hart was born in New York City. In 1918 he was introduced to Richard Rodgers, and they collaborate on twenty six Broadway musicals over the next two decades, including A CONNECTICUT YANKEE (1927), BABES IN ARMS (1937), I MARRIED AN ANGEL (1938), THE BOYS FROM SYRACUSE (1938), PAL JOEY (1940), and BY JUPITER (1942).

In 1887 George Abbott was born, Broadway actor, writer, and producer. His musical collaborations included ON YOUR TOES, THE BOYS FROM SYRACUSE, ON THE TOWN, PAL JOEY, DAMN YANKEES, and FIORELLO!, for which he won the Pulitzer Prize in 1959.


"I believe it will be regarded as the greatest musical comedy of its time...set to the most captivating, thrilling, humorous music and lyrics in the long and honorable history of Messrs. Rodgers and Hart, and it has a modern and swift moving book."
— New York World Telegram, January 01, 1938
"The kind of show we've almost lost the ability to create."
— New York Post, January 01, 1997
"Light as a feather and fresh as a day in spring."
— The Wall Street Journal, January 01, 1997
"It doesn't get much better than this."
— The New York Observer, January 01, 1997
"It doesn't get much better than this."
— The New York Observer, January 01, 1997

Song #
Song Name
Character Name
Play
Other Versions

---


The book, based on William Shakespeare's "The Comedy of Errors," was by George Abbott but it was Richard Rodgers and Lorenz Hart who first thought of using one of the bard's plays as the basis of a musical comedy. This inspired idea gave them the opportunity to write a score which included such songs as: "Falling in Love With Love," "This Can't Be Love," and "Sing for Your Supper."

It is rare in show business for nepotism to pay off – but in the case of THE BOYS FROM SYRACUSE it did so handsomely. Lyricist Hart's younger brother, Teddy, was often mistaken for a popular comedian of the day, Jimmy Savo, and they were therefore a natural choice for the twin Dromios in the play, servants to twin brothers. "The Comedy of Errors" is a story of mistaken identity and as both Dromios state at the beginning of THE BOYS FROM SYRACUSE: "If it's good enough for Shakespeare, it's good enough for us."

Richard Rodgers and Lorenz Hart worked together for twenty-five years, during which time they wrote the songs for 26 Broadway musicals, 3 London musicals, and 9 films. They also collaborated on one night club revue and one non-musical play. Mr. Hart died in 1943 at the age of 48. Mr. Rodgers then entered another extraordinary partnership with a man he had known from their Columbia University days – Oscar Hammerstein 2nd, with whom he worked exclusively until Mr. Hammerstein's death in 1960. Mr. Rodgers continued to entertain Broadway and television audiences with his music until his death in 1979.

---
THE BOYS FROM SYRACUSE
What Can Time Do?
By Theodore S. Chapin
Every time an opportunity presents itself to restore another Richard Rodgers score, I am reminded of Alec Wilder's comment in his book American Popular Song. In that fascinating and opinionated tome, Wilder wrote of Rodgers: "After spending weeks playing his songs, I am more than impressed and respectful: I am astonished." Those of us involved with this recording were inclined to echo Wilder's words. The fact that THE BOYS FROM SYRACUSE boasts so many standards isn't what's astonishing. What is astonishing is the melodic invention, musicianship, theatricality, harmonic surprises, and even mischievousness to be found in this score and its musical arrangements. Sitting at the orchestra's sitzprobe for the Encores! performances in May 1997, Mary Rodgers remarked "this stuff is so wonderful—I only wish my old man could see what joy we're all getting from his music sixty years after he wrote it."
But what is it exactly about Richard Rodgers that made Alec Wilder astonished? On the surface Rodgers' songs sound straightforward and tuneful. There are hummable melodies and familiar sounding harmonies. But take a careful listen. Is it possible to be tuneful and astonishing at the same time? Yes, indeed. The Shortest Day Of The Year, for example. The lyrics for the first four lines of the refrain form one complete thought—which needs your attention all the way through to make sense. So Rodgers tricks you by taking the melody where you don't feel it will go until it gets there—at which point you say to yourself "Oh, yes." The notes he chose for the end of each of the first two lines—"The shortest day of the year, Has the longest night of the year," are not the notes for which the preceding phrase has prepared you. Both notes have an unexpected and "blue" quality that Rodgers used so cleverly ("Oh, what a beautiful mornin'" for example) throughout his career. Those unresolved notes hold us briefly in emotional suspension until music and lyrics are ready for a mutual resolution. An easy melody is kept interesting, and we are viscerally satisfied.
The way Rodgers harmonized his melodies is equally surprising. Listen to how he created the sublime descending feel of You Have Cast Your Shadow On The Sea—and then what he did on the line "on both the sea and me." It eludes us, then catches us, and leaves us where we didn't expect to be. And then there is the sheer emotional pleasure of the harmony rising from beneath the last notes of the verse of Falling In Love With Love ("Wives can only sew and weep.") When the waltz melody begins (and no one wrote better waltzes) it's hard not to smile. All this invention was, by the way, totally instinctive. Stephen Sondheim recounted that he once told Rodgers how much he admired "...the way in People Will Say We're In Love the middle section was an exact musical inversion of the beginning. [Rodgers] blinked at me as if I'd been speaking Eskimo... He did the right thing, but he couldn't begin to analyze why."
Another right thing Rodgers did was to hire a very young Hugh Martin to create vocal arrangements. Martin's arrangement of Sing For Your Supper has not only proven to be a show stopper since 1938, but is perhaps the most imitated vocal arrangement in theater history. Bringing that "downtown" vocal feel to the uptown world of Broadway was a stroke of genius.
And what of Lorenz Hart? Here was a nimble witted, naughty, and sometimes cynical songwriter who also happened to be an erudite scholar, expert on everything from the classics to Rilke. Only he would gleefully turn an esoteric Greek myth into a song about a man-grabbing woman (Oh, Diogenes), and reduce the story of Romeo and Juliet to two verses sung by confused would-be lovers. (He: "...my late cousin Romeo..fell in love and then he died of it. Poor half wit!" She: "Some poor playwright wrote their drama just for fun. It won't run!") In Dear Old Syracuse he found subtle ways of describing distinctly different lights in patios: those at home where "there's a light that's burning in the patio" and those where a man goes when he's lonely - "there's a red light burning in the patio." (The first red light district?) This is the kind of humor that can whiz right past in performance—if you're not careful, you'll miss it altogether. And what breeziness, humor, and just plain fun there is in such thoughts as: "Some men wear half pajamas, I took a chance. I bought the guy pajamas, he wears the pants." On the other hand, "Caring too much is such a juvenile fancy" is pure poetry. One of the songs from this show that has been forgotten (this is its first known recording) is Big Brother, sung by the Dromio of Ephesus, played in the original production by Lorenz Hart's younger brother Teddy. It provides the introduction to the ballet (choreographed by George Balanchine) in which one brother searches for his lost twin. But it may have had a personal resonance as well. Teddy and Lorenz Hart looked alike and were both short; maybe Larry was offering a homage to his own brother. No cynicism here, just pure resonant sibling sentiment.
Hart and his fellow wordsmith George Abbott may have been the progenitors of the Broadway Musical as sitcom. THE BOYS FROM SYRACUSE is an ideal specimen. The situation comes from Shakespeare (the first time anyone adapted Shakespeare into the musical theater), the comedy comes from the 1930s (lots of vaudeville-inspired schtick). And since the show opened on Broadway six months after Rodgers & Hart's previous effort (I MARRIED AN ANGEL) it was obviously put together quickly, much in the way television sit-coms are cranked out today. Jokes abound—from the Gilbert and Sullivan police line-up (who are, this time, sending one of the leading men off to jail with a rousing march) to three distressed wives who sing in the style of the swing band "canaries" about how to keep their husbands (the afore-mentioned Sing For Your Supper.)
There's always a danger in lavishing too much praise on people who just did what they loved to do. Were Rodgers & Hart aware of the artistic superiority of their work? Probably. But did they care? Maybe. Alan Jay Lerner said of Lorenz Hart: "Whether he cared or not, he was as close to being [a genius] as lyric writing has produced." Rodgers and Hart were first and foremost two guys who loved the musical theater and were devoted to giving every show their best. They wanted to keep writing, and write they did—contributing to 47 shows and movies over 22 years. Thanks to the pieces of paper left behind and to some of today's more enlightened theater artists, we can once again revel in Rodgers & Hart's astonishing THE BOYS FROM SYRACUSE.
On to the next restoration.
---

Vernon Rice Awards
January 01, 1962 — Outstanding Achievement in Off-Broadway Theatre.
January 01, 1962 — Outstanding Achievement in Off-Broadway Theatre.

Obie Awards
January 01, 1962 — Best Musical Revival

Vocal Range of Characters:

// Photos

---
---
---
---
---


Playbill VIP
: 
MAKE YOUR OWN PLAYBILL! Playbill VIP allows you to create your very own Playbill Program. We have provided Playbill with all of the credits, song listings, musical numbers and more so that most of the work is already done for you. Just add your productions details, photos of the cast and share it with all of your friends. Learn more: www.playbillvip.com
---

STANDARD
THE BOYS FROM SYRACUSE - Orchestra Package - (14 Books/18 Players)

1 – Reed I (Piccolo, Flute, Optional Clarinet)

2 – Reed II-III (Clarinet I, Clarinet II (Doubling Bass Clarinet))

1 – Trumpet I-II

1 – Trombone

2 – Drums (see "Materials Notes", under "Production Information")

2 – Violin I-II (Divisi)

1 – Cello (Divisi)

1 – Bass

1 – Harp

1 – Piano

1 – Piano-Vocal

THE BOYS FROM SYRACUSE - Rehearsal Set (22 Books)

20 – Libretto-Vocal

1 – Logo CD

2 – Piano-Vocal
ADDITIONAL
THE BOYS FROM SYRACUSE - Libretto-Vocal - 10-Pack - (10 Books)
THE BOYS FROM SYRACUSE - Pre-Production Pack - (2 Books)

1 – Libretto-Vocal

1 – Piano-Vocal

PRINCIPALS
3 Women
4 Men
FEATURED
3 Women
4 Men
ENSEMBLE
Singing-dancing ensemble with several small roles
CHARACTERS
Sergeant
Duke
Aegeon
Antipholus of Ephesus
Dromio of Ephesus
Tailor
Antipholus of Syracuse
Dromio of Syracuse
Merchant of Syracuse
Apprentice
Angelo
Corporal
Luce
Adriana
Luciana
Maids (3)
Sorcerer
Courtesan
Fatima
Courtesans (2)
Merchant of Ephesus
Galatea
Pygmalian
Amazons (3)
Emilia

THE BOYS FROM SYRACUSE takes place in Ancient Greece.
A Square in Ephesus
Inside the House of Antipholus of Ephesus
A Street Outside the House of Antipholus of Ephesus
House of the Courtesans
Materials Notes
ORCHESTRATION NOTE: 1963 Off Broadway Revival Orchestrations by Larry Wilcox
---
Trap Set, Timpani, Suspended Cymbal, Xylophone, Wood Block, Gong, Glockenspiel, Vibraphone, Finger Cymbals, Tambourine, Ratchet, Siren, Triangle, Temple Blocks.
---
Media Rights
*

Currently media rights for The Boys From Syracuse are not available. Please contact customer service with any questions.