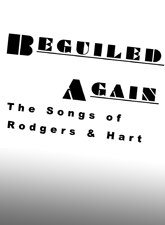 Beguiled Again
Music by
Rodgers, Richard
| Lyrics by
Lorenz Hart
| Conceived By J. Barry Lewis, Lynnette Barkley and Craig D. Ames | Music Arrangements by Craig D. Ames
The remarkable partnership of composer Richard Rodgers and lyricist Lorenz Hart spanned twenty-four years, resulting in the scores for thirty stage musicals and nine films. While their songs are acknowledged as among the most sophisticated and witty of their time, they could also be stunning in their simplicity and directness. BEGUILED AGAIN illuminates the astonishing breadth of their output with a musical menu offering nearly fifty selections from the incomparable Rodgers and Hart songbook. This cleverly compiled potpourri juxtaposes the urbane and the melancholy, the sardonic and the romantic, providing ever-changing and contrasting emotional journeys that give this revue real momentum. There is no linear plot or 'and then they wrote' narrative. Rather, the songs are grouped thematically in ways that allow them to tell their own stories and reveal their splendor in the process. Variety and vigor have always been the Rodgers and Hart hallmarks. Perhaps their illustrious compeer, Irving Berlin (who also knew a thing or two about songwriting) summed it up best with his famous maxim: 'Tuneful and tasty, schmaltzy and smart - music by Rodgers, lyrics by Hart.'
Participate in the R&H Online Community.
Leave comments or talk with other fans in the forum!

To request the rights to make merchandise for this show email larisa.borshman@rnh.com.
Fan Info:


"Think of it as the thinking person's musical revue…More than simply entertained, one is edified and impressed with the complexity and wisdom of the songwriting team of Rodgers and Hart."
— Boca Raton News, January 01, 2001
"Snappy, happy and sassy…an amazing reinvention of the musical revue."
— Sun Sentinel, January 01, 2001
"BEGUILED AGAIN touches musical heaven…Rodgers and Hart's work is beautiful and bewitching."
— Miami Herald, January 01, 2001
"A dazzler…a completely original approach to the music."
— Palm Beach Jewish Journal, January 01, 2001

Song #
Song Name
Character Name
Play
Other Versions

BEGUILED AGAIN was developed at Florida Stage in Manalapan, Florida and quickly became the most successful production in the theater's history. Conceived by J. Barry Lewis, Lynette Barkley, and Craig D. Ames (who also arranged the music), the show is a revue of Rodgers and Hart's famous songs. The show won the Carbonell Award in 1997, which recognizes and honors excellence in theater and the arts in South Florida.
---

Carbonell Awards (South Florida)
January 01, 1997 — Best Musical

Vocal Range of Characters:


// Photos

---
---
---
---
---
---
---
---


Playbill VIP
: 
MAKE YOUR OWN PLAYBILL! Playbill VIP allows you to create your very own Playbill Program. We have provided Playbill with all of the credits, song listings, musical numbers and more so that most of the work is already done for you. Just add your productions details, photos of the cast and share it with all of your friends. Learn more: www.playbillvip.com
---

STANDARD
BEGUILED AGAIN -Rehearsal Set (21 Books)

10 – Libretti

1 – Logo CD

10 – Piano-Vocal

1 – Bass

Digital Logo

BEGUILED AGAIN - Perusal Package (2 Books)

1 – Piano-Vocal

1 – Libretti
ADDITIONAL
BEGUILED AGAIN - Pre-Production Pack (2 Books)

1 – Libretti

1 – Piano-Vocal

BEGUILED AGAIN - Libretto-Vocal 10-Pack (20 Books)

10 – Libretti

10 – Piano-Vocal

PRINCIPALS
3 Women
3 Men
ENSEMBLE
While the original production was presented with a cast of only six, a singing-dancing ensemble as large as desired can easily be incorporated.
COMMENTS
The characters are identified in the script and the score by the names of the actors who created the roles. For the purposes of your production, you may want to identify them by the names of your actors.
CHARACTERS
Heather
Michelle
Kim
Seth
Michael
Tom

BEGUILED AGAIN is a musical revue; a unit set is suggested.
Materials Notes
ORCHESTRAL MATERIALS: There is no additional orchestration for this show; piano accompaniment only using Piano Vocal Score and the optional Bass part from the Standard Package.
---
Media Rights
*

Currently media rights for Beguiled Again are not available. Please contact customer service with any questions.