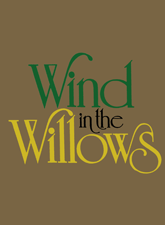 Wind in the Willows
The unforgettable characters from Kenneth Grahame's beloved classic spring to life in this sparkling Broadway musical adaptation. Mole, a curious girl who leaves her underground life for one of adventure, meets the kindly Water Rat, who agrees to show her the world. That world includes the eccentric and wealthy Mr. Toad, whose outrageous enthusiasm for life, and especially for motor cars, brings trouble for everyone. In a fight with the belligerent Weasels to recapture Toad's ancestral home, the old boxing champion, Mr. Badger, leads them to victory. Much more than a show about animals with human characteristics, WIND IN THE WILLOWS is about the delicate balance among all living things, and the surpassing value of friendship.
Participate in the R&H Online Community.
Leave comments or talk with other fans in the forum!

To request the rights to make merchandise for this show email larisa.borshman@rnh.com.
Fan Info:

The R&H Theatre Library was built by musical theatre giants read more

The birthday of British poet Rodger McGough, nominated for a Tony Award for his lyrics to the musical WIND AND THE WILLOWS. McGough was born in 1937.

In 1985, WIND IN THE WILLOWS - based on the classic children's story - opened on Broadway at the Nederlander Theatre.


"Something special! Musical magic with its sense of wonder intact. The spell never breaks. It's love and fun and wonderful."
— CBS-TV
"A genial, joyful, feel-good show that satisfies adult tastes yet has family appeal. A show with heart and warmth that could become a beloved theatre classic."
— Washington Times

Song #
Song Name
Character Name
Play
Other Versions


Vocal Range of Characters:


// Photos

---
---
---
---
---


Playbill VIP
: 
MAKE YOUR OWN PLAYBILL! Playbill VIP allows you to create your very own Playbill Program. We have provided Playbill with all of the credits, song listings, musical numbers and more so that most of the work is already done for you. Just add your productions details, photos of the cast and share it with all of your friends. Learn more: www.playbillvip.com
---

STANDARD
WIND IN THE WILLOWS - Orchestra Package (9 Books/9 Players)

1 – KEYBOARD I/CONDUCTOR SCORE

1 – REED I (Flute, Piccolo, Bb Clarinet, Alto Sax)

1 – REED II (Oboe, English Horn)

1 – HARP

1 – KEYBOARD II

2 – PERCUSSION I-II (Requires 2 players, see "Materials Notes", under "Production Information")

1 – TROMBONE

1 – BASS

Rehearsal Set (22 Books)

20 – Libretto-Vocal Books

2 – KEYBOARD I/CONDUCTOR SCORE
ADDITIONAL
Libretto/Vocal Books 10 pack

10 – Libretto-Vocal Books

WIND IN THE WILLOWS - PRE-PRODUCTION PACKAGE

1 – KEYBOARD I/CONDUCTOR SCORE

1 – Libretto-Vocal Books

PRINCIPALS
3 Women
4 Men
FEATURED
Numerous roles
ENSEMBLE
Singing-dancing ensemble consisting of Squirrels, Weasels, Stoats, Rabbits, Members of the Court.
CHARACTERS
Badger
Rat
Mole
Toad
Mother Rabbit
Father Rabbit
Henry Rabbit
Scott Rabbit
Jill Rabbit
Peter Rabbit
Chief Stoat
Chief Weasel
A Frenchman
Police Sergeant
Policemen
English Bobbies (2)
Clerk of the Court
Judge
Prosecutor
Jailer's Daughter
Jailer
Squirrels, Weasels, Stoats, Rabbits, Members of the Court

WIND IN THE WILLOWS takes place over one year, from spring to spring, in and around the Riverbank, Toad Hall, the Wild Wood and the Wide World.
SPECIFIC LOCATIONS
A Meadow in the Spring
Rat's Dock along the Riverbank
The Lawns of Toad Hall
The Wild Wood
Outside the Red Lion Inn
Badger's Burrow
A Courtroom
The Sitting Room in Toad Hall
A Jail Cell
The Dining Room in Toad Hall
Materials Notes
Trap Set [Snare, Toms, Kick Drum, High Hat, Cymbals (2)], Vibraphone, Mark Tree, Suspended Cymbals (2), Glockenspiel, Wood Block, Marimba, Triangles (3 Sizes), Xylophone, Crotales, Temple Blocks (3), Chimes, Cow Bell, Ratchet, Vibraslap, Bell Tree, Sleigh Bells, Finger Cymbals, Mouth Siren, Tambourine, Castanets, Police Whistle, Roto Toms, Piccolo Snare, Fight Bell, Auto (Blub) Horn, Timpani (2), Gran Cassa, Sandpaper or Cabassa
---
Featured News
New Writers Take Flight With Wings
The R&H Theatre Library was built by musical theatre giants
Read More
Media Rights
*

Currently media rights for Wind in the Willows are not available. Please contact customer service with any questions.