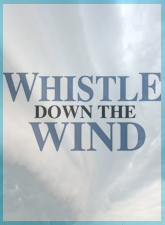 Whistle Down The Wind (Labey/Taylor)
Based on the novel by Mary Hayley Bell and the Screenplay by Willis Hall and Keith Waterhouseand the film by Richard Attenborough and Bryan Forbes | Adapted by
Russell Labey
and
Richard Taylor
| with music and lyrics by
Richard Taylor
This adaptation of Mary Hayley Bell's celebrated novel and its film incarnation (which starred the author's daughter, Hayley Mills, and Alan Bates) was an absolute triumph in its English stage premiere and subsequent presentation at the Edinburgh Theatre Festival. We are extremely proud to announce its availability for production in the U.S. and Canada. When three rural children discover a wounded fugitive hiding in their barn, they believe him to be Jesus Christ. In a vow of secrecy, the village children harbor the stranger. When he is ultimately betrayed, the adults rush to 'save' their children with sorrowful consequences. A parable about faith, conviction and the fragile optimism of youth, WHISTLE DOWN THE WIND is a musical that soars with human spirit.
Participate in the R&H Online Community.
Leave comments or talk with other fans in the forum!

To request the rights to make merchandise for this show email larisa.borshman@rnh.com.
Fan Info:



Song #
Song Name
Character Name
Play
Other Versions


Vocal Range of Characters:


// Photos

---
---
---
---


Playbill VIP
: 
MAKE YOUR OWN PLAYBILL! Playbill VIP allows you to create your very own Playbill Program. We have provided Playbill with all of the credits, song listings, musical numbers and more so that most of the work is already done for you. Just add your productions details, photos of the cast and share it with all of your friends. Learn more: www.playbillvip.com
---

STANDARD
WHISTLE DOWN THE WIND (L/T) - Orchestra Package (9 Books/8 Players)

1 – PIANO CONDUCTOR SCORE

1 – FLUTE (Doubles Alto Flute)

1 – HORN

1 – PERCUSSION (see "Materials Notes", under "Production Information")

1 – KEYBOARDS (Electronic Piano/Synthesizer)

1 – VIOLIN I

1 – VIOLIN II

1 – VIOLA

1 – CELLO

Perusal Package (1Lib., 1 PV)

1 – Libretto

1 – Piano Vocal Scores

Rehearsal Set (40 Books)

20 – Libretto

1 – Logo CD

20 – Piano Vocal Scores
ADDITIONAL
Whistle Down The Wind (Labey/Taylor) -Pre-Prod Pkg

1 – Libretto

1 – PIANO CONDUCTOR SCORE

PRINCIPALS
2 Women
2 Men
3 Girls
2 Boys
FEATURED
2 Women
3 Men
4 Girls
4 Boys
ENSEMBLE
Singing ensemble consisting of Village Children, Mothers, Fathers, Policemen
COMMENTS
A children's choir could be effectively incorporated into the production.
CHARACTERS
CHILDREN
Cathy Bostock - eldest sister of Nan and Charles
Nan Bostock - sister of Cathy and Charles
Charles Bostock - younger brother of Cathy and Nan
David Edwards
Elizabeth
Jackie Greenwood
Jenny
Jo
Laurie
Robert
Sam
Stephen
Raymond - the village bully, son of the Policeman
ADULTS
The Man
Dad - Mr. Bostock, father of Cathy, Nan and Charles
Auntie - Dad's sister
Policeman - village Policeman, father of Raymond
Vicar
Miss Lodge - Sunday School Teacher
Salvation Army Woman
Mrs. Pembridge - village mother
Eddie - farm laborer on the Bostock farm
Village Children, Mothers, Fathers, Policemen

WHISTLE DOWN THE WIND takes place in the late 1950's in a small village in Lancashire.
SPECIFIC LOCATIONS
By the Canal
The Village
Outside the Barn
Inside the Barn
The House
The Church
Sunday School
A Village Street
The Playground
Sunday School
Back of the Barn
Materials Notes
Media Rights
*

Currently media rights for Whistle Down The Wind (Labey/Taylor) are not available. Please contact customer service with any questions.