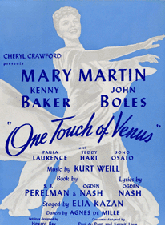 One Touch of Venus
Modern art collector Whitelaw Savory unearths a long-lost statue of Venus of Anatolia and is thrilled to display her in his New York museum. But when a naïve young barber named Rodney unwittingly brings the statue to life, Venus fixes her affections on him and pursues him all over New York. Rodney's shrewish fiancée doesn't like this one bit, and Savory will do anything—including framing Rodney for murder—to recover his beloved statue. Rodney keeps trying to set things right, and poor Venus can't understand why he doesn't respond to her seductions. After a series of comic setups and mix ups involving a couple of thugs, a nagging mother, a wisecracking secretary, some ancient Anatolians and a good dose of Olympian magic, earthly order is restored and new love found.
Act I
Wealthy art connoisseur Whitelaw Savory and his students exalt modern art at his foundation ("New Art is True Art"). But Savory also covets an ancient statue, the Venus of Anatolia. Two goons, Taxi Black and Stanley, arrive from Smyrna with the statue. As Savory rushes out to admire it, his secretary Molly Grant sings "One Touch of Venus," explaining women's power over men.
Barber Rodney Hatch arrives to cut Savory's hair. On a whim, Rodney slips the engagement ring intended for his fiancée, Gloria, onto the finger of the statue. Shazam! The statue comes to life and fixes on Rodney as her liberator and lover. He runs away in terror. Shazam again! She disappears. Savory and the others find that the statue is gone and sound the burglar alarm.
Later that evening Rodney, alone in his apartment, sings the ironic love song "How Much I Love You" to a photo of his fiancée. He is startled when Venus appears, then shocked when she suggests they get in bed together. Gloria telephones, and Rodney agrees to meet her and her mother at the bus station the next day. Rodney's landlady enters and demands to know what's going on. Venus gestures and the landlady falls unconscious.
The next day, in front of Radio City, Venus tries to figure out why Rodney is resisting her and how love has changed in 3,000 years ("I'm a Stranger Here Myself"). Lunchtime crowds emerge, and Venus takes part in an extended ballet ("Forty Minutes for Lunch"). Then she tries on some dresses in a store window. Savory and Molly enter. Savory doesn't realize she is his statue, but she reminds him of an old flame. He sings a torch song for a lost love ("West Wind").
Venus appears in the bus terminal just as Rodney meets Gloria and her mother ("Way Out West in Jersey"); Taxi is also there, shadowing Rodney. Gloria badgers Rodney for the engagement ring; Rodney, in frustration, shouts that he threw it away. Gloria insults Venus and threatens to break the engagement if he doesn't produce the ring in 24 hours.
Shortly thereafter, Taxi brings Gloria's mother to Savory's studio, and her vague accusations convince him that Rodney stole the statue. As Savory vows to get it back, Venus reappears. She's distressed because she fears she has lost her divine sex appeal ("Foolish Heart"). Savory suggests that she eliminate her competition.
The scene shifts to the barbershop, where Savory joins Rodney, Taxi, and Stanley in a barbershop quartet ("The Trouble With Women"). Stanley tricks Rodney into going downstairs while Taxi and Savory search for the statue, but Gloria enters the shop unexpectedly. Savory ties her up as Stanley knocks out Rodney in the basement. The trio still have not found the statue when the doorbell rings, and they flee. Venus enters and unties Gloria, but then makes her disappear when the outraged Gloria accuses Venus of alienating Rodney's affections. Rodney staggers upstairs. She tenderly implores him to seize the moment ("Speak Low") and the two finally embrace.
Later that night Venus and Rodney are among the guests at a party at Savory's foundation. Savory announces that Gloria Kramer is missing and launches into a song about the famous killer "Doctor Crippen," implicitly accusing Rodney of murder. Mrs. Kramer enters with the police. But when Venus confesses she "dissolved" Gloria, the police take both Venus and Rodney to jail.
Act II
Savory and Molly try to figure out how to spring Venus from prison. Suddenly Zuvetli, an Anatolian, appears and threatens to kill Savory if he does not return the statue. Savory fingers Rodney and Zuvetli disappears. Molly pooh-poohs Savory's fears and the "problems" of the rich in general ("Very, Very, Very").
Venus and Rodney baffle the prison psychiatrist during an interview. Zuvetli enters and begs Venus to return, but she refuses. Rodney boasts that he will arrange their escape, and the pair reprise "Speak Low." Then Venus opens the doors with a gesture and they leave. Savory and his crew pursue them ("Catch Hatch").
In the next scene, Rodney and Venus are relaxing in a hotel suite; Venus praises his amatory je ne sais quoi ("That's Him"). Rodney fears they can't go anywhere because the police are still after him for murdering Gloria. Venus reconstitutes Gloria, and she breaks the engagement once and for all.
Rodney describes the delights of Ozone Heights ("Wooden Wedding"), but Venus wonders if she's fit to be a housewife. In a ballet sequence, she pictures suburban life closing in on her; then the mythical creatures of ancient Greece gradually reappear and call on her to return ("Venus in Ozone Heights"). She vanishes.
Meanwhile, Rodney and Savory are captured by the Anatolians. As Zuvetli raises his dagger to kill Venus's defilers, there is a thunderclap and blackout. A statue again, Venus reappears on her pedestal, and the Anatolians are gone. Rodney, bereft, sings one last mournful verse of "Speak Low," when a young woman who looks just like Venus enters. She tells him she is from Ozone Heights, and they exit happily together as the curtain falls.
Participate in the R&H Online Community.
Leave comments or talk with other fans in the forum!

To request the rights to make merchandise for this show email larisa.borshman@rnh.com.
Fan Info:


In 1904 was the birthday of S. J. Perelman, the author and humorist. Perelman collaborated with Ogden Nash on the book for the musical ONE TOUCH OF VENUS, and co-wrote screenplays for the films HORSE FEATHERS, MONKEY BUSINESS, and AROUND THE WORLD IN 80 DAYS.

In 1945, ONE TOUCH OF VENUS closed on Broadway after a run of 567 performances.

In 1902 the humorous poet Ogden Nash was born. Nash wrote lyrics for the musical ONE TOUCH OF VENUS.

Innovative composer Kurt Weill was born this day in 1900, in Dessau, Germany. In Europe, Weill collaborated with playwright Bertolt Brecht on iconic works such as THE THREEPENNY OPERA and THE RISE AND FALL OF THE CITY OF MAHAGONNY. After emigrating to America in 1935, Weill composed for musicals including KNICKERBOCKER HOLIDAY, LADY IN THE DARK, LOST IN THE STARS, and ONE TOUCH OF VENUS. His life and relationship with singer Lotte Lenya are dramatized by the show LOVEMUSIK.

In 1943, ONE TOUCH OF VENUS opened on Broadway at the Imperial Theatre. It later moved to the 46th Street Theatre, and played a total of 567 performances.


"Nectar for the gods, a thing of wit and wisdom, talent, taste and beauty."


— News, 1943
"Weill's music is the loveliest this side of heaven."
— New York World Telegram, 1943
"The show is ageless . . . . The Weill score is as varied as it is melodic, with waltzes and ballads sharing the stage with a barbershop quartet . . . . The artfulness in unison of music, lyrics and libretto make this musical well worth rediscovering."
— New York Times, 1987
"Weill was the greatest composer ever to work on Broadway. The score is clever and lovel... S.J. Perelman, aided by Ogden Nash, contributed a sweetly sexy book.... A Victorian novella here given a dry Manhattan twist."
— New York Post, 1996
"What a rare joy when a 'forgotten masterpiece' proves to be so. And no surprise: its creators were an eccentric dream team of German refugee composer Kurt Weill, Marx Brothers writer S.J. Perelman, and comic poet Ogden Nash.... This is a near perfect show... most numbers bring the house down. And it is Weill's witty blend of the sweet melody of American popular song with the jazzy strains of Berlin cabaret that finally steals this show."


— The Daily Telegraph, 2004
"For all its richly upholstered show tunes, Weill's sprightly satire on the twin American obsessions with sex and shopping seems provocatively ahead of its time."


— The Guardian, 2004
" ...it is surely time to acknowledge that his American works represent the peak of Weill's achievement.... One Touch of Venus confirms again his mastery of the musical theatre."
— The Times, 2004
"A delight. Anyone looking for a sophisticated musical to revive, with a classy script and an equally classy score, need look no further."


— Opera News, 2005
"A musical of genuine sparkle and beauty."


— The Times, 2005
"A delight from beginning to end."


— Mail on Sunday, 2005

Song #
Song Name
Character Name
Play
Other Versions

---
---
Provided by The Kurt Weill Foundation

It ran longer than any other Weill musical, made Mary Martin a star, and yielded one of his great standards, "Speak Low." Yet for theatre connoisseurs, One Touch of Venus is the problem piece among Weill's American works, because it is his one generic musical comedy apparently devoid of significant innovations. A fresh look discloses that One Touch of Venus was more than just another George S. Kaufman-style show. Venus is golden age Broadway's reply to the racy sex comedy of filmmaker Ernst Lubitsch; nearly all its best numbers are love songs, and in quantity and quality of risqué humor One Touch of Venus arguably outstrips every other show of its era. (Cleverness, too--some of Ogden Nash's acerbic lyrics are perhaps too sophisticated to understand even on second hearing.) For all its wisecracking the script has an almost Goethean subtext based on the eternal Madonna/whore theme. Weill's score outdoes even Lady in the Dark in displaying his symphonic mastery of American pop/vernacular idioms. And Venus is perhaps the first show where the composer became the "muscle"--a case study in backstage Realpolitik, with Weill outflanking the director and guiding not only the creative team but ultimately the show itself.
The germ of the project came from an obscure British novel that costume designer Irene Sharaff (Lady in the Dark) suggested to Weill. The Tinted Venus (1885) by F. Anstey tells the whimsical tale of a statue of Venus in England who, Galatea-like, briefly comes to life, and expresses her disgust at love's debasement to the furtive, repressed sexuality of Victorianism. "F. Anstey" was the pen name of Thomas Anstey Guthrie (1856-1934), a lawyer turned journalist, novelist, and humorist for Punch. The fantasy-like story spoke to Weill, who envisioned it as a neo-Offenbachian operetta, and in 1942 he interested Cheryl Crawford in producing it. (Crawford had produced Johnny Johnson and the successful 1942 "revisal" of Porgy and Bess, on which Weill had been an uncredited score doctor.) Crawford tried to woo Ira Gershwin, then Arthur Kober, to adapt The Tinted Venus, but both passed. Then she secured Bella Spewack, who with her husband Sam had written Cole Porter's 1938 Leave It to Me (and would later write the book for Porter's Kiss Me, Kate), along with Ogden Nash, versifier extraordinaire but a Broadway novice (except for a few songs in a forgotten 1932 revue), to do the lyrics.
Weill at once initiated what became a cat-and-mouse game to persuade Marlene Dietrich, whom he had known in Germany, to make her Broadway debut in the title role ("Speak Low" was clearly written with Dietrich's voice in mind). At their first meeting in Hollywood Dietrich was interested; eventually she went so far as to try on various Venus costumes in New York, sign a contract, and even do an audition from the stage of the 46th Street Theatre. Crawford later recalled that, even with her lover Jean Gabin in the audience for moral support, Dietrich was frightened during the audition. Sitting in the third row, Crawford and Weill couldn't hear her over a mere piano and realized they'd need to find a way to amplify her voice.
When Bella Spewack presented her final script, Crawford, Weill, and Nash all agreed that it was hopeless (upon being fired, Spewack fainted twice). Crawford replaced Spewack with Nash's friend and fellow New Yorker contributor (and former Marx Brothers scriptwriter) S.J. Perelman. Perelman's new book jettisoned the Victorian setting and set the story in modern-day New York, adding highly sophisticated, not to say leeringly suggestive, dialogue. That was too much for Dietrich; she read the Perelman script and rejected it out of hand as "too sexy and profane," saying she couldn't play such a part onstage. Weill was so furious he resorted to German to bawl her out. To be fair, she was right about the script: it boasts even more sexual innuendo than Pal Joey, which had scandalized critics and theatergoers only three years earlier. Perelman's Venus says, "Love is the triumphant twang of a bedspring." Another character mocks the timorous male lead with a plumbing double entendre: "Your trouble's in the cellar! Your Bemis valve is clogged, brother."
The search for a Venus recommenced, but Ilona Massey, Vera Zorina, and Gertrude Lawrence all declined. Then casting against type proved inspired: Crawford contacted young Mary Martin, who after a splashy Broadway debut singing "My Heart Belongs to Daddy" in Leave it to Me had not fared well as a siren in a few Hollywood B movies. Martin liked the songs but couldn't imagine herself playing Venus, until her husband Richard Halliday took her to the Metropolitan Museum and showed her that the goddess appears in a great variety of shapes and sizes. The 5' 4-1/2" Martin wore stiletto heels, dyed her hair pink, and took advice from lead dancer Sono Osato on how to stand regally. Director Elia Kazan helped her to evolve a slow, legato gait that contrasted with everyone else onstage, especially in hectic dance numbers. Crawford's masterstroke came in hiring the couturier Mainbocher to create Venus's gowns (contrary to some sources, it was not Mainbocher's first Broadway assignment). "Every time I walked on stage as Venus there was applause--for Main's clothes," Martin later recalled. Photo spreads of Martin's gowns in Vogue, Life, and other top magazines catapulted her to fame.
Once Perelman finished revamping the plot, Weill, who had already composed several songs, now had to further Americanize the sound. For some time orchestra contractor Morris Stonzek had been taking Weill around town to meet musicians and sharpen his knowledge of swing styles of wind playing. He arranged Venus for a 28-piece orchestra with a sizable string section and resisted Crawford when she suggested cutting the number of musicians to save money. The production numbers in the score sound like a much larger Hollywood orchestra, as if Max Steiner and Glenn Miller had been cross-bred. Weill displays a mastery of American idioms: light swing ("One Touch of Venus"), Irving Berlin-style ragtime ("How Much I Love You"), barbershop ("The Trouble With Women"), "hot" blues ("I'm a Stranger Here Myself"). Even the waltz "Foolish Heart," though it starts out Viennese, culminates in a dance number based on "What Shall We Do With a Drunken Sailor?" There are also sly homages to both Broadway and operetta genre-pieces: "Way Out West in Jersey" recalls Lorenz Hart's lyric for "Way Out West on West End Avenue" from Babes in Arms (1937). The Bowery waltz "The Trouble with Women" harks back to "Women Women Women" from Lehár's Merry Widow even as it presages "Brush Up Your Shakespeare" from Kiss Me, Kate (indeed, Harry Clark, one of the quartet, became one of the two thugs who sang the number in the later show). In "New Art," a catalogue-of-painters song, Weill nods to "Tschaikowsky" (a catalogue of composers) from Lady in the Dark. The production numbers "Catch Hatch" and "Doctor Crippen" anticipate by a generation the Music Hall-Grand Guignol style of Sweeney Todd. The full score badly needs a complete modern recording.
No musical detail was too small for Weill. Choreographer Agnes de Mille recalled that he would go "to the back of the auditorium where he can hear a balanced sound from the orchestra and voices. This will not be exact because a full audience will change all the acoustics, but he knows how to correct for the difference. He will instruct the stage manager which of the singers to amplify on the over-all sound system. He will edit on the spot orchestration for audibility of speech and vocal balance." Weill had his influence on the text, too; he suggested the key line from Much Ado About Nothing ("Speak low, if you speak love") to Ogden Nash. By all accounts, Weill played a greater role than Elia Kazan, who later described himself as an overpaid stage manager. Kazan tried hard--he made copious notes on the script--but doesn't really seem to have understood the show. He later credited its success to Weill, de Mille, Mary Martin, and dancer Sono Osato. De Mille's judgment that he "lacked visual sense" seems fair, and it's also clear that he did not have the right sense of humor to appreciate Perelman's and Nash's efforts.
Every Broadway show brought out the workhorse in Weill, and Venus was no exception. A month after the show opened Weill wrote to his parents, "During the seven weeks before the show's opening I never slept more than two or three hours a night, because I had to be at rehearsals during the day and had to orchestrate at night." Even then, Lenya was alarmed about Weill's fearsome schedule and high blood pressure. He was by far the hardest-working composer on Broadway--Richard Rodgers's labors were nothing compared to Weill's--and he maintained a similarly punishing schedule through all his subsequent Broadway shows, which no doubt contributed to his early death.


© The Kurt Weill Foundation
---

Vocal Range of Characters:

// Photos

---
---
---
---
---
---


Written By: Mary Martin

For some reason Marlene suddenly decided not to do it, and Cheryl Crawford came to me. I couldn'tt believe it. Me in a part for Dietrich? And Venus? She must be mad. Cheryl insisted, bless her.
Richard and I went to hear the music, on a very hot night in August (1943), in Kurt Weill's apartment in New York. All my life I will remember that man singing Venus' lovely number, 'That's Him,' with a kind of quavery, German sound . . .'Ummmmmmmmmmmmmmmnnnnnnhhhh, that's him . . .' I longed to sing that song, but I still could not see myself as Venus.
Richard dealt with my problem in a most imaginative way. He asked if I had ever been to the Metropolitan Museum. Of course, I hadn't. So he took me to that huge place, led me to where the statues are and said, 'Look, this is a Venus.' We must have seen fifty varieties: tall ones, short ones, even one who was noticeably broad of beam. All were marked 'Venus.'
'You see?' Richard asked. 'Each sculptor has his own idea of Venus. They aren't all Venus de Milo.' After this had sunk in, he said, 'You can play Venus. You're going to play her wearing the most beautiful clothes in the world.'
---

Playbill VIP
: 
MAKE YOUR OWN PLAYBILL! Playbill VIP allows you to create your very own Playbill Program. We have provided Playbill with all of the credits, song listings, musical numbers and more so that most of the work is already done for you. Just add your productions details, photos of the cast and share it with all of your friends. Learn more: www.playbillvip.com
---

STANDARD
ONE TOUCH OF VENUS - Orchestration Package (16 Books/20 Players)

1 – Piano Conductor Score

1 – Reed I (Clarinet, Alto Sax)

1 – Reed II (Clarinet, Bass Clarinet, Alto Sax)

1 – Reed III (Piccolo, Flute, Clarinet, Tenor Sax)

1 – Reed IV (Piccolo, Flute, Clarinet, Tenor Sax)

1 – Trumpet I-II

1 – Trumpet III

1 – Trombone

1 – Percussion

1 – Piano

1 – Violin A (Divisi)

1 – Violin B (Divisi)

1 – Violin C (Divisi)

1 – Viola (Divisi)

1 – Cello

1 – Bass

Rehearsal Set (22 Books)

20 – Libretto-Vocal Books

1 – Logo CD

2 – PIANO CONDUCTOR SCORE

Digital Logo
ADDITIONAL
Libretto/Vocal Book 10 Pack
Pre-Production Package

1 – Libretto-Vocal Books

1 – PIANO CONDUCTOR SCORE

PRINCIPALS
4 Women
4 Men
FEATURED
4 Women
6 Men
ENSEMBLE
Singing and Dancing Ensemble - as desired.
CHARACTERS
Whitelaw Savory
Venus
Rodney Hatch
Gloria Kramer
Store Manager
Sam
Stanely
Mrs. Moats
Police Lieutenant
Taxi Black
Rose
Molly Grant
Mrs. Kramer
Dr. Rook
Zuvelti
Bus Starter
Anatolians
Premiere Danseuse

ONE TOUCH OF VENUS takes place in various locations in New York City.
SPECIFIC LOCATIONS
Main Gallery of the Whitelaw Savory Foundation of Modern Art
Rodney's Room
Radio City Plaza
Arcade of the NBC Building in Radio City
Waiting Room of Mid-City Bus Terminal
The Roof Garden of the Foundation
Rodney's Barbershop
Savory's Bedroom
The Tombs
The Sitting Room of a Delux Suite
Materials Notes
Traps [Drum set containing Snare Drum, 2 Tom-Toms, and Bass Drum -sticks and wire brushes required], 2 Timpani, Orchestra Bells [Glock.], Xylophone, Vibraphone, Suspended Cymbal, High-Hat, Triangle, 2 Temple Blocks, 3 Wood Blocks, Castagnettes, Gong, Optional Wind Chimes, and Celesta [optional - plays only one chord in entire score which is marked 'or Vibes'].
---
Media Rights
*

Currently media rights for One Touch of Venus are not available. Please contact customer service with any questions.