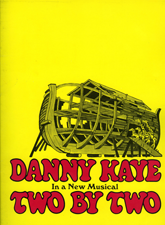 Two by Two
Richard Rodgers entered his seventh decade of writing for the theatre with this fresh retelling of the Biblical story of Noah. It seems that the building of the ark was only the first of Noah's many daunting challenges in a journey that wasn't always smooth sailing. By turns inspirational and hilarious, we discover that being chosen by God for great things does not necessarily simplify the daily demands made of a father and husband. It's good fun from The Good Book and when the land has dried, man and beast alike are invited to go forth and prosper in a bright New World.
Participate in the R&H Online Community.
Leave comments or talk with other fans in the forum!

To request the rights to make merchandise for this show email [email protected].
Fan Info:

A re-telling of the story of Noah and the ark, TWO BY TWO has seen numerous revivals over the years, with the most recent high-profile staging presented by Reprise Theatre Company in Los Angeles last November, starring Jason Alexander and Faith Prince. Jason Alexander is one very busy guy, but we were grateful he took some time to speak with us. read more
We all know about Rodgers & Hammerstein, and Rodgers & Hart. But how about Rodgers & Sondheim? Or Rodgers & Harnick? Or for that matter, Rodgers & Rodgers?
In October TMTP will celebrate the great composer's work during the years that followed Oscar Hammerstein's death: from 1960 until Rodgers's own passing in 1979 at the age of 77. read more

In 1971, TWO BY TWO closed on Broadway after a ten-month run.

The birthday of writer Peter Stone, who collaborated with Richard Rogers on the musical TWO BY TWO. His revised libretto for ANNIE GET YOUR GUN led to its Tony-winning revival in 1999.

In 1970, TWO BY TWO opened on Broadway at the Imperial Theatre. Based on the play THE FLOWERING PEACH, it tells the story of Noah and his family preparing for the great flood. The show ran for ten months.

The birthday of Martin Charnin; Broadway producer, director, and lyricist who conceived and mounted shows including ANNIE. Charnin not only collaborated with composer Richard Rodgers on TWO BY TWO and I REMEMBER MAMA - he also worked with Rodger's daughter Mary on the musical HOT SPOT.


"A musical to be loved, to be cherished...it moved me profoundly ...beguiling melodies...absorbing libretto...who wants a conventional song-and-dance show with shows such as this around?"
— New York Daily News
"One of Rodgers' finest musicals...a show for anyone...rich in comedy, full of melody and that rare ingredient: heart."
— Associated Press, January 01, 2002

Song #
Song Name
Character Name
Play
Other Versions

TWO BY TWO
Production Notes
Martin Charnin, a young Broadway performer (featured in the original cast of WEST SIDE STORY) and lyricist, had already worked with composer Mary Rodgers on several projects when, in 1969, he approached her father Richard Rodgers with the idea for a new musical.
Charnin proposed that he and Rodgers adapt Clifford Odet's 1954 play THE FLOWERING PEACH into a Broadway musical. Rodgers was intrigued, and chose eventually not only to write the score with Charnin but to produce the musical as well. The team was joined by author Peter Stone, fresh from his triumph that season with the Tony Award-winning book for 1776, and director Joe Layton, who had worked with Richard Rodgers 10 years earlier as choreographer of THE SOUND OF MUSIC. With the team in place, TWO BY TWO was born.
Like its source, TWO BY TWO was based on the Biblical tale of Noah, his ark and the flood. As a so-called "Biblical musical" it spearheaded a modest theatrical phenomenon of the early '70's. Six months after the Broadway premiere of TWO BY TWO, Stephen Schwartz's GODSPELL would open off-Broadway; six months after that, the Tim Rice/Andrew Lloyd Webber rock opera JESUS CHRIST SUPERSTAR would arrive on Broadway, while their previous Biblical musical, JOSEPH AND THE AMAZING TECHNICOLOR DREAMCOAT, continued to gestate in England.
TWO BY TWO took a fairly traditional approach to its Biblical theme, telling the story of Noah, his wife Esther, their sons and their sons' spouses through a straightforward narrative. Where TWO BY TWO deviated from the norm, however, was in its staging. There were, for example, no real animals in the production, the ark was built right in front of the audience's eyes during the first act, God made his presence known through the use of timpany and visual montages and, perhaps most atypical of all, this was a full-scale Broadway musical that featured a total company of eight players.
Unlike its rock opera compatriots, TWO BY TWO did not "camp up" or cajole its source material. It did, however, manage to apply a modern perspective and contemporary sensibility to its age-old story. "The story dealt with Noah and the flood," wrote Rodgers in his autobiography, MUSICAL STAGES, "[but it] covered such contemporary themes as the generation gap and ecology. There was even a parallel between the flood and the atom bomb."
TWO BY TWO marked Danny Kaye's much-heralded return to Broadway after many years. Joining him were Joan Copeland as Noah's wife, Esther. Harry Goz, Michael Karm and Walter Willison played their sons; Marilyn Cooper, Tricia O'Neil and Madeline Kahn played the daughters-in-law.
Following out-of-town engagements in New Haven and Boston, TWO BY TWO opened at the Imperial Theatre on Broadway on November 10, 1970, where it played for nearly a year. While reviews were mixed, much praise was singled out for Richard Rodgers' melodies and Danny Kaye's star turn. (Kaye was such a trouper that not even a torn ligament in his leg could keep him from the show, which he performed for several weeks wheelchair-bound. One ad for the show at that time featured Kaye in his full garb as Noah, sporting a leg swathed in plaster and the caption 'Danny Kaye is back in the cast!')
Milton Berle created the role of Noah in a limited national tour which began at the St. Louis Municipal Opera in August in 1971.
---

Vocal Range of Characters:


// Photos

---
---
---
---


Written By: Danny Kaye

The three sons are quite different. Shem, the oldest boy, is a big businessman, innately greedy, only concerned about money and position. The middle boy, Ham, wants to get the most for doing the least, you know the type. The counterpart of the petty con man all over the world. Then there's the youngest one, Japheth, the revolutionary, the one who says 'I know Pop is not crazy, but I'm not so sure about God.' That's where the strife is! There are some deeply touching moments in the middle of hilarious scenes -- about my reaching for him and remembering what he has just said about God -- you know how you act with a little baby that's only a few months old, that if you hug it the way you really want to, you'll smother it to death -- it's loving somebody so much that they make you madder than anybody else and you love them in spite of it. Within that family you have all the ills that are in the world today, otherwise their seed wouldn't have developed the way it has. You have everything, the good, too.
---

Playbill VIP
: 
MAKE YOUR OWN PLAYBILL! Playbill VIP allows you to create your very own Playbill Program. We have provided Playbill with all of the credits, song listings, musical numbers and more so that most of the work is already done for you. Just add your productions details, photos of the cast and share it with all of your friends. Learn more: www.playbillvip.com
---

STANDARD
TWO BY TWO - Orchestra Package (13 Books/14 Players)

1 – Piano Vocal Scores

1 – PIANO CONDUCTOR SCORE (Piano, Celesta, Organ, Thunderclap Effect)

1 – REED I (Piccolo, Flute, Clarinet)

1 – REED II (Flute, Clarinet)

1 – REED III (Clarinet, Bass Clarinet)

2 – TRUMPET I-II

1 – TROMBONE

1 – PERCUSSION I-II (see "Materials Notes", under "Production Information")

1 – VIOLIN A-B (Divisi)

1 – VIOLA

1 – CELLO

1 – BASS

Rehearsal Set (22 Books)

20 – Libretto-Vocal Books

1 – Logo CD

2 – Piano Vocal Scores

Digital Logo
ADDITIONAL
Libretto/Vocal Books 10 pack

10 – Libretto-Vocal Books

TWO BY TWO - PRE-PRODUCTION PACKAGE

1 – Piano Vocal Scores

1 – Libretto-Vocal Books

PRINCIPALS
4 Women
4 Men
CHARACTERS
Noah
Esther
Japheth
Shem
Leah
Ham
Rachel
Goldie

TWO BY TWO takes place in Noah's home and Ark, before, during, and after the Flood.
SPECIFIC LOCATIONS
In and Around Noah's Home
The Ark
Atop Mount Ararat
Materials Notes
Trap Set, Timpani, Triangle, Gourd, Bells, Xylophone, Tambourine, Chimes, Finger Cymbals, Cow Bells, Anvil, Wood Block, Castanets, Bird Whistle, Gong (Optional)
---
Featured News
Two By Two Q&A with Jason Alexander
A re-telling of the story of Noah and the ark, TWO BY TWO has seen numerous revivals over the years, with the most recent high-profile staging presented by Reprise Theatre Company in Los Angeles last November, starring Jason Alexander and Faith Prince. Jason Alexander is one very busy guy, but we were grateful he took some time to speak with us.
Read More
Media Rights
*

Currently media rights for Two by Two are not available. Please contact customer service with any questions.