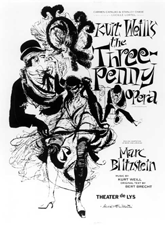 The Threepenny Opera
Brecht and Weill turned to John Gay's 18th-century 'The Beggar's Opera' to fashion this savage, biting commentary on bourgeois capitalism and modern morality. Set in Victorian London, the bitter tale is told of the predatory outlaw known as Mack the Knife. He secretly marries the daughter of Soho's underworld boss, but is soon betrayed by his sinister in-laws and sent to prison. After being freed by the police chief's daughter, he is again betrayed- this time by a prostitute-and sentenced to death. At the final hour he manages a reprieve from Queen Victoria herself, thus providing a menacing finale of ferocious irony.
Prologue
After the overture, the Street Singer comes onstage with a barrel organ and sings of the crimes of the notorious bandit and womanizer Macheath, Mack the Knife ("Ballad of Mack the Knife"). The setting is a fair in Soho (London), just before Queen Victoria's coronation.
Act I
Act I begins in the shop of Jonathan Peachum ("Morning Anthem"), who controls London's beggars, equipping and training them in return for a cut of their "earnings." He enrolls a new beggar with the help of his wife, after which they notice that their grown daughter Polly did not come home the previous night ("Instead Of Song"). The scene shifts to an empty stable where Macheath is about to marry Polly, as soon as his gang has stolen and brought all the necessary food and furnishings ("Wedding Song"). No vows are exchanged, but Polly is satisfied, and everyone sits down to a banquet. Since none of the gang members can provide fitting entertainment, Polly does it herself ("Pirate Jenny"). The gang gets nervous when Chief of Police Tiger Brown arrives, but Brown turns out to be an old army buddy of Mack's ("Army Song") who has prevented him from being arrested all these years. Everyone else exits and Mack and Polly celebrate their love ("Love Song"). Then Polly returns home and defiantly announces her marriage, as her parents urge her to get a divorce and Mrs. Peachum resolves to bribe Mack's favorite prostitutes ("Ballad of Dependency"). Polly reveals Mack's ties to Brown, which gives Mr. and Mrs. Peachum an idea about how to snare Mack, and the trio meditates on the world's corruption ("The World Is Mean").
Act II
Polly tells Mack that her father will have him arrested. He makes arrangements to leave London, explaining his bandit "business" to Polly so she can manage it in his absence, and he departs ("Melodrama" and "Polly's Song"). Polly takes over the gang decisively as Mrs. Peachum bribes Jenny, Mack's old lover, to turn him in ("Ballad of Dependency" reprise). On the way out of London, Mack stops at his favorite brothel to visit Jenny ("Tango Ballad"). Brown arrives and apologetically arrests Mack, who goes to jail. He bribes the guard to remove his handcuffs ("Ballad of the Easy Life"); then his girlfriend, Lucy--Brown's daughter--arrives and declares her love ("Barbara Song"). Polly arrives, and she and Lucy quarrel ("Jealousy Duet"). After Polly leaves, Lucy engineers Mack's escape. When Mr. Peachum finds out, he threatens Brown and forces him to send the police after Mack. The action stops for another meditation on the unpleasant human condition ("How to Survive").
Act III
Jenny comes to the Peachums' shop to demand her bribe money, which Mrs. Peachum refuses to pay. Jenny reveals that Mack is at Suky Tawdry's house. When Brown arrives, determined to arrest Peachum and the beggars, he is horrified to learn that the beggars are already in position and only Mr. Peachum can stop them ("Useless Song"). To placate Peachum, Brown's only option is to arrest Mack and have him executed. Jenny mourns Mack's plight ("Solomon Song"). In the next scene, Mack is back in jail ("Call from the Grave"). He begs the gang to raise a sufficient bribe, but they cannot ("Call from the Grave" part 2). A parade of visitors--Brown, Jenny, Peachum, and Polly--enters as Mack prepares to die ("Death Message"). Then a sudden reversal: A messenger on horseback arrives to announce that Macheath has been pardoned by the Queen and granted a castle and pension ("The Mounted Messenger"). The Street Singer delivers the coda ("Ballad of Mack the Knife" reprise).
© The Kurt Weill Foundation for Music
Participate in the R&H Online Community.
Leave comments or talk with other fans in the forum!

To request the rights to make merchandise for this show email larisa.borshman@rnh.com.
Fan Info:


In 1928 THE THREEPENNY OPERA had its world premiere in the original German as DIE DREIGROSCHENOPER at Berlin's Theater am Schiffbauerdamm, where it played over 400 performances. The musical play's instant popularity and artistry launched the international careers of playwright Bertolt Brecht and composer Kurt Weill.

The birthday of Bertolt Brecht, the revolutionary poet and playwright who collaborated with composer Kurt Weill to create their iconic work THE THREEPENNY OPERA. Brecht was born in Germany in 1898.

The birthday of Marc Blitzstein, composer and writer who translated Bertolt Brecht's THE THREEPENNY OPERA in an English language version. Blitzstein was born in 1905.

Innovative composer Kurt Weill was born this day in 1900, in Dessau, Germany. In Europe, Weill collaborated with playwright Bertolt Brecht on iconic works such as THE THREEPENNY OPERA and THE RISE AND FALL OF THE CITY OF MAHAGONNY. After emigrating to America in 1935, Weill composed for musicals including KNICKERBOCKER HOLIDAY, LADY IN THE DARK, LOST IN THE STARS, and ONE TOUCH OF VENUS. His life and relationship with singer Lotte Lenya are dramatized by the show LOVEMUSIK.

In 1954, THE THREEPENNY OPERA opened on Broadway for its first successful American premiere in a translation by Marc Blitzstein. Composer Kurt Weill's wife Lotte Lenya reprised her iconic role as Jenny, and won a 1955 Tony Award for her portrayal. The show ran for 2,611 performances.

In 1961, THE THREEPENNY OPERA closed on Broadway after 2,611 performances.



"Bertolt Brecht and Kurt Weill's seminal 1928 critique of capitalism, self-interest and the bourgeoisie suits … the tone of these troubled times … the kind of theater that shakes up an audience."
— Chicago Daily Herald
"What a treat! … Some of the wittiest, catchiest, most caustic odes … ever to grace a musical comedy…. There are pop-out lines (for instance, a blatant equation of bankers with criminals) that could have been written yesterday. But the undying contradiction of Threepenny Opera is that it bites the hand of the politically blasé bourgeoise while also tickling it."
— Seattle Times
"An absolute triumph…. A completely engaging if not always nice evening of musical theater."
— Broadway World
"Smart, sardonic and utterly entertaining."
— Madison Capital Times
"The Threepenny Opera is one of those rare examples of the transformation of a great theatrical work from one era into a successful work of a later era.… Brecht's social and economic preachment remains stingingly relevant to our time."
— Madison Daily Page,
"With Brecht's cuttingly satirical look at the meaning of morality in a society populated by gangsters, beggars, prostitutes and corrupt cops, and Weill's edgy, opera-meets-cabaret score … this show was all but irresistible."
— Chicago Sun-Times
"A distinguished and delightful work of art, striking, sardonic, original, humorous and always interesting."
— New York Post
"The Threepenny Opera resists virtue admirably."
— The New York Times
"This sordid and beautiful vaudeville of life in a Victorian London slum, set to Kurt Weill's alternating strident and plaintive music-hall melodies, does not date."
— Cue
"A tour de force. Sometimes Weill writes with sangfroid, with the insolence, indifference and tired routine of any jazz hack. But you are not listening to shop-made jazz. You are listening to a master of his craft, saying in his score all sorts of things … with world weariness, compassion and despair, in a tonal dialect which includes some fetching tunes and some apt dissonance.… This opera, singspiel, what you will … may well last as long as its eighteenth-century predecessors."
— The New York Times

Song #
Song Name
Character Name
Play
Other Versions

Threepenny Opera: An Introduction
From www.threepennyopera.org
A milestone of 20th century musical theater, The Threepenny Opera (Die Dreigroschenoper) rolls on unstoppably into the 21st. In their opera 'by and for beggars,' composer Kurt Weill (1900-1950) and playwright Bertolt Brecht (1898-1956) transformed saccharine, old-fashioned opera and operetta forms, incorporating a sharp political perspective and the sound of 1920s Berlin dance bands and cabaret. Weill's acid harmonies and Brecht's biting texts created a revolutionary new musical theater that inspired such subsequent hits as Cabaret, Chicago, and Urinetown. The show's opening number, 'Mack the Knife,' became one of the top popular songs of the century.
The opening night audience at Berlin's Theater am Schiffbauerdamm didn't quite know what to expect when the curtain rose on The Threepenny Opera on August 31, 1928, but after the first few musical numbers they began to cheer and call for encores. The show was a brilliant hit, and Threepenny-fever spread throughout Europe, generating forty-six stage productions of the work in the first year after the Berlin premiere. In 1931, a film version directed by G.W. Pabst entitled Die 3-Groschenoper opened, making an international star of Weill's wife, Lotte Lenya, who repeated her portrayal of Jenny Diver from the show's first production.
The Threepenny Opera had already been produced 130 times worldwide by 1933, before the rise of the Nazis forced Weill to flee to Paris in March of that year. He finally settled in America with Lenya in September 1935; Brecht escaped through Scandinavia, finally reaching the United States via Siberia in 1941. Both Weill and Brecht wanted a major production in the U.S. but were unable to make the necessary arrangements to their mutual satisfaction. The Nazis, of course, had banned all Weill's and Brecht's works from the German stage.
Although The Threepenny Opera reappeared in theaters in Germany and the United States right after the end of the war, the work's true renaissance did not get underway until a New York off-Broadway production at the Theater de Lys. Running from 1954 through 1961, the show had a total of 2,707 performances, at that time the longest running musical in history. The cast album sold in record-breaking numbers, and Louis Armstrong, Bobby Darin, and Ella Fitzgerald, among countless others, made 'Mack the Knife' into a standard.
Today, The Threepenny Opera is still entertaining audiences all over the world. The re-released recording from the 1954 revival is available on CD (Decca Broadway), along with a splendid BMG recording of the new critical edition of the score made in 1999; a dozen other recordings of the complete show are available in various languages. There are three cinematic versions of the work, made in 1931, 1963, and 1988. The most recent Broadway production opened in March 2006, directed by Scott Elliott, and a major production by the Berliner Ensemble will open in September 2007. Judging by the evidence, the music and story of The Threepenny Opera remain as irresistible to today's audiences as they were in 1928.
Kurt Weill Foundation © 2008
For more information visit the official site of THE THREEPENNY OPERA: www.threepennyopera.org
---

Obie Awards
— Award for Best Musical
1955 — Award for Best Musical

Tony Awards
— Special Tony Award for distinguished off-Broadway production: Carmen Capalbo, Stanley Chase
— Best Featured Actress in a Musical:  Lotte Lenya

Vocal Range of Characters:
| | | | |
| --- | --- | --- | --- |
| Name | Vocal Type | Low Note | High Note |
| | | | |
| --- | --- | --- | --- |
| Street Singer/Ballad of Mack the Knife | Baritone | D3 | D4 |
| | | | |
| --- | --- | --- | --- |
| Mrs. Peachum | Mezzo-Soprano | C4 | E5 |
| | | | |
| --- | --- | --- | --- |
| Tiger Brown | Bari-Tenor | G#2 | F#4 |
Vocal Range notes for The Threepenny Opera:


// Photos


Written By: Marc Blitzstein

"In January, 1950, I telephoned Kurt Weill at his Rockland County home. 'Call it an exercise, Kurt, or call it an act of love. I don't know which: I've made a translation of the Pirate Jenny song from your Dreigroschenoper. When can I show it to you?'
Weill said, 'Right now. Sing it to me.' 'Over the phone?' 'Why not? Wait. I'll put Lenya on the extension.'  I started speak-singing the song -- very careful about my words, just indicating the tune and the rhythms. After the first line, Weill at the other end began drumming his fingers to accompany me with the beat. I finished. He said in the mild quiet tone so characteristic of him, 'I think you've hit it. After all these years! It does work, Lenya?' Lenya said (very excited), 'Yes. Yes. That I can sing. When can I have a copy?' Then Kurt said, 'Marc, do it all, why don't you? The whole opera. I wish you could read the half dozen versions and translations people have sent me: pfui! You do it. You're the one for it.'
I was happy at their enthusiasm, but other work called. In April of that year Kurt Weill died. I attended the funeral. Coming home, I found myself haunted by another number from the Dreigroschenoper -- this time the Solomon Song, that wonderful cunning melody that seems to slip out from under the lyric, continuing beyond it. That took me all night. Soon I was translating still other songs and snatches from Bertolt Brecht's original text. The thing was getting under my skin. By that time I had reached the point of no return and had to do it all."
---

Written By: Lotte Lenya

"At no time in theatre history did a play draw near its opening in such an atmosphere of utter doom. The word around Berlin was that [producer Ernst-Josef] Aufricht, poor benighted amateur, was stuck with the turkey of all time. The disasters multiplied...
What was supposed to be the final dress rehearsal, the night before the opening, lasted until five in the morning. Everybody was completely distraught, shouting and swearing --- everybody except Kurt Weill...We heard that Aufricht was asking people out front if they knew where he could find a new play in a hurry. Respected Berlin theatre oracles slipped out to spread the word that Brecht and Weill proposed to insult the public with a ludicrous mishmash of opera, operetta, cabaret, straight theatre, outlandish American jazz, not one thing or the other; why didn't they withdraw the work before the opening?
...There have been many accounts written of that opening night of Dreigroschen; it has so truly entered the realm of the fabulous that I shall be brief. Up to the stable scene the audience seemed cold and apathetic, as though convinced in advance that it had come to a certain flop. Then after the kanonen [Cannon] song, an unbelievable roar went up, and from that point it was wonderfully, intoxicatingly clear that the public was with us...
[By the next day, all of] Berlin was swept by a Dreigroschenoper fever. In the streets no other tunes were whistled. A Dreigroschenoper bar opened, where no other music was played. Immediately the "Brecht style" and the "Weill style" were slavishly imitated by other dramatists and composers...
Perhaps the strangest note of all is that people who scornfully had passed up that opening night began to lie about it, and to claim to have been there, primed for a sure-fire sensation! Even now, anybody who passed through the Berlin of that period, and who comes backstage to see me at the Theatre de Lys in New York, twenty-eight years later, feels compelled to cry, "Of course I was there that opening night!"And though I remember that the Schiffbaurdamm had less than eight hundred seats, I nod. Why not, after all? Sometimes, remembering all that madness...I'm not even sure that I was there myself."
---

Playbill VIP
: 
MAKE YOUR OWN PLAYBILL! Playbill VIP allows you to create your very own Playbill Program. We have provided Playbill with all of the credits, song listings, musical numbers and more so that most of the work is already done for you. Just add your productions details, photos of the cast and share it with all of your friends. Learn more: www.playbillvip.com
---

STANDARD
THE THREEPENNY OPERA - Orchestra Package (8 Books/8 Players)

1 – FULL SCORE

1 – KEYBOARD (Piano, Harmonium, Celesta)

1 – REED I (Clarinet, Alto Sax)

1 – REED II (Clarinet, Tenor Sax)

1 – TRUMPET I-II

1 – TROMBONE (with F attachment)

1 – GUITAR (Doubles Banjo and Hawaiian Guitar)

1 – Percussion

Rehearsal Set (22 Books)

20 – Libretto-Vocal Books

1 – Logo CD

2 – Piano Conductor Scores

Digital Logo
ADDITIONAL
Libretto/Vocal Books 10 pack

10 – Libretto-Vocal Books

THREEPENNY - PRE-PRODUCTION PACKAGE

1 – Piano Conductor Scores

1 – Libretto-Vocal Books

PRINCIPALS
4 Women
4 Men
FEATURED
3 Men
ENSEMBLE
Singing-dancing ensemble consisting of Cops, Beggars, Street People
CHARACTERS
A Street Singer
Mr. J. J. Peachum
Mrs. Peachum
Filch
Polly Peachum
MacHeath (Mack the Knife)
Jenny
Reverend Kimball
Tiger Brown - Commissioner of Police
Smith - Warden
Lucy Brown
Readymoney Matt
Crookfinger Jake
Bob the Saw
Walt Dreary
Betty
Dolly
Molly
Coaxer

THE THREEPENNY OPERA takes place in London, 1837, before and during Queen Victoria's Coronation.
SPECIFIC LOCATIONS
A Street, Soho
Peachum's Beggar's Outfit Shop
An Empty Stable
A Brothel in Wapping
Newgate Prison
Newgate Prison Death Cell
Materials Notes
Timpani (Pedal), Bass Drum, Snare Drum, Tenor Drum, Tom Tom, Wood Block, Sand Blocks, Triangle, Bells, Chimes (E, F#, G#, B), Cymbals (Hand and Suspended), Tam Tam (or low pitched Suspended Cymbal)
---
Featured News
3PENNY AT 70 by Tom Briggs
On August 31, 1928, DIE DREIGROSCHENOPER opened at the Theater am Schiffbauerdamm in Berlin. On September 1, there were riots in the streets.
Read More
Media Rights
*

Currently media rights for The Threepenny Opera are not available. Please contact customer service with any questions.